NDP says covid restrictions should apply to all regions of Alberta equally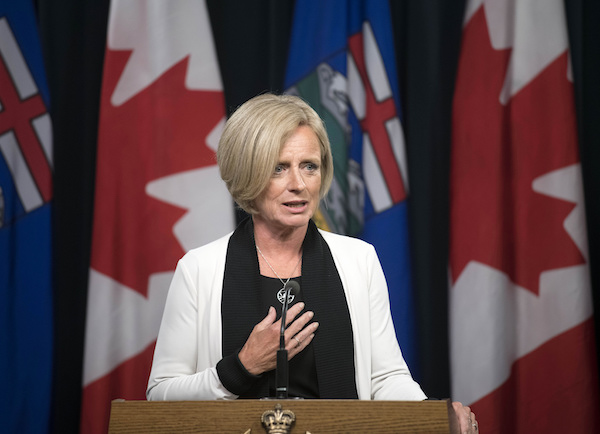 News Release from the Alberta NDP
KENNEY'S COVID RESTRICTIONS MUST APPLY TO ALL ALBERTANS AND BE EFFECTIVELY ENFORCED
Alberta's NDP is calling for the Premier to apply COVID-19 public health orders consistently and bring in effective enforcement. The Official Opposition also continues to call for support for families of students forced to learn at home, struggling small businesses and workers forced to work sick without paid sick leave.
"I wanted to hear a clear commitment from the Premier that he would consistently and effectively enforce the law," said NDP Leader Rachel Notley. "Instead, we have politically motivated exceptions and toothless enforcement."
Notley noted that a majority of the areas exempt from public health orders are represented by UCP MLAs who have undermined public health orders.
Today, Solicitor General Kaycee Madu denied that his department told police to hold back on enforcement, despite his senior law enforcement official telling a legislature committee exactly that on April 6.
"He refused to come clean about enforcement. We heard yesterday from the Chief of Police in Calgary that their partners at the province told police not to issue many tickets," said Notley. "Today we heard nothing from the Solicitor General that would dispel these directions."
Jason Kenney also made no mention of any new support for small businesses. Personal and wellness services, health, social and professional services are due to close on Sunday, May 9, along with patio dining at restaurants and bars. All school grades are to move to online learning on Friday, May 7.
"As the Premier fails to do all that is necessary today to get COVID-19 under control, Albertans are left paying the price after enduring more than a year on Jason Kenney's rollercoaster of confusing and contradictory restrictions," Notley added. "They need support, but once again, Jason Kenney announced restrictions without any of the necessary support."
"Families and businesses across Alberta are scrambling today to respond to the confusing array of public health measures announced last night," Notley said. "Working parents are trying to figure out how to keep kids at home safely for two weeks or more. Small business owners are asking themselves if they can survive yet another closure of three weeks or more."
Alberta paleontologists find dramatic change in bite force as tyrannosaurs matured
Tyrannosaurs are well known as having been ferocious predators at the top of the food chain millions of years ago, but a study led by an Alberta-based researcher shows the reptiles didn't start out life that way.
François Therrien, curator of dinosaur paleoecology at the Royal Tyrrell Museum in Drumheller, Alta., said the study focused on tyrannosaur teeth and their dramatic change as they matured. 
He collaborated with Darla Zelenitsky and Jared Voris of the University of Calgary, as well as Kohei Tanaka of the University of Tsukuba in Japan.
For the study, published this week in the Canadian Journal of Earth Sciences, the researchers examined the lower jaws from the Albertosaurus and Gorgosaurus, types of tyrannosaurs commonly found in Canada that predated the T. rex by millions of years.
"Our fossil records for those two species of tyrannosaurs is excellent," Therrien said about the collection at the museum.
"We have so many specimens of those … that represent a full growth series from very young individuals that were probably three or four years of age all the way to fully grown adults that were over 20 years of age."
By examining a wide range of fossils, the researchers were able to see a significant change in tooth size and jaw force once the tyrannosaurs reached about 11 years of age.
Feeding behaviour did not appear to change during the lifespan of the tyrannosaurs, because their jaws were adapted to capturing and seizing prey with their mouths, probably because the forelimbs were too short to grasp food, Therrien said. 
"Tyrannosaurs were truly unique when you look at all the theropods," he said. "They were atypical … because their bite and their skulls were their main weapon for killing prey."
But what did change, he said, is the size of their teeth and their bite force.
A tyrannosaur at about three years of age was still a deadly predator, but it had smaller blade-like teeth that could only slice through flesh. The bite force, Therrien added, was about 10 per cent that of a fully grown alligator.  
That means younger tyrannosaurs ate smaller prey and had to compete with other like-sized predators such as the Velociraptor. 
Once tyrannosaurs turned 11, Therrien explained, they went through a growth spurt in which their teeth became larger and wider. By the time the reptiles were fully grown, their bite force was eight times more than that of an alligator. 
And that meant their diets also changed. 
"These teeth were better adapted for resisting twisting stresses either associated with biting of big prey or even crushing bone."
Therrien said his study shows that young tyrannosaurs were distinct predators that occupied different ecological niches.
"Young tyrannosaurs were not just scaled-down versions of the mature parents," he said. "They were creatures that actually had their own lifestyles."
This report by The Canadian Press was first published June 23, 2021. 
Daniela Germano, The Canadian Press
JUST RELEASED: A Healthy Environment and a Healthy Economy 2.0