Inaugural Year a Successful One for the Sylvan Lake NexSource Centre
May 30, 2018 – A recent "Year in Review" report to Council, showcases a successful
first year for the NexSource Centre – Sylvan Lake's new multiuse recreational facility.
Having only opened on March 31, 2017, the Centre:
• Received over 400,000 visitors;
• Sold 2,016 memberships (706 of those sold following a recent price reduction);
• Offered 233 recreation, art, and culture programs;
• Offered over 657 aquatic programs; and
• Generated a revenue of $522,321 – 56% higher than the projected $334,050.
The NexSource Centre boasts two ice surfaces – arenas, a curling rink that easily
converts to dry surface capable of hosting trade shows, and other indoor events, a
walking/running track, pool, children's playroom, seniors centre, conference/meeting
space, concession, lounge, and work rooms.
The full Year in Review report is available at www.sylvanlake.ca/NexSourceCentre
For more stories visit Todayville.com
Hundreds "Walk a Mile in Her Shoes" in Sylvan Lake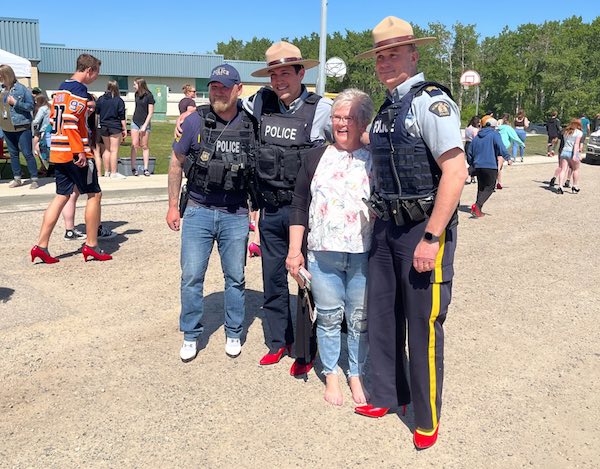 Over $7000 raised for the programs and services offered to clients at The Outreach Centre
On June 2, students, staff and community members of all ages walked in the Walk a Mile in Her Shoes event in Sylvan Lake. Presented by the HJ Cody Interact Club, the fifth annual event raised funds for The Outreach Centre and brought attention and awareness to gender-based and domestic violence issues in the community.
"Walk a Mile in Her Shoes events emphasize the necessity of speaking up and taking steps to end gender-based and domestic violence," says Ian Wheeliker, Executive Director at The Outreach Centre. "These events start difficult yet necessary conversations about gender relations and violence against both women and men."
Starting at H.J. Cody Highschool, participants walked one mile, some in a pair of high heeled shoes.
There was also a community-sponsored BBQ lunch, and a presentation with speakers and prizes. Author and town councillor Teresa Rilling told her own powerful story of overcoming emotional and sexual abuse, encouraging anyone who is suffering to reach out for help and support.
With about 600 people walking and over $7000 raised, Walk a Mile in Her Shoes Sylvan Lake was once again a huge success.
"We are so grateful for the ongoing support of the H.J. Cody Interact Club and the entire school community," says Wheeliker. "These students are truly making a difference and they should feel proud knowing that their efforts will go towards improving the lives of the clients we serve at The Outreach Centre."
To stay up to date with The Outreach Centre, visit theoutreachcentre.org or go to our Facebook or Twitter pages.
RCMP looking for stolen boat and trailer worth over $100,000.00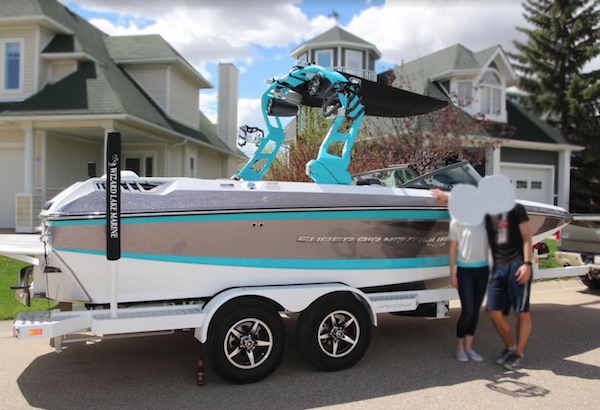 News Release from Sylvan Lake RCMP
Sylvan Lake RCMP request public's assistance in locating stolen boat
Sylvan Lake RCMP are investigating the theft of a boat and trailer that occurred between Sunday, May 30, 2021, and Tuesday June 1, 2021. All attempts to locate the stolen property have been unsuccessful and the investigation is ongoing.
The boat is described as a 2017 Super Air Nautique 6522, teal and white in colour. The trailer is described as a 2017 white Boatmate. The value of the boat and trailer exceed $100,000.
If you have seen this boat and trailer or have any information in relation to this incident, please contact Sylvan Lake RCMP at 403-858-7200 or your local police. If you wish to remain anonymous, you can contact Crime Stoppers at 1-800-222-8477 (TIPS), online at www.P3Tips.com or by using the "P3 Tips" app available through the Apple App or Google Play Store.