A simple question from a daughter. A special connection to a horse. Another chance to defeat the demons.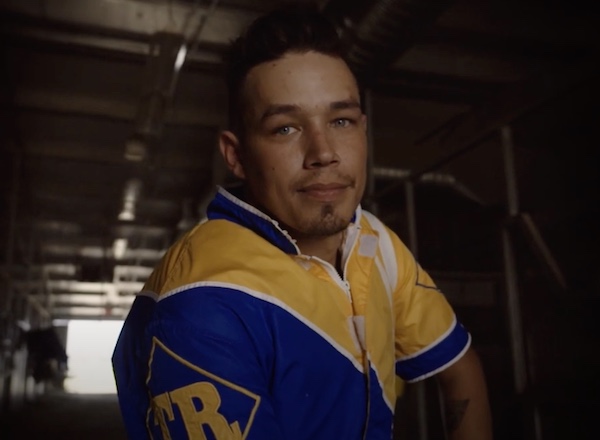 If you know the racetracks in Saskatchewan and Alberta there's a very good chance you've run into the name Tyler Redwood. Tyler has been racing Standardbreds his entire adult life. Driver of the year in Saskatchewan in 2009, 2011, and 2012, he was on top of his game until addictions knocked him off his horse so to speak. One late fall night in September 2012, Redwood drove an ATV into a tractor, shattering his jaw and threatening his career. He was losing his battle with alcohol and drugs. He was falling into depression. He tried to take his own life.
Fortunately, Tyler Redwood kept coming back to his horses. There was something in the relationship with an animal who needed love and a horse lover who had something to give. Shoeing a horse, brushing a horse, just spending time with an animal, especially the ones others are giving up on. Redwood has always enjoyed sharing a little love with the majestic animals. On his toughest days he admits horses give him something special in return.
One after another the tracks closed in Saskatchewan and Redwood was faced with a life changing decision. Would he move onto a different pursuit? Or would he pursue his passion somewhere else? In the end it was his passion that would save him. Tyler moved his family to Central Alberta and became a bit of a fixture at Century Downs and The Track on 2. But moving his loved ones away from their family members was a struggle, especially considering his demons followed him. As Redwood tried to establish himself in Alberta, depression was sometimes getting the better of him. Suicidal and dependent, spending all his free time isolated from his family in the garage, it was a question from his daughter that sparked the much-needed change in Tyler's life.
In the clear way only children speak in she asked her father why he was spending all his time in the garage and not with her and her 2 siblings. The question cut Redwood to the bone. The next day he pursued the help he would need to put him on a path to recovery. Other than one setback on August 11, 2018, Tyler has been strong.
One of his great loves now is his relationship with his horse Star Flight. Star Flight was struggling on the track just like Redwood when he got a chance to ride her. He felt something in her and a conversation with the owner turned into an eventual purchase. The two troubled souls bonded and the relationship sparkled on the track. The struggling horse started to win. Six victories later Star Flight was a finalist for Claiming Filly / Mare of the Year at the 2021 Alberta Standardbred Horse Association Awards.
With a new love in his life, his children nearby, and horses to spend time with Tyler Redwood has come to recognize a new strength. Now he feels strong enough to share his story with others who are struggling. In the following video he shares a beautiful message on behalf of The Canada Suicide Prevention Service. Here's "Redwood Redemption" an inspirational testament to the day to day struggles of an Alberta horseman.
If you're thinking about suicide, are worried about a friend or loved one, the Canada Suicide Prevention Service is available 24/7 for voice and 4pm to 12am ET for text.
The Canada Suicide Prevention Service
Need help? Call and connect with our responders now at 1-833-456-4566.
Between 2 pm and 10 pm (Alberta time) you can send a text to 45645
Drying conditions return in Alberta, crews see more intense fire activity
A burnt metal sign hangs from a tree, damaged by recent wildfires, in Drayton Valley Alta., on Wednesday, May 17, 2023. As more wildfire evacuees are being allowed to return home in Alberta, provincial officials warn that warm, dry conditions are returning this weekend in some areas.THE CANADIAN PRESS/Jason Franson
As more wildfire evacuees are being allowed to return home in Alberta, provincial officials warn that warm, dry conditions are returning this weekend in some areas.
Melissa Story with Alberta Wildfire says the elevated fire conditions were anticipated and that crews on the ground are seeing more intense fire activity on the perimeters of wildfires.
But she says most fires haven't grown substantially and she doesn't believe any have jumped their containment lines.
The number of evacuees as of Saturday afternoon stood at 5,257, down from over 7,200 on Wednesday, following cooler and wetter conditions in the last week.
Nearly 50 wildfires in Alberta's forest protection area are burning, with 14 of those listed as out-of-control.
Cyndee Evans, executive director of the Alberta Emergency Management Agency, says the situation remains serious despite recent positive news.
"While we can take heart that more Albertans are starting to return home, we cannot afford to drop our guard. Now is not the time for complacency. Please continue to do your part and help prevent the spread of wildfires and further damage from occurring," Evans told a news conference Saturday.
Story noted that showers were forecast for some parts of Alberta later Saturday, reducing fire danger, but also cautioned they bring the risk of lightning.
Federal Emergency Preparedness Minister Bill Blair said in a tweet Saturday that an extension for the deployment of Canadian Armed Forces personnel to assist in firefighting efforts has been approved.
Story said firefighters from New Zealand were welcomed to the province Friday and that nearly 200 firefighters and support staff from Australia would be arriving this weekend.
Alberta remains under a provincewide state of emergency, although some bans on fires, ATVs and off-highway vehicles have been relaxed in recent days.
Parkland County west of Edmonton lifted a state of local emergency on Friday that had been in place since April 29, and downgraded a fire ban to a fire restriction. It said that meant "safe fires in approved fire pits with a screen are allowed and do not require a permit."
Fires without screens still required permits, however, and open fires in the county are still banned.
The High Level Forest Area wildfire update noted the Pasqua fire located in the community of Fox Lake saw an increase in fire activity after warm and dry weather on Friday, and that temperatures and fire behaviour was expected to pick up on Saturday.
Fox Lake remains evacuated, but residents are being permitted to sign up for tours of the community on Monday to view damage. A statement from the Little Red River Cree Nation said priority will be given to people who have lost their homes.
"Tours will be visual only, as it is still not safe for members to walk around the community or house sites due to hot spots as well as possible toxins and hazards in the areas that have been burned," said a statement posted online by the First Nation on Friday.
This report by The Canadian Press was first published May 27, 2023.
UCP leader Smith says she is 'delighted' by endorsements from Harper, Poilievre
United Conservative Party leader Danielle Smith, centre, makes an election campaign announcement in Calgary, Alta., Friday, May 26, 2023. Albertans go to the polls on May 29. THE CANADIAN PRESS/Jeff McIntosh
Calgary
United Conservative leader Danielle Smith says she would aim to lower the level of political polarization in Alberta if her party wins what has been a tight and often bitter election race.
She made her remarks during her last news conference before Albertans go to the polls on Monday.
Smith says she would consult broadly and make decisions based on what she's heard.
She adds her door is always open to people from all backgrounds and all political persuasions, and she would learn by exchanging ideas.
The UCP leader also says she was delighted to garner endorsements from former prime minister Stephen Harper and federal Conservative Opposition Leader Pierre Poilievre.
The rival New Democrats have been endorsed by high-profile former Calgary mayor Naheed Nenshi.
This report by The Canadian Press was first published May 26, 2023.