A simple question from a daughter. A special connection to a horse. Another chance to defeat the demons.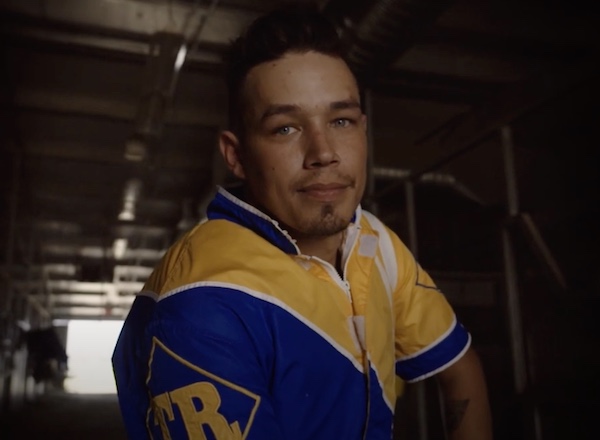 If you know the racetracks in Saskatchewan and Alberta there's a very good chance you've run into the name Tyler Redwood.  Tyler has been racing Standardbreds his entire adult life.  Driver of the year in Saskatchewan in 2009, 2011, and 2012, he was on top of his game until addictions knocked him off his horse so to speak.  One late fall night in September 2012, Redwood drove an ATV into a tractor, shattering his jaw and threatening his career.   He was losing his battle with alcohol and drugs.  He was falling into depression. He tried to take his own life.
Fortunately, Tyler Redwood kept coming back to his horses.  There was something in the relationship with an animal who needed love and a horse lover who had something to give.  Shoeing a horse,  brushing a horse, just spending time with an animal, especially the ones others are giving up on. Redwood has always enjoyed sharing a little love with the majestic animals.  On his toughest days he admits horses give him something special in return.
One after another the tracks closed in Saskatchewan and Redwood was faced with a life changing decision.  Would he move onto a different pursuit?  Or would he pursue his passion somewhere else?  In the end it was his passion that would save him.  Tyler moved his family to Central Alberta and became a bit of a fixture at Century Downs and The Track on 2.  But moving his loved ones away from their family members was a struggle, especially considering his demons followed him.  As Redwood tried to establish himself in Alberta, depression was sometimes getting the better of him.   Suicidal and dependent, spending all his free time isolated from his family in the garage,  it was a question from his daughter that sparked the much-needed change in Tyler's life.
In the clear way only children speak in she asked her father why he was spending all his time in the garage and not with her and her 2 siblings.  The question cut Redwood to the bone.  The next day he pursued the help he would need to put him on a path to recovery.   Other than one setback on August 11, 2018, Tyler has been strong.
One of his great loves now is his relationship with his horse Star Flight.  Star Flight was struggling on the track just like Redwood when he got a chance to ride her.  He felt something in her and a conversation with the owner turned into an eventual purchase.  The two troubled souls bonded and the relationship sparkled on the track. The struggling horse started to win.  Six victories later Star Flight was a finalist for Claiming Filly / Mare of the Year at the 2021 Alberta Standardbred Horse Association Awards.
With a new love in his life, his children nearby, and horses to spend time with Tyler Redwood has come to recognize a new strength. Now he feels strong enough to share his story with others who are struggling.  In the following video he shares a beautiful message on behalf of The Canada Suicide Prevention Service.  Here's "Redwood Redemption" an inspirational testament to the day to day struggles of an Alberta horseman.
If you're thinking about suicide, are worried about a friend or loved one, the Canada Suicide Prevention Service is available 24/7 for voice and 4pm to 12am ET for text.
The Canada Suicide Prevention Service
Need help? Call and connect with our responders now at 1-833-456-4566.  
Between 2 pm and 10 pm (Alberta time) you can send a text to 45645
Veteran Canadian rider Mario Deslauriers wins Spruce Meadows Grand Prix
CALGARY — Canada's Mario Deslauriers and Bardolina 2 posted two clear rounds Saturday to take the Queen Elizabeth II Cup Grand Prix at Spruce Meadows.
In a jump-off with Mexico's Carlos Hank Guerreiro and Australian Katie Laurie, Deslauriers and the 12-year-old mare didn't put a rail down and topped the leaderboard with a time of 53.05 seconds.
Deslauriers said Bardolina 2 can be difficult to ride, but she was on her game Saturday in Calgary.
"Today, she jumped incredible," Deslauriers said. "She was straight like an arrow and she jumped beautiful."
Deslauriers and Bardolina 2 were Canada's lone show jumping entry in the summer's Tokyo Olympics where the duo placed 22nd.
"She was very good I think in the medal round (there)," Deslauriers said. "She had two fences down that were very cheap, but overall she jumped super well.
"Before she came here, she had to do three weeks quarantine because I was over my limit when I came back from Europe.
"Really, I jumped her one time at home, she got in the truck and came here, so I think she's matured a lot. I can count on her. I don't need to practise so much any more."
Deslauriers, 56, is from Saint-Jean, Que., but lives in New York.
The North American is the last of three September tournaments totalling $5.6 million in prize money.
Spruce Meadows resumed hosting international show jumping events after a two-year hiatus because of the COVID-19 pandemic.
This report by The Canadian Press was first published Sept. 18, 2021.
The Canadian Press
Mother and child lived in same complex as man charged in their murders: Alberta RCMP
HINTON, Alta. — RCMP in Alberta say a man charged in the deaths of a woman and her 16-month-old toddler lived in the same apartment complex as the victims, but otherwise had no connection to them.
Police say in a news release that Robert Keith Major, 53, from Hinton, Alta., has been charged with two counts of second-degree murder and one count of indignity to human remains.
Mounties in Hinton have said the bodies of the 24-year-old woman and her child were found after they'd been reported missing on Thursday night from the community 290 kilometres west of Edmonton.
Police say they are not releasing the names of the woman and child out of respect for the wishes of the family, adding the family has asked for privacy to grieve.
They say they are not seeking any other suspects in the case.
Major remains in custody and will appear in Edson provincial court on Tuesday.
Autopsies are taking place Saturday and Sunday, police say.
This report by The Canadian Press was first published Sept. 18, 2021.
The Canadian Press