A simple question from a daughter. A special connection to a horse. Another chance to defeat the demons.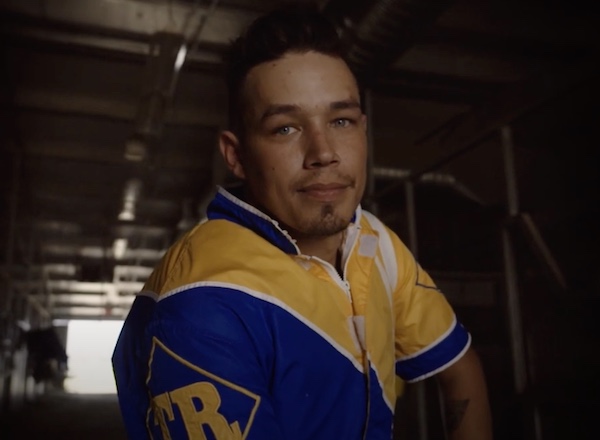 If you know the racetracks in Saskatchewan and Alberta there's a very good chance you've run into the name Tyler Redwood. Tyler has been racing Standardbreds his entire adult life. Driver of the year in Saskatchewan in 2009, 2011, and 2012, he was on top of his game until addictions knocked him off his horse so to speak. One late fall night in September 2012, Redwood drove an ATV into a tractor, shattering his jaw and threatening his career. He was losing his battle with alcohol and drugs. He was falling into depression. He tried to take his own life.
Fortunately, Tyler Redwood kept coming back to his horses. There was something in the relationship with an animal who needed love and a horse lover who had something to give. Shoeing a horse, brushing a horse, just spending time with an animal, especially the ones others are giving up on. Redwood has always enjoyed sharing a little love with the majestic animals. On his toughest days he admits horses give him something special in return.
One after another the tracks closed in Saskatchewan and Redwood was faced with a life changing decision. Would he move onto a different pursuit? Or would he pursue his passion somewhere else? In the end it was his passion that would save him. Tyler moved his family to Central Alberta and became a bit of a fixture at Century Downs and The Track on 2. But moving his loved ones away from their family members was a struggle, especially considering his demons followed him. As Redwood tried to establish himself in Alberta, depression was sometimes getting the better of him. Suicidal and dependent, spending all his free time isolated from his family in the garage, it was a question from his daughter that sparked the much-needed change in Tyler's life.
In the clear way only children speak in she asked her father why he was spending all his time in the garage and not with her and her 2 siblings. The question cut Redwood to the bone. The next day he pursued the help he would need to put him on a path to recovery. Other than one setback on August 11, 2018, Tyler has been strong.
One of his great loves now is his relationship with his horse Star Flight. Star Flight was struggling on the track just like Redwood when he got a chance to ride her. He felt something in her and a conversation with the owner turned into an eventual purchase. The two troubled souls bonded and the relationship sparkled on the track. The struggling horse started to win. Six victories later Star Flight was a finalist for Claiming Filly / Mare of the Year at the 2021 Alberta Standardbred Horse Association Awards.
With a new love in his life, his children nearby, and horses to spend time with Tyler Redwood has come to recognize a new strength. Now he feels strong enough to share his story with others who are struggling. In the following video he shares a beautiful message on behalf of The Canada Suicide Prevention Service. Here's "Redwood Redemption" an inspirational testament to the day to day struggles of an Alberta horseman.
If you're thinking about suicide, are worried about a friend or loved one, the Canada Suicide Prevention Service is available 24/7 for voice and 4pm to 12am ET for text.
The Canada Suicide Prevention Service
Need help? Call and connect with our responders now at 1-833-456-4566.
Between 2 pm and 10 pm (Alberta time) you can send a text to 45645
Calgary to host Edmonton Stingers, two other teams for BCLA group-stage games
Calgary will host the third window of group stage games for the upcoming Basketball Champions League Americas.
The BCLA features 12 teams from seven countries in the Americas competing over four months for a berth in the 2023 FIBA International Cup.
The four games in Calgary, which will be held March 14-16 at the WinSport Arena, mark the first time Canada has hosted the league.
The Canadian Elite Basketball League champion Edmonton Stingers will play a pair of games over the window, facing Puerto Rico's Cangrejeros on March 14 and Nicaragua's Real Estelí on March 16.
Cangrejeros and Real Estelí will face off March 15.
The BCLA begins Dec. 13 with Edmonton travelling to Nicaragua to begin pool play.
The other teams in the competition are: Quimsa (Argentina); Boca Juniors (Argentina); Obras (Argentina); São Paulo (Brazil); Minas (Brazil); Flamengo (Brazil); Bigua (Uruguay); Nacional (Uruguay); and UdeC (Chile).
This report by The Canadian Press was first published Nov. 30, 2021.
The Canadian Press
Oilers cancel practice after defenceman Cody Ceci placed in COVID protocol
Edmonton Oilers defenceman Cody Ceci has been placed in COVID-19 protocol.
The team said it cancelled practice Tuesday for "precautionary reasons."
Edmonton has also placed veteran defenceman Duncan Keith on injured reserve after he suffered an upper-body injury against the Dallas Stars on Nov. 23.
Keith, 38, has five points (one goal, four assists) in 18 games with the Oilers this season.
Edmonton has recalled Markus Niemelainen from the Bakersfield Condors of the American Hockey League.
The Oilers (15-5-0) are set to host the Pittsburgh Penguins on Wednesday.
This report by The Canadian Press was first published Nov. 30, 2021.
The Canadian Press