3 Questions for David Gilmore, Not That David… This David!
Master Luthier, Husband, Father, Grandfather, Friend and Philanthropist…
Or simply as I like to call him, David. David Gilmore is about as cool as a guy gets. Somehow though he's able to carry himself in a way that exudes a natural welcomeness. Whether it be at his north side shop, at a gig on stage or simply hanging out having a visit, David is just straight up great to be around. Sometimes when I'm at his shop, I'll even get to catch him testing out one of the freshly finished guitars about to go on the wall. It's hard to describe how it feels as a guitar player to watch another guitar player test drive a guitar he built himself. CRAZY. Thats my favourite part. Seeing David take a rip on one of his own masterpieces.
"My shop is a safe place, and I invite people to just hang and decompress."
Did you know: David along with longtime friend Don Routley and a few others formed the Red Deer chapter of GuitarZ For KidZ. GuitarZ For KidZ Red Deer was founded in order to get used instruments into the hands of local youth and families in need. You've likely heard me say this many times before, music really helps the positive development of mental health in so many ways. Programs like GuitarZ For Kidz are proof that music can make an enormous and meaningful impact on good mental health.
I guess what I'm trying to say is go support David. He's built 4 guitars since the whole world wide isolation took over and beautiful is an understatement. David has supported me over the years in so many ways. From gear to guitars to friendship and mentorship. Check out Gilmore Guitars on the north end of Red Deer. Go get yourself a piece of somebody's soul. Handcrafted. Wait you've got one guitar too many? No problem, have a chat with GuitarZ For KidZ. They will help it get to someone that could really use a musical boost.
Yes yes yes I know, "get to the three questions!" Ok, first I'll leave you with this: Be kind and compassionate to each other. On purpose, with purpose.
1. How does it feel knowing your art helps other artists birth their art?
There's no way to put that into words. There is a buzz when you hear a guitar you built on the radio, or hear a song that was written with a guitar you've built, or have an artist out of the blue contact you and express sheer joy with their guitar. There is gratitude. There is sense of accomplishment. There is pride.
Then there is the other side, when one shows up in a pawn shop. That being said, once a guitar leaves the shop, it starts a hopefully life-long journey that will have its own twists and turns.
2. Do you eat your pizza with a knife and fork?
Really? Fingers
3. How has music affected your mental health?
Music has been a part of my daily fabric since adolescence. I am one of the lucky ones. I have always been mentally healthy… my wife may disagree… 😉 Music takes me places everyday. Certain songs bring back great memories. People, places, smells. There is constant music in my shop. Either the radio or records or the computer, and on good days somebody hanging out and playing a guitar for a while.
My shop is a safe place, and I invite people to just hang and decompress. More than one person has told me they love just walking into the shop.
3 Questions for Curtis Labelle – Singer/Songwriter, Renowned Pianist and Vibrant Performer
Southside Dodge donates new van to Ronald McDonald House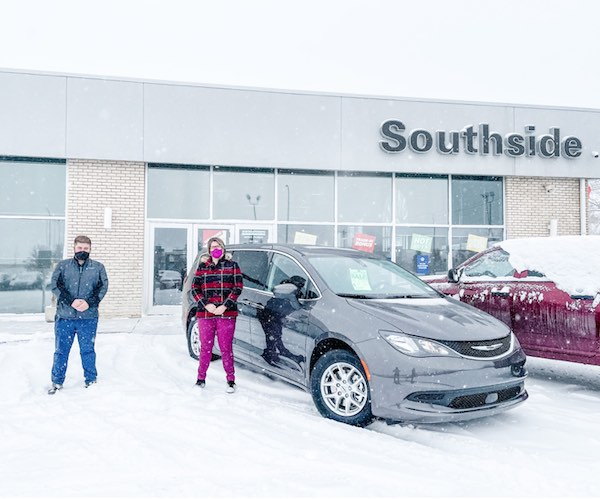 Matt Swainson (Vice President & General Manager, Southside Dodge Chrysler Jeep Ram) -left , Lori Rechlo (General Manager, Ronald McDonald House Charities Alberta – Red Deer House) – right
Submitted by

Sarah Heibein,

Stakeholder Relations Manager, Central Alberta Ronald McDonald House

We've received a donation of use of a Dodge Caravan from Southside Dodge- they've been an incredible support of us over the years. Attached is the photo we took at the dealership when we picked up the keys on Friday.
Ronald McDonald House Charities Alberta, Red Deer House is truly grateful to Matt Swainson and his entire team at Southside Dodge for their steadfast support of our work to keep families together during the unimaginable hardship of the need to travel for medical treatment for their sick or injured child. Our House is not a nice to have, but a need to have, and we are honoured to work with such an amazing community partner in Southside. The use of the 2021 Dodge Caravan will help us to keep our operating costs down so that we can focus on our work to keep families close.
We have operated in the city for over 8 years, ensuring there is a safe and comfortable place for families to rest while they focus on the recovery of their child(ren).
We are grateful to everyone in Red Deer who supports us! 😊
Smiles Thru Lindsey reaching out with a new video message and urging Albertans to look out for each other at this challenging time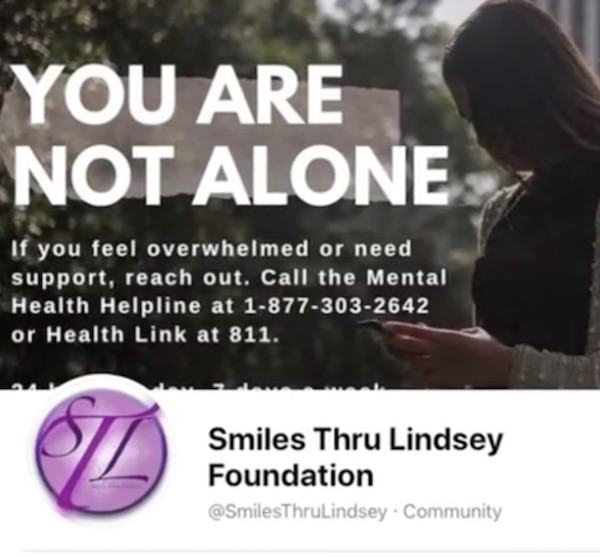 The holiday season is well behind us, we're heading into the coldest part of the winter, and although the days are starting to grow longer there's still a definite lack of daylight in our lives. The winter blues are a real thing and this year we have COVID, a whole new serious problem to add to our mental health issues.
COVID is also the reason the Smiles Thru Lindsey team has not been able do public events for many months. Unable to reach out physically through school visits and fund raisers, Smiles Thru Lindsey is reminding Central Albertans to check in on each other. Also, please follow the Smiles Thru Lindsey Facebook page . They'll lead you to the resources you or your loved ones need right away.
Meet Lindsey and the Smiles Thru Lindsey team in this powerful video. …And remember to check in on the people in your life.
If you'd like to help Smiles Thru Lindsey with a donation please click here.