World Health Organization negotiating to take control "when the next event with pandemic potential strikes"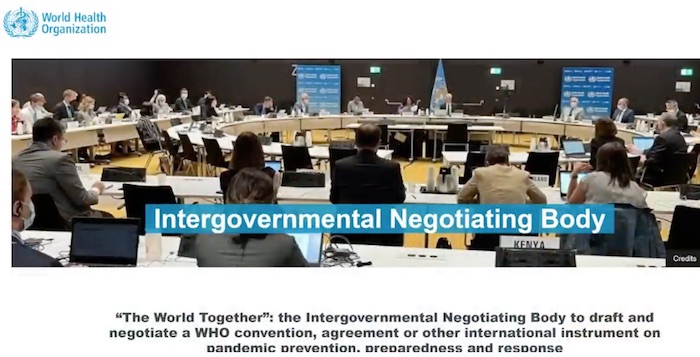 British Health Researcher Dr. John Campbell is raising the alarm about the latest moves by the World Health Organization to consolidate authority over governments all around the world.
As argued in UK Parliament, the World Health Organization is asking for a vast transfer of power and some MP's are very much in favour of ceding power to the WHO.
In this video, Dr. Campbell outlines new regulations countries are currently negotiating to hand over vast new responsibilities to the WHO. The treaties would put the World Health Organization in charge – not just of the global health response, but of what information is shared, and how that information is shared. The regulations would also allow the WHO to take control not just in the event of a health emergency, but in the event of any emergency that could potentially impact public health.
From the commentary notes of Dr. John Campbell.
---
Countries from around the world are currently working on negotiating and/or amending two international instruments, which will help the world be better prepared when the next event with pandemic potential strikes.
The Intergovernmental Negotiating Body (INB) https://inb.who.int to draft and negotiate a convention, agreement or other international instrument to strengthen pandemic prevention, preparedness and response (commonly known as the Pandemic Accord).
Amendments to the International Health Regulations https://www.who.int/teams/ihr/working…) https://apps.who.int/gb/wgihr/pdf_fil… to amend the current International Health Regulations (2005) https://apps.who.int/gb/wgihr/ https://www.who.int/publications/i/it… 66 2005 articles
Underlined and bold = proposal to add text
Strikethrough = proposal to delete existing text (cut and paste does not copy strike through so I've put them in comic sans)
Article 1 Definitions
"standing recommendation" means non-binding advice issued by WHO
"temporary recommendation" means non-binding advice issued by WHO
Article 2 Scope and purpose including through health systems
readiness and resilience in ways that are commensurate with and restricted to public health risk – all risks – with a potential to impact public health,
Article 3 Principles
The implementation of these Regulations shall be with full respect for the dignity, human rights and fundamental freedoms of persons
Article 4 Responsible authorities
each State Party should inform WHO about the establishment of its National Competent Authority responsible for overall implementation of the IHR that will be recognized and held accountable
Article 5 Surveillance
the State Party may request a further extension not exceeding two years from the Director-General,
who shall make the decision refer the issue to World Health Assembly which will then take a decision on the same
WHO shall collect information regarding events through its surveillance activities
Article 6 Notification
No sharing of genetic sequence data or information shall be required under these Regulations.
Article 9: Other Reports
reports from sources other than notifications or consultations
Before taking any action based on such reports, WHO shall consult with and attempt to obtain verification from the State Party in whose territory the event is allegedly occurring
Article 10 Verification
whilst encouraging the State Party to accept the offer of collaboration by WHO, taking into account the views of the State Party concerned.
Article 11 Exchange of information
WHO shall facilitate the exchange of information between States Parties and ensure that the Event Information Site For National IHR Focal Points offers a secure and reliable platform
Parties referred to in those provisions, shall not make this information generally available to other States Parties, until such time as when: (e) WHO determines it is necessary that such information be made available to other States Parties to make informed, timely risk assessments.
Health Foundation commits $325,000 to support child, adolescent mental health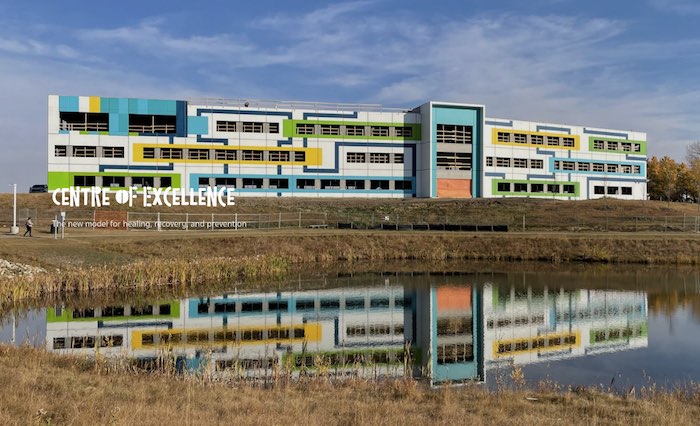 Foundation donors provide furnishings, supplies for program for ages 13 to 17
Thanks to Central Alberta donors, the Red Deer Regional Health Foundation is supporting Step Up Step Down, a program helping youth aged 13 to 17 who have complex mental health challenges.
Step-Up Step-Down will find a new home in the Centre of Excellence, described as a centre for "healing, recovery, and prevention" being built at Red Deer Polytechnic.
"We thank our generous donors for supporting the Foundation's greatest needs, which allows us to dedicate funds to help young people and families in our community," says Manon Therriault, Chief Executive Officer of the Red Deer Regional Health Foundation.
Funds raised by the Foundation will provide a fully furnished, equipped and supplied environment to allow staff to provide timely recreational, therapeutic, and extracurricular activities to the youth in care. Funded items include furnishings, equipment, and supplies for the kitchen, bedrooms, sensory and therapy rooms, classroom, living room, gym, outdoor spaces, and indoor activity spaces.
The move into the Centre of Excellence will allow expansion of the Step Up Step Down program up to 16 beds from the current 5 beds and allow the program to provide intensive, comprehensive, individualized clinical services to youth in a live-in and community setting.
Step Up Step Down will support approximately 50-75 live-in treatment families, along with 100 intensive outpatient families per year, reducing stress on the Emergency Department and Pediatric Psychiatric units at the Red Deer Hospital. The facility will serve youth and families from all areas of the Central Zone.
About Red Deer Regional Health Foundation
The Red Deer Regional Health Foundation is a fundraising organization for Alberta Health Services Central Zone, with a mandate to raise and disburse funds for programs, services, and the purchase of medical equipment.
Ruling clears way for Purdue Pharma to settle opioid claims, protect Sacklers from lawsuits
Jayde Newton helps to set up cardboard gravestones with the names of victims of opioid abuse outside the courthouse where the Purdue Pharma bankruptcy is taking place in White Plains, N.Y., on Aug. 9, 2021. A three-judge panel of the 2nd U.S. Circuit Court of Appeals in New York on Tuesday, May 30 overturned a lower court's 2021 ruling that found bankruptcy courts did not have the authority to protect members of the Sackler family who own the company and who have not filed for bankruptcy protection from lawsuits. (AP Photo/Seth Wenig, File)
By Geoff Mulvihill
A federal court ruling cleared the way Tuesday for OxyContin maker Purdue Pharma's settlement of thousands of legal claims over the toll of opioids.
Under the plan approved by the 2nd U.S. Circuit Court of Appeals in New York, members of the wealthy Sackler family would give up ownership of Stamford, Connecticut-based Purdue, which would become a new company known as Knoa, with its profits being used to fight the opioid crisis. They would also contribute $5.5 billion to $6 billion in cash over time. A chunk of that money — at least $750 million — is to go to individual victims of the opioid crisis and their survivors. Only one other major opioid lawsuit settlement includes payments for victims.
Tuesday's decision also protects members of the Sackler family from lawsuits over the toll of opioids, even though they did not file for bankruptcy.
The court's ruling reversed a 2021 ruling that found bankruptcy court judges did not have the authority to approve a settlement that would offer bankruptcy protections for those who have not filed for bankruptcy.
Those protections are at the heart of the proposed deal that would end claims against Purdue filed by thousands of state, local and Native American tribal governments and other entities.
"It's a great day for victims, some of who desperately need the money and have been waiting for this day for a long time," said Ed Neiger, a lawyer representing individual victims.
Sackler family members have been clear: If they don't get the legal protections, they won't do their part of the deal.
"The Sackler families believe the long-awaited implementation of this resolution is critical to providing substantial resources for people and communities in need," family members who own Purdue said in a statement Tuesday. "We are pleased with the Court's decision to allow the agreement to move forward and look forward to it taking effect as soon as possible."
Purdue issued its own statement, calling the ruling "a victory for Purdue's creditors, including the states, local governments, and victims who overwhelmingly support the Plan of Reorganization." The company said it would focus on delivering "billions of dollars of value for victim compensation, opioid crisis abatement, and overdose rescue medicines."
Several states had been withholding support for the plan, but after a new round of negotiations last year, all of them came on board. That left just one high-profile objector: the Office of the U.S. Bankruptcy Trustee, an arm of the Justice Department.
A lawyer from that office told the 2nd Circuit in April 2022 that it's a "fundamental inconsistency" that people who do not seek bankruptcy protection and have to give up most of their assets could be exempted from some lawsuits.
The Justice Department has not immediately said whether it would appeal Tuesday's ruling to the U.S. Supreme Court. A spokesperson declined comment Tuesday.
The the latest version of the settlement must still be approved by a bankruptcy court judge before it can be finalized.
While Sackler family members still technically own Purdue, they stopped receiving money from the company years ago.
All three federal appeals judges who heard the Purdue case last year agreed that the Sackler family can be protected from lawsuits. But one — Richard Wesley — said in a separate opinion that he did so reluctantly, noting that while courts allow such deals they're not explicitly allowed under bankruptcy law.
Purdue is perhaps the highest-profile player in the opioid industry. But several other drugmakers, distribution companies and pharmacies also have been sued by state and local governments. While a handful of cases have gone to trial, many also are being settled.
The total value of proposed and finalized settlements in recent years is more than $50 billion. Companies that have reached deals include drugmakers Johnson & Johnson and Teva; distribution giants AmerisourceBergen, Cardinal Health and McKesson; and pharmacy chains CVS, Walgreens and Walmart. Most of the money is required to be used to fight the opioid crisis, which has been linked to more than 500,000 deaths in the U.S. over the past two decades, including more than 70,000 a year recently.
In recent years, most of the deaths have been connected to fentanyl and other illicit synthetic opioids, not prescription painkillers.