National level volleyball talent – Notre Dame Cougars' Shynelle Woroniuk is ASDC Central Athlete of the Month
The Alberta Sport Development Centre – Central (ASDC-C) is pleased to announce that the ASDC-Central Athlete of the Month for April 2020 is Shynelle Woroniuk. Shynelle Woroniuk is a 16 year old Red Deer, AB resident, Grade 11 student at Ecole Notre Dame High School and a competitive multi-sport athlete.
Shynelle has had a great deal of success in a variety of sports, including fastball, basketball, badminton, athletics and volleyball. In the past year, Shynelle won an ASAA Gold Medal in Mixed Doubles Badminton, a ASAA Bronze Medal in High Jump, an Aggregate 3rd at ASAA Athletic Provincials, and a Silver medal in Badminton Mixed Doubles at the 2020 Alberta Winter Games. Last summer Shynelle was named to Volleyball Alberta's Provincial 16U Women's Team for the 2nd year in a row and competed at Volleyball Canada's Cup in Halifax, Nova Scotia. During her HS volleyball season Shynelle was named to the All-Star Team at four different tournaments and was named to the League All-Star team.
Most recently, Shynelle was selected by Volleyball Canada as one of 16 athletes from across Canada to join the National Excellence Program at the Team Canada Women's Volleyball training centre in Richmond, BC for the fall semester.  The National Excellence Program (NEP) is designed to prepare athletes to perform at the highest level of our sport and to continue their development towards the National Senior Team Program and/or playing professional volleyball.  NEP athletes, through training, competition, and tours are introduced to leading international volleyball programs and clubs.  Shynelle is one of three Alberta athletes selected to the program.
In the classroom, Shynelle is an Honours student at Notre Dame. Shynelle's goals include playing volleyball at a post-secondary level in either USport in Canada or NCAA D1 in the United States, and is currently considering several scholarship offers.
With Shynelle's strong work ethic, her undeniable athletic abilities and her training experiences with ASDC-Central, she will surely continue to grow, develop and succeed in her volleyball career!
ASDC-Central thanks Tom Bast Sports for celebrating the ASDC-Central Athlete of the Month recipients by the provision of commemorative apparel for each recipient.
ASDC-Central Athlete of the Month – Shynelle Woroniuk
Judy's story: I'm on the healthy road!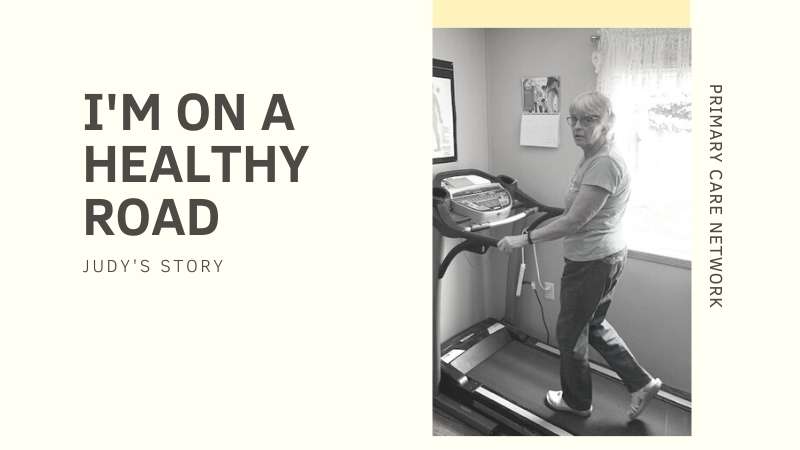 On the Healthy Road!
My journey to better health starting when my doctor told me my blood sugar was at pre-diabetes levels, my blood pressure continued to require medication and I had weight to lose.  He sent me to see the RDPCN nurse. After some appointments there, the nurse referred me to the Health Basics program.
Exercise was my downfall. Working from home, I always found something else to do rather than exercise.  Health Basics increased my awareness. I tracked what I was eating and became more aware of what I ate, when I ate and why I ate. I also realized things that would make me healthier that I wasn't doing.  I realized being healthy is a process and I took one healthy step at a time. I also became aware of the wider variety of options for healthy lifestyle.
My husband and I visited friends over the summer and noted they had lost weight.  This stimulated us to pay even more attention to our food intake. As a result of our overall efforts, I have lost about 32 pounds and my husband has lost 37. My blood sugar is now in the normal range. I have had significant decrease in my blood pressure medication. I have more energy. I enjoy exercising more as it is easier to move around and I have less arthritis pain. Health Basics is an excellent class- it started me on the healthy road. I also have much more confidence in my future health.
Click to learn more about the Red Deer Primary Care Network.
Read more success stories from the Primary Care Network.
Stars and RCMP chopper combine to rescue fallen ice climber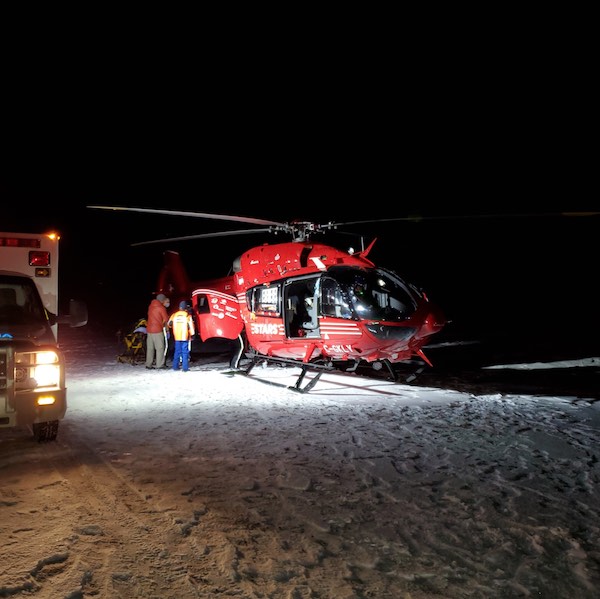 From Alberta RCMP media relations
Rocky Mountain House RCMP assist in ice climber rescue
On Jan. 15, 2021 at approximately 2:30 p.m., Rocky Mountain House RCMP received a dispatch of a fallen ice climber who was in need of medical assistance. A SOS beacon was received locating the fallen ice climber at the south end of Abraham Lake. Reports indicate the climber fell approximately 12 meters.
RCMP, EMS, Search and Rescue (SAR), STARS air ambulance and Alstrom Helicopters assisted in the rescue. The 28 year old injured male was long line rescued from his location by Alstrom Helicopters, with the assistance of Rocky Mountain House SAR. STARS was waiting nearby and further transported the injured male to a Calgary hospital.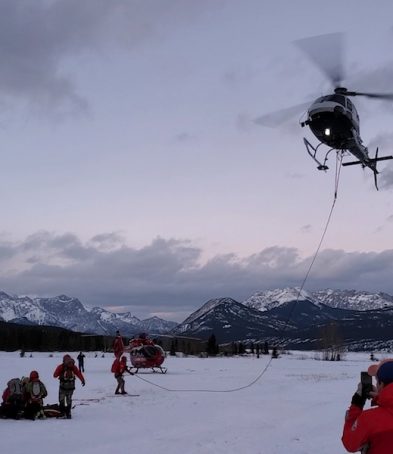 The rescued male suffered serious but non life threatening injuries as a result of his fall.
Everyone who assisted in this rescue should be commended for their professional, swift and incredible work. Well done!