National level volleyball talent – Notre Dame Cougars' Shynelle Woroniuk is ASDC Central Athlete of the Month
The Alberta Sport Development Centre – Central (ASDC-C) is pleased to announce that the ASDC-Central Athlete of the Month for April 2020 is Shynelle Woroniuk. Shynelle Woroniuk is a 16 year old Red Deer, AB resident, Grade 11 student at Ecole Notre Dame High School and a competitive multi-sport athlete.
Shynelle has had a great deal of success in a variety of sports, including fastball, basketball, badminton, athletics and volleyball. In the past year, Shynelle won an ASAA Gold Medal in Mixed Doubles Badminton, a ASAA Bronze Medal in High Jump, an Aggregate 3rd at ASAA Athletic Provincials, and a Silver medal in Badminton Mixed Doubles at the 2020 Alberta Winter Games. Last summer Shynelle was named to Volleyball Alberta's Provincial 16U Women's Team for the 2nd year in a row and competed at Volleyball Canada's Cup in Halifax, Nova Scotia. During her HS volleyball season Shynelle was named to the All-Star Team at four different tournaments and was named to the League All-Star team.
Most recently, Shynelle was selected by Volleyball Canada as one of 16 athletes from across Canada to join the National Excellence Program at the Team Canada Women's Volleyball training centre in Richmond, BC for the fall semester. The National Excellence Program (NEP) is designed to prepare athletes to perform at the highest level of our sport and to continue their development towards the National Senior Team Program and/or playing professional volleyball. NEP athletes, through training, competition, and tours are introduced to leading international volleyball programs and clubs. Shynelle is one of three Alberta athletes selected to the program.
In the classroom, Shynelle is an Honours student at Notre Dame. Shynelle's goals include playing volleyball at a post-secondary level in either USport in Canada or NCAA D1 in the United States, and is currently considering several scholarship offers.
With Shynelle's strong work ethic, her undeniable athletic abilities and her training experiences with ASDC-Central, she will surely continue to grow, develop and succeed in her volleyball career!
ASDC-Central thanks Tom Bast Sports for celebrating the ASDC-Central Athlete of the Month recipients by the provision of commemorative apparel for each recipient.
ASDC-Central Athlete of the Month – Shynelle Woroniuk
Chief Clarence Louie and author Matt Tenney featured at Workforce Strategies Summit March 30 in Red Deer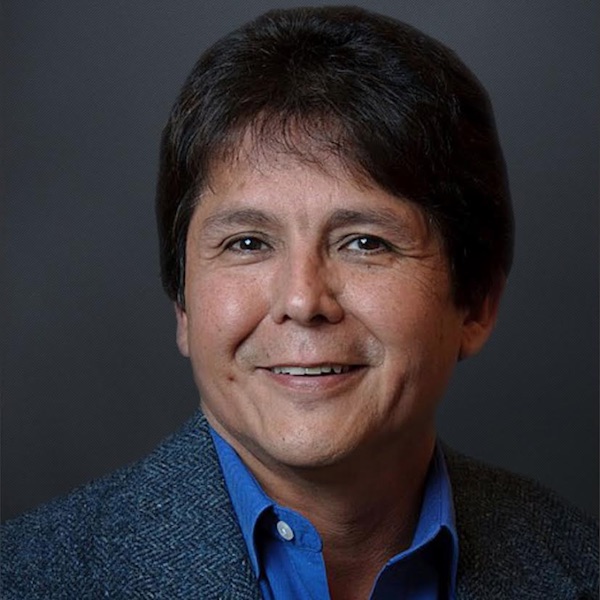 News Release submitted by the Central Alberta Economic Partnership (CAEP)
Prominent Speakers Keynote Workforce Strategies Summit
Two top caliber speakers will keynote the Workforce Strategies one-day summit in Red Deer March 30th. In the morning, social entrepreneur and "Serve to be Great" and "The Mindfulness Edge" author, Matt Tenney will share his leadership development and business success strategies. Tenney is a US-based consultant and trainer with the prestigious Perth Leadership Institute. His clients include Wells Fargo, Marriott, Keller Williams, Salesforce, United Airlines, and many other companies, associations, and universities.
In the afternoon, Canadian Speakers Bureau 5-star Indigenous inclusion, First Nation leadership and economic development expert keynote speaker, Chief Clarence Louie will share his experiences, lessons learned and business-smarts approach. Chief of the Osoyoos Indian Band for over 36 years, Chief Louie is one of six First Nations leaders to emphasize economic development to improve people's standard of living. Under his direction, the Band has become a multi-faceted corporation that owns and manages nine businesses and employs hundreds of people.
Completing the plenary sessions will be two panels of expert speakers on "Embracing the New Workforce" including topics on diversity, GenZ, and immigration, and "Automation and Technology to Fill the People Gap". The panelists include: Steve Miller, Implicit Career Search; Andrea Cassidy, Beyond Insurance; Nicole Arienzale, Fortis Alberta; Tonya Woolford, Xerox; Tom Muir, Poeta Digital; Jason Thompson, Warrior Supplies; and Dr. Joy Agnew, Olds College Centre for Innovation. The panels will be moderated by Stuart Cullum President Red Deer Polytechnic and Donna Purcell lawyer and owner of Donna Purcell QC Law.
Summit attendees can also attend private meetings with international recruitment agencies, lawyers, business consultants, and human resources professionals to discuss strategies specific to their organization's needs. Employers of all types including non-profit organizations and cooperatives are invited to attend to learn more about attracting and retaining staff for their specific sector needs.
Tickets are available through Eventbrite or from the CentralSummit.ca website until March 24. Lunch is included.
Workforce Strategies Summit is hosted by the Central Alberta Economic Partnership (CAEP) to help employers of all sizes gain insight and learn strategies for recruiting, hiring, and retaining employees. It is being held March 30, 2023 at Westerner Park in Red Deer.
Recruitment and retention related businesses including such as BusinessLink, Labour Solutions Canada, BLHR Consulting, C4ner Consulting, Golden Circle Senior Resource Centre, Camrose County, EPSS, Red Deer Polytechnic, Donna Purcell Law, Immigration Care, Digitex / Xerox, CRT Legal will be available for conversations in the business-to-business B2B Lounge.
Workforce Strategies Summit is made possible through the generous sponsorship of Community Futures Central Alberta, Olds College, Red Deer Polytech, Central Alberta Regional Innovation Network, Red Deer Chamber, Burman University, Fortis Alberta, and Canadian Immigration Visa Services. Donna Purcell QC Law, Pinnacle Communications & Media inc, Waste Connections Canada, Digital.ca / Xerox and JEDI.
The kids need Umpires more than ever! Central Alberta Softball Umpires Association puts out the call for help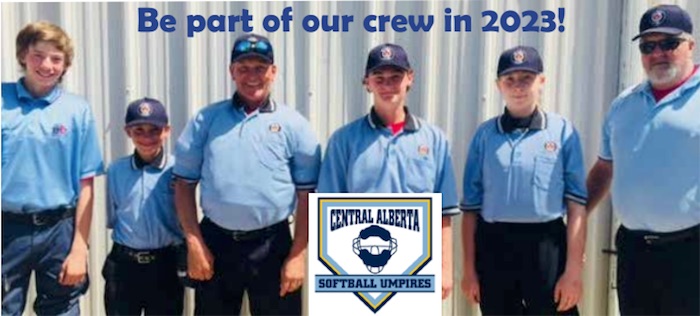 From the Central Alberta Softball Umpires Association (CASUA)
Become a Softball Umpire
The Central Alberta Softball Umpires Association (CASUA) is looking for new umpires to join their crew in 2023.
With a regular season and tournament schedule that gets underway in early May, CASUA is actively recruiting new umpires to cover minor games hosted by associations across the region.
CASUA works with minor associations in Softball Alberta's Zone 4, and northern Zone 2.
Communities covered include Didsbury, Olds, Innisfail, Sundre, Elnora, Trochu, Delburne, Red Deer, Sylvan Lake, Blackfalds, Lacombe, Ponoka, Bashaw, Clive, Bentley, Rimbey/ Bluffton, Stettler, Camrose, Castor, Coronation and Consort.
Umpiring is a great part-time job for youths (12+) or adults looking to earn at least $30 for a ninety-minute game.
Regular season games are held on weeknights in May and June, and weekend tournaments offer the chance to work anywhere from 6-10 games in a weekend. In addition to earning money, umpiring provides the chance to develop personal leadership skills such as decision making, communication and dealing with difficult situations.
Without umpires, players would face the prospect of having people pulled from the stands to officiate a game where they are unfamiliar with the rules, diminishing children's learning and enjoyment of the sport.
And then there is the worst-case scenario of not having anyone to officiate meaning "without umpires its just recess."
Umpires are required to complete a certification clinic prior to stepping on the diamond. This year, the theory portion of the clinic will be offered online, followed by an in-person mechanics clinic.
Mentorship is offered by senior umpires to help new officials skill development.
Currently, a choice of four in-person mechanics clinics scheduled in April:
 Saturday, April 1 in Rimbey
 Saturday, April 15 in Red Deer
 Sunday, April 16 in New Norway
 Saturday, April 29 in Castor
Registration fee for new umpires is $100, which includes membership with CASUA, Alberta Softball Umpires Association, Softball Alberta and Softball Canada, insurance, rule book, the clinic (including lunch), a mechanics manual, and an umpire shirt.
For more information, or to register as a softball umpire, check out the CASUA website at www.casua.ca, or email [email protected].
Join central alberta
Softball umpires!
Umpiring – a great summer job!!!
FOR MORE INFORMATION – Website: www.casua.ca; Email: [email protected]