Lindsay Thurber basketball stand out is ASDC-Central Athlete of the Month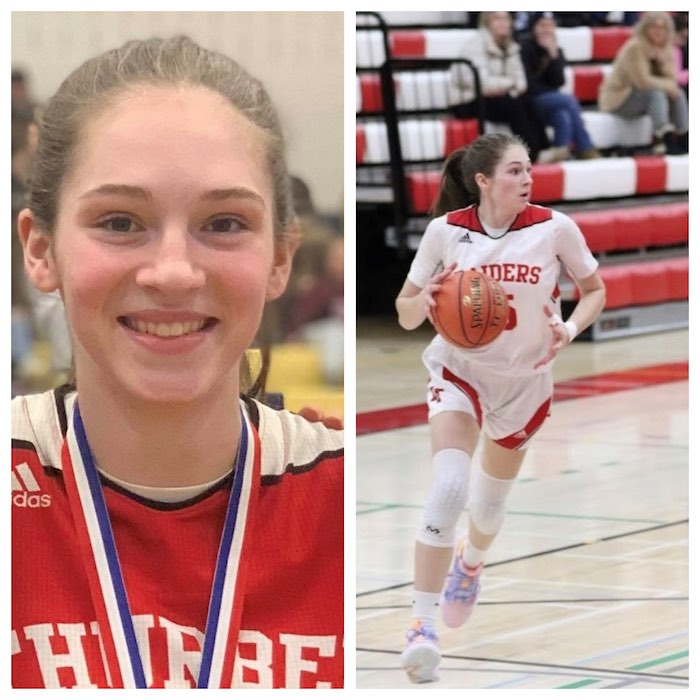 The Alberta Sport Development Centre – Central is pleased to announce that the ASDC-Central Athlete of the Month for April 2023 is McKinley Penninga.
McKinley is a 17-year-old Red Deer, AB resident, a Grade 11 student at Lindsay Thurber High School and a competitive basketball athlete.
In the past year, McKinley competed for LTCHS Raiders where they recently captured the 4A Zone Championship and finished 7th at ASAA 4A Provincial Championships. McKinley was named an All-Star at the Magrath Invitational and was also named MVP at both the Ross Sheppard and Calgary Notre Dame tournaments, during the 2023 season.
McKinley also plays club basketball with the Calgary Basketball Academy's (CBA) U18 travel team where they captured the Basketball Alberta U18 Provincials in 2022. This season, McKinley and CBA will travel to tournaments in Montreal, Toronto, and Alberta, as well as competing in the Prairie Elite Basketball League.
McKinley has recently been named to Canletes' "Top 50 Futures" list and has been invited to play in Canletes' 2023 All-Canadian All-Star Game in Toronto on April 8. (McKinley was unable to attend due to previous commitments.)
In the classroom, McKinley is an Honours student at Lindsay Thurber. McKinley's goals include playing basketball at a post-secondary level in USport in Canada and pursue a degree in Kinesiology and work towards a career in health care.
Outside of school and sports, McKinley works as a part-time student medical assistant. Since 2019, McKinley has served on the Alberta Children's Hospital's Child and Youth Advisory Council.
With McKinley's strong work ethic, her undeniable athletic abilities, and her training experiences with ASDC-Central, she will surely continue to grow, develop, and succeed in her life and career in basketball!
ASDC-Central thanks Tom Bast Sports for celebrating the ASDC-Central Athlete of the Month recipients by the provision of commemorative apparel for each recipient.
"HotSpot" – How to use the City of Red Deer's new downtown parking app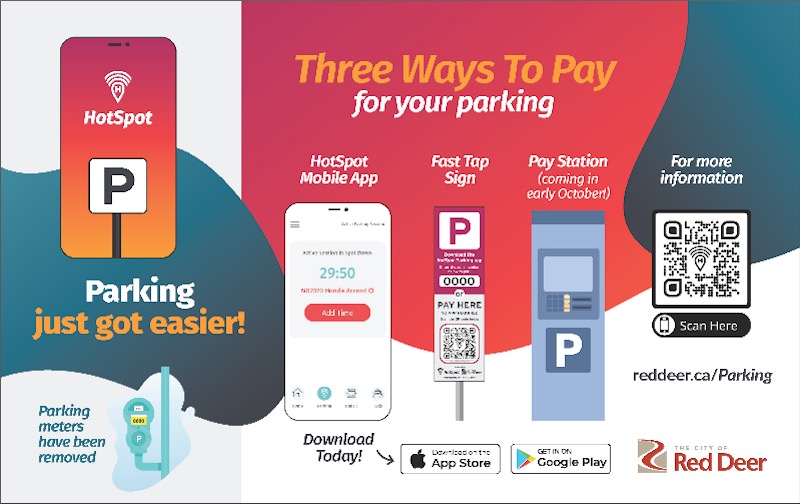 HotSpot has launched in Red Deer! If you're visiting our downtown for work, attending an event, or supporting a downtown business, you'll use HotSpot to pay for your parking.
Three ways to pay!
HotSpot mobile app
A free download for iPhone and Android users, the HotSpot app is the easiest way to manage daily parking sessions and monthly permits.
Download HotSpot:
Fast tap signs
Located throughout the downtown parking areas, fast tap signs allow payment through the HotSpot website with a quick scan code. You don't need a HotSpot account to use the fast tap signs.
Pay stations
If you prefer not to use an app or website, 21 new pay stations will be available throughout downtown and hospital zones. Pay stations offer several payment options, including coins, credit cards, Interac tap, Apple Pay and Google Pay. SmartCard parking cards will also be accepted at the pay stations, but are no longer able to be reloaded and are no longer being sold. Pay stations are expected to be up and running in early October. Until they arrive, customers are encouraged to use the app and fast tap signs to pay for parking.
Pay Station and Parking Zone Map (pdf)
HotSpot app features By using the HotSpot mobile app to manage your parking, you can:
Pay for parking
Extend parking sessions
Avoid tickets with auto-alerts
Refund unused time
Manage your monthly parking permit
More information
Review The City of Red Deer Parking Management Strategy (pdf).
Questions about downtown parking may be directed to The City's Inspections & Licensing department at 403-342-8185 or [email protected].
The City of Red Deer thanks the Government of Alberta for supporting the Parking Infrastructure Improvement Project through Municipal Sustainability Initiative (MSI) funding.
THE JACKPOT IS OVER $14000 AND THE WINNER WILL TAKE HALF!!!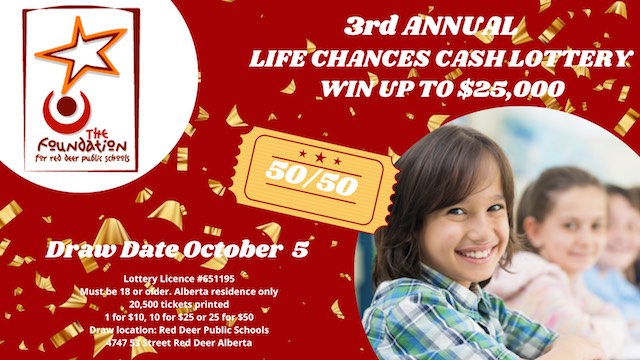 GET YOUR 50/50 TICKETSTODAY!!!! Winner could take home up to $25,000!!!
The Foundation for Red Deer Public Schools supports programs that have a significant impact on the LIFE CHANCES of students across the Division. By purchasing a ticket to support our 50/50 cash lottery you are giving students opportunities to have better life chances.
From giving kids a Bright Start to school to reconnecting with students so they graduate and cross the Finish Line, the Foundation helps students who face challenges in school and makes things better. We motivate struggling students and inspire them to read and write through Reading College. For students who come to school without basic needs, we give them that needed Step Up.
With the support from the Foundations 50/50 Life Chances Raffle, you are providing a student with opportunities that will improve their life. They can't always control the situations they're in but with your help students will continue to have these chances.
Don't miss your chance, CLICK HERE to buy your tickets today – Draw will be held on October 5! Good luck!
NOTE: This raffle is open to all community members in Alberta and over the age of 18.