With 125 Years Of History Behind It, Westerner Park Looks To The Future In 2017!
By Sheldon Spackman
After 125 years in existence, Red Deer's Westerner Park has much to celebrate and be proud of. The organization held it's Annual General Meeting on May 29th and those in attendance learned more about the many successes achieved in 2016 and the plans moving forward in 2017.
Among the achievements last year, the 2016 Mastercard Memorial Cup in May, the Westerner Days Fair & Exposition held in July, the Westerner Championship Dairy Showcase in October and the Agri-Trade Equipment Expo held in November to name a few.
Many milestones were also reached over the past year, including:
50th anniversary of the Red Deer Sportsman and Outdoor Adventure Show
30th anniversary of the Alberta Home Educators Association
25th anniversary of the Central Alberta Quilters Guild
10th anniversary of the Mane Event
10th anniversary of the Electric Garage
230 events with the Red Deer and District Kennel Club
The Westerner Days Fair & Exposition also received awards of distinction in 2016. Honours that are shared by many hard-working and dedicated staff, volunteers, partners and sponsors. Recognition was garnered from the International Association of Fairs and Expositions (IAFE) and acknowledged the event with 1st place in the Sponsorship Innovation Share the Fair program, sponsored by Olymel. 1st place was also given in the First Time Sponsor Calm Room, sponsored by On the Mark Productions INC. Attendance at Westerner Days in 2016 checked in at 92, 729.
Entertainment highlights from 2016 included Bryan Adams and the Holiday Festival on Ice featuring figure skater Kurt Browning, while facility upgrades in 2016 included new way-finding signage, upgraded street lights and renovations to the roof of the Enmax Centrium.
Westerner Park CEO and General Manager Ben Antifaiff says 2016 was an excellent year for them. He says they saw positive Net Income for the second year in a row, leaving them in a "solid cash position". Antifaiff says that will lead to re-investment into Capital projects at the Park in 2017. They will include a completion of the H-Vac system at the Stockmen's Pavillion and roof repairs on the Parkland and Prairie and Stockmen's Pavillions respectively. Others include lighting upgrades at the Agri-Centre East building and some equipment purchases for staff. A multi-year, multi-phase project to improve accessibility throughout the park will also be initiated in 2017 as well.
Antifaiff points out the organization is also excited about the upcoming
Urban Farm Festival
on August 20th. He says they feel they have a strong role to play in connecting urban and rural Central Albertans, with the event being a great way to educate people on how they can grow their own food and learn more about where their food comes from. The launch of
ticketsalberta.com
 recently, is also viewed as a positive step forward, as the site Antifaiff says will ultimately pass on savings to Westerner Park guests by reducing ticketing surcharges.
Also of note from the organization's A.G.M this week, Damian Zapisocky has been elected as the new President and Board Chair of the Westerner Park Exposition Association for a two year term.
Downtown Business Spotlight: Root 51 Salon and Spa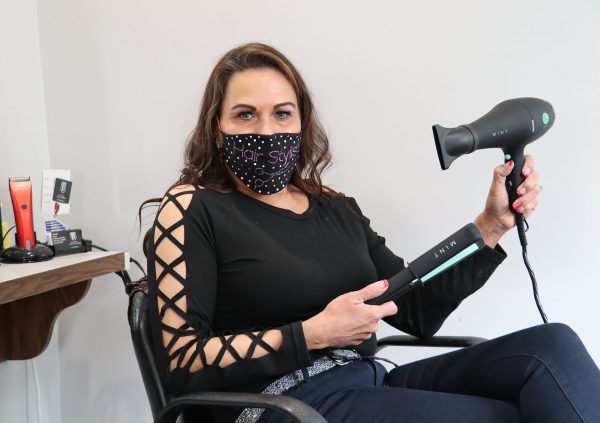 This week's Business Spotlight shines on Root 51 Salon & Spa! This unique establishment is located right on 4814 51 St and offers anywhere from haircare to spa treatments to relax and pamper. We spoke with the owner to learn more about this wonderful establishment!
What is your business?
Our business is a small locally owned salon & spa.
When did your business open?
We downsized & renovated this main floor in 2016 & changed our name to Root51 (previously Techniques Hair Therapy & Day Spa in the Millennium Center for 2 decades!)
What makes your business unique?
We have asked our valued guests this same question the responses we got: our education, our flexibility to accommodate, our selection & knowledge in our top-shelf natural products for both hair & skin, our prices are extremely reasonable for the level of experience (over 30 years) & education (over 100K worth of education!!!) (in a big city I would charge 35-40% more for the same treatments), and we work hard and are very proud of this next one…our Cleanliness – often they say your place is always spotless! (even before Covid!!)
What are some products/services that you offer?
Full-service Salon hair Care & Spa treatments that are non-invasive. Michele specializes in colours, balayage & ombre, colour corrections & blondes. Smoothing treatments are in high demand for silky soft straight looks and perms for waves or more body. With 30 years of cutting hair, some guests have said "that's the best-shaped haircut I ever had."
Spa treatments are effective and relaxing with visible results after one treatment ~ home care is a must because maintenance is easy than correction. Our skincare line is exclusive to us in RD and is composed of sea plants and seawater with many benefits to your facial skin as well as your body and well-being!
Why did you choose Downtown Red Deer as the location for your business?
In 2000, the Millennium Center was a brand new and very central location — when we changed the location to 2 block north on 51 st ~ we wanted to be able to still cater to our professional corporate downtown business people.
What do you think makes Downtown vibrant?
I believe it's the local entrepreneurs big & small that make downtown a vibrant place.
Website: Root 51 Official Website
Facebook: Root 51 Facebook Page
Downtown Business Spotlight: Artisan Food Market on Ross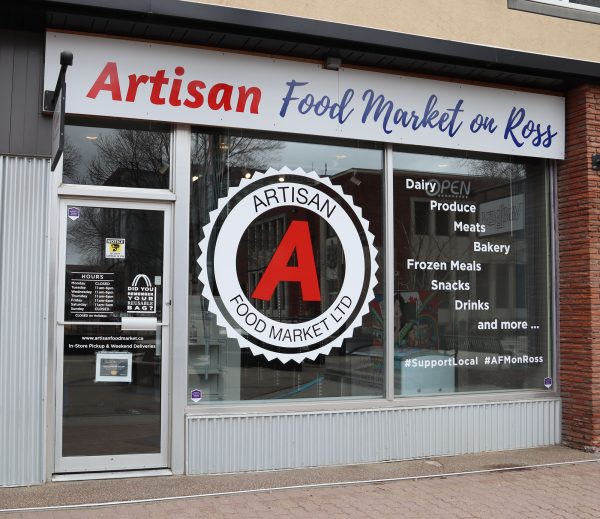 This week's Business Spotlight shines on Artisan Food Market on Ross! This unique restaurant is located right on Ross Street (106, 4916 Ross Street) and offers a large selection of locally made products. We spoke with the owner to learn more about this wonderful establishment!
What is your business?
Artisan Food Market on Ross is a specialty food store. We carry a large selection of local, national, and international foods and ingredients.
When did your business open?
We opened on April 1, 2020.
What makes your business unique?
We carry a large selection of local items and have a variety of frozen meals.
What are some products/services that you offer?
Customers can place orders for their favourite D Dutchmen Dairy or Black Forest German Bakery products and the requested items will get delivered to our store the following week. Additionally, customers can shop online and have their products delivered to their homes even during the times that we are closed. If a customer wishes to place an order they can simply visit us at www.ArtisanFoodMarket.ca.
Why did you choose Downtown Red Deer as the location for your business?
As a Red Deerian, I wanted to make a positive impact for our downtown by setting up a local market store right here.
What do you think makes Downtown vibrant?
I love the flower gardens at the city hall and the assortment of independent shops in our downtown core.
Finish this sentence: I love Downtown because…
It's my home and it's my place for adventure.
Website: Artisan Food Market on Ross Official Website
Facebook: Artisan Food Market on Ross Facebook Page
Instagram: @artisanfoodmarket