Around Red Deer May 30th…..
3:09 pm – A reminder from the Penhold Fire Department to not discard smoking material in gardens or planters. This, after a flower garden fire in Penhold today that caused ,000 damage to a garden and the adjacent home on Harvest Close just before 1:00 pm. Fire Chief Jim Pendergast says the flames spread to the vinyl siding on the outside of the house and up onto some electrical lines. Luckily there were no injuries, as everyone evacuated safely.
11:20 am – Red Deer College is inviting central Albertans to celebrate the best films of the year at Film Works 2017. This annual event features films created by RDC's latest student actors, directors, cinematographers and all-around filmmakers. The event runs Friday, June 2nd and Saturday, June 3rd. Read More.   
11:15 am – RDC is getting set to hold it's 53rd annual Convocation Ceremony on Friday, June 2nd. Read More.
For more local news, click here!
11:04 am – RCMP are looking for two suspects after a truck was stolen in Erskine and a break-in soon afterwards at the Erskine Grill May 5th. Read More.
10:25 am – Some road closures are in place throughout the Town of Innisfail today. Read More.
10:15 am – Temporary Road Closures are now in place at many rail crossings throughout Lacombe County over the next several days. CP Rail is doing some work at these locations. Read Where.
For more local news, click here!
10:08 am – Farm Vehicle Safety Checks are taking place in Lacombe County over the next couple of days. Read More.
9:54 am – It's Vibrant Neighbourhoods Week and the Crossroads Church in Red Deer will be the site tonight to host a Rural evening with Jim Diers who will share his passion for getting people engaged with their communities. It runs from 7:30 – 9:00 pm. Read More.
9:43 am – The 2017 Summer Clash Against Cancer wrestling fundraiser is moving locations from Sylvan Lake to Red Deer on August 12th. Read More.
For more local news, click here!
9:25 am – Week 1 is in the books for the Central Alberta Bucaneer's 2017 season. The Bucs emerged victorious with a final score of 44-14 over the Grande Prairie Drillers on Saturday, May 27th. Read More.
9:17 am – It's Business After Hours at Westerner Park tonight, while the Southside RV Centre Spring Event continues on site. Read More.
8:56 am – The City of Lacombe has released it's 2017 Spring Coffee with Council Resident Feedback Summary Report. Read More.
For more local news, click here!
8:45 am – Municipal property tax notices for the 2017 taxation year were mailed out to Lacombe residents on May 26th. Read More.
8:35 am – Grade 8 students in Red Deer will participate in a Track & Field Day at École Secondaire Lindsay Thurber Comprehensive High School today!
8:27 am – To celebrate Canada's 150th birthday, every school in the Red Deer Catholic Regional School Division will celebrate on the 150th day of the year. That's today, so all students are encouraged to wear Red and White to mark the occasion. Click here to see what the Catholic schools are doing!
For more local news, click here!
8:14 am – It's the final concert of the season at Hunting Hills High School in Red Deer tonight. There will be performances by Concert Band, Jazz Band, Rock Band, Steel Drums, Drumline and Dance students. Tickets $10 each, available at Hunting Hills music room or at the door.
8:07 am – STEM Subjects, coding, 3D modelling and printing and robotics are all part of the Makerspace Open House from 5:30 – 7:30 pm at Mountview Elementary School tonight!
7:58 am – Students at Red Deer's Glendale Science and Technology School have their Outdoor Education Spring Camp today and overnight into tomorrow. They will be at the Alford Lake Conservation Education Centre participating in fishing, camping activities, wildlife identification, archery and survival training!
One dead and extensive damage as tornado hits Mascouche, Que., north of Montreal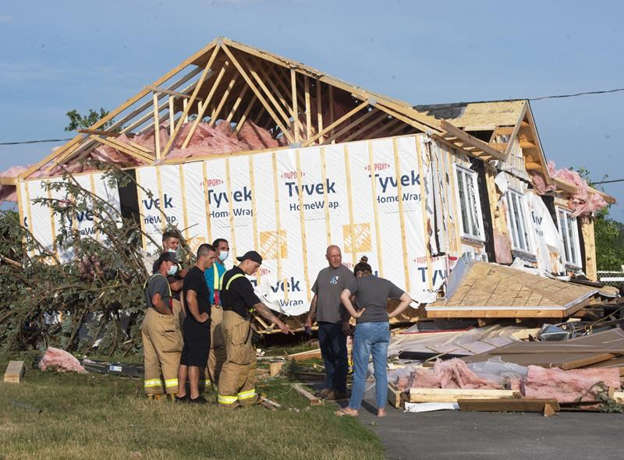 MONTREAL — One person was killed after a tornado struck Mascouche, Que., a suburb north of Montreal, late Monday afternoon.
Marisa Curcio, a spokeswoman for the municipality, said the tornado touched down just before 4 p.m. in a neighbourhood in the northeastern part of the town, bordering on Highway 25, located about 45 kilometres from Montreal.
She confirmed the death of one male resident and said public works and the fire department are trying to secure the area. Jean-Pierre Boudreau, the fire chief, told all-news network LCN the man had taken refuge inside a shed when the tornado hit.
Steve Boily, a meteorologist with Environment Canada, said officials inspected video circulating on social media and images of the damage to assess the storm.
"We confirm it was a tornado, but we didn't have the opportunity to go into the field yet to confirm the strength," Boily said in an interview.
"We have seen video evidence showing debris flying around, a funnel cloud. We have reports of a lot of (damaged) roofs and damage to houses."
Mayor Guillaume Tremblay wrote on his Facebook page there was damage reported in several parts of the city, and emergency teams had been dispatched to those sectors hardest hit. Officials asked curious onlookers to steer clear of the area.
Boily said the town in the Lanaudière region was under a severe thunderstorm watch, but no tornado warning was issued before it struck. Social media users posted photos and videos of the funnel cloud and the ensuing damage.
Boily said they were tracking many storms over southern Quebec and after confirming the Mascouche strike, it issued a tornado alert for the region south of Quebec City. About 30 minutes later, a second suspected tornado struck in the Chaudière-Appalaches community of St-Narcisse-de-Beaurivage.
"We cannot confirm that one, but there's a lot of evidence there was a tornado over there also," Boily said.
Quebec Public Security Minister Geneviève Guilbault extended her condolences to the family of the victim in Mascouche on Twitter and said provincial officials were mobilizing to help those affected.
"Unfortunately, we are told that a man has died," she wrote. "Our thoughts are with his family and loved ones. Our government teams are mobilized on the ground to come to the aid of the disaster victims and to support the municipal authorities."
The Quebec branch of the Red Cross said between 50 and 100 people were being taken care of with offers of food, clothing and temporary shelter.
This report by The Canadian Press was first published June 21, 2021.
Sidhartha Banerjee, The Canadian Press
Separate fires destroy two Catholic churches in southern British Columbia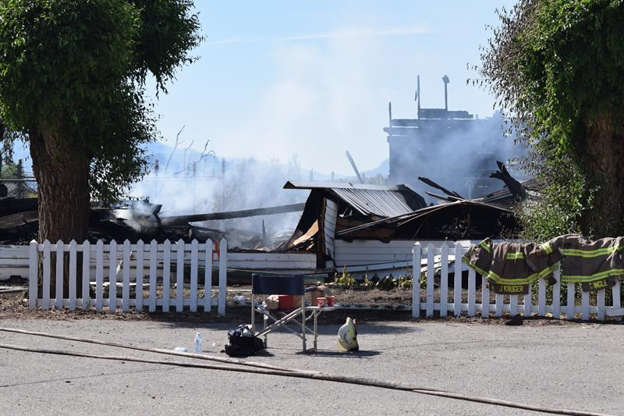 OLIVER, B.C. — A First Nations chief in southern British Columbia says there are mixed feelings in his community after a Catholic church burned to the ground in an overnight fire, one of two Catholic churches in the area that were destroyed in blazes that police consider suspicious.
Chief Greg Gabriel of the Penticton Indian Band said the Sacred Heart Church was a community fixture that hosted weddings and funerals but many people also feel pain due to the Roman Catholic Church's role operating abusive residential schools.
"There's a lot of anger, a lot of hurt in every First Nations, Indigenous community throughout Canada," he said, adding that he was not speculating on the cause of the fire.
Sacred Heart is one of two churches in the area that were destroyed by fires early Monday morning.
Less than two hours after a patrol officer found it engulfed in flames, RCMP said a second fire was reported at St. Gregory's Church on the Osoyoos Indian Band reserve lands near Oliver, B.C.
RCMP said in a statement they are investigating both fires as suspicious.
"Should our investigations deem these fires as arson, the RCMP will be looking at all possible motives and allow the facts and evidence to direct our investigative action," Sgt. Jason Bayda said in the statement.
"We are sensitive to the recent events, but won't speculate on a motive."
The fires come less than one month after the Tk'emlups te Secwepemc Nation in B.C. announced the discovery of what are believed to be the remains of 215 children at the site of the former Kamloops Indian Residential School. It operated between 1890 and 1969, when the federal government took over operations from the Catholic Church and operated it as a day school until it closed in 1978.
Gabriel said the news of the unmarked graves rippled through the community and he wants to see those responsible held criminally accountable.
Police said they are liaising with both the Penticton and Osoyoos Indian Bands as part of the investigation into the church fires.
Gabriel said he was awoken by a staff member calling at 2 a.m. to report the church was on fire.
"I quickly rushed down to the church site and by the time I got there it was already gone. It was a very old church and didn't take very much time for it to completely burn down," he said.
The church was built around 1912, he said. It was adjacent to a day school for Indigenous children that also burned down years ago after it was shut down, although Gabriel did not believe that fire was suspicious.
"I attended that school myself, the Indian day school. Even though it wasn't as traumatic as the residential school, we still suffered the abuse to some extent from the priests and the nuns," he said.
Children at the day school also attended religious services at the church, he said.
"Having said all that, there was a lot of community members today, especially the elderly ones (who were) saddened by the loss of this church because there were so many memories that were generated over the years — their children's baptism, their grandchildren's baptism," Gabriel said.
"There's mixed feelings throughout the community on the loss of this church."
Rev. Obi Ibekwa said he's the pastor for three parishes in the area including Sacred Heart Mission. He also arrived at the church grounds Monday morning to see what happened to the church, which he said had an average of seven attendees for weekly services.
"I would like to have an open mind and allow the investigation to play out."
— By Amy Smart in Vancouver.
This report by The Canadian Press was first published June 21, 2021.
The Canadian Press