Around Red Deer May 31st…..
3:08 pm – Red Deer RCMP and Citizens on Patrol are continuing their "Lock it or Lose it" campaign. Details Here.
3:04 PM – Red Deer County is among many Central Alberta municipalities to receive transportation infrastructure funding announced by the province today. Read More. Complete list of approved projects.
For more local news, click here!
2:51 pm – The Lacombe Police Service has received a new School Resource Officer vehicle courtesy of Lacombe Ford! They have generously donated a new 2017 Ford Explorer with new graphics. The vehicle is a fully equipped police unit which will assist the School Resource Officer in his duties and delivering service to Schools and the Community.
9:01 am – Red Deer's Normandeau School has been named a Regional Finalist in the Samsung "Learn For Tomorrow" challenge. Read More.
8:53 am – It's the first Downtown Farmer's Market of the season in Red Deer today. That means some nearby road closures will be in place. Find out exactly where by clicking here.
For more local news, click here!
8:46 am – It's a busy day throughout the Red Deer Catholic Regional School District. Canadian acappella group HOJA will present to the entire school community at Holy Family School in Red Deer from 1-2 pm. Elsewhere, there will be an Exhibition of Learning at Ecole Our Lady of the Rosary School in Sylvan Lake from 1 -2 pm. Also, Knowledge and Employability students from all grades, along with their families, are invited to celebrate their year-end accomplishments and personal achievements at Ecole Secondaire Notre Dame High School in Red Deer from 7 – 9 tonight. There will be speeches, a video presentation and many students will be personally recognized.
8:38 am – Girls will play in Rugby Zones beginning at 5:00 p.m. today with the Boys' team to follow at 6:30 p.m. It takes place at Ecole Secondaire Notre Dame High School from 6:30 – 8:00 pm.
8:30 am – It's Track and Field Day for Grade 9 students in Red Deer today. All the events take place at Lindsay Thurber High School.
For more local news, click here!
8:19 am – Red Deer's Eastview Middle School will host it's year end concert tonight at the Red Deer College Arts Centre! Performing Groups include Jazz Band, Grade 6 Band, Grade 7 Band, Grade 8 Band & Mass Band. Tickets are $6 each/Available in advance at Eastview or at the Theatre Doors May 31st. It starts at 7:00 pm.
8:13 am – It's a fun day planned at Red Deer's Westpark Middle School today. The school's Celebration of Learning will see students and parents participate in outdoor activities including bouncy castles, face painting and games, as well as to go indoors to view examples of projects which have been completed throughout the year. The event runs from 4:30 – 6:30 pm.
8:03 am – Trustees with the Red Deer Catholic Regional School District received an update Tuesday night on the Capital projects underway within the division. Administration is still trying to organize a meeting with Alberta Education to determine the full scope of modernization work at St. Patrick's Community School in Red Deer, the timelines involved and it's delivery method. Elsewhere, work is complete on the portion of St. Marguerite in Innisfail but the fire alarm safety devices are unable to be verified until the entire scope of work is complete. This means that students and staff will not be able to move into these spaces until the end of June. Also, St. Gregory the Great Catholic School in Blackfalds is scheduled to be completed at the end of May, with furniture orders arriving by then as well.
Dany Fortin says 'career appears to be over' after leak of misconduct investigation
OTTAWA — Maj.-Gen. Dany Fortin says his career "appears to be over" after he was abruptly removed from his role overseeing Canada's COVID-19 vaccine rollout because of a decades-old allegation of sexual misconduct.
Fortin's assertion is contained in an affidavit sworn last week as part of his legal battle to reverse the government's decision in May to fire him from his posting with the Public Health Agency of Canada.
Fortin's legal team says the affidavit has been served on Attorney General David Lametti and will be formally submitted to the court in September.
In the affidavit, Fortin says he still has not been told why he was abruptly removed from overseeing the vaccine campaign but that the decision has been devastating on his reputation and career.
Fortin says his performance to that point in his military was considered exemplary, but that while he expected to receive a promotion and new assignment after finishing with the vaccine campaign, his career now appears to be over.
Fortin says the decision to remove him did not respect due process, and he has accused Prime Minister Justin Trudeau, Defence Minister Harjit Sajjan and Health Minister Patty Hajdu of political interference.
This report by The Canadian Press was first published July 22, 2021.
The Canadian Press
Three charged after investigators find fentanyl, meth, and cannabis on property at Bowden Institution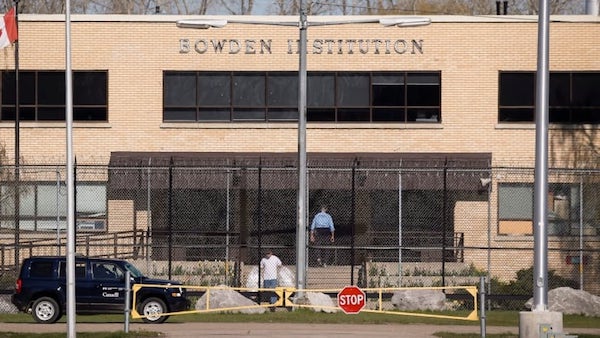 News Release from Innisfail RCMP
Drug Investigation Leads to Charges
A drug investigation at the Bowden Institution has resulted in charges after a year and a half long investigation. In November of 2019 Bowden Institution staff responded to suspicious activity on Correctional Service Canada's property. A search was conducted that resulted in locating contraband that had been concealed on the property. The contraband packages contained fentanyl, methamphetamine, cannabis concentrates and tobacco. Innisfail RCMP General Investigation Section worked on the investigation in partnership with the Bowden Institution's Security Intelligence Office and Slave Lake RCMP General Investigation Section.
Raymond Foss (32), Braden Foster (31) and Joshua Laboucan (23) all of Slave Lake, Alta., have been charged with:
Trafficking a controlled substance, contrary to the Controlled Drugs and Substances Act (x2),
Distribute Cannabis, contrary to the Gaming, Liquor and Cannabis Act, and
Trespass by night.
Foss and Foster were arrested and after a judicial release hearing were remanded into custody.  After a subsequent bail hearing, Foss was released.  Foss and Foster's next Court appearances are both scheduled for August 19, 2021 in Red Deer Provincial Court. Laboucan remains at large with outstanding warrants for his arrest.
Innisfail RCMP encourage the public to report any criminal or suspicious activity.  Reports tell us where to look, who to look for, and where to patrol in the future. If you see a crime in progress, dial 911. If you wish to remain anonymous, contact Crime Stoppers at 1-800-222-8477 (TIPS), online at www.P3Tips.com or by using the "P3 Tips" app available through the Apple App or Google Play Store.