Around Red Deer May 31st…..
3:08 pm – Red Deer RCMP and Citizens on Patrol are continuing their "Lock it or Lose it" campaign. Details Here.
3:04 PM – Red Deer County is among many Central Alberta municipalities to receive transportation infrastructure funding announced by the province today. Read More. Complete list of approved projects.
For more local news, click here!
2:51 pm – The Lacombe Police Service has received a new School Resource Officer vehicle courtesy of Lacombe Ford! They have generously donated a new 2017 Ford Explorer with new graphics. The vehicle is a fully equipped police unit which will assist the School Resource Officer in his duties and delivering service to Schools and the Community.
9:01 am – Red Deer's Normandeau School has been named a Regional Finalist in the Samsung "Learn For Tomorrow" challenge. Read More.
8:53 am – It's the first Downtown Farmer's Market of the season in Red Deer today. That means some nearby road closures will be in place. Find out exactly where by clicking here.
For more local news, click here!
8:46 am – It's a busy day throughout the Red Deer Catholic Regional School District. Canadian acappella group HOJA will present to the entire school community at Holy Family School in Red Deer from 1-2 pm. Elsewhere, there will be an Exhibition of Learning at Ecole Our Lady of the Rosary School in Sylvan Lake from 1 -2 pm. Also, Knowledge and Employability students from all grades, along with their families, are invited to celebrate their year-end accomplishments and personal achievements at Ecole Secondaire Notre Dame High School in Red Deer from 7 – 9 tonight. There will be speeches, a video presentation and many students will be personally recognized.
8:38 am – Girls will play in Rugby Zones beginning at 5:00 p.m. today with the Boys' team to follow at 6:30 p.m. It takes place at Ecole Secondaire Notre Dame High School from 6:30 – 8:00 pm.
8:30 am – It's Track and Field Day for Grade 9 students in Red Deer today. All the events take place at Lindsay Thurber High School.
For more local news, click here!
8:19 am – Red Deer's Eastview Middle School will host it's year end concert tonight at the Red Deer College Arts Centre! Performing Groups include Jazz Band, Grade 6 Band, Grade 7 Band, Grade 8 Band & Mass Band. Tickets are $6 each/Available in advance at Eastview or at the Theatre Doors May 31st. It starts at 7:00 pm.
8:13 am – It's a fun day planned at Red Deer's Westpark Middle School today. The school's Celebration of Learning will see students and parents participate in outdoor activities including bouncy castles, face painting and games, as well as to go indoors to view examples of projects which have been completed throughout the year. The event runs from 4:30 – 6:30 pm.
8:03 am – Trustees with the Red Deer Catholic Regional School District received an update Tuesday night on the Capital projects underway within the division. Administration is still trying to organize a meeting with Alberta Education to determine the full scope of modernization work at St. Patrick's Community School in Red Deer, the timelines involved and it's delivery method. Elsewhere, work is complete on the portion of St. Marguerite in Innisfail but the fire alarm safety devices are unable to be verified until the entire scope of work is complete. This means that students and staff will not be able to move into these spaces until the end of June. Also, St. Gregory the Great Catholic School in Blackfalds is scheduled to be completed at the end of May, with furniture orders arriving by then as well.
Military was told to prepare to intervene in 'Freedom Convoy' protests: official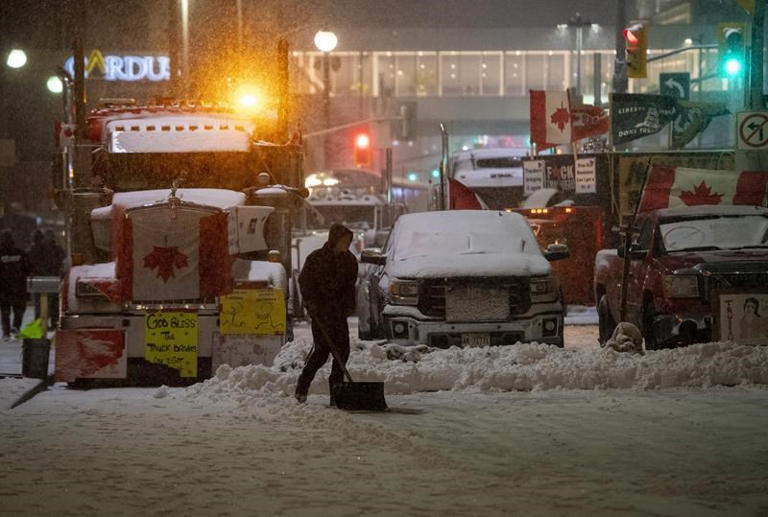 OTTAWA — The Defence Department's top official says he directed the military to prepare to intervene in the "Freedom Convoy" protests earlier this year, but the resulting plans were never seriously considered — in part due to concerns about another Oka Crisis.
Deputy minister Bill Matthews and another top defence official also said the Canadian Armed Forces was prepared to fly police officers to demonstration sites across the country, but that its tow trucks were too big ⁠— and too old ⁠— to help with the protests.
Matthews and Defence Department associate deputy minister Stefanie Beck made the comments in an August interview with lawyers for the public inquiry looking into the Liberal government's decision to use the Emergencies Act to end the protests.
A summary of that interview is among thousands of documents released by the Public Order Emergency Commission, which will ultimately determine whether the government was justified in invoking the act in February.
Neither was called to publicly testify before the commission.
The Liberals faced public calls in January and February to deploy the military as thousands of protesters opposed to vaccine mandates and pandemic restrictions gridlocked Ottawa and border crossings with the United States for three weeks.
The inquiry was also shown text messages in recent weeks in which federal Justice Minister David Lametti and then-Alberta premier Jason Kenney raised the prospect of using the military alongside police to clear protesters.
In one text exchange, Lametti and Public Safety Minister Marco Mendicino raised the idea of using a tank to end the protests. Lametti told the commission last week that the exchange was a joke.
Lametti and Defence Minister Anita Anand instead told the commission that the military was always considered a last resort — a position that Matthews and Beck echoed in their interview with commission lawyers.
Both defence officials "strongly emphasized that CAF members are not police officers," the summary reads.
"They are trained to use lethal force, not do crowd control. Indeed, the domestic use of military force is, and in their view should always be, seen as a last resort."
Matthews did say he asked defence officials to prepare "for the possibility that the CAF might be called out to intervene in the protests," with a number of scenarios and internal plans subsequently drawn up.
"These plans considered the use of military equipment, infrastructure and deployment of CAF members."
Yet Matthews and Beck said it was clear throughout the planning process that the government and the minister did not want to use the military due to fears "deploying the military in any way would inflame tensions with the protesters."
The two officials "noted that the shadow of the Oka Crisis still looms large," reads the summary.
On July 11, 1990, Quebec provincial police moved in on a barricade near the small town, which is about 50 kilometres northwest of Montreal. The barricade was erected by Indigenous activists to protest the planned expansion of a golf course and development on ancestral land.
After a police officer was killed, the situation escalated into a tense, 78-day standoff between Mohawk and thousands of Canadian soldiers that captured the country's attention and raised enduring concerns about using the military in protests.
Matthews and Beck told the commission lawyers that they shared their concerns about a possible repeat of the crisis with senior officials in other departments, but that the military's actual plans were not shared with them or with Anand.
"It was a necessary planning exercise, but the option of deploying the CAF was never seriously considered."
The military did end up providing limited support to law enforcement efforts, with Ottawa police using the Cartier Drill Hall in downtown Ottawa as a staging area. It also provided 1,200 ration packs to the Parliamentary Protective Service.
The Defence Department and Armed Forces expected and considered requests for military planes to fly police to various parts of the country, but Matthews and Beck said domestic flights ended up being adequate.
Officials also considered whether the military could be used to clear protesters' trucks from downtown Ottawa, the border crossing in Coutts, Alta., and other places where local officials were having trouble getting local tow companies to help.
However, Matthews and Beck said that ultimately wasn't an option as the military's own tow trucks weren't designed for the types of vehicles involved in the protests, and using them would damage not only those vehicles but also any roads driven upon.
There were also concerns that moving the military's tow trucks would represent a "significant logistical effort" and could have "drawn significant attention to themselves and the CAF members operating them."
"Third, the trucks are quite old and require frequent maintenance," the interview summary adds. "DND has plans to replace these trucks."
This report by The Canadian Press was first published Dec. 1, 2022.
Lee Berthiaume, The Canadian Press
Civil rights group says Vancouver has at least one secret police station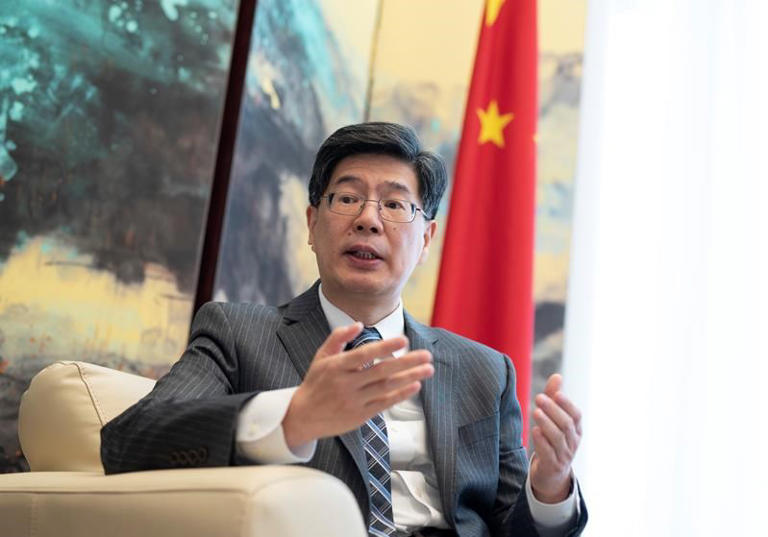 VANCOUVER — A Spanish civil rights group says Vancouver has at least one secret police station operated by Chinese authorities.
The group Safeguard Defenders said in a report in September that there were Chinese police operations around the world, including three in Toronto, and an updated report names another 48 locations.
Safeguard Defenders, a not-for-profit human rights group, said two of the new locations are in Canada: one in Vancouver and the second unknown.
The group's previous investigation looked into the expansion of "long-arm policing" and transnational repression imposed by the Chinese government.
Its latest report, titled "Patrol and Persuade," gathered more evidence on how these police station function and their "persuasions of return" strategies, the group said in its report.
"Patrol and Persuade also documents the silent complicity of a number of host countries, instilling a further sense of fear into targeted communities and severely undermining the international rules-based order," Safeguard Defenders said in an online statement.
Its previous report alleged employees from the overseas police system use intimidation and threats to enforce the "involuntary" return of immigrants back to China for persecution.
The group claimed that between April 2021 and July 2022, Chinese police "persuaded" 230,000 claimed fugitives to return to China.
No one from the Chinese Embassy was immediately available for comment on the new information, but it has previously described the offices as volunteer-run service stations to process things like driver's licences.
The report said the newly documented Vancouver-based police station is being operated by authorities from Wenzhou, a port and industrial city in China's Zhejiang province.
It said most of the newly documented stations were set up starting in 2016, directly refuting the government of China's previous statements that the operations were started in response to the COVID-19 pandemic.
"New information shows at least one illegal 'persuasion to return' operation run through the Wenzhou station in Paris, France; and at least 80 cases where the Nantong overseas police system assisted in the capture and/or persuasion to return operation," the report said.
The group claimed their work prompted at least 12 countries, including Canada, to launch investigations into local police stations.
A series of recommendations have been listed by Safeguard Defenders for all governments to consider, such as educating local law enforcement on the methods used by the operators and imposing costs on entities and individuals involved in the repression efforts.
Prime Minister Justin Trudeau said last month he raised the issue of interference directly with Chinese President Xi Jinping at the G20 summit in Indonesia.
Xi later berated him for informing the media about their conversation.
The RCMP said in early November that it is investigating the issue, and officials told MPs in early October that they were aware of the claims by the group.
This report by The Canadian Press was first published Dec. 5, 2022.
This story was produced with the financial assistance of the Meta and Canadian Press News Fellowship.
Nono Shen, The Canadian Press