Where The Source Comes From Means Something
Where The Source Comes From Means Something:
Brian Scott President of Solar DEV
For more videos, see WeMaple.
BRIAN SCOTT: You know, NASA's been a big part of most of I shouldn't say most of  but so many different scientific discoveries are a big part of evolution. GPS, so many things have come from NASA. And that's not to say that they get to decide everything. I'm not saying that. I'm just saying where the source comes from means a lot.
I think you see a lot of people put out a YouTube video with great production value, they make their statements and, you know, that's how they fight their side of the argument. And you'll see data like well, you know, last year was really cold, so obviously we're not experiencing climate change. Well, weather goes up and down. If on average it's going up, well, yeah, there's going to be years where it goes down. I mean, it's not you know, it's not that hard to comprehend, I don't think.
But at the same time, do we ever really know? Like, science has always been kind of and I know some people who will hate this when I say this, but science has always been kind of best guess, right? You look historically, scientists have changed the world, but there's been lots of opinions that have turned out to be wrong, right? And maybe not way wrong, but just a little bit, right?
Things like that that we need to kind of keep in mind. I don't know how many people can look at the world and say, no, nothing's changing, it's not you know, like, I think it's very obvious that there's a lot of change in the world with weather, and if it's not climate change, what is it? I don't know, I haven't really heard any other presented ideas other than, oh, this is just how it is.
New eastbound bridge for southeast Stoney Trail awarded to PCL Construction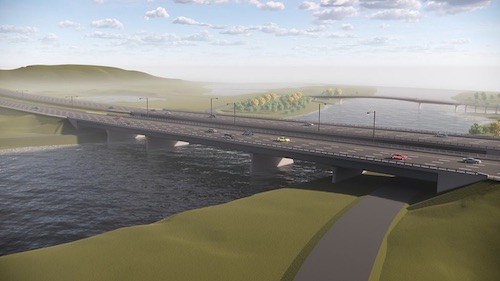 From the Province of Alberta
PCL Construction has won the contract to replace the eastbound bridge over the Bow River on southeast Stoney Trail in Calgary.
The contract was awarded for about $48 million and offers significant savings for taxpayers. The total project cost, which includes engineering and utility relocations, is estimated at $60 million – significantly less than the anticipated cost of $70 million.
"With the next step in this strategic project complete, we are creating hundreds of jobs to drive Alberta's recovery and saving taxpayer dollars at a time of fiscal restraint. Calgarians can look forward to safer and faster rides on an even more complete Calgary Ring Road."
"New and widened bridges are great news for south Calgary residents who have been waiting for safer ways to get to work and play. Alberta's government is focused on strategic projects that deliver value and jobs when they're needed most."
"PCL is excited to work with Alberta Transportation on this component of the Stoney Trail Calgary Ring Road, a key project to connect Calgarians. Once complete, this segment will be safer for vehicles, cyclists and pedestrians."
The South Bow River Bridge project also includes widening the westbound bridge and building a new, stand-alone pedestrian bridge.
Construction on the new bridge is anticipated to get underway in spring 2021 and be completed in late 2023.
Alberta's Recovery Plan is a bold, ambitious long-term strategy to build, diversify, and create tens of thousands of jobs now. By building schools, roads and other core infrastructure we are benefiting our communities. By diversifying our economy and attracting investment with Canada's most competitive tax environment, we are putting Alberta on a path for a generation of growth. Alberta came together to save lives by flattening the curve and now we must do the same to save livelihoods, grow and thrive.
Quick facts
More than 53,000 vehicles travel over the bridge daily.
This number is expected to increase when the Calgary Ring Road is completed.
The South Bow Bridge project will support about 244 jobs.
The project includes:

Widening the existing westbound bridge to add a fourth lane.
Replacing the existing eastbound Stoney Trail bridge with a new, wider bridge over the Bow River.
A new pedestrian bridge south of the existing bridge that will connect to the existing pathway networks.
Improvements to interchanges between Sun Valley Boulevard/Chaparral Boulevard and Cranston Boulevard /Mckenzie Lake Boulevard.

This project is part of the more than $10 billion infrastructure spending announced as part of Alberta's Recovery Plan. This spending includes:

$6.9 billion Budget 2020 capital spending
$900 million accelerated for Capital Maintenance and Renewal
$200 million for Strategic Transportation Infrastructure Program and water infrastructure projects
$700 million in strategic infrastructure projects, $500 million in municipal infrastructure,
$1.5 billion for Keystone XL
Pink Press Co. – Young Entrepreneur turns Lockdown Hobby into Successful Small Business
After a long year of uncertainty, business closures and public lockdowns, few people have arrived at the end of 2020 with the same outlook they began the year with. 
While the lockdowns and layoffs have been unquestionably difficult for individuals of all ages, from all walks of life, the pandemic measures have cast a light on a certain level of adaptability and creativity for many. From launching online shops, providing contactless deliveries and offering online concerts and shows, individuals from all industries have found a way to remain connected during these socially distant times. Furthermore, using social platforms to connect with their community, countless people have used their time at home to pursue a side hustle or launch their own small business. Among the resounding calls to support local during these tough times, many of these endeavors have been met with extensive support from the community and beyond.
Hannah Olson is a 23-year old Licensed Practical Nurse from Strathmore, Alberta, who has spent the last 7 months alternating between working shifts at 3 different hospitals while launching Pink Press Co., her own modern handcrafted clay earring business.
Hannah became a certified LPN after completing the Licensed Practical Nursing Program at Bow Valley College in 2017, and has been rotating among the Alberta Children's Hospital, Foothills Medical Centre, and Strathmore Hospital for the last 3 years. When the lockdown measures took effect earlier this year, she began using the downtime to pursue her passion for crafting, and discovered she had a knack for clay earrings.
"Initially it was just crafting for pure enjoyment, especially during the lockdown as there was not much else to do anyways," she says. "When I came across my first pair of clay earrings on Instagram, my mom said to me "You could probably make those.""
Pink Press Co. then began in June as an Instagram business page, initially gathering a small community following. Describing her work as a reflection of her personal style, Hannah uses polymer clay and hypoallergenic earring pieces to handcraft unique, custom studs, pendants, dangle and tassel earrings for formal and casual wear. Products range between $12 and $26, plus shipping.

After receiving an extremely positive response and multiple expressions of interest, Hannah expanded her small business further by launching her own Etsy shop in October. According to Hannah, initial orders came from the surrounding community of Strathmore, eventually reaching Calgary and Airdrie as well. However, shortly after opening her Etsy shop, things really took off. 
"I've lost track," she says, "There have been nearly 300 orders on Etsy alone, in addition to custom orders on Instagram and physical shop sales." She has now successfully shipped handcrafted earrings all across Alberta, as well as to BC, Saskatchewan, Manitoba and Ontario. 
Hannah was scheduled to take part in a number of fall and winter markets this holiday season, which were ultimately cancelled as a result of the ongoing COVID-19 pandemic preventative measures. However, she has remained busy filling and shipping custom orders across Canada, and is looking forward to the opportunity to set up at future markets in the New Year.
To view Pink Press Co.'s collection of handcrafted, hypoallergenic clay earrings online, visit https://www.instagram.com/pink.press.co/or https://www.etsy.com/ca/shop/PinkPressCoByHannah, or take a look at Prairie Grounds Coffee House in Langdon, or Sole Discretion Boutique and Back to Good Market & Deli in Strathmore.  
For more stories, visit Todayville Calgary.