Welcome to the "Sky Palace" – Premier Kenney clears the record with photos of new temporary office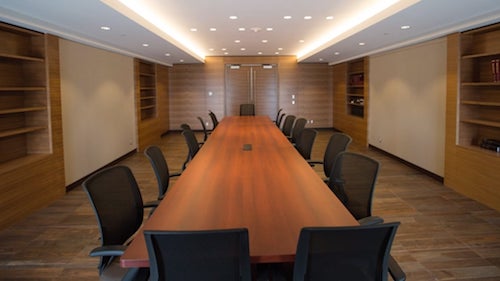 There has been much chatter over the last day or so about the office I'm currently occupying. I want to clear the record for those who didn't hear about why this is when we disclosed this information last summer.
As many of you know, the Legislature's 100 year-old sandstone is in need of repair. This project was contracted under the NDP in January of 2019, and is an important part of protecting Alberta's temple of democracy.  This involves, jackhammering, grinding, blasting, and lots of other work that is, by nature, quite loud. But it's necessary work that should get done to preserve the structural integrity of an important building that belongs to the people.
They work on different sections of the building at a time, and last summer they arrived at the section that includes the Premier's office. As you can imagine, trying to conduct important phone calls or host meetings while this noisy work takes place is not easily done (see a sample of the noise from today in a comment below), so a decision was made to temporarily move offices and staff in the Premier's office over to the federal building.
Thankfully, there are many office spaces that are available and under-utilized on the 10th and 11th floor of this building, so apart from minor moving expenses, there was no extra cost to repurposing these rooms with existing furniture and supplies for me and members of my staff.
Under previous governments, the entire 11th floor space was first designed as a penthouse suite, and when those plans were rightfully scrapped, it was repurposed to host the occasional meeting, and many other cocktail or guest receptions attended by the NDP while they were in government.  We believe these spaces should be there to support government business first and foremost.
As you can see, the area I'm working in is a former boardroom that we moved existing furniture into to serve as an office space (see before and after pics). It's not overly fancy or glamorous, but it serves the purpose of a functional workspace.
Once the work outside my Legislature office is complete, I'll be happy to move back into the space that is intended to serve as the Premier's office (see photos of that office prior to renovations).
Homan remains in top spot after stealing point in 10th end for win over Carey
CALGARY — Ontario's Rachel Homan kicked off play in the championship pool Friday with a 7-6 victory over Chelsea Carey of Team Wild Card One at the Canadian women's curling playdowns.
Carey, who's filling in at skip for Tracy Fleury this week, had hammer in the 10th end but gave up a steal of one when she barely missed a runback double-takeout attempt.
The top-seeded Homan improved to 8-1 along with Canada's Kerri Einarson, who defeated Saskatchewan's Sherry Anderson 10-6.
In other early games at the Markin MacPhail Centre, Alberta's Laura Walker needed an extra end to get by Quebec's Laurie St-Georges 7-6 and Manitoba's Jennifer Jones posted a 12-8 win over Beth Peterson of Team Wild Card Three.
Another draw was scheduled for Friday night and three more draws were set for Saturday.
Homan, a three-time Hearts champion, started slowly by settling for singles in three of the first five ends. Carey, who edged Homan in the 2019 Scotties final, picked up deuces in the second and fourth before giving up a steal in the sixth.
Carey tried to blank the seventh end but her stone hung around for a point. Homan was a tad wide on an up-weight raise attempt in the eighth, allowing Carey to steal for a two-point cushion.
A Homan deuce tied the game but Carey couldn't take advantage of hammer coming home.
Jones, meanwhile, who's aiming for a record seventh national title, stole five points in the 10th end to improve to 7-2. Saskatchewan, Alberta and Quebec were tied in fourth place at 6-3 and the remaining wild-card teams were at 5-4.
The top three teams in the eight-team pool will advance to the playoffs Sunday.
The second- and third-place teams will meet in an afternoon semifinal for a berth in the evening final against the first-place team.
The Hearts winner will return as Team Canada at the 2022 national playdowns in Thunder Bay, Ont. The champion will also earn a berth in the Olympic Trials in November at Saskatoon.
The men's national championship — the Tim Hortons Brier — starts March 5 at the same Canada Olympic Park venue. The Hearts is the first of six bonspiels to be held at the arena through late April.
This report by The Canadian Press was first published Feb. 26, 2021.
Follow @GregoryStrongCP on Twitter.
The Canadian Press
Alberta and its physicians move to end ugly feud over fees with new tentative deal
EDMONTON — The Alberta government and its 11,000 physicians have taken a first step toward resolving an ugly, fractious year-long dispute over fees and working conditions.
Health Minister Tyler Shandro and Dr. Paul Boucher, the head of the Alberta Medical Association, say they have reached a tentative deal on a new master agreement.
Boucher declined to provide specifics, saying he first wants to let members discuss and ratify the deal and that it will work within the government's "budget imperatives."
Alberta's physicians collectively receive $5 billion a year, and the Alberta budget will see that figure rise slightly to $5.3 billion over the next three years.
A year ago, Shandro unilaterally cancelled the master agreement with the AMA and began imposing new rules on fees and visits, saying physician costs were rising too high year over year and were not sustainable.
That led some doctors to withdraw services, the AMA launched a lawsuit and Shandro was criticized for fighting with doctors in the middle of the COVID-19 pandemic.
This report by The Canadian Press was first published Feb. 26, 2021.
The Canadian Press