Welcome to the "Sky Palace" – Premier Kenney clears the record with photos of new temporary office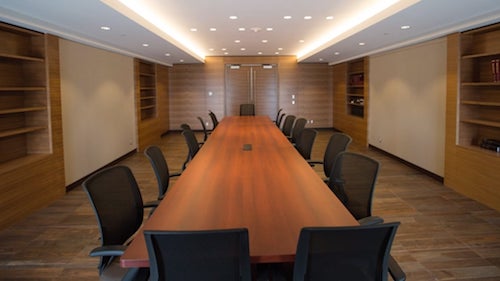 There has been much chatter over the last day or so about the office I'm currently occupying. I want to clear the record for those who didn't hear about why this is when we disclosed this information last summer.
As many of you know, the Legislature's 100 year-old sandstone is in need of repair. This project was contracted under the NDP in January of 2019, and is an important part of protecting Alberta's temple of democracy.  This involves, jackhammering, grinding, blasting, and lots of other work that is, by nature, quite loud. But it's necessary work that should get done to preserve the structural integrity of an important building that belongs to the people.
They work on different sections of the building at a time, and last summer they arrived at the section that includes the Premier's office. As you can imagine, trying to conduct important phone calls or host meetings while this noisy work takes place is not easily done (see a sample of the noise from today in a comment below), so a decision was made to temporarily move offices and staff in the Premier's office over to the federal building.
Thankfully, there are many office spaces that are available and under-utilized on the 10th and 11th floor of this building, so apart from minor moving expenses, there was no extra cost to repurposing these rooms with existing furniture and supplies for me and members of my staff.
Under previous governments, the entire 11th floor space was first designed as a penthouse suite, and when those plans were rightfully scrapped, it was repurposed to host the occasional meeting, and many other cocktail or guest receptions attended by the NDP while they were in government.  We believe these spaces should be there to support government business first and foremost.
As you can see, the area I'm working in is a former boardroom that we moved existing furniture into to serve as an office space (see before and after pics). It's not overly fancy or glamorous, but it serves the purpose of a functional workspace.
Once the work outside my Legislature office is complete, I'll be happy to move back into the space that is intended to serve as the Premier's office (see photos of that office prior to renovations).
Province loosens rules for participants and team volunteers in Rinks and Rec Centres
Further clarity for youth participants in the Provincial Restrictions Exemption Program
As of Monday, September 20, 2021, The City of Red Deer has adopted the Provincial Restrictions Exemption Program. The program applies at all City owned and operated recreation and culture facilities.As a part of the Restrictions Exemption Program, The City had previously announced that all vaccine-eligible visitors 12 years and older to City facilities would need to show proof of vaccination, a valid medical exemption, or a negative rapid COVID-19 test within 72 hours of entry. Over the weekend, the Government of Alberta released further details about the Restrictions Exemption Program which clarify the requirements for youth sport, fitness and performance activities.
As a result of continued consultation with provincial government representatives, the following updates have been applied for all City of Red Deer recreation and culture facilities, effective September 21, 2021:
Volunteers for organized sport groups can enter to perform their activity-related responsibilities without proof of vaccination, exemption, or negative COVID-19 test

Youth sport, fitness and performance participants can take part in their activities without proof of vaccination, exemption or negative COVID-19 test

Youth aged 12-17 must show proof of vaccination, medical exemption or a negative test result to enter any facility while not participating in activity. This includes spectators, or using the concourse and common areas.

Anyone ages 18 or older will be required to show proof of vaccination, medical exemption or a negative rapid test result within 72 hours of a visit to facilities.

From September 20 to October 25, proof of a single dose is considered acceptable as long as the dose was given more than two weeks before visiting a facility. After October 25, proof of double vaccination is required.
All other vaccine-eligible visitors will be required to follow the guidelines set out for the Provincial Restrictions Exemption Program which can be seen here: https://www.alberta.ca/covid-19-public-health-actions.aspx.
Effective September 20, anyone unable to wear a mask will be required to provide a medical exemption letter from an authorized health professional. More information about mask exemptions is available at alberta.ca/masks
Please visit www.reddeer.ca/RecUpdate for more information about the Restrictions Exemption Program at our facilities.
Canadian women's hockey team to play B.C. Junior A men as part of Olympic prep
CALGARY — Canada's women's hockey team will play a pair of games against male Junior A teams in B.C. next month.
The national women's team, currently centralized in Calgary to prepare for the 2022 Winter Olympics, will travel to face the Trail Smoke Eaters on Oct. 4 and the Cranbrook Bucks on Oct. 5.
Canada is coming off winning a women's world championship Aug. 31 in Calgary, where the host country edged the United States in overtime for gold.
Twenty-six skaters are trying out for 20 spots on the Olympic roster.
Three goaltenders have already been named to the Beijing-bound side: Ann-Renée Desbiens, Emerance Maschmeyer and Kristen Campbell.
The women are accustomed to a regular slate of games against male midget triple-A clubs as part of their Olympic prep, but games against Junior A teams are more rare.
Goaltender Shannon Szabados made 52 saves in Canada's 3-2 win over the AJHL's Calgary Canucks on Dec. 5, 2009.
Canada split a pair of Maritime Junior Hockey League games in September of 2019, when the women lost 4-2 to the Valley Wildcats and downed the Pictou County Crushers 4-1.
"We are grateful to both Trail and Cranbrook for their willingness to be part of our training as we start our season," said Gina Kingsbury, Hockey Canada director of operations for the national women's teams, in a statement Monday.
"The level of competition we expect to face is crucial in our journey and we look forward to showcasing our athletes to hockey fans in both communities."
Fans can buy tickets and attend both games subject to meeting B.C.'s COVID-19 requirements.
This report by The Canadian Press was first published Sept. 20, 2021.
The Canadian Press