Welcome to the "Sky Palace" – Premier Kenney clears the record with photos of new temporary office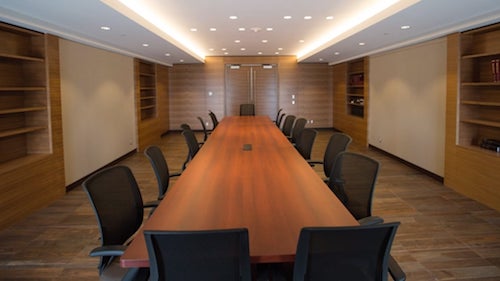 There has been much chatter over the last day or so about the office I'm currently occupying. I want to clear the record for those who didn't hear about why this is when we disclosed this information last summer.
As many of you know, the Legislature's 100 year-old sandstone is in need of repair. This project was contracted under the NDP in January of 2019, and is an important part of protecting Alberta's temple of democracy.  This involves, jackhammering, grinding, blasting, and lots of other work that is, by nature, quite loud. But it's necessary work that should get done to preserve the structural integrity of an important building that belongs to the people.
They work on different sections of the building at a time, and last summer they arrived at the section that includes the Premier's office. As you can imagine, trying to conduct important phone calls or host meetings while this noisy work takes place is not easily done (see a sample of the noise from today in a comment below), so a decision was made to temporarily move offices and staff in the Premier's office over to the federal building.
Thankfully, there are many office spaces that are available and under-utilized on the 10th and 11th floor of this building, so apart from minor moving expenses, there was no extra cost to repurposing these rooms with existing furniture and supplies for me and members of my staff.
Under previous governments, the entire 11th floor space was first designed as a penthouse suite, and when those plans were rightfully scrapped, it was repurposed to host the occasional meeting, and many other cocktail or guest receptions attended by the NDP while they were in government.  We believe these spaces should be there to support government business first and foremost.
As you can see, the area I'm working in is a former boardroom that we moved existing furniture into to serve as an office space (see before and after pics). It's not overly fancy or glamorous, but it serves the purpose of a functional workspace.
Once the work outside my Legislature office is complete, I'll be happy to move back into the space that is intended to serve as the Premier's office (see photos of that office prior to renovations).
Political scientists say Kenney must rethink pugilistic approach on oil, environment
EDMONTON — Political analysts say Premier Jason Kenney must rethink his traditional "fight back" approach and start building bridges to reconcile environmental concerns with oil and gas development.
"Attacks are not going to persuade anybody," Lori Williams, a political scientist at Mount Royal University, said in an interview Thursday.
"You don't set up a war room whose purpose from the get-go is to go after environmentalists. That's a problem when you have an environmentalist in the White House."
U.S. President Joe Biden, on his first day in office Wednesday, fulfilled a long-standing campaign promise to cancel the permit for the Keystone XL pipeline expansion.
The line would have taken more oil from Alberta through the United States to refineries and ports to help alleviate the current price discount on the province's landlocked oil.
Biden had promised to cancel former president Donald Trump's permit for the line on the grounds that product from Alberta's oilsands does not mesh with broader goals to battle climate change.
Kenney called the decision an insult to Alberta and urged Prime Minister Justin Trudeau to deliver a breakthrough in talks or, if that fails, impose trade sanctions on the U.S.
Kenney's comments also lauded Canada's environmental record. Williams said those are valid arguments that Kenney needs to make a priority, married to policy initiatives as necessary, rather than throw them in as add-on talking points.
She suggested Kenney needs to pick a lane on the environment. Right now, she noted, he is promoting the federal climate plan as justification for Keystone while simultaneously challenging in court the plan's consumer carbon tax.
Political scientist Jared Wesley said Kenney's stance seems to be more about political damage control for a doomed project his government contributed $1.5 billion to last spring even though, at the time, it was a risky proposition.
"Kenney's not the first premier to have one gear when it comes to intergovernmental relations," said Wesley with the University of Alberta.
"The fight-back approach seems to be in (Kenney's) political DNA. He doesn't like being questioned and when his plans don't turn out, the default position is to blame someone else."
Kenney's challenge is that bridge-building premiers run the risk of being perceived as weak, Wesley said, so Kenney may feel he needs to be bellicose and hard line given his popularity is being challenged on the far right.
Kenney beat the NDP in the 2019 election in part by promising to challenge what he said are shadowy global foes and environmentalists who seek to undermine Alberta's oil industry. He set up a $30-million-a-year "war room" and struck a public inquiry into foreign funding of oil opponents. Both endeavours have been undermined by self-generated mistakes and controversies.
Kenney has blamed many of the province's economic and oil woes on the Trudeau government's policies. Yet the Liberal government in 2018 stepped in to buy the one pipeline that is proceeding – the Trans Mountain expansion from Alberta to the B.C. coast.
Wesley said Kenney blaming Trudeau has almost become a cliché and one that will hurt Alberta.
"The move (to blame Trudeau) has become so predictable that it's laughable," he said. "That's not just among his opponents here in Alberta, but among people he's supposed to be persuading nationally and internationally."
Political scientist Duane Bratt, also of Mount Royal University, agrees.
"This is really setting the stage for the old playbook of 'let's blame Trudeau' … and I'm not sure it's going to work this time," Bratt said.
"We're seeing the collapse of the fight-back strategy in so many different realms. Not only has it not worked, it has cost Alberta taxpayers billions of dollars and a real hit to our reputation."
This report by The Canadian Press was first published Jan. 22, 2021.
Dean Bennett, The Canadian Press
Loss of Keystone XL pipeline expected to hurt future oilpatch growth: experts
CALGARY — An industry analyst says Western Canada's oil producers will likely cope better in the short term with Joe Biden's cancelling of the Keystone XL presidential permit this week than they did with the same move by ex-president Barack Obama in 2015.
But Phil Skolnick, a New York-based analyst for Eight Capital, agrees with other observers that the end of the pipeline will stifle new investment and production growth in the Canadian oilpatch for years to come.
Shortly after being inaugurated on Wednesday, U.S. President Biden, who was Obama's vice-president, fulfilled a campaign promise and took away the pipeline permit that former president Donald Trump returned to builder TC Energy Corp. in 2019.
Skolnick says the difference between now and 2015 is that producers are looking forward to opening two other export pipelines — Line 3 and Trans Mountain — that together provide nearly one million barrels a day of export capacity.
Richard Masson, an executive fellow and energy expert at the University of Calgary's School of Public Policy, agrees the two remaining pipelines will provide enough capacity to allow oil production to grow into the second half of this decade.
But he says uncertainty about capacity beyond that point makes it impossible for producers to make decisions about new multibillion-dollar oilsands projects, which could take five years or more to plan and build.
Canadian Energy Pipeline Association CEO Chris Bloomer, meanwhile, says excess space in the oil transport system is vital going forward to provide optionality, energy security and stable pricing for producers.
Earlier Thursday, TC Energy Corp. said it planned to eliminate more than 1,000 construction jobs related to its decision to halt work on its Keystone XL pipeline expansion project. 
The company had previously warned that blocking the project would lead to thousands of job losses.
This report by The Canadian Press was first published Jan. 21, 2021.
Companies in this story: (TSX:TRP)
The Canadian Press