Welcome to the "Sky Palace" – Premier Kenney clears the record with photos of new temporary office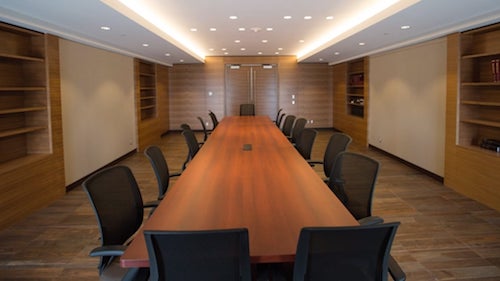 There has been much chatter over the last day or so about the office I'm currently occupying. I want to clear the record for those who didn't hear about why this is when we disclosed this information last summer.
As many of you know, the Legislature's 100 year-old sandstone is in need of repair. This project was contracted under the NDP in January of 2019, and is an important part of protecting Alberta's temple of democracy.  This involves, jackhammering, grinding, blasting, and lots of other work that is, by nature, quite loud. But it's necessary work that should get done to preserve the structural integrity of an important building that belongs to the people.
They work on different sections of the building at a time, and last summer they arrived at the section that includes the Premier's office. As you can imagine, trying to conduct important phone calls or host meetings while this noisy work takes place is not easily done (see a sample of the noise from today in a comment below), so a decision was made to temporarily move offices and staff in the Premier's office over to the federal building.
Thankfully, there are many office spaces that are available and under-utilized on the 10th and 11th floor of this building, so apart from minor moving expenses, there was no extra cost to repurposing these rooms with existing furniture and supplies for me and members of my staff.
Under previous governments, the entire 11th floor space was first designed as a penthouse suite, and when those plans were rightfully scrapped, it was repurposed to host the occasional meeting, and many other cocktail or guest receptions attended by the NDP while they were in government.  We believe these spaces should be there to support government business first and foremost.
As you can see, the area I'm working in is a former boardroom that we moved existing furniture into to serve as an office space (see before and after pics). It's not overly fancy or glamorous, but it serves the purpose of a functional workspace.
Once the work outside my Legislature office is complete, I'll be happy to move back into the space that is intended to serve as the Premier's office (see photos of that office prior to renovations).
Alberta premier to outline more support for business during COVID health restrictions
EDMONTON — Alberta Premier Jason Kenney is to speak this morning on providing more support to businesses during the COVID-19 pandemic.
Kenney promised more aid last week after his government introduced a new round of restrictions to reduce the spread of the novel coronavirus.
Retailers are limited to 15 per cent customer capacity and restaurants can only offer takeout or curbside service, although patios remain open.
The Opposition NDP says Kenney's government has failed for a year to properly manage economic supports, saying the money is always too little, too late.
Kenney faces opposition from some quarters — even within his own caucus — to ease up on public-health measures even as the province is recording more than 1,000 new COVID-19 cases a day.
He says restrictions on public gatherings need to be in place a bit longer until vaccination rates reach critical mass.
This report by The Canadian Press was first published April 13, 2021
The Canadian Press
Positive COVID-19 tests at world men's curling championship deemed "false positives"
CALGARY — The four positive COVID-19 tests that interrupted the men's world curling championship are considered "false positives" from potentially contaminated samples, according to the World Curling Federation.
The men's championship concluded late Sunday night with Sweden's Niklas Edin winning a record fifth world men's title.
No games were played Saturday because four participants, including one from a playoff team, tested positive for the virus in "exit" tests before leaving Calgary's curling bubble. 
None had symptoms of the illness.
All have tested negative in multiple re-tests since then, the WCF said Monday in a statement. All tests were conducted via PCR throat swabs.
"According to Alberta Health, PCR testing remains the gold standard for COVID-19 testing," the WCF said. "Very rarely, there are occurrences through sampling or testing processes when samples may become contaminated and a false positive may result.
"Following an investigation over the weekend, it appears that this may have occurred in this case and follow-up testing was undertaken."
All athletes and personnel considered close contacts of the four underwent testing Saturday with all results negative. 
Every playoff team member was tested before and after each game Sunday with those results also negative, the WCF said. Hotel staff were also tested Sunday and cleared.
"With the original four positive test results now deemed as false positives, the integrity of the Calgary bubble remains intact," the WCF declared.
"The change also allows international athletes who were considered close contacts, and who would have had to remain in isolation in Calgary for 14 days, will now be able to depart Calgary."
The fifth of seven events in Calgary's curling hub, the Humpty's Champions Cup, gets underway Thursday.
This report by The Canadian Press was first published April 12, 2021.
The Canadian Press