Welcome to the "Sky Palace" – Premier Kenney clears the record with photos of new temporary office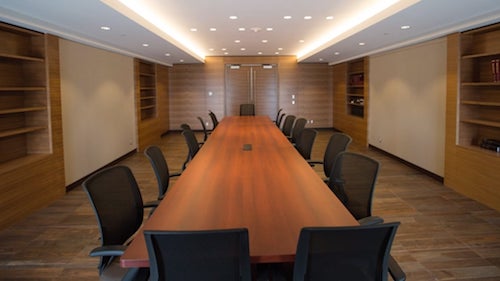 There has been much chatter over the last day or so about the office I'm currently occupying. I want to clear the record for those who didn't hear about why this is when we disclosed this information last summer.
As many of you know, the Legislature's 100 year-old sandstone is in need of repair. This project was contracted under the NDP in January of 2019, and is an important part of protecting Alberta's temple of democracy.  This involves, jackhammering, grinding, blasting, and lots of other work that is, by nature, quite loud. But it's necessary work that should get done to preserve the structural integrity of an important building that belongs to the people.
They work on different sections of the building at a time, and last summer they arrived at the section that includes the Premier's office. As you can imagine, trying to conduct important phone calls or host meetings while this noisy work takes place is not easily done (see a sample of the noise from today in a comment below), so a decision was made to temporarily move offices and staff in the Premier's office over to the federal building.
Thankfully, there are many office spaces that are available and under-utilized on the 10th and 11th floor of this building, so apart from minor moving expenses, there was no extra cost to repurposing these rooms with existing furniture and supplies for me and members of my staff.
Under previous governments, the entire 11th floor space was first designed as a penthouse suite, and when those plans were rightfully scrapped, it was repurposed to host the occasional meeting, and many other cocktail or guest receptions attended by the NDP while they were in government.  We believe these spaces should be there to support government business first and foremost.
As you can see, the area I'm working in is a former boardroom that we moved existing furniture into to serve as an office space (see before and after pics). It's not overly fancy or glamorous, but it serves the purpose of a functional workspace.
Once the work outside my Legislature office is complete, I'll be happy to move back into the space that is intended to serve as the Premier's office (see photos of that office prior to renovations).
'Life consuming': Alberta Crown stays charges against parents in toddler's death
LETHBRIDGE, Alta. — Crown prosecutors have stayed charges against parents who were facing a third trial in the death of their toddler in southern Alberta. 
Shawn Buckley, a lawyer for David and Collet Stephan, said Tuesday he received a letter from the Crown about the decision. 
"The Crown dropped the charges," Buckley told The Canadian Press. 
"Obviously they're very relieved that the Crown is not proceeding against them to try and convict them." 
A copy of the letter from Chief Prosecutor Shelley Bykewich directs the Lethbridge court to stay charges of failing to provide the necessaries of life against the Stephans.
No reason for the decision was given and Alberta Justice did not immediately respond to a request to explain why.
David Stephan said it has been nine years since his son Ezekiel died and it was eight years ago he and his wife were charged.
"It has been absolutely life consuming," Stephan said in an interview.
"It's somewhat of a relief in relation to not going back to trial again although there was a part of me as well that would have liked to go back to trial and been able to dig in more to the missing evidence and all that we still haven't had provided to us eight years into it."
Stephan successfully represented himself at the second trial.
The Stephans were accused of not seeking medical attention sooner for 19-month-old Ezekiel, who died in 2012. 
Over the course of their trials, the Stephans testified that they initially thought Ezekiel had croup, an upper airway infection, and treated him with natural remedies, including a smoothie with tinctures of garlic, onion and horseradish. 
They said he appeared to be recovering at times and saw no reason to take him to hospital, despite his having a fever and lacking energy. 
They called an ambulance when the boy stopped breathing. 
A jury convicted them in 2016, but the Supreme Court of Canada overturned that verdict and ordered a second trial. A judge hearing the case without a jury found them not guilty in 2019. 
The Alberta Court of Appeal granted a request by the Crown earlier this year to overturn the acquittal and ordered a new trial.
Buckley said the Crown's decision caught him off guard and the matter isn't over.
"Actually it's a little surprising because we still have an application for leave to appeal to the Supreme Court of Canada," Buckley said.
"Both David and Collet want to proceed with that because they think it's very important for the law to be clarified so that other parents don't face the type of uncertainty that they have been facing."
David Stephan said he's not expecting to celebrate.
"I think it's a little early to celebrate now," he said.
"We're still involved in the battle. We're still moving forward to the Supreme Court and it's still going to be a bit of an uphill journey."
Stephan said he will also seek to be repaid by the courts for the "tremendous amount of money" they spent over the past eight years.
The report by The Canadian Press was first published June 22, 2021.
— By Bill Graveland in Calgary.
The Canadian Press
Wildfire forces evacuation of an area in Yellowhead County west of Edmonton
EDMONTON — A wildfire has forced the evacuation of an area in Yellowhead County west of Edmonton.
An Alberta Emergency Alert message says the evacuation order affects people along Highway 16 between Evansburg and Wildwood.
It says the order also applies to people who are in the Lobstick resort area.
The order says all people in this zone must leave immediately.
The province says an evacuation centre is being set up at the Evansburg Arena in Evansburg.
The wildfire danger in the area is listed as very high and there are six airtankers, four helicopters, six pieces of heavy equipment and 30 firefighters working on containing the blaze.
This report by The Canadian Press was first published June 22, 2021
The Canadian Press