WATCH: Red Shed Malting wins Business of the Year in "1-10 Employees" category
As a proud platinum sponsor of the 2019 Business of the Year Awards, we hope you enjoy these videos, produced by Todayville in association with Are You Social.
Our first story is about Red Shed Malting, winner of the Red Deer and District Chamber of Commerce Business of the Year Award in the category of "1-10 Employees".
"…Red Shed Malting is a Malt House. The concept started as a small seed, when Joe started brewing small batches of beer. It took root through numerous conversations at the family dinner table and was nourished by our desire to taste our own barley in Joe's beer. We began touring breweries within Alberta and through our conversations with the brew masters, we identified a need for locally sourced, traceable specialty malt. Currently, most specialty malts are imported into Canada. After extensive research, conversations with industry experts, and attending the CMBTC Malt Academy, we decided to start a malt house…"
There were 2 other finalists in this category. Click on the links and watch the videos to learn more about these amazing companies!
"…At KCB Cabinets & Renovations in Red Deer, we've spent decades expanding our skills and experience, allowing us to do everything from installing beautiful custom cabinetry and countertops to organizing and overseeing major home and commercial renovations.
With a team of dedicated design specialists and a network of reputable contractors, we can help turn your vision into a comprehensive design plan and see it through to the finishing touches. Whether you're looking to add a beautiful cherry wood bar to your den or you want to transform your basement into an exciting home theatre, we have the commitment for quality, and design experience to enhance any home or business…"
"…We believe a house is more than a place; it's a feeling…"
_________________________________________________________
About the Chamber: The Red Deer & District Chamber of Commerce is the largest and most influential business association in Central Alberta. We are committed to promoting business growth and prosperity in the region by providing networking opportunities, educational and relevant speakers, benefit programs like group insurance and discounted merchant card rates to save you money, and being your advocate on issues that matter. Chamber membership is the most effective way to raise your business profile and capitalize on business development opportunities.
All companies, Chamber members and non-members, are eligible for nomination for an award in their respective category.
Todayville is proud to be a platinum sponsor of the 2019 Red Deer and District Chamber of Commerce Business of the Year Awards.
Rogers, Shaw, Quebecor sign definitive agreement on planned sale of Freedom Mobile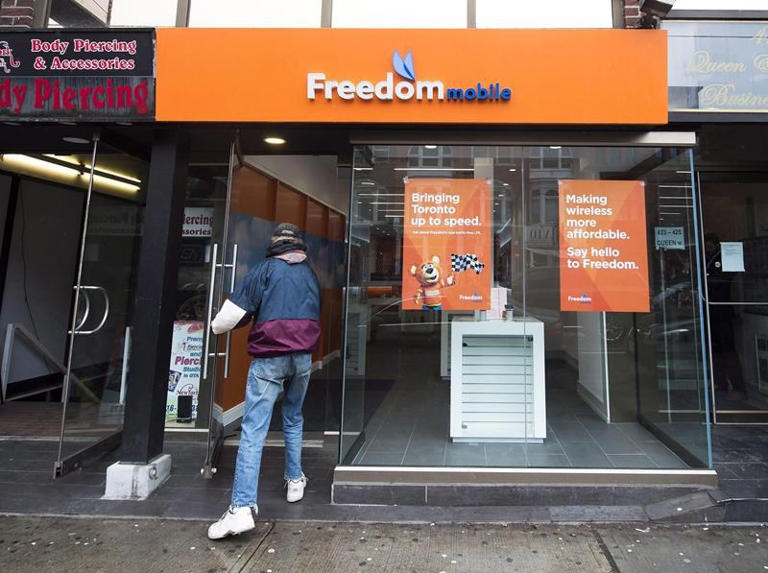 TORONTO — Rogers Communications Inc. and Shaw Communications Inc. have signed a definitive agreement with Quebecor Inc. that will see the Montreal-based telecom company acquire wireless carrier Freedom Mobile Inc.
Rogers will sell Shaw-owned Freedom to Videotron Ltd., which is owned by Quebecor, for $2.85 billion in a deal it hopes will appease the concerns of federal regulators about its proposed takeover of Shaw.
The parties say the agreement is consistent with the terms agreed upon on June 17 when the deal was first announced, and is subject to regulatory approvals and the closing of the merger of Rogers and Shaw.
Quebecor will buy all of Freedom's branded wireless and internet customers as well as all of Freedom's infrastructure, spectrum and retail locations in a move that would expand Quebecor's wireless operations nationally.
The parties say the combination of Freedom and Videotron will create a strong fourth national carrier and address the concerns raised by the Commissioner of Competition and the Minister of Innovation, Science and Industry regarding the Rogers-Shaw transaction.
The definitive agreement comes as Rogers continues to deal with the fallout from the July 8 service outage that impacted millions of Canadians for days.
This report by The Canadian Press was first published Aug. 12, 2022.
Companies in this story: (TSX:RCI.B, TSX:SJR.B, TSX:QBR.B)
The Canadian Press
Canadian Press NewsAlert: Unifor elects Lana Payne as president
TORONTO — Canada's largest private-sector union, Unifor, has elected Lana Payne as its new national president after former president Jerry Dias stepped down earlier this year.
More coming.
The Canadian Press