WATCH: Salon Wild wins Business of the Year in the "Young Entrepreneur" Category
As a proud platinum sponsor of the 2019 Business of the Year Awards, we hope you enjoy these videos, produced by Todayville in association with Are You Social.
Our first video story is about Salon Wild, winner of the Red Deer and District Chamber of Commerce Business of the Year Award in the category of "Young Entrepreneur". Please watch the video to learn more about this great young company in our city.
"…Salon Wild is a team of independent artists working together to create our unique salon. Pricing, services and hours of operation vary depending on the individual artist/stylist. The company is dedicated to the health of their guests, staff and the environment. They continually strive to find and use professional products that allow us to achieve gorgeous trending results without the use of unnecessary toxins and chemicals…"
There were 2 other finalists in this category. Click on the links to learn more about these amazing local companies!
"…The accountants at Stevens & Company believe that understanding the challenges, opportunities, and day-to-day operations of a business is critical in providing high-quality, custom solutions for any organization. We bring this eagerness to better understand you and your business into all of our professional services…"
"… Tri- Beauty Studio was created to help bring all of our inner beauty to life – bridging the gap between what our eyes can see and what they cannot. Tri-Beauty Studio is a collaboration of strong independent woman, coming together to uplift and empower one another…"
_________________________________________________________
About the Chamber: The Red Deer & District Chamber of Commerce is the largest and most influential business association in Central Alberta. We are committed to promoting business growth and prosperity in the region by providing networking opportunities, educational and relevant speakers, benefit programs like group insurance and discounted merchant card rates to save you money, and being your advocate on issues that matter. Chamber membership is the most effective way to raise your business profile and capitalize on business development opportunities.
All companies, Chamber members and non-members, are eligible for nomination for an award in their respective category.
Todayville is proud to be a platinum sponsor of the 2019 Red Deer and District Chamber of Commerce Business of the Year Awards.
The return of Zellers: Hudson's Bay to resurrect Canadian discount retail chain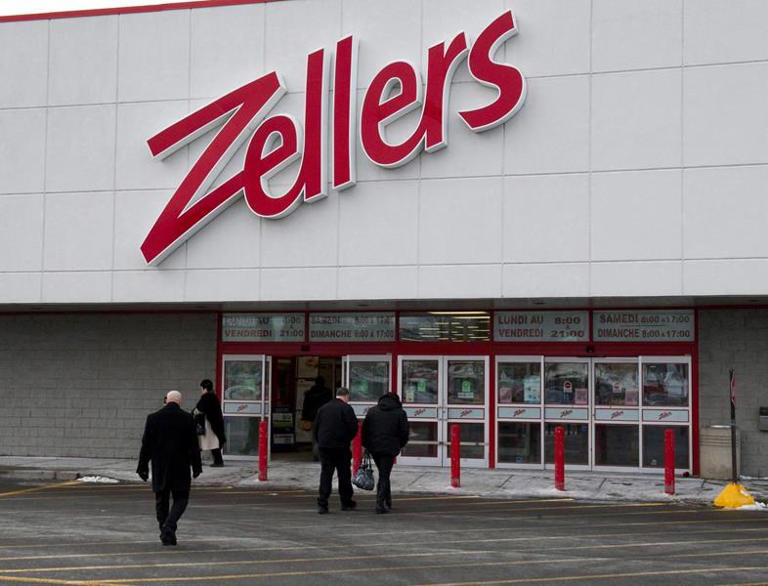 Canadian department store Zellers hopes to make a comeback next year, a decade after the discount chain shuttered most of its locations.
Hudson's Bay Co. said Zellers will debut a new e-commerce website and expand its brick-and-mortar footprint within select Hudson's Bay department stores across the country in early 2023.
The company said the relaunched Zellers will offer "a digital-first shopping journey that taps into the nostalgia of the brand."
The return of Zellers comes as soaring inflation drives consumers to discount retailers in search of lower prices and fierce competition from existing stores like Walmart and Dollarama.
It also comes amid an ongoing lawsuit over a Quebec family's use of the Zellers brand.
The Moniz family is behind various recent trademark applications and corporate registries, including Zellers Inc., Zellers Convenience Store Inc. and Zellers Restaurant Inc.
In a statement of claim filed last fall, HBC accused the Moniz family of trademark infringement, depreciation of goodwill and so-called passing off — the deceptive marketing or misrepresentation of goods.
The Zellers department store was founded in 1931 and acquired by HBC in 1978.
It operated as the discount division of its flagship Hudson's Bay department stores, with the slogan "Where the lowest price is the law."
The store hit its peak of about 350 locations in the late 1990s before losing ground to big box competitors such as Walmart.
In 2011, HBC announced plans to sell the majority of its remaining Zellers leases to Target Corp., closing most stores by 2013.
The retailer kept a handful of Zellers locations open as liquidation outlets until 2020.
The company recently launched pop-up Zellers shops inside Hudson's Bay department stores in Burlington, Ont., and in Anjou, Que.
This report by The Canadian Press was first published Aug. 17, 2022.
Brett Bundale, The Canadian Press
Inflation "slows" to 7.6 per cent in July, Statistics Canada says
Ottawa – Canada's year-over-year inflation rate slowed to 7.6 per cent in July, with the deceleration largely driven by a decline in gas prices.
The inflation rate hit a nearly 40-year-high of 8.1 per cent in June, but economists were widely expecting inflation to have since slowed.
In its latest consumer price index report, Statistics Canada said the rise in prices in July was the smallest monthly gains since December 2021.
It also marks the first decline in year-over-year inflation since June 2020.
The federal agency said gas prices rose 35.6 per cent year-over-year in July, compared with 54.6 per cent in June.
"Ongoing concerns related to a slowing global economy, as well as increased COVID-19 pandemic public health restrictions in China and slowing demand for gasoline in the United States led to lower worldwide demand for crude oil, putting downward pressure on prices at the pump," the report said.
But while gas prices declined, food prices at grocery stores rose at the fastest pace since August 1981, with prices up by 9.9 per cent on a year-over-year basis compared with 9.4 per cent the previous month.
Bakery goods are up 13.6 per cent since last year amid higher input costs as the Russian invasion of Ukraine continues to put upward pressure on wheat prices. The prices of other food products also rose faster, including eggs, which are up 15.8 per cent, and fresh fruit, up 11.7 per cent since last year.
As mortgage costs increase with higher interest rates, the report notes rent prices are accelerating, rising faster in July than the previous month.
With more Canadians travelling during the busy summer season, airfares rose by around 25 per cent in July compared with the previous month. Traveller accommodation prices rose by nearly 50 per cent since a year ago, with the largest price increases in Ontario.
As countries around the world struggle with skyrocketing prices, there are some signs inflation is beginning to ease, with the U.S. seeing its inflation rate decline in July as well.
Still, inflation is well above the Bank of Canada's two per cent target.
The central bank is watching the latest reading of inflation as it gears up to make its next key interest rate on Sept. 7, when it's expected to raise borrowing rates again.
This report by The Canadian Press was first published Aug. 16, 2022.