Warming up to winter on the Ross Street Patio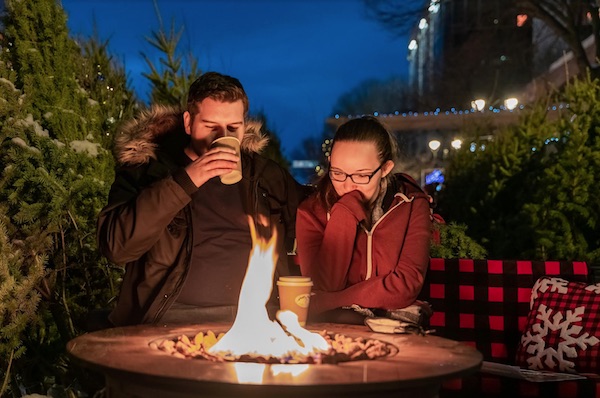 By Mark Weber
We may be into the coldest chill of the winter season, but Red Deerians will find a warm, engaging and inviting atmosphere on the Ross Street Patio just the same. The Ross Street Patio is a spot everyone needs to put on their to do list, even in the winter.
Amanda Gould, executive director of the Downtown Business Association explains the DBA has been bringing special events to the downtown core for several years now. "Every year, we deliver more than 100 events in the downtown core with a favourite being the Ross Street Patio. This marks the first year we will be continuing with programming throughout the winter," she said, adding that the Patio was opened last winter as well, but with the ongoing pandemic there was no programming. "So we aren't really counting last winter as our first go-round, we are counting this winter as our first."
"You will see public art, fire pits, a giant metal 'locks of love' heart, free hot chocolate, a Frosty the Snowman bench where you can take pictures with friends, a live music stage for the warmer days, and an ice sculpture will be (featured) on the music stage, too," Gould explains.
"So we've got lots of activity happening down here, and we are really trying to capture the people's hearts with interesting ideas that we can create that will bring people downtown," adding that another key goal is to help folks realize there is indeed plenty to enjoy downtown through the winter months.
"We aren't going to do things on those minus 25 days, but those other days where it's around minus 10, you can still come outside – the restaurants are open – come down and enjoy a drink, get a hot chocolate and relax on the Patio!"
"Another goal is to just generally increase traffic and overall awareness about all that downtown Red Deer has to offer," says Gould.
"It's really also about engaging the general audience with activity, public art and live music that you can't really get anywhere else," adds Gould. "It's also about showing people the fun that you can have downtown.
"The businesses here are absolutely thriving, and their individual patios kind of spill out onto the streets." Wednesdays in particular are busy especially during the warmer months when special performances are held along with the weekly downtown market.
"During COVID, we've still been seeing great numbers with that," she said. "There will also be the annual car boot sale that we have on Wednesday afternoons as well, where people can come down and sell their wares out of the backs of their cars all along Little Gaetz which is great fun.
"One of the other things we are also working on this year is establishing a new brand for downtown, so that we can really start to change the rhetoric that is happening down here."
"Yes, there is work to be done of course in other areas, but part of what the DBA can control is the messaging that comes out of the downtown. So we will see a new brand roll out toward the end of the year," said Gould.
In the meantime, Gould encourages folks to check out the downtown core and visit businesses they perhaps haven't explored just yet. "Come down and experience it – I think a lot of people who are (affected) by the negative rhetoric maybe haven't been downtown for years, or they have been down recently and seen something that they didn't like.
"But if you come down and experience the downtown on an event day, or during late night shopping, or when there is something like that when there is activity going on, you will have a totally different experience," she said.
"Downtown is such a thriving little community as well – everybody from the various shops knows each other, (staff) from the restaurants know each other – there is a whole bunch of different personalities down here," she said.
"So you are really 'supporting local' while you are down here, but you are also getting an insight into a completely unique way of life in the downtown."
Business Spotlight: Massage Above All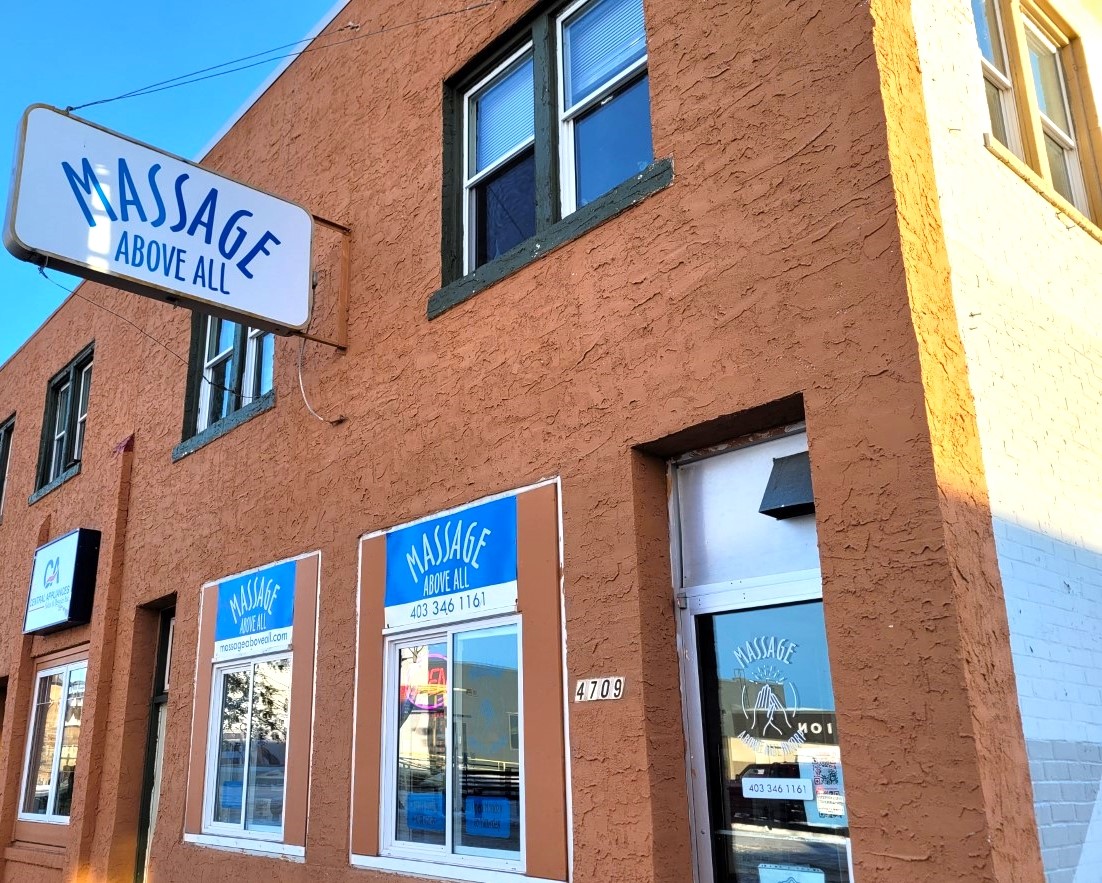 This week's Business Spotlight shines on Massage above all an excellent place to heal and relax with truly professional staff.
1. What is your business?
We are a Professional Therapeutic and Holistic Massage clinic serving Central Alberta in Downtown Red Deer since 1995.
2. When did your business open?
Originally opened in a small rental space in 1995, as we grew, it became apparent that we would need to expand. We purchased and completely renovated our current 2525 sq ft property with our clients in mind. Each treatment is spacious, clean and meets all health standards as per AHS.
3. What makes your business unique?
We are a local Massage Clinic that owns our property and has thrived in the Downtown for some 27 years: 6 treatment rooms spacious lobby. Our therapists are registered with professional associations, and as such, we can direct bill to most insurance companies. *Some conditions apply*
4. What are some products/services that you offer?
We offer Professional Massage Therapy services, including Therapeutic, Relaxation, Lymphatic, Hot Stone, Couples Massage, Reflexology, Cupping, and Craniosacral therapy.
We also offer fair trade merchandise from around the world. Stop in and see
5. Why did you choose Downtown Red Deer as the location for your business?
Personally, I chose the Downtown because our family has owned and operated businesses since 1974 when we moved to Red Deer from Calgary when my parents took over Red Deer Auction Co Ltd.
6. What do you think makes Downtown vibrant?
The unique and friendly businesses and business owners and staff.
7. Finish this sentence: I love Downtown Red Deer because…
It is the core of the city, close to home. A vibrant community with eclectic and unique shopping experiences.
For more information
Facebook – Massage Above All | Facebook
Twitter –@MassageAboveAll
Business spotlight: MCG careers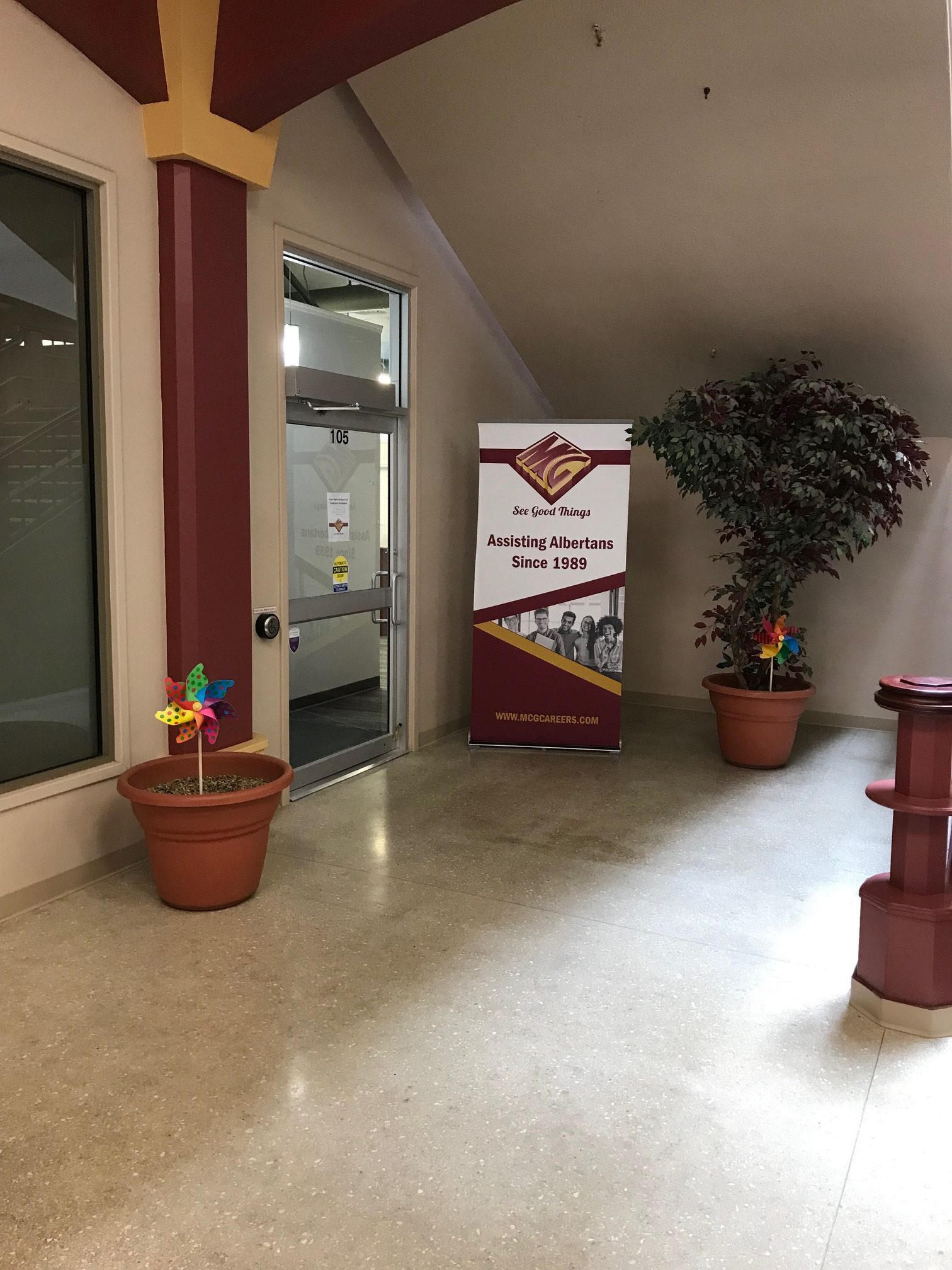 This week's Business Spotlight shines on MCG careers; This amazing company is helping Albertans get back to work! They offer many programs geared at getting their clients into good employment. all services are at no cost!
When did your business open?
MCG has been around since 1989. This office opened for business June 1st, 2022, in a new location with new programming. 
What makes your business unique?
Our mission is innovative career development training and human resource services which enable individuals and companies to achieve their full potential. 
What are some products/services that you offer?  
Resume/cover letter – resources, professional development recognition programs, communication skills, job search techniques, everything we can do to help people with employment. 
Why did you choose Downtown Red Deer as the location for your business? 
Easy access to non-profit and clients
What do you think makes Downtown vibrant? 
The amazing businesses, the people, the history and the no-cost activities
Finish this sentence; I love downtown red deer because…
Of its history and quaintness. The flowers baskets, street markets and entertainment
For more information check out
# 105 – 4807 – 50th Ave.
Red Deer, AB T4N 4A5
Direct : 403-304-9252