Warming up to winter on the Ross Street Patio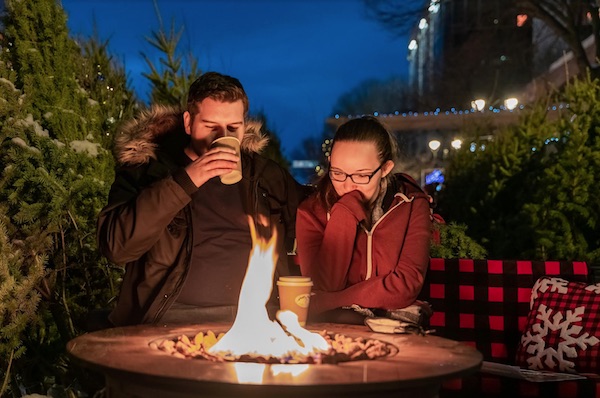 By Mark Weber
We may be into the coldest chill of the winter season, but Red Deerians will find a warm, engaging and inviting atmosphere on the Ross Street Patio just the same. The Ross Street Patio is a spot everyone needs to put on their to do list, even in the winter.
Amanda Gould, executive director of the Downtown Business Association explains the DBA has been bringing special events to the downtown core for several years now. "Every year, we deliver more than 100 events in the downtown core with a favourite being the Ross Street Patio. This marks the first year we will be continuing with programming throughout the winter," she said, adding that the Patio was opened last winter as well, but with the ongoing pandemic there was no programming. "So we aren't really counting last winter as our first go-round, we are counting this winter as our first."
"You will see public art, fire pits, a giant metal 'locks of love' heart, free hot chocolate, a Frosty the Snowman bench where you can take pictures with friends, a live music stage for the warmer days, and an ice sculpture will be (featured) on the music stage, too," Gould explains.
"So we've got lots of activity happening down here, and we are really trying to capture the people's hearts with interesting ideas that we can create that will bring people downtown," adding that another key goal is to help folks realize there is indeed plenty to enjoy downtown through the winter months.
"We aren't going to do things on those minus 25 days, but those other days where it's around minus 10, you can still come outside – the restaurants are open – come down and enjoy a drink, get a hot chocolate and relax on the Patio!"
"Another goal is to just generally increase traffic and overall awareness about all that downtown Red Deer has to offer," says Gould.
"It's really also about engaging the general audience with activity, public art and live music that you can't really get anywhere else," adds Gould. "It's also about showing people the fun that you can have downtown.
"The businesses here are absolutely thriving, and their individual patios kind of spill out onto the streets." Wednesdays in particular are busy especially during the warmer months when special performances are held along with the weekly downtown market.
"During COVID, we've still been seeing great numbers with that," she said. "There will also be the annual car boot sale that we have on Wednesday afternoons as well, where people can come down and sell their wares out of the backs of their cars all along Little Gaetz which is great fun.
"One of the other things we are also working on this year is establishing a new brand for downtown, so that we can really start to change the rhetoric that is happening down here."
"Yes, there is work to be done of course in other areas, but part of what the DBA can control is the messaging that comes out of the downtown. So we will see a new brand roll out toward the end of the year," said Gould.
In the meantime, Gould encourages folks to check out the downtown core and visit businesses they perhaps haven't explored just yet. "Come down and experience it – I think a lot of people who are (affected) by the negative rhetoric maybe haven't been downtown for years, or they have been down recently and seen something that they didn't like.
"But if you come down and experience the downtown on an event day, or during late night shopping, or when there is something like that when there is activity going on, you will have a totally different experience," she said.
"Downtown is such a thriving little community as well – everybody from the various shops knows each other, (staff) from the restaurants know each other – there is a whole bunch of different personalities down here," she said.
"So you are really 'supporting local' while you are down here, but you are also getting an insight into a completely unique way of life in the downtown."
Share debacle a rare setback for Indian tycoon Adani
By Krutika Pathi in New Delhi
NEW DELHI (AP) — Indian billionaire Gautam Adani grinned as he posed this week for photos with Israeli leader Benjamin Netanyahu after acquiring one of the country's main ports, in Haifa.
"I promise you that in the years to come, we will transform the skyline we see around us," said Adani, his manner upbeat even as his business empire was losing billions. Investors have been dumping Adani shares for more than a week after U.S. short-selling firm Hindenburg Research put out a report alleging his businesses have engaged in fraud and stock price manipulation. The Adani group has denied this.
Before the debacle, Adani, 60, was Asia's richest man and the third wealthiest in the world, according to Bloomberg's Billionaires Index. Not anymore.
The massive losses are a rare setback for the coal mining tycoon from western India's Gujarat state and raise questions about what lies ahead.
Expansion has been at the heart of Adani's success story. The son of a middle-class family in the Gujarat capital, Ahmedabad, he quit college to become a diamond trader in the country's financial capital, Mumbai. He returned home to join his brother in importing plastics before establishing Adani Enterprises in the 1980s, trading in everything from shoes to buckets.
Adani shifted to investing in ports, construction and coal mining as India opened up its economy in the 1990s. A new middle class emerged and the ambitious businessman placed bets on providing energy to serve them.
Adani's first big project, Mundra Port, is now India's largest commercial port and he is the country's biggest private port operator. Within a decade, he also became India's largest developer and operator of coal mines.
Today, Adani companies also operate airports in major cities, build roads, generate electricity, manufacture defense equipment, develop agricultural drones, sell cooking oil and run a media outlet. He has his eyes set on becoming the world's largest renewable energy player by 2030.
Citing market volatility, late Wednesday his flagship Adani Enterprises scrapped a $2.5 billion share offering that, despite the bloodletting in the group's shares and a 28% plunge that day in its own share price, had been oversubscribed.
In a video address Thursday, Adani said the share offering was canceled to "insulate investors from potential losses."
"For me, the interest of my investors is paramount and everything else is secondary," he said.
The share offering was seen as a test of investor confidence in the self-made industrialist, whose ascent has been celebrated as a symbol of India's economic ambitions. The Adani Group said in a statement that canceling the offering would not "have any impact on our existing operations and future plans."
The Adani Group said its balance sheet was "very healthy" and its history of servicing debt was "impeccable."
Still, Brian Freitas, a New Zealand-based analyst with Periscope Analytics who has researched the Adani Group, said the collapse in share prices for India's second-largest conglomerate may hinder its future plans for expansion.
"It's going to be difficult for them to raise new money," he said.
Adani shares are still losing value. Shares in Adani Enterprises tumbled 27% Thursday, while stock in six other Adani companies fell 5%-10%.
The tycoon, who favors a plain white shirt and dark trousers over fancy dress and is said to be affable and quiet spoken, slid from being the world's third richest man to the 13th as his fortune sank to $72 billion, according to Bloomberg's Billionaire Index. Prior to the Hindenburg report, his net worth was about $120 billion.
More vitally, the company is now without the funds it had hoped to raise in this week's offering. Companies often launch such share offerings to finance growth while reducing debt.
"Thanks to the short-seller, Adani's plans will get slowed down significantly," said R.N. Bhaskar, a journalist who wrote a biography on Adani.
Analysts say that rapid expansion has largely been fueled by borrowing. The group's debt stands at $30 billion, out of which $9 billion is from Indian banks, the group's chief financial officer said recently.
After the stock rout of the past week, lenders may deem his group high risk and toughen their criteria for borrowing, like demanding higher interest rates or more collateral, said Freitas.
"Equity investors are going to be wary because the stock isn't doing well — if they can't raise equity, they will have to go to the debt market," he added. "Given the situation, foreign lenders will think twice before lending any new money to Adani."
Despite Adani's longstanding ties with Prime Minister Narendra Modi, a fellow Gujarati, and other powerful politicians, the government has so far remained silent on his recent troubles even as pressure from the political opposition for an investigation into Adani's situation grows.
In recent years, Adani has pumped money into sectors like agriculture, defense and renewable energy — all seen as high priorities for the Indian government.
Like Adani's commitment to the port in Israel's Haifa, many of the group's overseas infrastructure projects, in countries such as Sri Lanka and Tanzania, have served as an Indian counterweight to rival China's holdings.
The Haifa deal was a coup for India, located close to another port managed by the Shanghai International Port Group.
"India is working with great fervor with Israel on defense and technology, and Adani now has a port there. You think the Indian government can sniff at that?" said Bhaskar. "The thing is, you can't wish away Adani — because he is indispensable at this point."
He expects Adani to remain undaunted.
"The more challenging a situation gets, the more defiant and creative he becomes to overcome it," Bhaskar said.
Senate passes Liberals' controversial online streaming act with a dozen amendments
By Mickey Djuric in Ottawa
Big tech companies that offer online streaming services could soon be required to contribute to Canadian content as a controversial Liberal bill gets one step closer to becoming law.
The Senate has passed the online streaming act known as Bill C-11 with a dozen amendments following a lengthy study by senators.
The bill would update Canada's broadcasting rules to reflect online streaming giants such as YouTube, Netflix and Spotify, and require them to contribute to Canadian content and make it accessible to users in Canada — or face steep penalties.
Canadian Heritage Minister Pablo Rodriguez says he hopes the House of Commons will pass the bill next week after it reviews the Senate's changes.
Senators made amendments intended to protect user-generated content and highlight the promotion of Indigenous languages and Black content creators.
They also included a change that would prohibit CBC from producing sponsored content, and another that would require companies to verify users' ages before they access sexually-explicit material.
Rodriguez said Thursday that the Liberal government would not accept all of the Senate's recommendations, but he didn't say which ones he disagrees with.
"We'll see when the bill comes back. There are amendments that have zero impact on the bill. And others that do, and those, we will not accept them," the minister said Thursday during a Canadian Media Producers Association panel.
The Senate also removed a clause in the bill that Sen. Paula Simons described as giving "extraordinary new powers to the government to make political decisions about things."
Ian Scott, the former chair of Canadian Radio-television and Telecommunications Commission, had told a Senate committee that some provisions in the bill did move the balance point "slightly closer to lessening the independence" of the regulator — though he insisted that it would remain independent.
The CRTC, now under the leadership of Vicky Eatrides, will be tasked with enforcing the bill's provisions.
The Senate passed the bill on the anniversary of its introduction in the House of Commons.
Between the House of Commons and Senate, there have been approximately 218 witnesses, 43 meetings, 119 briefs and 73 proposed amendments, said Rodriguez.
"It's the longest bill," he said.
The proposed law has come under intense scrutiny amid accusations from companies and critics who said it left too much room for government control over user-generated content and social-media algorithms.
Rodriguez said tech giants can get creative with ways they promote Canadian content, such as with billboards, advertising or, if they so choose, tweaks to their algorithms.
The bill has also caught the attention of the United States. Its embassy in Ottawa recently said that it is holding consultations with U.S. companies that it is concerned could face discrimination if the bill passes.
Last week, two U.S. senators called for a trade crackdown on Canada over Bill C-11, saying that the prospective law flouts trade agreements.
"I'm not worried, because we think it complies with trade obligations," Rodriguez said.
This report by The Canadian Press was first published Feb. 2, 2023.