Warming up to winter on the Ross Street Patio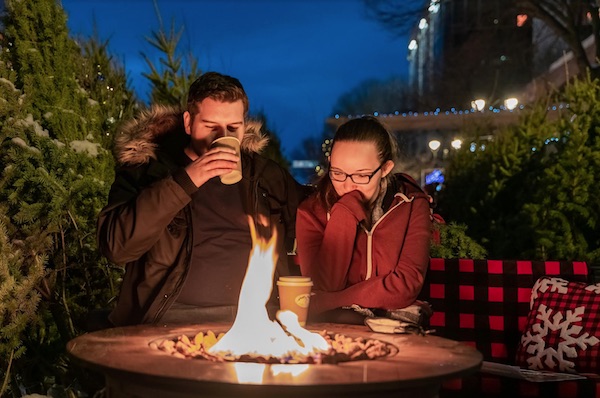 By Mark Weber
We may be into the coldest chill of the winter season, but Red Deerians will find a warm, engaging and inviting atmosphere on the Ross Street Patio just the same. The Ross Street Patio is a spot everyone needs to put on their to do list, even in the winter.
Amanda Gould, executive director of the Downtown Business Association explains the DBA has been bringing special events to the downtown core for several years now. "Every year, we deliver more than 100 events in the downtown core with a favourite being the Ross Street Patio. This marks the first year we will be continuing with programming throughout the winter," she said, adding that the Patio was opened last winter as well, but with the ongoing pandemic there was no programming. "So we aren't really counting last winter as our first go-round, we are counting this winter as our first."
"You will see public art, fire pits, a giant metal 'locks of love' heart, free hot chocolate, a Frosty the Snowman bench where you can take pictures with friends, a live music stage for the warmer days, and an ice sculpture will be (featured) on the music stage, too," Gould explains.
"So we've got lots of activity happening down here, and we are really trying to capture the people's hearts with interesting ideas that we can create that will bring people downtown," adding that another key goal is to help folks realize there is indeed plenty to enjoy downtown through the winter months.
"We aren't going to do things on those minus 25 days, but those other days where it's around minus 10, you can still come outside – the restaurants are open – come down and enjoy a drink, get a hot chocolate and relax on the Patio!"
"Another goal is to just generally increase traffic and overall awareness about all that downtown Red Deer has to offer," says Gould.
"It's really also about engaging the general audience with activity, public art and live music that you can't really get anywhere else," adds Gould. "It's also about showing people the fun that you can have downtown.
"The businesses here are absolutely thriving, and their individual patios kind of spill out onto the streets." Wednesdays in particular are busy especially during the warmer months when special performances are held along with the weekly downtown market.
"During COVID, we've still been seeing great numbers with that," she said. "There will also be the annual car boot sale that we have on Wednesday afternoons as well, where people can come down and sell their wares out of the backs of their cars all along Little Gaetz which is great fun.
"One of the other things we are also working on this year is establishing a new brand for downtown, so that we can really start to change the rhetoric that is happening down here."
"Yes, there is work to be done of course in other areas, but part of what the DBA can control is the messaging that comes out of the downtown. So we will see a new brand roll out toward the end of the year," said Gould.
In the meantime, Gould encourages folks to check out the downtown core and visit businesses they perhaps haven't explored just yet. "Come down and experience it – I think a lot of people who are (affected) by the negative rhetoric maybe haven't been downtown for years, or they have been down recently and seen something that they didn't like.
"But if you come down and experience the downtown on an event day, or during late night shopping, or when there is something like that when there is activity going on, you will have a totally different experience," she said.
"Downtown is such a thriving little community as well – everybody from the various shops knows each other, (staff) from the restaurants know each other – there is a whole bunch of different personalities down here," she said.
"So you are really 'supporting local' while you are down here, but you are also getting an insight into a completely unique way of life in the downtown."
Downtown shoppers could win $1,000.00 a week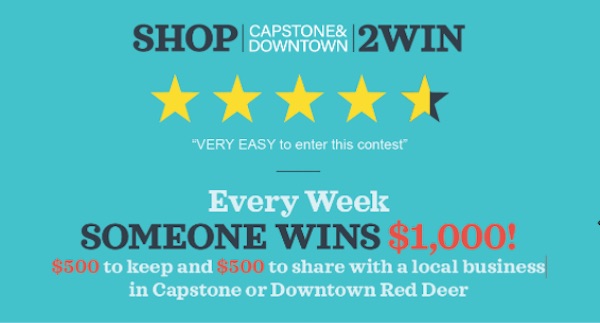 Support local
businesses in
Capstone &
Downtown Red Deer
Save receipts of $25 or more
(including taxes)
Upload photos of all
your receipts weekly
Digital receipts, third party delivery app receipts and Google reviews are all acceptable entries.
Scott Robinson is the new CEO of the Red Deer & District Chamber of Commerce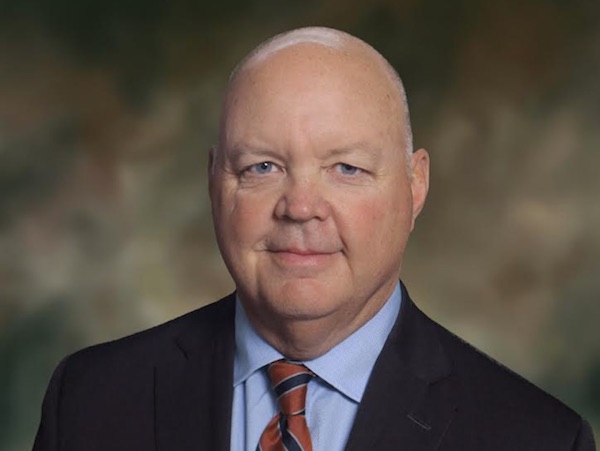 News release from the Red Deer & District Chamber of Commerce
Chamber announces hiring of Scott Robinson as CEO
The Board of Directors on behalf of the Red Deer & District Chamber of Commerce is pleased to announce the hiring of Scott Robinson for the position of Chief Executive Officer.
Scott brings a wealth of experience to the Chamber that includes over twenty-five years of executive and managerial experience, working with organizations of all sizes. Notably, Scott acted as CEO for the 2019 Canada Winter Games in Red Deer, and as Executive Director of the Hockey Alberta Foundation. Most recently, Scott has operated his own consulting practice, and has been the acting CEO of the Central Alberta Sport Authority.
Scott's experience in leadership also led him to pursue a Master of Arts Degree in Leadership with Royal Roads University, where he was awarded the Founders Award for Excellence in Sustainable Leadership.
An avid community volunteer, Scott has board and volunteer experience including time with Red Deer Polytechnic, The Donald School of Business, Westerner Park Governance Committee, Alberta Parks Recreation Association among others.
Scott shared his thoughts on being appointed as the new CEO of the Chamber, "I am very excited to join the Chamber of Commerce team and want to thank President Matt Cassidy and the Chamber Board for choosing me to help lead the Chamber along with a dedicated and talented staff. Red Deer is such an amazing community, and we have a dynamic and world leading business community that I look forward to listening to and learning from in the months ahead".
President Matt Cassidy commented on behalf of the Chamber's Board of Directors, "After an exhaustive search this fall, the board is confident in Scott's experience and ability to lead the Chamber forward, and to propel the successful legacy of the Chamber in support of our membership, and the business community as a whole."
Scott starts with the Chamber January 17, 2022.
The Red Deer & District Chamber of Commerce is a non-partisan, collaborative leader in building a vibrant community and fosters an environment where businesses can lead, be innovative, sustainable, and grow.