Downtown Business Spotlight: RYDE RD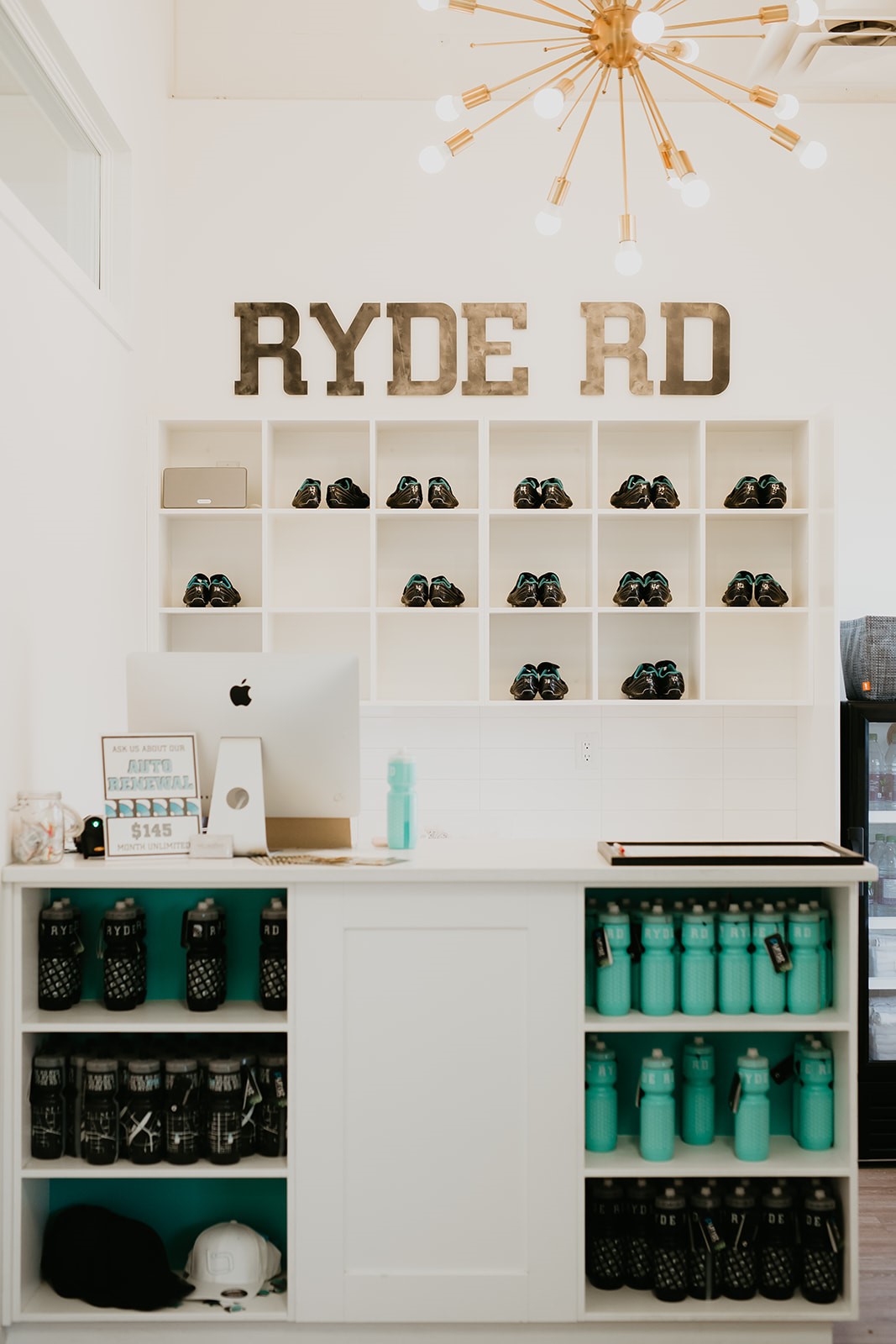 We're starting this year's Business Spotlight off with shining the light on RYDE RD! This boutique spin and body studio is located at 47755 49th street in Bay D. We spoke with owner Alex Wood to learn more about his business.
What is your business?
RYDE RD is locally owned and operated and is downtown Red Deer's only boutique spin and body studio. We're dedicated to providing a fun, multi-sensory workout in a safe and friendly environment.
When did your business open?
We opened our doors October 2016.
What makes your business unique?
Ryde is different with offering an unique experience while working out. Spinning to the beat of the music in a clublike atmosphere you won't even feel like you are working out for 45min.
What are some products/services that you offer?
We offer spin and body classes:
Ryde 45: is the pride of Ryde RD. Our spin instructor motivates you through a music bumping, forty-five minute, full body workout class complete with hand weights & core. Our instructors guide you through the movements, all to the beat of the music. You control the resistance of your bike, so Ryde 45 is as hard as you want it to be. With each instructor having their own flare & music choice, you can expect no two classes to be the same. Whether you're a beginner or an avid ryder, this class is for you. Multiple classes on the daily to fit perfectly into your schedule.
Body 45: is forty-five minute intermediate level class comprised of a variety of exercise modalities, including boot-camp, HIIT, plyometrics, kettlebells, strength training & flexibility. Participants will be educated in new exercises with instruction & demonstration with attention to proper form & safety. Each instructor provides their own unique style of teaching – sure to be a challenge & of course, a good sweat.
Why did you choose Downtown Red Deer as the location for your business?
Downtown Red Deer is a great central location that is easy to get to from everywhere in Red Deer. We are happy to be alongside other fantastic local businesses in the downtown area.
What do you think makes Downtown vibrant?
The sense of community in downtown Red Deer makes it vibrant. It is very attracting to be placed alongside other thriving local businesses.
I love Downtown Red Deer because… because of the sense of community, central location and being alongside other great local businesses.
Check out RYDE RD's website to sign up for a class and be sure to follow them for updates:
Website: https://ryde-rd.com/
Instagram: https://www.instagram.com/ryde_rd/
Facebook: https://www.facebook.com/RydeRedDeer/
Twitter: https://twitter.com/Ryde_RD
Check back next week for another business spotlight! If you would like to see your Downtown business spotlighted, please contact us at 403-340-8696 or [email protected].
Home Depot gave personal data to Meta without valid customer consent: watchdog
Ottawa – Retailer Home Depot shared details from electronic receipts with Meta, which owns the social media platform Facebook, without the knowledge or consent of customers, the federal privacy watchdog has found.
In a report released Thursday, privacy commissioner Philippe Dufresne said the data included encoded email addresses and in-store purchase information.
The commissioner's investigation discovered that the information sent to Meta was used to see whether a customer had a Facebook account.
If they did have an account, Meta compared what the customer bought at Home Depot to advertisements sent over the platform to measure and report on the effectiveness of the ads.
Meta was also able to use the customer information for its own business purposes, including user profiling and targeted advertising unrelated to Home Depot, the commissioner found.
It is unlikely that Home Depot customers would have expected their personal information to be shared with a social media platform simply because they opted for an electronic receipt, Dufresne said in a statement.
He reminded companies that they must obtain valid consent at the point of sale to engage in this type of activity.
"As businesses increasingly look to deliver services electronically, they must carefully consider any consequential uses of personal information, which may require additional consent."
Details of a person's in-store purchases might not have been sensitive in the context of the home-improvement retailer, but they could be in other cases, revealing information about an individual's health or sexuality, he added.
At a news conference, Dufresne suggested the Home Depot matter was not an isolated case.
"Our investigation focused on one organization, one situation, but our sense is that these tools are widely used. And this is why the message today is that all organizations should review their practices."
Home Depot told the privacy commissioner it relied on implied consent and that its privacy statement, available through its website and in print upon request at retail outlets, adequately explained the company's use of information. The retailer also cited Facebook's privacy statement.
The commissioner rejected Home Depot's argument, saying the privacy statements were not readily available to customers at the checkout counter and shoppers would have no reason to seek them out.
"The explanations provided in its policies were ultimately insufficient to support meaningful consent," Dufresne's statement said.
He recommended that Home Depot stop disclosing the personal information of customers who request an electronic receipt to Meta until it is able to put in place measures to ensure valid consent.
Home Depot fully co-operated with the investigation, agreed to implement the recommendations and stopped sharing customer information with Meta in October, the commissioner said.
This report by The Canadian Press was first published Jan. 26, 2023.
———
Meta funds a limited number of fellowships that support emerging journalists at The Canadian Press.
Alberta halts rate hikes on auto insurance for private passenger vehicles for 2023
Edmonton – The Alberta government says it will not approve any more rate hikes for auto insurance on private passenger vehicles until the end of the year.
The government says in a news release that it shares concerns from the public and is imposing the cap while it works to find long-term solutions.
The move comes more than three years after the United Conservative Party government lifted a cap on hikes imposed by its NDP predecessors.
Finance Minister Travis Toews had previously resisted calls to reinstitute the cap, calling it an ineffective stopgap solution while pointing to reforms his government made in 2020 to stabilize rates over the long haul.
The government now says factors like inflation and supply chain issues for auto parts are affecting rates in the short term and must be addressed.
Premier Danielle Smith had called for her government to take action on insurance late last year, after a report commissioned by the Insurance Corporation of British Columbia found Albertans are paying among the highest rates in Canada.
This report by The Canadian Press was first published Jan. 26, 2023.