"WARD SYSTEM" vs. "AT LARGE SYSTEM". Time for that question, again.
"At Large" versus "Ward" municipal governance.
A year from now, October 16, 2017 there will be a municipal election and the citizens of Red Deer will vote for (1) mayor, (8) city councillors, (7) public school trustees, and (5) separate school trustees.
Red Deer uses the "At Large" system for voting so you have the option of voting for all positions mayor, councillors and school trustees either public or separate. 16 spots or 14 spots respectively.
The last election in 2013 we had 5 people running for mayor, 30 people running for council, 14 people running for public school board and 7 people run for the separate school board, 56 people in total.
How many people can remember all the candidates, anyone? Let us make it easier. How many people can remember , everyone who won, anybody?
The huge advantage of the current "At Large" system falls to and gives advantage to the incumbents and then to the more wealthier campaigns,
It takes money to advertise to every household in the city, so naturally you will find that the wealthier candidates more often than not live in the wealthier neighbourhoods. It is less expensive and easier for the city staff and management to deal with councillors, at large, in bulk than it would be to deal with the ward system and on individual basis. There is I have been told less infighting among councillors, perhaps because they have more in common, under the at large system than under the ward system.
The advantage of the "Ward" system is that poorer neighbourhoods get equal representation. The citizens are closer to their elected officials and poorer candidates have smaller areas to cover. The city staff will have to refine their method of dealing with councillors in regards to neighbourhood issues.
There are pros and cons to both system, and we had a plebiscite on the issue during the 2013 municipal election. 71% voted to remain with the "At Large" system, feeling that Red Deer is still small enough to stay with this, the current system. The city council incumbents voted to budget $30,000 to inform the electorate of the issue, which was heavily in favor of the current system. They held an open house with a heavy leaning to the current system with just one local person, Larry Pimm, speaking a popular former councillor, known for and speaking for the "At Large" system.
I believe that by looking at the city today, the current system has systematically and historically failed one third of our city.
One third of our city lives north of the river and they are represented by 1 person out of 9 at city hall. Out of 7 indoor ice rinks and 4 aquatic centres in Red Deer, they have 1 north of the river and the latest buildings are being built or planned south of the river. When it comes to school boards, the city has, is building and planning 6 high schools, all on the south side and 5 high schools are unbelievably along 30 Avenue. So 1/3 of the population gets shafted and has been since merging with the city nearly 70 years ago.
Let us get back to voting. In 2013 we had 56 candidates for 21 spots and naturally most incumbents who ran won. How can anyone know and understand the positions of 56 candidates. Many would like one or 2 newcomers, vote for them and fill the rest with known incumbents. They are sabotaging the chances of newcomers by voting and electing their opposition.
I have been advocating for 4 wards within city limits. Each ward would have 25% of the population, give or take 5%. 100,000 residents would mean that each ward would have between 23,750 and 26,250 and the boundaries would change with the population growth.
Each ward would elect 2 councillors, perhaps the school boards would adopt the ward system, so the public school board could for example. have 2 trustees from each ward, and the mayor would be elected city wide.
Using the 2013 ballot, you would elect 1 mayor out of 5 candidates, you would elect 2 councillors out of 7 or 8 depending on the ward and the public school voters would elect 2 trustees out of 3 or 4 candidates, again, depending on the ward.
Perhaps under the ward system, with representation at the table, using my previous arguments, the residents living north of the river will actually get a new indoor ice rink, swimming pool and perhaps (dare I dream),their own high school. One can only dream.
The incumbents will say no to the ward system, stating the small size of Red Deer, omitting the fact that most incumbents are relying on their constituency of voters that are spread across the city and may not their constituency of voters may not be strong enough in only one ward.
Lately, there has been some voices out of city hall, demanding to be recognized as a big city and to be included in the "Big City Charter" and the extra money and power associated with it. Incidentally the cities covered by the big city charter currently use the ward system.
Should we hold another plebiscite, asking that our councillors represent their neighbours, should we ask that school board trustees represent the neighbourhood families, should we take the step to recognize that Red Deer is now a big city and not that small town anymore, and prepare for and govern like a big city.
2017 will see a few candidates run against the incumbent mayor but we may see in excess of 30 candidates run for city council and in excess of 20 candidates running for one of the 2 school boards' trustee positions. Under the current system we will again see governing concentrating their attention in the same areas like downtown or the east hill. We will continue to ignore the needs of residents living in neighbourhoods like those north of the river.
"At Large" is an ideal that fails when reality is involved, the "Ward" system is a flawed ideal that may best represent our reality. What would do you think? It is your home. Thank you.
$10 ticket for a shot at up to $10,000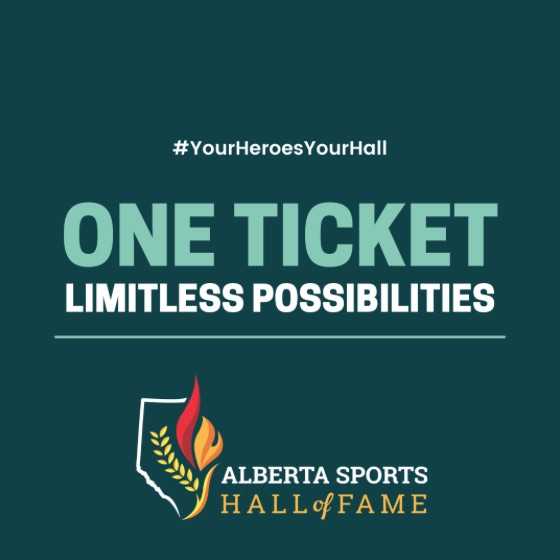 Your Hall. Needs Heroes.
We're enhancing the Alberta Sports Hall of Fame experience, one ticket at a time.
It's time for us to replace our "vintage" ski machine with something a little more modern. But changing an interactive doesn't come cheap.
Be Our Hero – get your tickets today for a potential shot at $10,000.
AGLC Raffle #573630
Out with the old …
Pixels might be cool again, but our ski machine has seen better days. We've kept it going, but it's past its prime.
In with the new.
The super-sized version of our old classic, Super Alpine Racer is as close as you can get to the real thing.
Support Smiles Thru Lindsey when you order out this month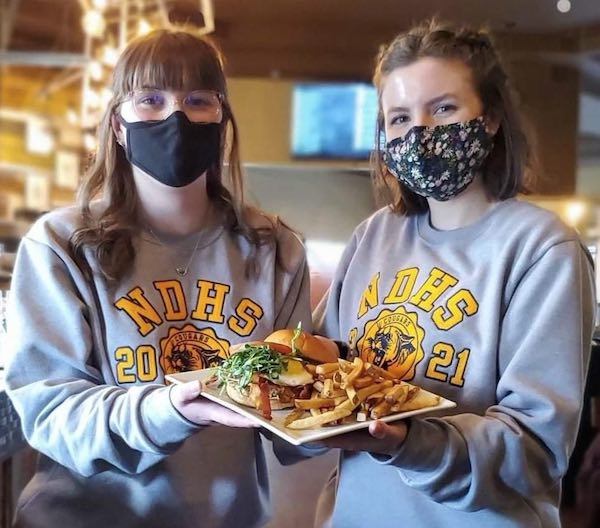 Article submitted by Red Deer Catholic Regional Schools
Throughout the month of May, purchase a "Big Smile" burger from Cilantro and Chive and $2 will be donated to the Smiles Thru Lindsey Foundation as part of École Secondaire Notre Dame High School's grad service project. This year's goal is to raise $40,000.
Lily Forsyth and Allyne Simonot, Grade 12 students at École Secondaire Notre Dame High School, worked in collaboration with the chef at Cilantro and Chive to design the "Big Smile" burger. The burger was designed featuring some of Lindsey's favourite ingredients and is a great way to raise money for an amazing cause. The "Big Smile" features marinated chicken breast, bacon, a sunny fried egg, arugula, tomato, balsamic glaze and a lime avocado aioli on a brioche bun and is served with hand-cut fries.
"The Class of 2021 agreed that in light of COVID-19 mental health should be a priority now more than ever. Lindsey More was, like us, a Notre Dame graduate. After she tragically took her life in 2015, her family began Smiles Thru Lindsey. She was a regular happy girl, nothing seemingly wrong. She was involved in the school community through sports and the grad service project of 2011. We knew that our school community would connect to her and her story as easily as it has," said Allyne Simonot, student at École Secondaire Notre Dame High School.
"This cause is actually very personal for me, it is another way for me to support my friends who are struggling, a way to communicate to every person who is willing to listen that they are not alone. That everyone is feeling or has felt a toll on their mental health and that there are resources and people out there to help," said Lily Forsyth, student at École Secondaire Notre Dame High School.
"In a year of such uncertainty, I am so proud of how our students have found such unique ways to fundraise and create awareness for mental health. Through their dedication and creativity, they have been able to partner with some amazing local businesses allowing the entire community the opportunity to be part of our quest to end the stigma surrounding mental health," said Principal, Rose McQuay at École Secondaire Notre Dame High School.
"We get to meet the wonderful people who work tirelessly behind the scenes in deserving organizations while enjoying delicious burgers created and inspired by amazing people in our community. In just over four years we have been able to give back over $80,000 to local charities and organizations in our own backyard. Thank you to École Secondaire Notre Dame High School for being a part of our Burger of the Month and having some fun with us, while raising awareness for Smiles Thru Lindsey," said Rieley Kay, owner of Cilantro and Chive restaurant.
Red Deer Catholic Regional Schools serves over 10,360 students in 20 schools in Red Deer, Blackfalds, Sylvan Lake, Rocky Mountain House, Innisfail, and Olds, as well as an at-home learning program. It also supports the learning of over 1095 students in a Traditional Home Education Program. The Division is committed to serving children and parents with a complete offering of learning opportunities delivered within the context of Catholic teachings and within the means of the Division.