VP of Holy Family School recognized with Excellence in Catholic Education Award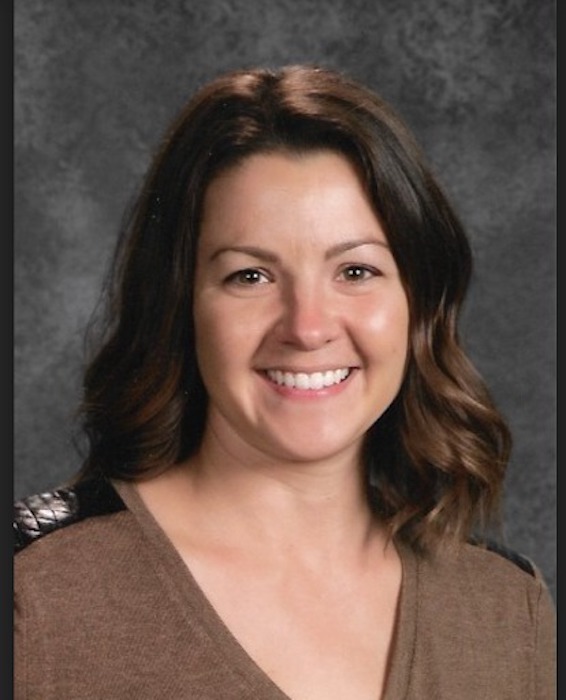 News release from Red Deer Catholic Regional Schools
RDCRS vice-principal receives Excellence in Catholic Education Award
Red Deer Catholic Regional Schools is pleased to recognize Stacey Martz, Vice-Principal at Holy Family School in Red Deer who received the 2022 Excellence in Catholic Education Award.
As a teacher, vice-principal, faith coach, and faith mentor, Martz shares her love for God and her commitment to the Catholic Faith in all that she says and does. She integrates staff and students in all of Holy Family School's celebrations, liturgies and Masses by including pre-celebration and whole-class activities to support the school community as active participants in the faith life of their school.
Martz also initiated a 'Believe in God' (B.i.G) project at Holy Family School that was highly-successful and brought faith alive for the entire school community with engaging and fun activities.
"Stacey Martz efforts have been instrumental in creating Christ-centered communities, nurturing the spiritual development of students and staff within our Division, making her very deserving of the Excellence in Catholic Education Award," said Board Chair, Kim Pasula at Red Deer Catholic Regional Schools.
Her work with RDCRS' Division Formation Program for new teachers and the Division input for permeating the new provincial curriculum, reflects the impact she has had on the entire school division.
Presented annually by the Council of Catholic School Superintendents of Alberta (CCSSA), the Excellence in Catholic Education Award recognizes Catholic 'teachers' in Alberta who have done an exemplary job in preparing youth to grow into outstanding Catholic citizens.
For more information about the Excellence in Catholic Education Award, please visit
https://www.ccssa.ca/documents/excellence-in-catholic-education-award
Alberta premier defends new rules on in-person learning, no mask mandates in schools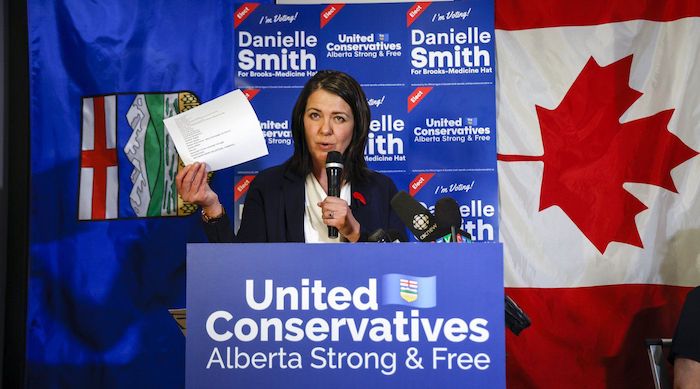 By Dean Bennett and Colette Derworiz
Alberta Premier Danielle Smith is defending new rules ordering schools to provide in-person learning during the current wave of viral illnesses, saying a clear, measured response is crucial for students and parents.
"We need a normal school environment for our children, and we need to make sure that the classrooms stay open to be able to support our parents," Smith said at a news conference in Medicine Hat on Friday.
"That's why we made the decision that we did — to give that clear direction."
Her comments came a day after she announced regulatory changes saying school boards must provide in-person learning. Schools also can't require students to wear masks in school or be forced to take classes online.
The changes take effect immediately.
"Anyone is welcome to wear a mask if they feel that that is the right choice for them, but we should not be forcing parents to mask their kids, and we shouldn't be denying education to kids who turn up without a mask," Smith said.
She has said mask rules and toggling from online to in-person learning adversely affected the mental health, development and education of students during the COVID-19 pandemic and strained parents scrambling to make child-care arrangements when schools shut down.
That's over, Smith said.
"We're just not going to normalize these kind of extreme measures every single respiratory virus season," she said.
School boards have been asking for more direction as a slew of seasonal respiratory and gastrointestinal illnesses, along with some COVID-19 cases, have led to high classroom absentee rates and have jammed children's hospitals.
In Edmonton, Trisha Estabrooks, board chair for Edmonton Public Schools, said the decision provided the clarity that the board was seeking.
"All Albertans now understand that it's not within the jurisdiction, and nor should it ever have been within the jurisdiction of individual school boards, to make decisions that belong to health officials," said Estabrooks.
She said the province has made it clear that any future public health order would supersede the new rules.
The in-person learning change applies to grades 1-12 in all school settings, including public, separate, francophone, public charter and independent schools.
The masking change applies to those same grades and schools, but also to early childhood services.
The Opposition NDP criticized the new rules, saying it's unrealistic to force schools to be all things to all students while also handling a wave of viral illnesses and not providing additional supports to do it.
Jason Schilling, head of the Alberta Teachers' Association, said the government needs to work with school boards to figure out how to make this work.
"You have schools that are struggling to staff the building, (they) can't get substitute teachers, teachers are sick, they're covering each other's classes, principals are covering the classes," Schilling said in an interview.
"And then to say if you go online, you are to still offer the same programming in person — we just don't have the people to do that."
Wing Li, communications director for public education advocacy organization, Support our Students, said it will be difficult for schools to offer hybrid learning without any additional resources.
"There are no teachers," Li said in an interview. "Pivoting online was mostly due to staffing shortages, which is worse now three years in."
Li said online learning is challenging for students but, when temporary and supported, can keep schools and communities safe from spreading illness.
"This is a quite aggressive use of the Education Act to enshrine an ideology," she said.
This report by The Canadian Press was first published Nov. 25, 2022
Red Deer Public teacher receives provincial award for infusing Indigenous culture into the classroom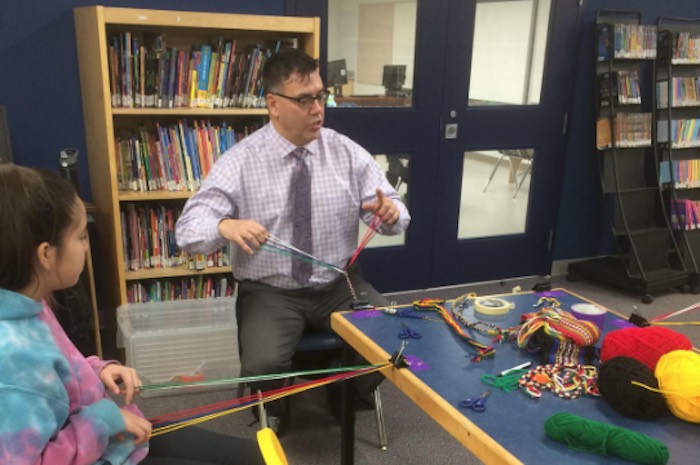 With a commitment to advancing Indigenous education in Red Deer Public Schools and across the province, and a passion for teaching students First Nations, Métis and Inuit culture, one local teacher has been recognized with a prestigious provincial award.
Terry Lakey, a teacher with Red Deer Public's Learning Services, has been awarded the Outstanding Indigenous Educator Award from the Alberta Teachers' Association – Indigenous Education Council.
"It was very exciting and I feel honoured to receive this award," said Terry, who added his inspiration comes from his mom. "I remember the day I told my mom I was going to be a teacher. She was over the moon, because mom, being an Indian Residential School survivor, was looking forward to me making the educational experience for children way better than what she experienced. I owe everything to her and her dedication to us as her six children that she raised."
Terry, who is in his 25th year of teaching, has been in his current role at Red Deer Public Schools for the last five years. He develops First Nations, Métis and Inuit classroom resources for Red Deer Public Schools. He is also sought after outside the Division to provide in-services and help develop resources in other school divisions across the province.
"We help develop curriculum, form relationships with elders and partners in our community, find resources for staff so they feel they are supported when it comes to presenting authentic and accurate information as it relates to their programs of studies at the grade levels they teach," he said. "It's all connected to what is taught in the classroom."
Terry said there are many aspects about his job that he loves. "My role allows me to exercise my creativity and to be able to provide staff or a student with resources I have developed or found through talking to an elder or knowledge keeper is really great. To have the permission to pass things on is a highlight of my job."
Relationships also play an important role in Terry's work.
"In order to put a curriculum out there that we feel is authentic and genuine, it always comes down to building relationships with individuals whose cultures are represented in our programs of studies. Part of our job is to connect with those individuals," he said. "Sometimes we can find elders or knowledge keepers or people with experience right in our own community, and if we can't because our curriculum is so vast, our job is to find people across the country or world who can help us offer information or perspective through the lens of those we are trying to represent."
In reflecting on his career success, Terry said he's had the honour of working with a great team of staff.
"I need to thank the many strong allies I've had in the past, whether it's an administrator, or a fellow colleague. I greatly appreciate every educational assistant I've had in my classroom, they are absolutely amazing. To make learning fun, dynamic and add variety, it's a shared vision and I am grateful for every person who I've had the privilege to work alongside," he said. "It takes a village."
Hayley Christen, Learning Services Coordinator, said Terry is passionate and dedicated to making learning hands on, fun and engaging to every student he teaches.
"He works extremely hard to ensure the lessons, resources and projects he brings to life connect authentic Indigenous voice to the identified outcome in the programs of study. He is well respected by Elders, knowledge keepers and others in the Indigneous community," she said. "I am inspired by his passion for his work and for the students and staff he serves. It is my honour and privilege to get to work and learn alongside Terry each day."
Della Ruston, Associate Superintendent of Learning Services, said Terry is an enthusiastic and effective Indigenous educator who goes above and beyond in everything he does.
"Terry builds strong relationships with students, colleagues, and his community by helping to increase their understanding of Indigenous culture and traditions," she said. "Terry exemplifies the four Rs of Indigenous education; respect, relevance, reciprocity, and responsibility."
Chad Erickson, Superintendent, said Terry's recognition is very deserving.
"We are very proud of the work Terry does in our schools," he said. "He is a passionate educator that ensures our students are engaged in high quality, authentic learning opportunities."