Red Deer teacher representing Canada for Most Valuable Teacher title – Just 2 more days to vote!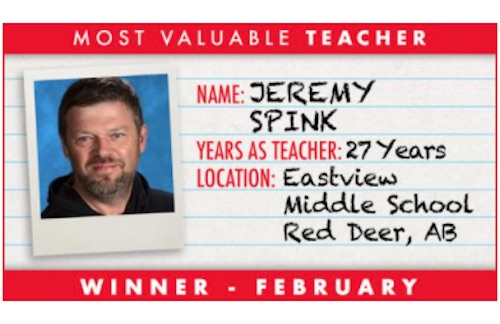 Local teacher in the running for $20,000 technology grant
Eastview's Jeremy Spink the only Canadian vying for the prize
A Red Deer teacher is the only Canadian in the running for a huge prize of $20,000 and the title of 2020/21 NHL/NHLPA Most Valuable Teacher, presented by SAP (Systems, Applications, and Products in Data Processing) and he needs your votes to win!
Jeremy Spink, Teacher at Eastview Middle School, is one of three teachers across North America vying for the technology grant and bragging rights of being named Most Valuable Teacher. If he is successful, Red Deer Public Schools will use the money to support students with technology to help bring Science, Technology, Engineering and Mathematics concepts to life at Eastview Middle School.
The community can help Spink win by voting daily on the Future Goals™ Teacher of the Year website from May 3-7.
Spink won the title for the month of February after competing against dozens of other teachers across North America. Red Deer Public received a $10,000 grant in which Eastview purchased technology for classrooms.
"I didn't really realize the magnitude of the whole program when I was nominated for February. The amount of support I received from our community was amazing – everyone really rallied around this cause. It was amazing on my part and I was touched by the support. It was such a great feeling," said Spink. "To take this to the next level will really be putting Red Deer, Red Deer Public and Eastview Middle School on the map across Canada. To bring our community into the spotlight and show what great things we do in our schools and in our Division would be amazing."
Spink, who has been a teacher at Eastview for more than 20 years, has incorporated the Future Goals™ – Hockey Scholar program into his classroom, which is designed to leverage STEM in hockey to create a fun and memorable learning experience.
"It is a great program and it all ties right into our curricular goals," he said. "I am dedicated to teaching applications for STEM because I know that it not only impacts how healthy and productive students are during this time, but also their well-being and success far beyond the K-12 years."
Eastview Middle School Principal Kevin Robertson said Spink has been a leader in the school's hockey program and worked with other teachers in delivering programming to Grades 6-8.
"In his hockey class, and in all of his classes, he instills a love of learning and particularly a love for the game for all of his hockey class students, through positive interactions and his infectious enthusiasm," said Robertson. "If he were to win the MVT for 2020/2021, we would look at how we could further support technology in our classrooms, whether through more devices, or through other specific technologies for our hockey program and other areas to supplement instruction."
How can the Red Deer community help? By voting for Spink once a day from May 3-7. To vote, visit the Future Goals™ Teacher of the Year website.
"I encourage people to vote because it will help put our community on the map. The other two teachers are from Pittsburgh and Philadelphia, so to have our community of 100,000 people go up against these two huge communities and show our Alberta and Canada pride would be so great!" said Spink.
Alberta paleontologists find dramatic change in bite force as tyrannosaurs matured
Tyrannosaurs are well known as having been ferocious predators at the top of the food chain millions of years ago, but a study led by an Alberta-based researcher shows the reptiles didn't start out life that way.
François Therrien, curator of dinosaur paleoecology at the Royal Tyrrell Museum in Drumheller, Alta., said the study focused on tyrannosaur teeth and their dramatic change as they matured. 
He collaborated with Darla Zelenitsky and Jared Voris of the University of Calgary, as well as Kohei Tanaka of the University of Tsukuba in Japan.
For the study, published this week in the Canadian Journal of Earth Sciences, the researchers examined the lower jaws from the Albertosaurus and Gorgosaurus, types of tyrannosaurs commonly found in Canada that predated the T. rex by millions of years.
"Our fossil records for those two species of tyrannosaurs is excellent," Therrien said about the collection at the museum.
"We have so many specimens of those … that represent a full growth series from very young individuals that were probably three or four years of age all the way to fully grown adults that were over 20 years of age."
By examining a wide range of fossils, the researchers were able to see a significant change in tooth size and jaw force once the tyrannosaurs reached about 11 years of age.
Feeding behaviour did not appear to change during the lifespan of the tyrannosaurs, because their jaws were adapted to capturing and seizing prey with their mouths, probably because the forelimbs were too short to grasp food, Therrien said. 
"Tyrannosaurs were truly unique when you look at all the theropods," he said. "They were atypical … because their bite and their skulls were their main weapon for killing prey."
But what did change, he said, is the size of their teeth and their bite force.
A tyrannosaur at about three years of age was still a deadly predator, but it had smaller blade-like teeth that could only slice through flesh. The bite force, Therrien added, was about 10 per cent that of a fully grown alligator.  
That means younger tyrannosaurs ate smaller prey and had to compete with other like-sized predators such as the Velociraptor. 
Once tyrannosaurs turned 11, Therrien explained, they went through a growth spurt in which their teeth became larger and wider. By the time the reptiles were fully grown, their bite force was eight times more than that of an alligator. 
And that meant their diets also changed. 
"These teeth were better adapted for resisting twisting stresses either associated with biting of big prey or even crushing bone."
Therrien said his study shows that young tyrannosaurs were distinct predators that occupied different ecological niches.
"Young tyrannosaurs were not just scaled-down versions of the mature parents," he said. "They were creatures that actually had their own lifestyles."
This report by The Canadian Press was first published June 23, 2021. 
Daniela Germano, The Canadian Press
JUST RELEASED: A Healthy Environment and a Healthy Economy 2.0