Voting Day Information for Red Deer
Red Deer voters get a free ride to the voting stations on Election Day
Red Deer Transit is offering free transit all day on Election Day to ensure all Red Deer voters are able to cast their vote.Election Day is Monday, October 18. Red Deer voters will be able to choose from one of eight voting stations across the city. Transit will be free for all riders, all day long.

Voting is open 10 a.m. to 8 p.m. at eight voting stations on Election Day:
Baymont by Wyndham Red Deer: Piper Creek Room: 4311 49 Avenue
Cambridge Red Deer Hotel & Conference Centre: Mediterranean Ballroom: 3310 50 Avenue
Collicutt Centre: Field House: 3031 30 Avenue
Northside Community Centre (YMCA): Gymnasium: 6391 76 Street
Parkland Mall: Unit 458: 6359 50 Avenue
Radisson Hotel Red Deer: Winspear Ballroom: 6500 67 Street
St. Joseph High School: Gymnasium: 110, 2700 67 Street
Westerner Park: Exhibition Hall: 4847A 19 Street
Voters can select a transit route using the MyBus app or by visiting reddeer.ca/transit for route maps and schedules.
The City also has a virtual map in place to help voters select the quickest voting station; the voting station map showcases live wait times for each voting station, updated regularly by staff on site throughout each voting day.
Voters can still participate in the Advance Vote until Saturday, October 16. Three Advance Vote stations have been open daily since October 4. Unofficial counts show 8,048 people participated in Advance Vote from October 4 to 14.
In addition to shifting to larger voting stations, a number of health and safety measures are in place to protect both voters and Election staff, including enhanced sanitization, physical distancing, barriers, and mandatory masking.
More information about the Election, including where to vote and who is running, is available at elections.reddeer.ca.
Red Deer RCMP and City of Red Deer introduce Integrated Downtown Policing Unit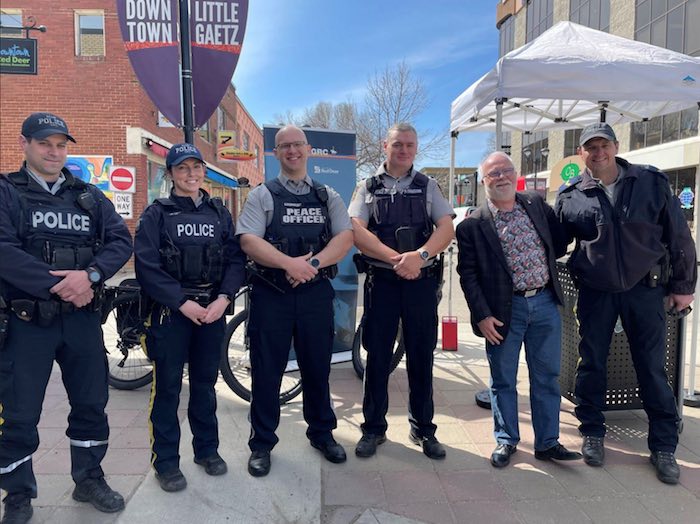 News release from Red Deer RCMP
Today the Red Deer RCMP's Downtown Patrol Unit officially welcomed their two newest policing partners to the unit; two Community Peace Officers (CPO) with enhanced duties.
"The addition of these two new CPO resources will enhance our policing presence, improve safety, and have a positive impact on the downtown overall," says Supt. Holly Glassford.
The pilot project is a joint initiative between the Red Deer RCMP, City of Red Deer Municipal Policing Services, and the Government of Alberta. The Province enhanced CPOs' authorities to allow them to investigate certain criminal code files including Theft under $5000 and Mischief under $5000.
"In some respects, they will have comparable duties to their RCMP counterparts. They will investigate incidents, collect evidence, and provide proactive and responsive enforcement of City bylaws, provincial statutes and some criminal codes," says Peter Puszka, Municipal Policing Superintendent. The two CPOs will also have access to policing tools and databases not typically available to Peace Officers.
Since 2018, Red Deer's downtown has had a dedicated Downtown Patrol Unit (DPU), focused on improving safety through increased police visibility, proactive enforcement, decreasing property crime and criminal activity, and developing relationships with the residents, businesses and social agencies downtown.
"Our downtown unit has been doing a tremendous job with such a substantial mandate, and they're really making an impact in our downtown core," says Supt. Holly Glassford.
In 2021, the DPU conducted 2,219 investigations of which 64% were self-generated files identified during proactive patrols, and the other 36% were in response to calls from the community. This led to 784 arrests, 493 Criminal Code charges, 470 weapon seizures, 37 ounces of illegal drugs seized and 1,061 tickets issued.
During the RCMP's latest community consultations and survey, participants indicated that there were still issues about the perception of safety in the downtown, and that safety was a barrier to visiting the downtown.
"Council and I are committed to working towards the enhancement and revitalization of our downtown," says Mayor Ken Johnston. "This innovative, one-of-a-kind initiative will increase feelings of safety and security amongst those working, living and enjoying our downtown."
City reaching out to tax payers about location for permanent homeless shelter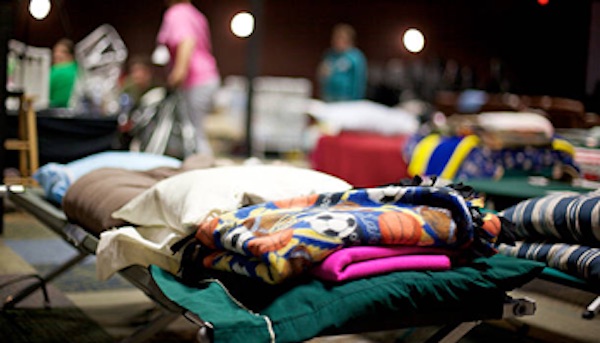 Public participation about permanent shelter site criteria approved
Within the next month, the community will have an opportunity to share their input on the site criteria for a future permanent shelter site. Council approved this direction during their Council meeting last night, following extensive conversations around formal roles and responsibilities and opportunity for collaboration outside a formal Memorandum of Understanding (MOU) with the province.

"While site selection is not part of the formal agreement between The City and the Province, we believe that the Province will support a recommendation in good spirit as part of a shared responsibility to providing shelter services in our community," said Mayor Ken Johnston. "When citizens come to the table to discuss criteria, we ask that they come with an open mind. Consider all the factors in selecting a location, not just proximity to your home, your business, your property. The permanent shelter will not be what we currently have, it will be an integrated shelter for our vulnerable population to access services that will support them on their journey to permanent housing."

Administration will begin a public participation strategy and begin implementation within the coming weeks. The resolution approved by Council outlined the following deadlines:
June 20, 2022: conduct timely, strategic, solution-focused community engagement about site criteria prior to this date. Inclusive of in-person and online opportunities to provide input to be promoted.
July 18, 2022: Council to agree to a location to recommend to the Province on or before this date.
"We are beginning public participation based on the understanding our community wants to help us to address shelter needs. We are starting with a clean slate when it comes to actual location," said Interim City Manager Tara Lodewyk. "We recognize that some citizens will want to propose specific locations but we want to dig deeper to understand why. We will be asking further questions – why do they think that site is a good option, what does it have that would make it the right place and see how that aligns or builds upon the criteria we already have in place."
In the coming weeks, The City will share public participation opportunities with the community through social media, local advertising, website updates and email notifications. If residents would like to be added to the email list for updates on the public participation and general permanent shelter information, please email [email protected]. More information about the permanent shelter process can be found at www.reddeer.ca/shelter.