City Council Forum Part 5: What is your message for taxpayers, voters, and residents?
In the closing days of the municipal election campaign Todayville has considered the issues that seem to be emerging as priorities for Red Deer voters. We've taken the opportunity to send questions via email to all the Candidates for Mayor and City Council and we've promised we'll post the responses of those who get back to us. We are happy to add responses from those who haven't gotten back to us yet over the weekend, but here is a collection from some of the contenders.
After we asked four questions to the candidates we gave each candidate an open invitation to say whatever they'd like to voters. Here are the responses from the candidates who wanted to reach out and emphasize what they wish to offer the taxpayers and residents of Red Deer.
5. Please take this opportunity to tell us about yourself, and / or your goals if you are elected. This is your opportunity to emphasize what you wish more than anything else to offer the taxpayers and residents of our city.
Mayoral Candidates
Buck Buchanan
I think we can all identify the problems or many of the problems finding the solutions is much more difficult. I believe the solutions are based on Relationships with our Citizens along with Relationship within Council and with Staff and Relationships with our Neighbours, our Partners and our Boards and Committees. I think it has to be a Team effort and that is what I am committed to.
Ken Johnston
It has been a privilege to seek the office of Mayor these past few months. I congratulate all my colleagues in running for public office. It is a very challenging time to be called to this service and it is humbling work. I have lived here since 1996 and I've been honoured to give to the city I love. Red Deer has returned much more to me. I decided to run because I thought I could make a difference in the direction we need to take. I do hope that our wonderful citizens will feel the same.
Council Candidates
Bruce Buruma
Citizens will be electing a council that will need to make challenging decisions and tough choices over the next four year, many which will have long term implications. We need a strong council that is skilled and works together as a team. Citizens have been clear, they want change and fresh ideas. We need authentic and genuine engagement with our community to know the issues and identify solutions together. I bring relevant experience as a senior administrator with Red Deer Public Schools, I am a community builder with extensive experience serving our community, I have diverse education and skills that will make me a strong voice for our city and our future. I ask for your support!
Brenda Campbell
I am a school counsellor and my primary role is to listen. I have lived in Red Deer for most of my life and know it's a great place to be, but want to work together to make it even greater. Whether citizens have recently moved here or have resided in Red Deer for decades like myself, we all have something to offer this wonderful city. Bringing what works in other municipalities and also what doesn't forth, would help us to efficiently and effectively grow. Let's learn from each other and develop into the best City of Red Deer possible.
Craig Curtis
I am running for Council because I believe the current Council has been unable to move forward on a number of important issues. I believe my experience at various levels of government can be of assistance to a new team under new leadership. I will briefly summarise some key issues from my platform (craigcurtisrd.com)
Homelessness
Council's decision to close the temporary shelter is negligent. It does not consider the safety of the homeless many of whom suffer from addictions and/mental health issues, and it will make the situation in the Downtown worse. If elected, I will make sure temporary emergency accommodation is available and advocate the fast tracking of a new facility with wraparound services. Funding has been available for over two years and no action has been taken.
Diversity
The demographics of Red Deer's population has changed, and the city needs to increase its efforts to ensure involvement of all sectors of our community. As a City Councillor I would continue to be an ally to those marginalised by income race, gender or age. I will continue to denounce hate speech and any form of racism.
Reconciliation
The City has moved too slowly to address the Calls to Action from the Truth and Reconciliation Commission. This is important because of the legacy of the Red Deer Industrial School and local burial sites.
Transparency
The current Council is divided and there have been two recent Code of Conduct investigations costing over $40,000. Council refused to accept the second report by an independent investigator and has resolved to keep its contents confidential.This should have been released prior to the election.
Victor Doerksen
Many will remember my time as MLA for Red Deer South. During that tenure I held various roles: Chair of Alberta Research Council, Minister of Innovation and Science, Treasury Board. Other than government, significant roles for me include the Red Deer Hospice and Ten Thousand Villages Society Red Deer Boards; Executive Director of CARE; Director of Finance at Etana Supports Society; small business (insurance and retail); and banking. The only thing that proves is that I am familiar with multi-billion as well as small dollar organizations. My best qualification is that I show up, work hard, collaborate, and make decisions. Please also refer to my website for more information: https://victordoerksen.ca/
Vesna Higham
I'm a retired lawyer, appeal board adjudicator, and high school basketball referee for nearly two decades. My husband and I raised our five children in Red Deer over the past 27 years, and are now proud, new grandparents to two precious babies. I understand the challenges families face in these uncertain times and would continue to support a strong family focus at the Council table. It's been my distinct honour to serve our community on Council for seven years now – over two terms – and I don't take that for granted. I study diligently, ask probing questions, and work hard to represent our city with honour and dignity. I stand for family values, fiscal restraint, a business-friendly environment, a strong focus on community safety, and a citizen-focused approach.
In closing, an elected official is first and foremost a public servant who must be accessible and accountable to the people. I bring integrity, experience, and common sense to the Council table and make decisions based on what I believe is in the best interests of our community on any issue – let the chips and votes fall as they may. Serving the public with integrity is my highest priority and commitment. Thanks for getting out to vote on October 18 Th.
Cindy Jefferies
I bring experience on council with a fresh perspective after 8 years away from the job. I have gained a tremendous amount of life experience in my time away. I am a leader who will help build relationships and team on council, within the organization, and in the community. I am proud of my record of fiscal responsibility while balancing the needs of our community. Managing challenges in the short term, while positioning Red Deer as we emerge from the pandemic, will require courageous and creative leadership. I believe I can help. I want Red Deer to be a city with opportunities and a place where people belong and want to be.
Janise Somers
I will bring a unique crime prevention perspective to Council having worked in crime prevention for the past 3 years and in an office downtown. In my work, and over the past 8 months of my campaign, I have had hundreds of conversations with residents and business owners, and I have heard your concerns. I have tons of energy and ideas, and I will be like a "dog on a bone" when it comes to the health & vitality of our downtown and preventing & decreasing crime.
I have the heart of a servant and I want to be of service and be in the service of people. Having said that, I want to combine my own personal vision with the vision of others to be the best leader I can be.I love my city fiercely and I am passionate about making Red Deer a place we are all proud to call home. On October 18 th , vote for JANISE SOMER and let's build a stronger city together through stronger neighbourhoods, a stronger downtown, increased tourism and economic growth.
Dianne Wyntjes
I bring experience to the Council decision table and up-to-date knowledge of the active files when the next Councillor will be making decisions for Red Deerians. I do my homework and am prepared for Council and assigned committee meetings. I'm responsive to calls, emails and make myself available to meet with citizens when they request. I'm active on social media but also recognize the value and importance of traditional methods of community, e.g. face-to-face and telephone. I do a lot of reading (besides the Council agendas) and ask discerning questions. I challenge my own initial thinking and always look to what's best for the Red Deer community. I'm ready to keep working and hit the ground running. I bring experience and representation on numerous city committees along with knowledge of the community challenges, needs and requests. I bring 30 years of labour relations experience with 17 years as regional director in Alberta. Those skills brought budget presentations, Responsibility of 30+ staff at 7 offices throughout Alberta, working with elected boards and committees with governance understanding, experience and working through challenges, negotiations skills, strategic planning, and listening to diverse ranges of opinions – throughout my career and through my Council experience. I have lived experience in Red Deer since 1975, seeing the City grow and change. Red Deer is home home for the many years ahead and I care about our city and community as we look to the future.
Council decisions are not just for the decisions during a 4 year council term; what's decided today can impact Red Deer's tomorrows and future. Citizens want and expect their elected Council to work well together. I'd like to see a regular communications piece to Red Deer citizens "what's happening with Council". I would continue my approach as a Councillor by being accessible, responsive and continuing my community communications on social media.
Biggest issues:
Immediate conversations with the provincial government about the committed funding of $7 million, operational decisions and landing on a city location for a permanent integrated shelter for Red Deer. In the meantime, ensuring appropriate temporary shelter measures are in place for the vulnerable.
Mid year budget review and financial updates provided to Council and the community as Council looks to decisions attention to community safety is never done; new Council hearing from the RCMP Superintendent during regular updates to Council; continuing to mitigate safety concerns throughout the City and the downtown, including policing and municipal bylaw enforcement, the social diversion team's results and continuing crime prevention education with Red Deerians economy recovery through and from the pandemic is a priority. With attention to recruitment and attraction of new business and retention and supports to current business; regular community round table meetings to listen, respond and evaluate.
Looking to the arts and culture scene and what we can do to promote vibrancy in Red Deer, e.g. creative spaces, community ways to support local talents, City planned local events and working with the Red Deer Major Events strategy to attract future events to Red Deer connecting with Red Deer's youth with their ideas for Red Deer in the next four years
A lens to age friendliness for Red Deer seniors and responding what else we can do in Red Deer to advance quality of life scheduling "community days" where citizens, organizations and businesses can meet face-to-face with Council so Councillors can listen and hear ideas and concerns. No decisions at these meetings as Council makes decisions at Council meetings.
Focus to continued actions for a more welcoming and inclusive community; actions and initiatives to challenge racism and discrimination and advancing our journey for truth and reconciliation
Followup on the motion from Code of Conduct #2 and the next Council's attention to the issues for Council governance.
Annexation allows City of Red Deer to build new "Gasoline Alley" commercial district along QE2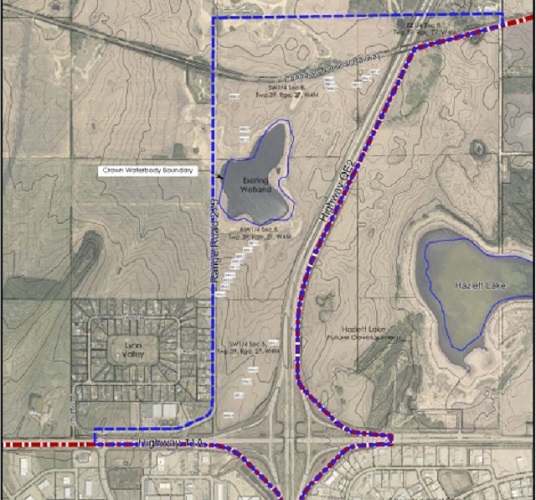 Annexation with Red Deer County approved
This week, The City received approval from Cabinet that the annexation for land north of the Queen's Industrial Business Park and west of Highway QEII from Red Deer County was approved."Our City Council is thrilled with the Government of Alberta's green light on this annexation. This pivotal move sets the stage for Red Deer's next 30 years, transforming our northwestern gateway. Leveraging Highway QEII for commercial expansion will redefine Red Deer's economic landscape. We extend our heartfelt appreciation to Red Deer County for their collaboration and to the local landowners for their invaluable contributions to these fruitful discussions," said Mayor Johnston.On June 22, 2021, Council gave direction to administration to prepare a Notice of Intent to Annex for this area of land. This annexation, encompassing approximately 216 hectares, addressed The City's deficiency in highway fronting commercial land. On February 14, 2022, Red Deer City Council passed a resolution endorsing a Notice of Intent to Annex, therefore supporting for the proposed annexation and directing administration to begin the formal annexation process.

Following that, the application was prepared for the annexation of approximately 216 hectares of land from Red Deer County. Based on landowner consultation, the proposed annexation area was altered from the Notice of Intent to Annex Land to include the entirety of one of the landowners' parcels.

Then in April of this year, the annexation was moved to the next step, when both Red Deer City Council and Red Deer County Council passed a resolution endorsing The City to submit an Annexation Application and Negotiations Report to the Land and Property Rights Tribunal. A Land and Property Rights Tribunal hearing was held on June 20, which allows the Tribunal to receive information and evidence from interested parties. After considering the submissions from all parties, the Tribunal made an annexation recommendation to the Minister of Municipal Affairs for the decision to be made.

Now that the annexation was successfully approved by the province, area structure plans will be prepared and adopted by bylaw, by Red Deer City Council. These annexed lands are intended to be developed as a regional commercial development along Highway 2, providing The City with a significant economic development opportunity.

"Securing this annexation approval has been a great success, thanks to all the collaborative partnerships involved. As we move forward, we're enthusiastic about the potential economic boost this annexation will bring, especially in addressing our shortage of commercial land along the highways," said David Girardin, Major Projects Planner.

Annexation is used by municipalities to realign jurisdictional boundaries to ensure a sufficient land supply for long-term development. The Intermunicipal Development Plan (IDP) between The City and Red Deer County provides guidance for all annexations.

To learn more information about this annexation are encouraged to visit www.reddeer.ca/annexation.
Red Deer Lights the Nights offers festive fun all season long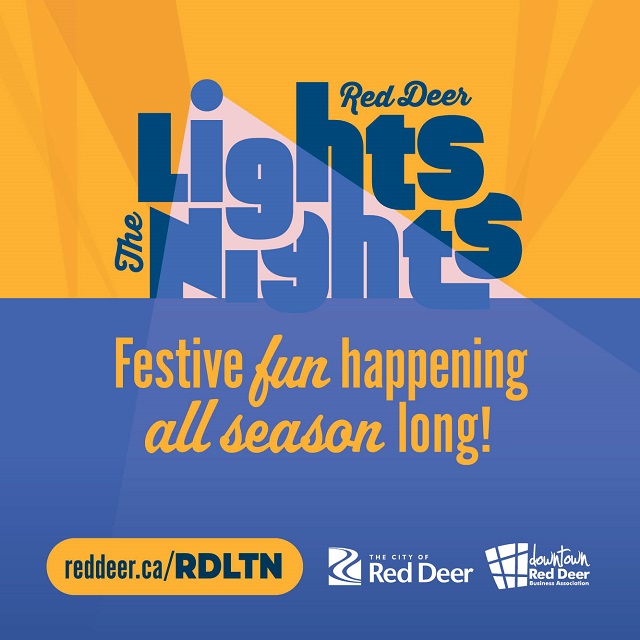 Red Deer Lights the Nights returns as a month-long celebration of the holiday season, starting this Friday, November 17.
Free, family-friendly activities are happening downtown and throughout the community, including:
North Pole Patio Party – November 17 from 4-7 p.m. at Ross Street Patio
Writes of Winter writing contest – through January 15, hosted by Red Deer Arts Council
Winter Market – November 24 and 25 at Millennium Centre
Rare & Remarkable Artisan Market – November 25 at Red Deer Museum + Art Gallery
Capstone Winter Nights Festival – December 1, 2 and 3 at Canada 150 Square
Downtown Twinkle Tour – December 15 throughout downtown
Santa's Bus Tour – December 8, 9, 15 and 16 starting at 5:30 p.m.
Residents are invited to visit City Hall Park any time after November 16 to enjoy a beautiful display of colourful lights and festive decorations. Lights are turned on every day from sunset to sunrise until mid-January.
"We're excited to welcome Red Deerians downtown once again to celebrate the season and enjoy the festive decorations in City Hall Park and along nearby streets. Everyone is invited to come out and participate in all the free activities that are planned, especially Santa's Bus Tour which returns in December to bring Christmas joy to local neighbourhoods."
---
North Pole Patio Party
Friday, November 17: 4 – 7 p.m.
Ross Street Patio
Santa Claus is coming to town – downtown! Visit with Santa in person on the Ross Street Patio as we celebrate the kickoff to the holiday season. Enjoy a free hot chocolate and cozy up to the warm firepits while the kids play candy cane games with the elves. Be sure to pick up a children's craft bag from the friendly Family Services of Central Alberta team and check out the CMHA's fun photo booth.
Kraze 101.3 will be live on location cheering on the holiday fun. We look forward to seeing you at this free family event!
---
Writes of Winter contest
November 17 – January 15
Red Deer Arts Council and The City of Red Deer have partnered on a writing contest to keep our imaginations warm this winter.
Red Deer youth, teens and adults are invited to create a short poem or story (fiction or creative non-fiction) with a maximum length of 500 words about winter and/or the holiday season in Red Deer.
All submissions can be sent to the Red Deer Arts Council at [email protected] for a chance to win exciting prizes. Works will be published for folks to read on We Are Red Deer and the Red Deer Arts Council's social media pages.
Deadlines:
Holiday Season story deadline: December 10, 2023
Winter Blues story deadline: January 15, 2024
For more information, visit the Red Deer Arts Council website.
---
November 24: 3 – 7 p.m.
November 25: 12 – 7 p.m.
Millenium Centre (location tentative)
Every winter, the farmers' market makes a special appearance in downtown Red Deer to help you finish your holiday shopping. You can purchase tasty food and baked goods to feed the whole family, local beers and wines for holiday parties and beautiful handmade gifts sure to impress that special someone at this accredited Alberta Farmers' Market. Join us November 24 and 25 for a great local shopping experience, with tastings and live music from local artists.
---
Saturday, November 25: 10 – 4 p.m.
Red Deer Museum and Art Gallery: 4525 47A Avenue
Join us for a unique Christmas shopping experience where you can explore the arts and crafts of some of central Alberta's premier artists and craftspeople. Up to 15 artists will set up their displays throughout the MAG's Remarkable Red Deer exhibit and gallery spaces, with artwork ranging from pottery, beaded jewelry, wool felting, textiles, oil, acrylic and watercolour paintings, sculpture, mixed media, printmaking, and more.
For more information, visit the MAG's Rare & Remarkable Artisan Market web page.
---
Friday, December 1: 5 – 10 p.m.
Saturday, December 2: 5 – 10 p.m.
Sunday, December 3: 4 – 9 p.m.
Canada 150 Square, Capstone
Capstone presents "Winter Nights" an imaginative light and art festival featuring art installations by B!G ART, live music, entertainment, late night shopping, activities and more! For more information, visit www.liveincapstone.ca/events.
---
December 8: 4 – 7 p.m.
Ross Street Patio
Join the DBA and Spandy Andy on the Ross Street Patio for some frosty fun! Check out the children's entertainers, activity booths and sip hot chocolate under the festive downtown lights. Bring the whole family together for an unforgettable outdoor celebration. Whether you're grooving to the DJ or simply basking in the warm glow of the fire tables, the Ross Street Patio is the place to be for an evening of free family fun. Visit the DBA's Frost Street Patio Party web page for more information.
---
December 8, 9, 15 & 16
5:30 – 8 p.m.
Red Deer neighbourhoods
Santa is back on the bus, merrily cruising down the streets of Red Deer! Check out the route maps below and give Santa, Mrs. Claus, and the dancing elves a wave – they light up this bus just for you!
We've done our best to help Santa visit each neighbourhood in the city, but due to his busy schedule he cannot visit every street. Please choose the route closest to your home to catch a glimpse of the jolly man and his crew. For safety reasons, please remain on the sidewalk or in your yard and stay off the street during the bus tours.
Tours operate from 5:30 p.m. to approximately 8 p.m. on the following evenings. Follow along on the MyBus website or app to see when Santa will arrive in your neighbourhood.
---
Friday, December 15
4 – 7 p.m.
For one night, many Downtown businesses remain open late to help Red Deerians with their holiday shopping and to encourage the support of local businesses. Downtown visitors are invited to pick up a free hot chocolate and a copy of the holiday scavenger hunt on the Patio. Enjoy beautiful window and light displays throughout downtown as you make your way to your favourite shops. Be sure to snag some Reindeer Food and Snowman Soup during your visit, too!
For more information, visit the Downtown Business Association website.
---
A video showcasing Red Deer's holiday spirit will be shared on The City's social media channels so Red Deerians can enjoy the view from the comfort of home.
For more information on Red Deer Lights the Nights activities, presented by The City of Red Deer and the Downtown Business Association (DBA), visit reddeer.ca/RDLIGHTS and follow The City and DBA on social media.