Video of AHS taking control of the Whistle Stop Cafe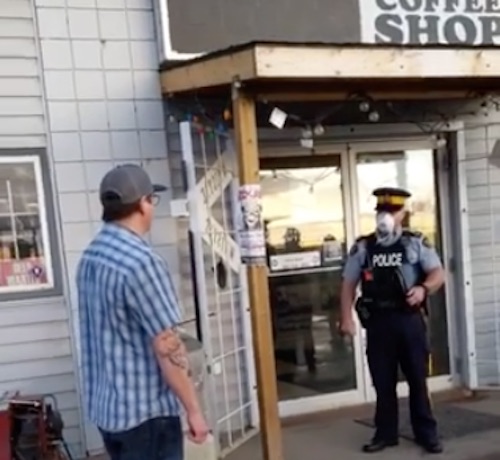 Early Wednesday morning Chris Scott, owner / operator of the Whistle Stop Cafe got a call from an employee who informed him that AHS and the RCMP were at the gas station / cafe and had begun the process of locking up the building for non-compliance to covid restrictions.
Scott hurried to the cafe to witness the process. He took this video and streamed it to thousands of viewers on his facebook page. This is an emotional and informative record of what happend.
This video was live-streamed and has been posted to the facebook page of The Whistle Stop Cafe.
Thompson's 37-save effort leads Golden Knights to 3-2 win over Flames
Vegas Golden Knights goalie Logan Thompson scrambles to block the net during third period NHL hockey action against the Calgary Flames in Calgary, Alta., Thursday, March 23, 2023. THE CANADIAN PRESS/Jeff McIntosh
By Darren Haynes in Calgary
Logan Thompson's triumphant return for Vegas after six weeks on the shelf was overshadowed by him exiting the game late in the third period with another injury.
Before he departed with just over six minutes to go, Thompson made 37 saves as the surging Golden Knights picked up a 3-2 win over the Calgary Flames on Thursday.
"Right now, obviously concerned about Logan," said Vegas coach Bruce Cassidy. " Obviously, Logan missing that much time, we'll have to look closely at that one."
It was unknown if the latest setback is related to the lower-body injury he suffered back on Feb. 9.
"I don't know what happened, to be honest. He just got up and left," Cassidy said. "He knows his body. I have no idea. At the end of the day, let's hope it's not related to the previous injury and it's something that will be short term."
Up 3-2 at the time, Jonathan Quick came in and turned aside all five shots he faced as Calgary poured on the pressure in search of the tying goal.
"It doesn't happen really often but when he got out there (Quick) made a couple really good saves to keep us in the game," said Vegas forward Ivan Barbashev.
The best chance to tie came off the stick of MacKenzie Weegar with a minute to go but he couldn't beat Quick from 30 feet out.
"I saw the net and I missed my shot," said the Flames defenceman. "If there was one chance I can get back all year, it would be that one."
Nicolas Roy scored in his return from an 18-game absence for Vegas (45-21-6). Jonathan Marchessault and Michael Amadio added the others.
Milan Lucic and Nazem Kadri replied for Calgary (32-26-15). Jacob Markstrom stopped 29-of-32 shots in his 11th start in the last 12 games.
In avenging their 7-2 home loss to the Flames on March 16, the Golden Knights earned their seventh win in eight games and are 16-3-2 in their last 21 contests.
Vegas opened up a four-point cushion on the Los Angeles Kings atop the Pacific Division.
Meanwhile, the Flames took a blow to their flickering playoff hopes, falling six points behind Winnipeg for the second wild-card spot in the Western Conference.
It's the Flames' 27th one-goal loss this year, which leads the NHL.
"We're in every game, and we have a chance to win every game we're playing, so it obviously makes it more frustrating that we lose and it feels like we're always losing by that one goal," said Flames defenceman Rasmus Andersson.
"I don't know how many games I've played back in my head thinking that 'Ah, I should have scored that' or 'How did we not score that' and we would have been in a different situation, but it's the reality."
Up 2-1 entering the third period, Vegas got some breathing room at 5:19 when pressure from Roy forced a defensive zone turnover from Rasmus Andersson. Roy then went to the net, received a pass from Phil Kessel and fired a shot over Markstrom.
The Flames crept back to within one at 12:33 when Kadri ended his 16-game goal drought with a power-play marker, but that's as close as they would get.
"When it's big games, we need guys to step up and be big players and we didn't have that tonight from everyone," said Lucic.
Calgary fell to 0-18-3 when trailing after two periods. The Flames are the only NHL team without a comeback victory this season.
Vegas, which entered the night having outscored teams 70-45 in the first period this year, jumped out to a 2-0 lead in the opening frame, with both goals coming less than four minutes apart.
Jack Eichel sprung Marchessault who whipped a shot past Markstrom on a 2-on-1 at 11:43.
Slipping behind the Flames defence and after being stopped on his first shot, Amadio rattled in his own rebound at 15:23.
Lucic cut the deficit in half with 58 seconds left in the frame off a slick cross-ice setup from rookie Walker Duehr.
SHOW OF SUPPORT
The Flames wore #SnowyStrong stickers on the back of their helmets in support of assistant general manager Chris Snow's ongoing battle with ALS. The stickers that feature a blue cornflower, the international symbol of hope for the fight against ALS, were created by a parent from the U9 hockey team in which Snow's daughter plays and were first worn by that team and its coaches.
STREAKS SNAPPED
Golden Knights forward Reilly Smith had his career-best point streak snapped at nine games (four goals, 11 assists). It equalled the franchise best, also held by Alex Tuch, Mark Stone and Max Pacioretty.
Four Flames also had their scoring streaks come to an end. Defenceman Noah Hanifin at six games, while Tyler Toffoli, Elias Lindholm and Blake Coleman each had their four-game streaks halted.
UP NEXT
Golden Knights: Wrap up their road trip in Edmonton on Saturday night.
Flames: Play host to San Jose in an afternoon game on Saturday.
This report by The Canadian Press was first published March 23, 2023.
Police investigating how shooter got firearm after autopsy and balistic analysis
News release from the Edmonton Police Service
Autopsy on shooter, ballistic analysis complete in line of duty deaths
An autopsy on the shooter and ballistic analysis of the firearm have been completed in the Mar. 16, 2023 EPS line of duty deaths.
The Edmonton Medical Examiner conducted an autopsy on Mar. 22, 2023, and confirmed that the 16-year-old male shooter's cause of death was a single gunshot wound to the head consistent with being self-inflicted.
"We recognize that there is intense public interest in this investigation," says EPS Deputy Chief Devin Laforce. "At this time, our priorities need to be the integrity of ongoing investigations, including the origin of the firearm, as well as the safety and privacy of all the families affected by this tragedy. For these reasons, we are not releasing or confirming the name of the deceased."
A bullet casing recovered from the scene of a Mar. 12, 2023 shooting at a nearby restaurant in the area of 133 Street and 114 Avenue has been forensically matched to the firearm that was recovered at the 132 Street and 114 Avenue apartment, where Constable Brett Ryan and Constable Travis Jordan were fatally shot on Mar. 16, 2023.
Investigators believe the suspect in the Mar. 12 shooting to be the same 16-year-old male responsible for the deaths of the two EPS members, although this has yet to be confirmed. Detectives are also working to trace the origins of the firearm and how it came to be in the youth's possession.
At this time, investigators continue to believe that the youth's parents, police dispatch and Constables Ryan and Jordan had no information to suggest there was a firearm in the home when the family dispute call for service was made on Mar. 16.
"Both events have been served by robust investigations that have followed all lines of inquiry," says Deputy Chief Devin Laforce. "All tips and other investigative avenues were pursued exhaustively by the investigating teams."
The male shot on Mar. 12 in the restaurant remains in hospital in critical but stable condition, and the youth's mother who was shot on Mar. 16 remains in hospital in serious but stable condition.