Video: AHS and RCMP at The Whistle Stop Cafe as latest lockdown restrictions kick in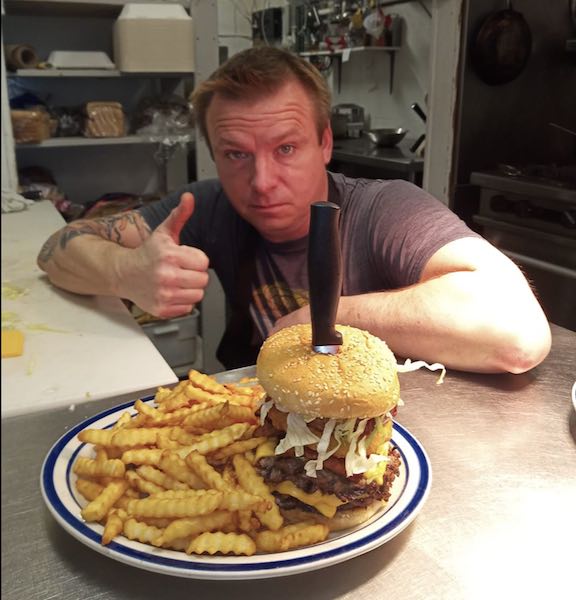 Friday at noon the provincial order to shut down dining rooms in Alberta came into effect.  Across the province thousands of staff have been sent home to an uncertain future.  But hundreds of restaurants are ramping up preparations to find unique ways to serve customers 'outdoors' in early and mid April.
As other restaurants were winding down operations, The Whistle Stop Cafe at Mirror was a beehive of activity Friday.  Owner Chris Scott has become a lightning rod of opposition to provincial lockdown measures.  Partway through Alberta's second lockdown, Scott opened the Whistle Stop in order to stay in business and is now facing a charge of opening against the restrictions.  So far that hasn't slowed him down at all.
As the clock ticked toward the noon lockdown deadline, Scott and his crew were working frantically on opening an outdoor patio and partially covered "tented" areas. In the first of three videos posted to The Whistle Stop Cafe's Facebook page today,  Chris Scott prepared to meet RCMP and AHS officials.
In this second video Chris Scott addresses customers to let them know the AHS and RCMP are present and they should be respected as they do their jobs.
The third video is a little longer.  This video shows the interaction between the owner of The Whistle Stop and both AHS officials and RCMP members.  Most of the audio is good enough to hear what they're saying to each other.  It's a very interesting experience to be in the middle of this very polite and yet very uncomfortable situation.
RCMP say competitor in Ironman is dead after volunteers pulled him from the water
CALGARY — RCMP say a competitor in an Ironman triathlon west of Calgary has died.
Police say they received a complaint of a drowning at Harmony Lake in Rocky View County on Sunday morning.
They say a 47-year-old Ontario man was located by Ironman race volunteers in the water.
The volunteers pulled him out, began CPR, and called EMS, but police say he died at the scene.
RCMP say they have contacted the medical examiner who will be assisting in determining a cause.
They say the man's family has been notified.
This report by The Canadian Press was first published Aug. 1, 2021.
The Canadian Press
FC Edmonton roll to 3-1 win over No. 1 Valour FC in CPL action
EDMONTON — FC Edmonton struck early and refused to relent Saturday as it rolled to a 3-1 victory over Valour FC in Canadian Premier League action.
Easton Ongaro put Edmonton (3-4-2) up 1-0 just 13 minutes in.
Tobias Warschewski added a goal for the home side in the 55th minute and eight minutes later, Amer Didic scored to give Edmonton the 3-0 lead.
Andy Baquero Ruiz clawed back a goal for Valour (6-3-0) in the 88th minute.
Edmonton outshot Valour 12-9, with six of its shots on target. Valour had three shots on goal.
Despite the result, Valour continues to sit atop the league with 17 points, one ahead of Pacific FC.
This report by The Canadian Press was first published July 31, 2021.
The Canadian Press