Open Letter to Alberta MLAs and MPs
Red Deer – Mountain View, AB
"This virus has shown us that there are inequities in our society that have been exacerbated by this pandemic, and there is no way that we will recommend inequities be increased by the use of things like vaccine passports for services with public access here in British Columbia." –
Dr. Bonnie Henry, Provincial Health Officer, May 25, 2021
"Fully vaccinated people who get a COVID-19 breakthrough infection can transmit the virus." –
Dr. Rochelle Walensky, Director of the US Centres for Disease Control and Prevention, August 5, 2021
"And even though our vaccines are currently working well to prevent hospitalizations, we are seeing concerning evidence of waning vaccine effectiveness over time, and against the delta variant." –
Dr. Rochelle Walensky, Director of the US Centres for Disease Control and Prevention, August 18, 2021
"This is a temporary measure (vaccine passport system) that's getting us through a risky period where we know people who are unvaccinated are at a greater risk, both of contracting and spreading this virus."
– Dr. Bonnie Henry,
Provincial Health Officer, August 23, 2021
Please provide a reply to the following questions that Albertans have as a result of Dr. Henry's announcement:
Will the Alberta Government and Dr. Hinshaw be flip-flopping and implementing a vaccine passport system in the coming days?

Given the statements from Dr. Walensky, what is the medical justification for implementing a vaccine passport system?

If vaccinated individuals can spread the virus, how will a piece of paper or QR code stop the spread of the virus going forward?

What is the legal or ethical justification for banning individuals who are unable to take the vaccine due to pre-existing medical conditions from attending private events such as weddings?

How will small businesses survive another layer of government regulation after being subject to lockdown measures for much of the past 18+ months?
If governments can't provide legal, ethical or medical documentation to answer these questions, how can a vaccine passport system be implemented? If there is no justification for this system, is this simply another tactic to coerce people into taking the vaccine, thus boosting sales for pharmaceutical companies?
Libertarian Party Candidate for Red Deer – Mountain View, AB
Ivermectin and Molnupiravir: How does the widely used drug compare to the new drug in treating Covid-19?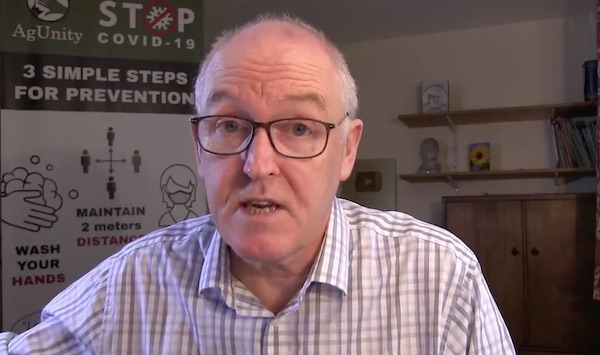 John Campbell has been making videos to teach common people about the world of medicine for over 20 years. After a career of teaching nurses, Campbell discovered a real need for medical information described in a way most anyone can understand. In the nearly two years that John Campbell has been making videos explaining information about covid his viewership has exploded, commonly reaching hundreds of thousands and even millions of views. People around the world have expressed a thirst for knowledge about the latest information around covid from a trusted source.
You can see a list of John Campbell's videos here.
A number of weeks ago, John Campbell released this presentation. It's a comparison of a drug that has been widely used but also widely criticized in treating covid around the world, with a new drug which is expected to soon gain widespread approval. Despite the success of Ivermectin, an inexplicable wave of opposition has resulted in a miserable failure by public health and politicians to adopt this extremely safe and effective treatment. While that's extremely frustrating, it does appear Molnupiravir is on the fast track to approval. Molnupiravir may be slightly less effective and astronomically more expensive than Ivermectin, it should be effective enough to reduce the fear surrounding the virus that has killed so many. With the reduction of fear citizens should be able to expect restrictions around masks, and movement, and businesses to become voluntary. A successful treatment should also allow governments to back off mandates around vaccinations in favour of a voluntary approach. Could the end of the divisive restrictions finally be on the horizon? This video contains some of the most exciting and promising news to come since the beginning of our covid disaster.
Here's a look at Ivermectin compared with Molnupiravir. Hopefully our public health officials and political decision makers are paying attention.
Red Deer South Conservative MLA is a one man opposition party within government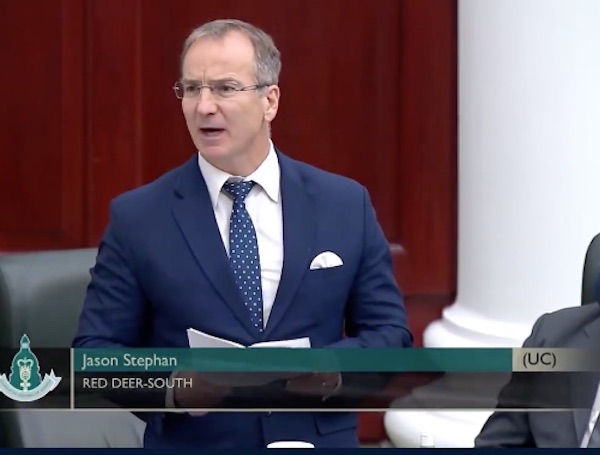 Jason Stephan may be treading on thin ice with his government as the backbench MLA stood in the Legislature this week t0 challenge his own government.. again. Backbench government MLA's tend to disappear for long periods of time waiting for a shot to get into cabinet and make decisions that affect the province. These MLA's spend time on committees trying to influence the cabinet decision makers and ultimately the Premier. Stephan is having none of that. The Red Deer South MLA has repeatedly taken his own government to task when he doesn't agree with the actions they're taking.
The latest example took place in the Legislature Thursday when Jason Stephan rose to challenge Health Minister Jason Copping on Section 1 of the Charter which says "limits to fundamental freedoms must be justified." In this extraordinary exchange Health Minister Jason Copping repeated government talking points while Stephan demanded answers on whether the province has subjected any of the public health restrictions to due diligence to ensure they meet requirements set out in the Charter of Rights.
In this amazing exchange between members of the same government, MLA Stephan challenged Minister Copping on due diligence, restrictions against children, and restrictions against people who test negative or have protective antibodies due to the fact they've already survived covid.