Vaccine Coercion: But Everyone Wears The Ribbon!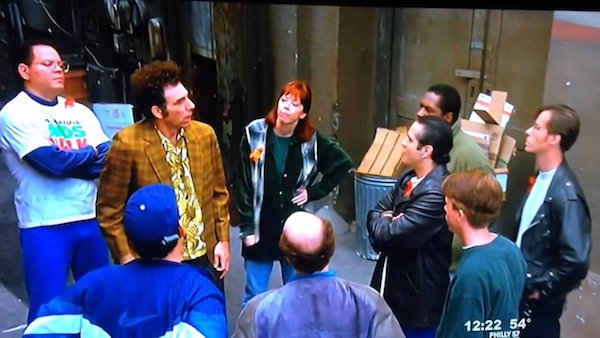 "Despite being double vaccinated, wearing a mask, and taking all the precautions I could… I tested positive for COVID. I don't have any symptoms, but am staying in until I get the green light from the Docs. I will be ready to go for @49ers on 9/12 @Lions @NFL ." Barry Sanders greatest NFL running back ever
"Maple Leaf Sports and Entertainment (MLSE) has announced they will require proof of vaccination or a negative COVID-19 test result in order to enter any of their arenas, stadiums or restaurants." https://www.si.com/nba/raptors/news/toronto-raptors-covid19-vaccine-test-scotiabank-arena-mandate-mlse
From the bureau of WTF?: You can take the juice, wear the mask, not really feel sick— but still test positive for Covid-19? Barry Sanders is sadly unique. Yet the company owning the Raptors, Maple Leafs, Toronto FC etc (and now the Blue Jays) won't let you in their building if you don't show that you've taken the same jab?
Anyone reading these stories two years ago would have been shocked to learn that Sanders' story doesn't disqualify the overreach by MLSE. Or that Sanders' story doesn't at least lend some credibility to people with doubts about the various vaccines being pumped into people on pain of social ostracization.
But to today's vaccine virtue squad, it's more important to stigmatize people than to develop a coherent response to Covid, its origins and treatments (other than vaccines) to stop this social catastrophe. Wear the ribbon!
Pop quiz: Have you seen anyone in leadership— from PM to local doctors— come out and talk about preventive steps to avoid the worst of #COVID19? Lose weight. Be exercising outdoors. Take vitamin D3. Consult about early treatment cocktail options. Me neither. Instead it's all death, lockdown and gagging with masks as if you can eradicate a virus.
People in 2019 would also be shocked to learn that this draconian banning of fellow citizens comes when the seven-day moving average of deaths from Covid in Canada the past month is in single digits per day. Saturday there was just one death reported— in a nation of 36 million. (Sunday there were 2) Heads to the bunkers, everyone! Variants are a-coming.
In addition 1.4 million Canadians who caught the virus and recovered have antibodies as strong— or stronger— than the vaccines. Millions more have immunity from exposure and don't know it because we don't test for antibodies. Only the PCR's random strands of virus that can neither make us sick nor be transmitted. But we insist they need to "wear the ribbon".
Yes, yes… the vaunted PCR cases are exploding again. (For how worthless they are read here and here and here .) After shutting down the hospitals and clinics in 2020 the system is now overflowing with Covid and many other urgent patients. You can lie on a gurney for three days to get a room. (When two people die of Covid in a day in Canada.)
Politicians are reaching for hyperbole to distract from the utter mess they've fashioned. They call those rejecting the same vaccine that Barry Sanders received social pariahs, death-bringers, a menace to the healthcare system. Note that in all this blame game no Panic Porn purveyor has thought to bring similar sanctions against others who are wilfully putting healthcare in peril. Morbidly obese COVID-19 patients are 60 percent more likely to die or require intubation, compared with people of normal weight. In many cases their condition is a lifestyle choice.
You going to deny them services and freedom of movement till they lose weight? I mean, they're a drag on health system, right? Smokers too. Why not a passport to stigmatize smokers and drug abusers? Or people with hepatitis, herpes, STDs, AIDS and a raft of other infectious conditions that the healthcare system treats no-questions-asked? Why not a passport for mental patients? They all cost healthcare a fortune.
Why stigmatize only non-vaxxers who've seen the Barry Sanders story and gone, "Hmm?" Because sweeping up the obese and people with co-morbidities would involve sweeping up friends of the Church Ladies. That might stigmatize their pals who can't get control one or many conditions, diseases or habits. Can't have that. Better target people we don't know.
Plus, snitching on the skeptical allows those in control to pretend their policies still have a shred of credibility left. Passports and banning are about erasing the failed WHO/ CDC/ HealthCanada promises of the past.
Nothing to worry about

15 days to flatten curve w/ lockdown

Masks, hand sanitizers mandatory

6-foot distance mandatory

PCR tests/ tracing will find the virus

Defeat Trump

More lockdowns.

Vaccine will stop virus

2 Vaccines will stop virus

2 Vaccines w/ mask will stop virus

First booster 8 months later will stop virus

Vaccine passport option

Vaccine passport mandatory

Snitch on your neighbours

Lockdowns again
All of which citizens complied with, sacrificing family life, career and mental stress to make their wish list come true. But now, thanks to the Barry Sanders and others, the gullible are saying the PM who called an election in the midst if this has no vaccine clothes. That makes them subversives who need to be punished.
So go all-out against the people who defy authority. Who question your brilliance and insight. They must be denied their rights to satisfy our cloying fear that the virus might strike us in our prime (although this never occurred to you in previous pandemics) . So if you are unvaccinated, you will soon not be able to:
Have a federal job
Be employed in a federally regulated industry
Travel by plane or train
Go to a restaurant or bar
Go to the gym
Go to a concert or sports event
The scolds have a ready answer for all this overreach. As one Twitter voice said, "I'm good with that list. But then, I believe that your "freedom" stops when you can infect me, old people, children who can't get vaccinated yet, and immunocompromised. #VaccinesSaveLives "
You see. My freedom extends to the world. Yours is killing people. It's all about me in my masked, locked-down safe space. Believing masks work (Not really ). Believing vaccines are the solution. Believing my neighbour is a quasi-killer. Believing children are spreaders. Believing Theresa Tam and the provincial health poobahs. Slopping up the agitprop of CBC and the Toronto Star as truth. Barry Sanders? Who he?
The election of a Conservative government might apply a gentle tap on the brakes, but Erin O'Toole still loves him some Ottawa approval. So expect him to go the route of Doug Ford and Jason Kenney, not Ron DeSantis, if he's elected. Wetting himself at his own shadow if CBC hammers him.
The real question, one we've asked since April of 2022, is how does this all end ? Does it end? With the flu season coming in about six weeks are we about to do hourly play-by-play on another virus— something we never did before Covid-19? Scare the bejabbers out of everyone again? Extrapolate every full ICU into a national crisis? Promote unicorn cases into coming trends? Urge masks, lockdowns and vaccines for all?
It would appear hard for the people in government, media and healthcare now proposing fatwas on the vaccine skeptical to take a backward step. Their power over the sheeple has been reinforced. Why give it up? Those who submitted willingly since April 2020 will soon discover that reining in their betters is about as difficult as tackling Barry Sanders in the open field.
Bruce Dowbiggin @dowbboy is the editor of Not The Public Broadcaster (http://www.notthepublicbroadcaster.com). The best-selling author of Cap In Hand is also a regular contributor to Sirius XM Canada Talks Ch. 167. A two-time winner of the Gemini Award as Canada's top television sports broadcaster, his new book Personal Account with Tony Comper is now available on http://brucedowbigginbooks.ca/book-personalaccount.aspx
Get Back: Imagining The Real John Lennon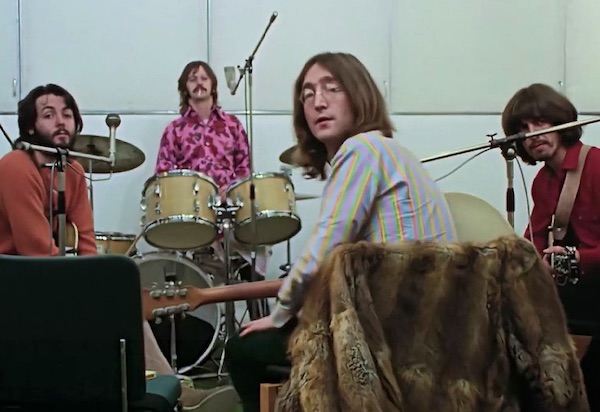 Get Back, Peter Jackson's new documentary on The Beatles taping their Let It Be album in 1969 has revelations for all generations of Beatles fans. Using video shot at the time for an earlier Michael Lindsay-Hogg film Jackson captures the creative process of the band in all its tortured glory.
Watching the four men create, procrastinate, argue, harmonize, feud and eventually part ways puts meat on the bones of their legend— particularly for those who came to their music since the band split up in1969-70. Seeing them in the context of the time reinforces their astounding productivity and creativity.
While there are have been endless tribute bands since, The Beatles themselves almost came out of thin air. They didn't discover rock and roll fire but they harnessed it to establish a template often imitated but never quite duplicated. The anticipation of a new album like Revolver (their best) was a cultural event for which there's no modern equivalent. After they split up members of the group never achieved quite the success they enjoyed as a foursome (George Harrison fans might contest this.).
Jackson's documentary does establish one salient fact. Yoko Ono did not break up The Beatles. Nor did Linda Eastman nor George Harrison nor Paul McCartney. The Brutus in this plot was John Lennon, the quixotic blunt edge of the group. Distracted and disillusioned in the film, Lennon creates the fissures that finally result in dissolution.
Nursing a nasty heroin addiction as the band starts recording, Lennon is starting the slow-motion breakdown that leads to his later incarnations as Ghandi, Gene Vincent, Randall McMurphy and finally martyred Jesus figure. He can't concentrate on anything for more that a few minutes. He wants Phil Spector, the Rasputin of rock, to produce the album. He wants Allen Klein to mange Apple, their creative company. He wants to play a public concert.
Eventually it all gets to be too much for the other Beatles. Harrison chafes to record his own music, Ringo feels bored, while McCartney wearies of trying to hold the whole business operqtion together. Lennon, meanwhile, wants to hang with the New York crowd that Yoko has introduced to him.
At its heart the band dramas were about Lennon and loyalty to The Beatles brand. His current beatific image is nothing like the man we see in Get Back. In 1969 he was the scruffy guy who'd written songs like Run For Your Life ("I'd rather see you dead, little girl, than to be with another man") and dumped his wife Cynthia for Yoko. (John singing "I'm in love for the first time" about Yoko must have been comforting for his ex-wife Cynthia and son Julian.)
His pacifist politics are summed up in Revolution ("If you talk about destruction, don't you know you can count me out") He liked getting in the face of authority. "Once they've got you violent, then they know how to handle you. The only thing they don't know how to handle is non-violence and humour."
And he famously debated his popularity versus that of Jesus. There were seams and creases to the man in the studioi who later became the sloppy drunk pal of Harry Nilsson, boozing themselves to oblivion. It wouldn't be an understatement to say he was the least loveable of The Beatles in his day— an image he was okay with, apparently.
So Lennon would probably hate the people who define him now by Imagine, the song he wrote that has been sanitized by the establishment. Imagine is what you'd get if Karl Marx met Sesame Street
Imagine no possessions
I wonder if you can
No need for greed or hunger
A brotherhood of man
Imagine all the people
Sharin' all the world?
No possessions? Kids who can't go ten feet without checking for their iPhone sing this tripe without irony. Remember that Apple's name and its iconic startup tone are Beatle tributes. There's more.
Imagine there's no countries
It isn't hard to do
Nothing to kill or die for
And no religion too
Imagine all the people
Livin' life in peace?
This is how we got Facebook censoring the posts of people who might actually prefer borders and religion. (Frankly this is the part I blame on Yoko.) And this verse prefiguring post-1980s marketing.
You may say I'm a dreamer
But I'm not the only one
I hope someday you'll join us
And the world will live as one
Because Lennon was shot to death by one of his lunatic fans— precluding any second act to his llfe— we now see him as corporatized John, smoothed out to be marketable like Big Macs and Apple tablets. As Jackson shows he was anything but a bite-sized commodity.
Watching Lennon still fascinate the public 40-plus years after his murder suggests one lyric that might serve as epitaph: "It's not like me to pretend. But I'll get you, I'll get you in the end. Yes I will, I'll get you in the end. Oh yeah." Get Bak to that.
Bruce Dowbiggin @dowbboy is the editor of Not The Public Broadcaster (http://www.notthepublicbroadcaster.com). The best-selling author was nominated for the BBN Business Book award of 2020 for Personal Account with Tony Comper. A two-time winner of the Gemini Award as Canada's top television sports broadcaster, he's also a regular contributor to Sirius XM Canada Talks Ch. 167. His new book with his son Evan Inexact Science: The Six Most Compelling Draft Years In NHL History is now available on http://brucedowbigginbooks.ca/book-personalaccount.aspx
Embracing Tradeoffs To Finally Create Humane Covid Policy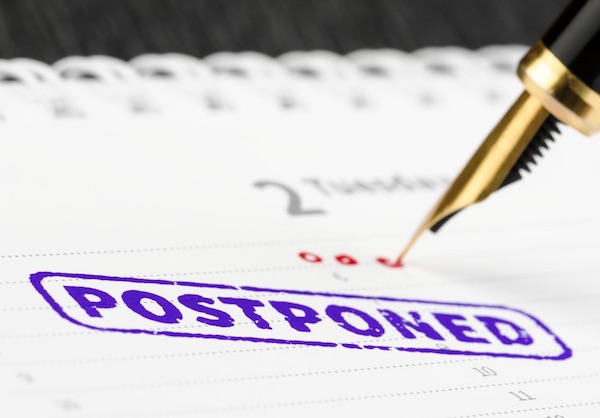 The flaw in the treatment of Covid-19 and its variants is the policy of perfection. "We're not going to put a dollar figure on human life," Andrew Cuomo, New York's governor, declared after he imposed a statewide COVID-19 lockdown last year. The goal was to "save lives, period, whatever it costs."
An outbreak of COVID-19 on the New York Islanders has caused the hockey team to postpone its games through at least Tuesday. As many as eight team members will be unavailable to play because of NHL Covid-19 protocols. Earlier in November, the Ottawa Senators postponed three games after players entered COVID-19 protocol.
Reports of the outbreak leave out just how sick the players are. If the press releases were more forthcoming they might show that almost all the affected players have mild or no symptoms— like a flu bug— but have ticked the unreliable PCR test for a minuscule trace of the virus. Or they have been in contact with a person who has caught the attention of the PCR auditors.
In previous pandemics these leagues employed no extraordinary measures and play went on normally as players who fell sick were quarantined. There were zero fatalities or long- term sicknesses from SARS, AIDS, H1N1, Hong Kong flu and other previous pandemic viruses. Leaving aside the unreliability of PCR tests the real question is why pro sports leagues continue the whack-a-mole policy of excessive testing.
Surely we have learned that early treatment and helping groups targeted by the virus and its variants is the best means of getting through the current crisis. Depending on which research you read, people in the demographic of the Sens and Islanders players are at as much risk from the vaccines as they are from the virus. Which is, negligible in both cases.
Making this worse has been the very spotty record from health authorities such as the WHO, CDC, Health Canada who took positions, reversed them, and, when challenged, got governments and Big Tech to censor their critics. Even though other previous pandemic viruses still exist in the population the people in charge pretended that Covid-19 could be wiped away if the public would just adopt their stringent advice. (A position they're now slowly withdrawing.)
For all the importance placed on the lockdowns/ masks/ distancing, no one in officialdom has yet been able to clearly articulate how they've stopped any of the worst aspects of Covid. Infections have followed traditional patterns and peaks. There's no correlation between lockdowns and the lifespan of a virus. Yet the leagues remain in lockstep with corporations and government by using a test-and-trace standard developed in April 2020 that neither halts the virus nor protects athletes.
Driving government's initial approach in Canada and the Western world has been Governor Cuomo's "every life is sacred" response— predicting that health officials and government technocrats could ultimately eliminate the virus entirely. This assumption— embraced by legacy media— justified the succession of draconian mandates on lockdowns, masks, distancing etc.
In doing so the zealots trampled the most sacred tenets of liberty and freedom in western culture. Locking up people in hotels, requiring small businesses to close while larger ones remain open, forcing people of all ages to take experimental drugs at the risk of their jobs, mandating masks and vaccines on 5-12 year olds… these were wartime measures.
Health® experts forgot the principle economist Thomas Sowell famously observed. "There are no solutions; there are only tradeoffs." Using an absolutist approach politicians and their embedded media concentrated all their costly efforts on a vaccine. The collateral damage from their single-minded pursuit of vaccines doomed untold millions to addiction, suicide, delayed surgery and neglect.
Sowell's principle on tradeoffs is the bedrock of a liberal democracy. We balance the options and choose the path that honours both freedom and collective action. One instance of how this works is in the manner in which we travel. Individuals are given the right to own whatever brand of car they like, drive any speed under the law, whenever they like, take whichever route they choose. They buy their choice of insurance to protect them against collisions with the inevitable reckless drivers in our midst.
We also understand that, under this compact, we accept tradeoffs. In 2020, 38,680 people died in motor-vehicle traffic crashes in the U.S. (In 2018 in Canada, there were 1,922 motor vehicle fatalities.) The state could reduce these statistics by reducing speeds, presumably to virtually nothing. But as citizens we see this government overreach as impractical.
Using the absolutist Covid standard on major highways, speeds would be reduced to 10 kilometres/ hour, cars would have governors to enforce speeds and government would tell you when and where you can drive. Absurd. With Covid, however, we have been told that smothering governance is justified, because every life is sacred. There will be no tradeoffs.
As we see the usual suspects gearing up for more overreach caused by a new variant, we may finally reach the breaking point for many citizens. They now see that, in the race for an ending to the virus, the balance between freedom and collective action must not be ignored again . They must say no to unreasonable measures. Whether they can resist the threats of the ruling class and its media partners will be telling.
Bruce Dowbiggin @dowbboy is the editor of Not The Public Broadcaster (http://www.notthepublicbroadcaster.com). The best-selling author was nominated for the BBN Business Book award of 2020 for Personal Account with Tony Comper. A two-time winner of the Gemini Award as Canada's top television sports broadcaster, he's also a regular contributor to Sirius XM Canada Talks Ch. 167. His new book with his son Evan Inexact Science: The Six Most Compelling Draft Years In NHL History is now available on http://brucedowbigginbooks.ca/book-personalaccount.aspx