Two Alberta UCP members kicked out of caucus after challenging Kenney's leadership
EDMONTON — Members of Premier Jason Kenney's United Conservative Party caucus have voted to turf two of their own for challenging the leader.
Backbencher Todd Loewen was ejected Thursday night after publicly announcing earlier in the day the party is adrift and out of touch under Kenney and that the premier must quit before things spiral further.
Backbencher Drew Barnes had been the most vocal critic of the government's COVID-19 health restrictions, saying they are of questionable effect and an intolerable infringement on personal freedoms. He was also voted out.
"Members recognize the need for government caucus to remain strong and united behind our leader, Premier Jason Kenney, as we continue to fight through what looks to be the final stages of the COVID-19 pandemic and beyond," UCP whip Mike Ellis said in a statement.
"There is simply no room in our caucus for those who continually seek to divide our party and undermine government leadership, especially at this critical juncture."
Kenney's spokeswoman, Jerrica Goodwin, added in a statement: "The premier is proud to stand with his caucus colleagues and lead Alberta through the greatest health and economic crisis in a century."
Loewen, representing the northern rural riding of Central Peace-Notley, had been the chair of the UCP caucus. Barnes represents Cypress-Medicine Hat in the south.
Loewen and Barnes join a third backbencher, Pat Rehn, who was expelled earlier this year after his constituents complained he wasn't doing any work or listening to their concerns.
Weeks of bubbling internal discontent within the caucus boiled over into an open challenge by Loewen in a public letter to Kenney published on Loewen's Facebook page in the pre-dawn hours Thursday.
In the letter, Loewen called on the premier to resign, saying he no longer sees a commitment to teamwork and party principles.
"We did not unite around blind loyalty to one man. And while you promoted unity, it is clear that unity is falling apart," writes Loewen.
He accused Kenney and his government of weak dealings with Ottawa, ignoring caucus members, delivering contradictory messages, and botching critical issues such as negotiations with doctors and a controversy over coal mining in the Rocky Mountains.
"Many Albertans, including myself, no longer have confidence in your leadership," Loewen says in the letter.
"I thank you for your service, but I am asking that you resign so that we can begin to put the province back together again."
In a radio interview later in the day, Loewen said he wanted to stay in the UCP and that he was not seeking to split the party but save it from looming disaster in the next election.
"The people are upset. They are leaving the party," Loewen told 630 CHED. "We need to do what it takes to stop the bleeding.
"We need to have our constituency associations strong. We've got to quit losing board members."
Loewen later received a message of support from a second UCP backbencher, Dave Hanson.
Hanson wrote on Facebook: "Todd, I applaud your courage and stand behind your decision.
"I hear the same thing from our supporters in my area. I along with many of our colleagues share in your frustration."
Hanson, Barnes and Loewen are three of 18 UCP backbench members who broke with the government in early April over restrictions aimed at reducing the spread of COVID-19. The group said the rules were needlessly restrictive and infringed on personal freedoms. Sixteen wrote an open letter expressing those concerns.
Since then Barnes has remained vocal, actively questioning why the regulations are needed in low-infection areas and demanding to see data underlying the health decisions.
Kenney tolerated the open dissension for weeks. He has said he believes in free speech and that backbenchers are not in cabinet and don't speak for his government. But Loewen was the first to openly challenge Kenney's leadership.
Kenney's poll numbers, along with party fundraising contributions, have dropped precipitously during the pandemic while those of Rachel Notley's NDP have climbed.
Notley said regardless of Kenney's internal political troubles, Albertans need to see him focus on governing the province.
Alberta has seen in recent weeks some of the highest COVID-19 case rates in North America that threaten to swamp the province's health system.
"It's not looking good," said Notley.
"What we need as a result is for the premier to clean up his house, get his house in order and provide the kind of leadership that Albertans desperately need during one of the most challenging times in our history."
There were rumours of a widening internal UCP breach two weeks ago when Kenney suspended the legislature's spring sitting. He said it was to keep staff and legislature members safe from COVID-19.
On Wednesday, the government extended the hiatus for another week.
Political scientist Duane Bratt said Kenney had little choice but to expel Loewen but noted it took several hours of debate among the caucus to get there.
"This is not a good day for Jason Kenney. He is wounded by this. And I don't think it's over," said Bratt with Mount Royal University in Calgary.
Pollster Janet Brown said the open dissension magnifies Kenney's leadership woes. Brown said a premier relies on three pillars of support: party fundraising, caucus support and support in the popularity polls. Any one of those three can help offset crises somewhere else.
But Kenney, said Brown, doesn't have support in any area right now.
"If you're down in the polls, if you don't have the confidence of your caucus and your donors are keeping their hands in their pockets, what's your justification for continuing?" said Brown.
"It seems like he's failing with all three audiences."
This report by The Canadian Press was first published May 13, 2021.
Dean Bennett, The Canadian Press
'So unfair': Métis take Alberta to court over refusal to discuss consultation policy
EDMONTON — The Métis Nation of Alberta is taking the province to court over what it says is the government's refusal to bring in an overall policy to consult the group on development projects.
President Audrey Poitras says the Métis had worked out policy after years of talks with two different governments.
She says shortly after the United Conservative Party was elected in 2019, it told the Métis in a one-sentence letter that it wouldn't be going ahead with the agreement. 
Poitras says the government has ignored requests to get back to negotiations.
She says Alberta Métis have a consultation agreement with the federal government and Saskatchewan, Manitoba and Ontario all have similar deals with Métis people. 
Alberta has individual consultation deals with Métis settlements, but they only represent a small fraction of Métis in the province. 
The government did not immediately respond to a request for comment.
The Canadian Press
The Canadian Northern Railway's legacy at Big Valley, Alberta.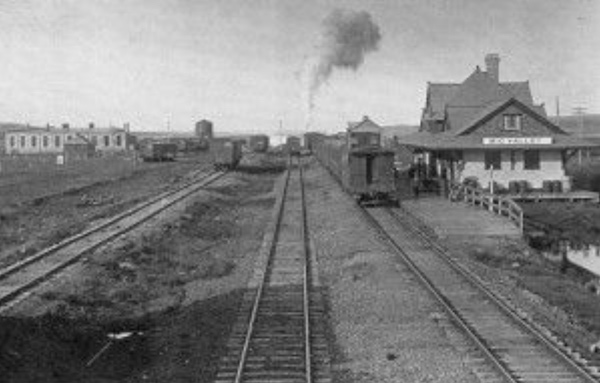 By Shawn I. Smith, Canadian Northern Society
It's a Saturday afternoon in June in the quiet Village of Big Valley. Visitors admire the splendid heritage railway depot and gardens at the end of main street. Two blocks south is a historic grain elevator – a classic Canadian symbol standing tall above the prairie landscape. To the east across the tracks are large stark concrete walls, visibly reminiscent of Stonehenge. "What are those curious walls?" is often asked. Then the sound of a locomotive whistle breaks the silence, creating a scene out of the 1950's when a vintage passenger train pulls into town, and the train crew scurries about on the platform unloading its cheerful patrons.
While not obvious to the guests who have enjoyed the 21-mile excursion train ride from Stettler aboard the Alberta Prairie Railway, the scene that unfolds on summer days in Big Valley is part of a legacy left by two dynamic railroaders who over a century earlier had an ambitious and grand vision for Western Canada. Today, both active and abandoned rail lines in central Alberta, related historic structures and sites, and indeed the communities that owe their existence to the Canadian Northern Railway (CNoR) share this common heritage.
Since the completion of the Canadian Pacific Railway in 1885, railways have been inextricably linked with the development of western Canada. After Confederation the new Dominion Government quickly recognized that without railways real settlement would not take place in the sparsely populated North West.
Energy, Enterprise, and Ability
The CNoR (Canadian Northern Railway) was a product of two Canadian-born railroaders with CPR roots. William Mackenzie and Donald Mann met during the 1880's while the senior road was under construction in the Selkirk Mountains. Their "Energy, Enterprise, and Ability" – which would become the railway's motto would lead to a partnership in contracting, steamship lines, and a 9,500-mile transcontinental railway empire that served seven provinces and included the Duluth Winnipeg and Pacific Railway in the U.S. The two were knighted for their achievements in 1911.
Branch lines were the key to the CNoR strategy.The Vegreville to Calgary branch – chartered in February 1909 by CNoR subsidiary Alberta Midland Railway – was the company's key north-south spine through Alberta. The portion between Vegreville and Drumheller was opened for service in 1911. While it had the appearance of a typical prairie branch line, its primary purpose was to carry steam and domestic heating coal from mines at Brazeau and Drumheller to growing prairie markets.
The fact that the line traversed a region of great agricultural potential for both grain and cattle farming was an added benefit. In typical fashion, grain elevators were located every five to ten miles – the distance being established around the practical ability for a livestock team to haul a load of grain and return in one day's time from the growing number of homesteads clustered around each delivery point.
The Battle River Subdivision along with further line completions in 1914 to Calgary and Strathcona respectively provided the CNoR with an effective intercity freight route, albeit longer than those of its competitors.
The Brazeau Branch, extending 176 miles west from the junction at Warden to the Nordegg Collieries was extremely important to the CNoR which depended largely on this supply of steam coal for terminals across the West. The subsequent extension of the Goose Lake line at Munson became an important link from Calgary to Saskatoon. All of these CNoR lines were financed using provincial bond guarantees.
By May of 1912 mixed trains crewed by Big Valley men were running north to Vegreville and south to Drumheller. Another run to Rocky Mountain House was added in June. A Second Class depot was erected that year and a five-stall roundhouse and turntable were complete by April of 1913.
By late 1913 a Railway Post Office Car service had been established on the line, and Big Valley was home to 14 locomotives and an equal amount of engine service and train crews. Assistant Superintendent Thomas Rourke oversaw terminal operations that included a train dispatching office.
By September 1917 fourteen mines were operating in the Drumheller Valley producing 250 carloads of coal every 24 hours. Drumheller was without question the "Powerhouse of the West." Big Valley's railroaders were kept busy 24 hours a day operating the trains that pulled the coal out of the valley.
After being selected as the CNoR terminal, Big Valley boomed. By 1919, its population had increased to over 1025, with some 325 souls working for the CNoR. At its peak, the company's payroll included 26 train and engine crews, a shop staff of 40, and a Bridge and Building crew averaging 45 employees, managed by Frank Dewar. There were 8 sectionmen, and at the station an Agent, operators round the clock, yard clerks, and the train dispatcher. Four to five carman conducted car repairs and inspections.
Coal from Brazeau was piled in a huge stockpile almost a block long on the east side of the yard. A gravel pit operation north of town at Caprona was established to provide aggregate for line ballasting on all of the CNoR area lines. Steam shovels kept this operation steady, mining volumes often equating to 100 carloads per day.
Big Valley's early railroaders were a colourful lot. Many came and went, and with the Big Valley collieries in production by 1914 shipping coal as far east as Ontario – night life in town could be wild. Assistant Superintendent Rourke, a former baseball player in the Detroit Tigers minor league system, was responsible for putting together the "Big Valley Bugs" – made up almost entirely of railroaders – who in 1918 put together a resounding victory over the high-flying Edmonton Red Sox.
The National
During the First World War, financial problems caught up with Mackenzie and Mann and their rapidly expanding enterprise. Despite profitable western lines such as the Vegreville and Brazeau branches, lack of traffic on the transcontinental lines, burdensome debt, and the negative impacts of the War would result in the company being "nationalized" by the Dominion Government in 1918. The rival Grand Trunk Pacific (GTP) Railway would fare even worse, having been placed into receivership in 1919. These events led to the creation of today's Canadian National (CN).
The new CN was confronted with the task of rationalizing the CNoR and GTP lines throughout western Canada. Consolidation was affected by the elimination of duplicate facilities and improving services by combining portions of the former competing lines. Construction of track connections joining the Brazeau branch with he former GTP Tofield to Calgary line at Alix were opened for service in 1922.
Connections were also made between the Battle River Subdivision and the former GTP mainline at Ryley. Geographically the GTP divisional point at Mirror was seen as central to the operations of the Brazeau branch vs. Big Valley. Coal that had originally moved over the Brazeau line to Warden then northward was now diverted over the new connection at Alix via Mirror which became the new home terminal for crews running west.
The new routing via Alix saved a distance of over 50 miles between Brazeau and Saskatoon. The former GTP south of Camrose also became the CN's north-south main line through Alberta.
This consolidation led to the significant decline of Big Valley as a railway town. While the company kept a small number of train crews assigned to both freight and passenger service, by 1925 the exodus to Mirror, Edmonton, Drumheller, and Hanna began. It was reported that over 100 railroaders' homes were moved out of the village, some of which continue to exist in Mirror today. In what was known as the "Battle of Big Valley" – the unions fought the company's decision hard but were left with little compensation for their relocation expenses after the issue went to arbitration in the late-1920's with the decision going with the company. By the onset of the depression, Big Valley's population had dropped by some 500 souls to 445.
It is without question that the old Canadian Northern Railway's reason for existence in central Alberta has changed dramatically since its arrival in 1910. Coal is no longer used to heat our homes – and in fact its use is considered sinful by some!
Packages ride on trucks, and people drive their own cars and trucks instead of riding mixed trains and Nos. 25 and 26 to get to Calgary or Edmonton.
While huge volumes of grain still move on trains – these are now loaded in modern high capacity elevators capable of loading 100 cars or more in 12 hours or less. The original steel rails that remain in service between Stettler and Big Valley are therefore of historic testament to Mackenzie and Mann and their great accomplishment. In fact, this section of track is the sole operating survivor of many similar "60-pound" branch lines that have now been re-laid or abandoned across the prairies. And almost incredibly one can still experience a passenger train ride over these vintage rails, pulling into Big Valley just as travellers did one hundred years ago.