Alberta cracking down on mask exemptions – Note required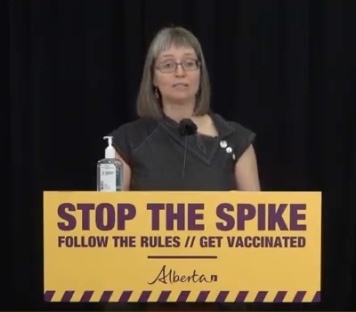 Masking exceptions for health conditions
Starting May 13, the rules around exemptions from wearing a mask due to a medical condition are changing. Individuals will now be required to obtain a medical exception letter verifying their health condition from an authorized health-care provider.
The medical exception letter must come from a nurse practitioner, physician or psychologist. It may be presented when in a public setting, if requested by enforcement officials or retrospectively in court if a ticket is issued.
This is modelled after the approaches currently used in Saskatchewan and other provinces.
Update 221: COVID-19 pandemic in Alberta (May 13, 4:15 p.m.)
Cases remain high in all parts of Alberta. Continue following the restrictions in place to stop the spread of COVID-19 and protect the health-care system.
Latest updates
Over the last 24 hours, 1,558 new cases were identified.
There are 722 people in hospital due to COVID-19, including 177 in intensive care.
There are 24,586 active cases in the province.
To date, 188,475 Albertans have recovered from COVID-19.
In the last 24 hours, there were nine additional COVID-related deaths reported: one on April 28, one on May 8, two on May 10, one on May 11, three on May 12, and one on May 13.
The testing positivity rate was 10.6 per cent.
There were 15,266 tests (4,375,995 total) completed in the last 24 hours and a total of 2,103,334 people tested overall.
All zones across the province have cases:

Calgary Zone: 11,584 active cases and 75,055 recovered
South Zone: 1,255 active cases and 10,227 recovered
Edmonton Zone: 5,470 active cases and 67,097 recovered
North Zone: 3,618 active cases and 20,117 recovered
Central Zone: 2,647 active cases and 15,961 recovered
12 active cases and 18 recovered cases in zones to be confirmed
Additional information, including case totals, is online.

Alberta has identified 276 additional cases of variants of concern, bringing the provincial total to 39,989.
Currently, 907 schools, about 38 per cent, are on alert or have outbreaks, with 6,736 cases in total.

439 schools are on alert, with 1,067 total cases.
Outbreaks are declared in 468 schools, with a total of 5,669 cases.
In-school transmission has likely occurred in 818 schools. Of these, 273 have had only one new case occur as a result.

There are currently 115 active and 9,487 recovered cases at long-term care facilities and supportive/home living sites.
To date, 1,251 of the 2,121 reported deaths (59 per cent) have been in long-term care facilities or supportive/home living sites.
COVID-19 vaccination program
As of May 12, 2,019,714 doses of COVID-19 vaccine have been administered in Alberta, with 38 per cent of the population having received at least one dose. There are now 322,247 Albertans fully vaccinated with two doses.
All Albertans age 12 and older are eligible to book appointments through AHS or a participating pharmacy provincewide.
Legislation now allows Albertans up to three hours of paid, job-protected leave to get a COVID-19 vaccine.
New vaccination campaign launches
Back to Normal is a new phase of Alberta's vaccination campaign, intended to emphasize the crucial importance of Albertans getting vaccinated so life can return to normal.
This advertisement is the first element of the campaign. Additional advertising showing other aspects of daily life will be released soon.
Masking exceptions for health conditions
Starting May 13, the rules around exemptions from wearing a mask due to a medical condition are changing. Individuals will now be required to obtain a medical exception letter verifying their health condition from an authorized health-care provider.
The medical exception letter must come from a nurse practitioner, physician or psychologist. It may be presented when in a public setting, if requested by enforcement officials or retrospectively in court if a ticket is issued.
This is modelled after the approaches currently used in Saskatchewan and other provinces.
Restrictions in place for high case regions
Restrictions are in place. Outdoor gatherings are limited to five people, most schools have moved to online learning, retail capacity is reduced and in-person dining and services are not allowed at restaurants, bars and cafés.
Municipalities that have fewer than 50 cases per 100,000 people and/or fewer than 30 active cases are able to return to Step 0 level restrictions.
Enforcement of public health measures
Fines for non-compliance with public health measures have doubled to $2,000.
Unpaid fines are backstopped with stronger fine collection actions and restrictions on registry services. For example, a person may have to pay their outstanding fine before they can renew their driver's licence.
Repeat offenders will be targeted with a new multi-agency enforcement framework.
Tickets can be given at the time of an incident or post-infraction – someone who isn't charged immediately may receive a ticket after authorities do further investigation.
Rapid testing
Continuing care
Restrictions for visitors to continuing care facilities have been eased.
These changes will vary by site based on the design of the building, wishes of residents and other factors.
Each site must develop their own visiting approach that falls within the guidelines set out and reflects the risk tolerance of the residents who live at that site.
COVID Care Teams outreach
If you or others in your home have been directed to self-isolate/quarantine by Alberta Health Services and are unable to do so safely at home, please contact 211 to discuss options, including accessing an assigned hotel to safely isolate (free of charge). Financial assistance may also be available in the amount of $625, upon completion of the self-isolation period.
Albertans downloading tracer app
All Albertans are encouraged to download the secure ABTraceTogether app, which is integrated with provincial contact tracing. The federal app is not a contact tracing app.
Secure contact tracing is an effective tool to stop the spread by notifying people who were exposed to a confirmed case so they can isolate and be tested.
As of May 13, 314,511 Albertans were using the ABTraceTogether app, 69 per cent on iOS and 31 per cent on Android.
Secure contact tracing is a cornerstone of Alberta's Relaunch Strategy.
MyHealth Records quick access
Parents and guardians can access the COVID-19 test results for children under the age of 18 through MyHealth Records (MHR) as soon as they are ready.
More than 600,000 Albertans have MHR accounts.
Addiction and mental health supports
Confidential supports are available. The Mental Health Help Line at 1-877-303-2642 and the Addiction Help Line at 1-866-332-2322 operate 24 hours a day, seven days a week. Resources are also available online.
The Kids Help Phone is available 24-7 and offers professional counselling, information and referrals and volunteer-led, text-based support to young people by texting CONNECT to 686868.
Online resources provide advice on handling stressful situations and ways to talk with children.
Family violence prevention
A 24-hour Family Violence Information Line at 310-1818 provides anonymous help in more than 170 languages.
Alberta's One Line for Sexual Violence is available at 1-866-403-8000, from 9 a.m. to 9 p.m.
People fleeing family violence can call local police or the nearest RCMP detachment to apply for an Emergency Protection Order, or follow the steps in the Emergency Protection Orders Telephone Applications (COVID-19).
Information sheets and other resources on family violence prevention are at alberta.ca/COVID19.
Alberta's government is responding to the COVID-19 pandemic by protecting lives and livelihoods with precise measures to bend the curve, sustain small businesses and protect Alberta's health-care system.
Quick facts
Legally, all Albertans must physically distance and isolate when sick or with symptoms.
Good hygiene is your best protection: wash your hands regularly for at least 20 seconds, avoid touching your face, cough or sneeze into an elbow or sleeve, and dispose of tissues appropriately.
Please share acts of kindness during this difficult time at #AlbertaCares.
Alberta Connects Contact Centre (310-4455) is open Monday to Friday, 8:15 a.m. to 4:30 p.m.
Reducing funding for RCMP on the table for Saskatchewan amid firearm buyback debate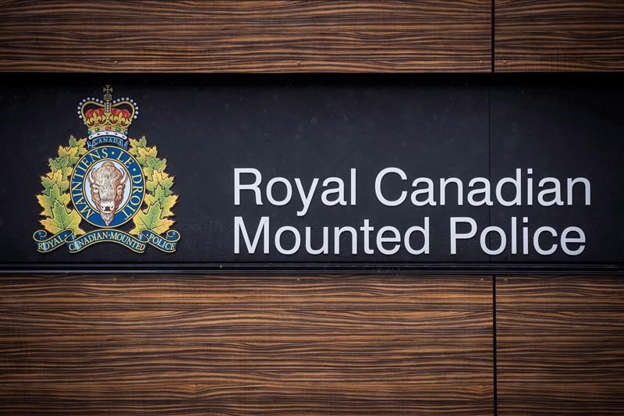 REGINA — Saskatchewan says it would consider reducing its funding for the RCMP if the force was to help the federal government with its proposed firearms buyback program.
Public Safety Minister Christine Tell says all options are on the table, signalling the province will not help Ottawa collect guns it has banned.
"We as a province fund the RCMP to a tune of 70 per cent, so it could even get more interesting," Tell said Thursday.
The Saskatchewan Party government said it is pushing back to protect law-abiding firearms owners from what it views as federal intrusion on its provincial autonomy.
Under Ottawa's proposed firearms buyback program, it would be mandatory for people to have their assault-style firearms rendered inoperable or have them discarded. That could also include centrefire semi-automatic rifles or shotguns designed to accept a detachable magazine that can hold more than five cartridges.
In response, Saskatchewan has introduced its own firearms act to forbid municipalities and police services from receiving federal money to help confiscate firearms.
The proposed law says a municipality, police service or board would have to get written approval from the province's public safety minister before agreeing to support the federal buyback program.
It also states that Saskatchewan's chief firearms officer would enforce which federal agent can or cannot confiscate firearms in the province.
"These legal firearm owners are not the ones committing the crimes," Tell said.
The legislation was tabled Thursday, months after Tell wrote a letter to Assistant Commissioner Rhonda Blackmore, the head of Saskatchewan's RCMP. It stated that the province would not support the Mounties using provincially funded resources to help confiscate firearms.
Alberta, Manitoba and New Brunswick have sent similar letters to their RCMP forces. They have joined Saskatchewan in asking Ottawa to not use up "scarce RCMP and municipal resources" for its buyback program.
In October, Blackmore said Mounties are service providers, not decision-makers, and any decisions over the buyback program are between the federal and provincial governments.
"As the service provider, we would be the individuals that get our information from them," Blackmore told The Canadian Press.
That includes if additional resources would be needed by RCMP once the buyback program rolls out.
"It would depend on the level of expectation, and what that looks like, and what the involvement is if there are additional resources," Blackmore said.
The specific role of the RCMP and the details surrounding the buyback program have not been determined.
On Friday, the Saskatchewan RCMP said it will continue to prioritize front-line services and the safety of communities is its highest priority.
The Saskatchewan Firearms Act also calls for helping firearm owners get fair market value for guns collected through the buyback program and would require all seized firearms to go through forensic and ballistic testing.
The Saskatchewan Wildlife Federation, which advocates for hunters and the protection of the province's hunting heritage, praised the proposed act, saying it would mitigate the "draconian" federal legislation.
There are approximately 115,000 licensed firearms owners in Saskatchewan, 75,000 of whom may be penalized under the federal government's policy. That's about 10 per cent of Saskatchewan's adult population, the province said.
Saskatchewan's NDP Opposition has stood united with the government to denounce the program.
"It does not strike the right balance for Saskatchewan," justice critic Nicole Sarauer said last week in the legislature.
"These amendments are overbroad and capture rifles that have legitimate uses for both hunters and producers in Saskatchewan."
This report by The Canadian Press was first published Dec. 2, 2022.
Mickey Djuric, The Canadian Press
Premier Smith goes on the attack against NDP opposition to the Alberta Sovereignty Act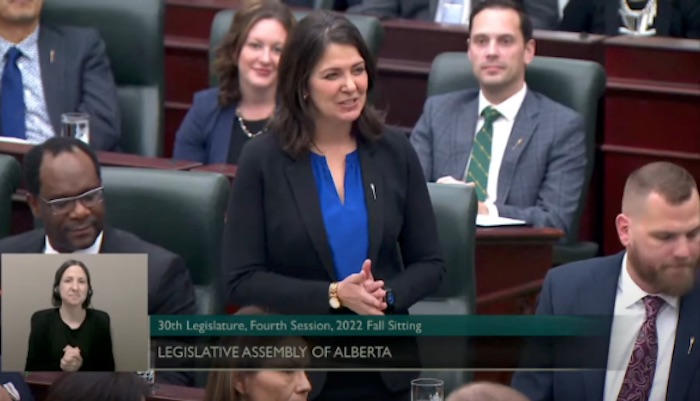 It appears Premier Danielle Smith has had enough of playing defence. In the days since introducing the Alberta Sovereignty Act in the Alberta Legislature this week, Smith has found herself explaining and re-explaining how the Act will survive scrutiny and serve the province well in ongoing battles over issues of contention with Ottawa. Peppered by the media and by the Official Opposition NDP inside and outside the legislature, Smith and her team decided to turn the tables.
The media and the official opposition claim the Sovereignty Act allows laws to be crafted by cabinet members "behind closed doors" after the legislature has declared a federal overreach into provincial jurisdiction.
However that appears to be a confusing opposition tactic since the Sovereignty Act does not require the passing of new laws. Rather, the Province will simply provide reasons for declining to enforce federal laws which (i) intrudes into provincial legislation jurisdiction, (ii) violates the rights and freedoms of Albertans under the Canadian Charter of Rights and Freedoms, or (iii) causes or is anticipated to cause harm to Albertans.
Thursday, Premier Smith took the opportunity during Ministerial Statements to lash out at the opposition leader Rachel Notley for siding with Ottawa instead of Alberta in the struggle to defend provincial rights.