Alberta cracking down on mask exemptions – Note required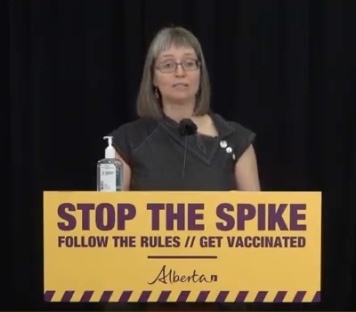 Masking exceptions for health conditions
Starting May 13, the rules around exemptions from wearing a mask due to a medical condition are changing. Individuals will now be required to obtain a medical exception letter verifying their health condition from an authorized health-care provider.
The medical exception letter must come from a nurse practitioner, physician or psychologist. It may be presented when in a public setting, if requested by enforcement officials or retrospectively in court if a ticket is issued.
This is modelled after the approaches currently used in Saskatchewan and other provinces.
Update 221: COVID-19 pandemic in Alberta (May 13, 4:15 p.m.)
Cases remain high in all parts of Alberta. Continue following the restrictions in place to stop the spread of COVID-19 and protect the health-care system.
Latest updates
Over the last 24 hours, 1,558 new cases were identified.
There are 722 people in hospital due to COVID-19, including 177 in intensive care.
There are 24,586 active cases in the province.
To date, 188,475 Albertans have recovered from COVID-19.
In the last 24 hours, there were nine additional COVID-related deaths reported: one on April 28, one on May 8, two on May 10, one on May 11, three on May 12, and one on May 13.
The testing positivity rate was 10.6 per cent.
There were 15,266 tests (4,375,995 total) completed in the last 24 hours and a total of 2,103,334 people tested overall.
All zones across the province have cases:

Calgary Zone: 11,584 active cases and 75,055 recovered
South Zone: 1,255 active cases and 10,227 recovered
Edmonton Zone: 5,470 active cases and 67,097 recovered
North Zone: 3,618 active cases and 20,117 recovered
Central Zone: 2,647 active cases and 15,961 recovered
12 active cases and 18 recovered cases in zones to be confirmed
Additional information, including case totals, is online.

Alberta has identified 276 additional cases of variants of concern, bringing the provincial total to 39,989.
Currently, 907 schools, about 38 per cent, are on alert or have outbreaks, with 6,736 cases in total.

439 schools are on alert, with 1,067 total cases.
Outbreaks are declared in 468 schools, with a total of 5,669 cases.
In-school transmission has likely occurred in 818 schools. Of these, 273 have had only one new case occur as a result.

There are currently 115 active and 9,487 recovered cases at long-term care facilities and supportive/home living sites.
To date, 1,251 of the 2,121 reported deaths (59 per cent) have been in long-term care facilities or supportive/home living sites.
COVID-19 vaccination program
As of May 12, 2,019,714 doses of COVID-19 vaccine have been administered in Alberta, with 38 per cent of the population having received at least one dose. There are now 322,247 Albertans fully vaccinated with two doses.
All Albertans age 12 and older are eligible to book appointments through AHS or a participating pharmacy provincewide.
Legislation now allows Albertans up to three hours of paid, job-protected leave to get a COVID-19 vaccine.
New vaccination campaign launches
Back to Normal is a new phase of Alberta's vaccination campaign, intended to emphasize the crucial importance of Albertans getting vaccinated so life can return to normal.
This advertisement is the first element of the campaign. Additional advertising showing other aspects of daily life will be released soon.
Masking exceptions for health conditions
Starting May 13, the rules around exemptions from wearing a mask due to a medical condition are changing. Individuals will now be required to obtain a medical exception letter verifying their health condition from an authorized health-care provider.
The medical exception letter must come from a nurse practitioner, physician or psychologist. It may be presented when in a public setting, if requested by enforcement officials or retrospectively in court if a ticket is issued.
This is modelled after the approaches currently used in Saskatchewan and other provinces.
Restrictions in place for high case regions
Restrictions are in place. Outdoor gatherings are limited to five people, most schools have moved to online learning, retail capacity is reduced and in-person dining and services are not allowed at restaurants, bars and cafés.
Municipalities that have fewer than 50 cases per 100,000 people and/or fewer than 30 active cases are able to return to Step 0 level restrictions.
Enforcement of public health measures
Fines for non-compliance with public health measures have doubled to $2,000.
Unpaid fines are backstopped with stronger fine collection actions and restrictions on registry services. For example, a person may have to pay their outstanding fine before they can renew their driver's licence.
Repeat offenders will be targeted with a new multi-agency enforcement framework.
Tickets can be given at the time of an incident or post-infraction – someone who isn't charged immediately may receive a ticket after authorities do further investigation.
Rapid testing
Continuing care
Restrictions for visitors to continuing care facilities have been eased.
These changes will vary by site based on the design of the building, wishes of residents and other factors.
Each site must develop their own visiting approach that falls within the guidelines set out and reflects the risk tolerance of the residents who live at that site.
COVID Care Teams outreach
If you or others in your home have been directed to self-isolate/quarantine by Alberta Health Services and are unable to do so safely at home, please contact 211 to discuss options, including accessing an assigned hotel to safely isolate (free of charge). Financial assistance may also be available in the amount of $625, upon completion of the self-isolation period.
Albertans downloading tracer app
All Albertans are encouraged to download the secure ABTraceTogether app, which is integrated with provincial contact tracing. The federal app is not a contact tracing app.
Secure contact tracing is an effective tool to stop the spread by notifying people who were exposed to a confirmed case so they can isolate and be tested.
As of May 13, 314,511 Albertans were using the ABTraceTogether app, 69 per cent on iOS and 31 per cent on Android.
Secure contact tracing is a cornerstone of Alberta's Relaunch Strategy.
MyHealth Records quick access
Parents and guardians can access the COVID-19 test results for children under the age of 18 through MyHealth Records (MHR) as soon as they are ready.
More than 600,000 Albertans have MHR accounts.
Addiction and mental health supports
Confidential supports are available. The Mental Health Help Line at 1-877-303-2642 and the Addiction Help Line at 1-866-332-2322 operate 24 hours a day, seven days a week. Resources are also available online.
The Kids Help Phone is available 24-7 and offers professional counselling, information and referrals and volunteer-led, text-based support to young people by texting CONNECT to 686868.
Online resources provide advice on handling stressful situations and ways to talk with children.
Family violence prevention
A 24-hour Family Violence Information Line at 310-1818 provides anonymous help in more than 170 languages.
Alberta's One Line for Sexual Violence is available at 1-866-403-8000, from 9 a.m. to 9 p.m.
People fleeing family violence can call local police or the nearest RCMP detachment to apply for an Emergency Protection Order, or follow the steps in the Emergency Protection Orders Telephone Applications (COVID-19).
Information sheets and other resources on family violence prevention are at alberta.ca/COVID19.
Alberta's government is responding to the COVID-19 pandemic by protecting lives and livelihoods with precise measures to bend the curve, sustain small businesses and protect Alberta's health-care system.
Quick facts
Legally, all Albertans must physically distance and isolate when sick or with symptoms.
Good hygiene is your best protection: wash your hands regularly for at least 20 seconds, avoid touching your face, cough or sneeze into an elbow or sleeve, and dispose of tissues appropriately.
Please share acts of kindness during this difficult time at #AlbertaCares.
Alberta Connects Contact Centre (310-4455) is open Monday to Friday, 8:15 a.m. to 4:30 p.m.
Get away from the city – Rock Lake Lodge seeks maintenance and caretaker
Wilderness Lodge Maintenance & Caretaker Needed
Click here to apply now.
Looking to get away from the city and experience the wilderness?
Rock Lake Lodge may have the perfect opportunity for you. WHO ARE WE? We are a lodge located in Rock Lake Provincial Park in Alberta, Canada.
Just a short distance away from a 90-foot deep lake with four species of fish, and the lodge is surrounded by wildlife and abounding nature.
Check out www.rocklakelodge.ca to have a look at the stunning surroundings, our lodge and cabins.
It's not all work and no play up at Rock Lake Lodge! Some of the activities provided on site will be hiking, fishing, canoeing. and wildlife watching. This is a seasonal live-in position from June 2021 -Sept 2021.
We are seeking someone with the following:
-general handyman experience (able to use basic tools and general maintenance of the lodge)
-generator experience
-plumbing & electrical (basic)
-construction experience
Above all, we want someone who loves fishing!
Do you have experience with diesel generators? Log buildings? Chainsaws or log splitters? Let us know in your application. Even if your job history doesn't reflect the above- your personal experiences may be exactly what we're looking for!
Wage to be negotiated. This is a fulltime-temporary contract position.
Experience:
maintenance: 1 year (preferred)
diesel generator: 1 year (preferred)
rural water systems: 1 year (preferred)
chainsaw: 1 year (preferred)
plumbing: 1 year (preferred)
electrical: 1 year (preferred)
Driver's License (MANDATORY)
Contract length: 3 months
Start date: Immediately
Click here to apply.
Alberta opens COVID-19 lottery; 48,000 more first doses needed to lift health rules
EDMONTON — Premier Jason Kenney says 48,000 more Albertans must step up for a first dose of COVID vaccine to fully lift health restrictions, and hopes his new lottery plan will be that incentive.
"The more people we can get vaccinated more quickly, the safer we all are," Kenney said Monday while announcing details of three $1-million lotteries, which will roll out this summer.
Kenney said he asked Health Minister Tyler Shandro a month ago to devise an incentive plan, knowing that demand for first doses would drop off.
"We knew a point would come when we would run out of low-hanging fruit in terms of people who were eager to get the jab, and we reached that point about a week, two weeks ago," said Kenney.
 "I asked (Shandro's) team to start getting creative about shaking the trees for that last 10 or 15 per cent (of the eligible population).
 "Now is the time, exactly the right time, for us to start being creative, offering these incentives."
Almost 69 per cent of those eligible have received at least one dose of COVID vaccine.
Once 70 per cent is reached, and the vaccines have two weeks to take full effect, the province plans to lift all but a handful of health restrictions, essentially returning the economy and community to its pre-COVID state.
The first $1-million lottery draw will be held on the day the restrictions lift, likely at the end of June or early July.
Every Albertan 18 years and older who has received at least one vaccine dose will be eligible, but must sign up online ahead of time. 
Registrations began Monday.
The winner must also show proof they got the shot before the registration cutoff date, in order to avoid someone signing up and winning the lottery, then running out to get vaccinated only after their name is drawn.
The next two lottery draws will be at the end of August and the end of September — also $1 million each — and will be open for those over 18 who have had two doses. 
There will also be other non-cash incentive prizes between now and the end of September, with details yet to be finalized.
Members of the Alberta legislature and their families are not eligible to win.
Opposition NDP health critic David Shepherd said he supports any effort to get more people vaccinated, including a lottery.
"But let's remember that this government is still failing to do the simple things to motivate Albertans," said Shepherd.
"An announcement that all members of the UCP government caucus have been vaccinated wouldn't cost taxpayers a dime.
 "An earlier and more aggressive campaign of temporary clinics would probably have helped as well."
Manitoba has already announced a vaccine lottery, holding two lottery draws this summer with $100,000 prizes and $25,000 youth scholarships.
Alberta has 3,089 active cases of COVID-19. There are 270 people in hospital with the illness and, of those, 73 patients are in intensive care.
Health officials reported 115 new cases and no new deaths Monday.
The province is now in the second stage of its reopening plan, the most ambitious reopening program in Canada.
Museums, libraries, movie theatres, casinos and other entertainment venues reopened last week to limited capacity after being shuttered for months.
Restaurants can now have diners indoors as well as on the patio.
Kenney has said he would like to see Alberta fully reopened by early July so people can take part in signature festivals such as the Calgary Stampede.
Also Monday, Stampede officials announced the event, expected to run from July 9-18, would keep its attendance at half capacity. They said attendees could be required to show proof of vaccination or undergo rapid testing to enter some venues. 
Staff and volunteers will also be required to wear masks and have rapid COVID-19 testing.
This report by The Canadian Press was first published June 14, 2021.
Dean Bennett, The Canadian Press