Tour the newly renovated Westerner Park Centrium
From the City of Red Deer and Westerner Park
Preview of renovations almost complete ahead of Team Canada training at Westerner Park Centrium
In 2019, Red Deer City Council approved a $3 million capital request from Westerner Park's Exhibition Association, which operates the Centrium, as part of its 2020 capital budget to help with renovations needed at the facility.
The City of Red Deer approved $3 million toward a revitalization project that would improve the 1991- era arena's dressing rooms, concourse and seating.
At the time of budget approval, Tara Lodewyk, General Manager of Planning and Protective Services said "Westerner Park is a huge economic driver in the region. We want it to keep attracting more events, as Red Deer businesses and citizens' benefit whenever the Centrium brings in various sport, business and cultural attractions."
Renovations, which are nearing completion, include updating dressing rooms, adding additional railing to the outer edge of the concourse, new modernized LED score clock and signage, and one of the biggest projects, replacing the 30-year-old spectator seats to meet modern facility standards. Westerner Park officials had aimed to complete renovations before hockey players started arriving for the World Junior Championship that were set to run Dec. 26, 2020, to Jan. 5, 2021, which has since been deferred to 2021/2022. Construction during the pandemic occurred more efficiently due to no events being held in the facility, while renovations also provided local economic stimulus by employing local trades.
On September 17, the International Ice Hockey Federation (IIHF) announced that all games for the 2021 IIHF World Junior Championship will be played in Edmonton, instead of Red Deer, due to COVID- 19 restrictions, without fans in attendance, but will return to Edmonton and Red Deer in 2021.
However, Red Deer is hosting Canada's best under 20 hockey players ahead of the 2021 IIHF World Junior Hockey Championships. Forty-seven players will attend a training camp at the Centrium at Westerner Park from November 16 until December 13. The selection camp will include practices and three intrasquad games, as well as six games against a team of sports all-stars, before the team enters the bubble in Edmonton. The Red Deer camp will take place in a cohort bubble and will be closed to the public and the media.
"Not being able to host World Juniors this year was a significant disappointment for many Red Deerians who were anticipating welcoming the international hockey community back to our city," said Mayor Tara Veer. "I know Red Deer will be ready to welcome the world to our community in 2021/2022, and will actively continue our preparations for this incredible opportunity for our city. This year, we are glad to be able to participate in preparation for the World Juniors by hosting a selection camp bubble at the Centrium."
"The renovations and upgrades will enhance guest experience at Westerner Park and ensure the comfort and safety for everyone that attends events in the Centrium," said Mike Olesen, Westerner Park CEO. "The upgrades will also create more interest from national and international events to consider Red Deer and Westerner Park for upcoming events."
"We're incredibly excited for hockey fans to experience the bold changes taking place inside our home, the Centrium," said Merrick Sutter, Sr. Vice President, Red Deer Rebels. "The much needed upgrades provide a fresh, clean look for all guests and events, and further cements the facility as a premiere destination for major events and junior hockey."
Michener North lands selected as location for future multi-use aquatic facility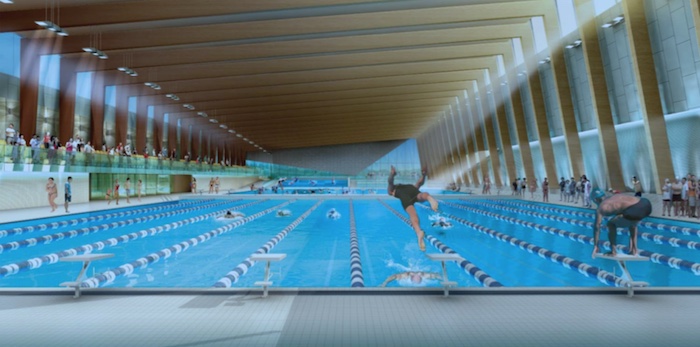 Monday, Red Deer City Council approved Michener North lands as the site for a future multi-use aquatic facility in Red Deer.
"Confirming the location for the future multi-use aquatic centre is an important milestone in bringing the vision for a new aquatics centre to life for our community," said Mayor Tara Veer. "Both Rotary Recreation Park and Michener North lands were viable options for the facility; however, selecting Michener North lands offers us the opportunity to re-imagine a future for this significant piece of Red Deer's history and create a legacy for future generations. Today's decision also signals Council's desire to move forward with this long anticipated project when economic conditions are more favourable in the future, as well as our commitment to re-purpose Michener North for public purposes and park expansion. One of the challenges for funding a new aquatic centre was the many pragmatic financial uncertainties of the project. We have now determined location and scope, which will help us to plan more definitively for funding of future construction."

In December, Council directed administration to consider two possible locations for the multi-use aquatic facility: Michener North lands and Rotary Recreation Park. In addition to an in-depth evaluation of both sites, several factors were considered in selecting Michener North lands:
The City is purchasing the Michener North lands from the Province, with funds approved in the 2021 Capital Budget.
Solidifying this location allows the multi-use aquatic facility to be included in the visioning for Michener North. This visioning will help develop ideas around what this site could for the community and will begin in early 2022.
The multi-use aquatic facility serves as an anchor to this future major park node.
Scoping, design and cost were also determined in December as part of Phase 1 of this project. At this time, the facility includes a 53M x 25M pool with 10 lanes, ranging in depth from 2.5M to 3.8M with diving platforms at the deep end and two 1.5M movable bulkheads. This competition pool is compliant with FINA standards and Swim Alberta recommendations. The facility also includes a 25M x 20.6M pool with eight lanes, ranging in depth from 1.2M to 2.2M to accommodate swim competitions, warm up for aquatic sport competitions, and floor based depths serving local community programming needs. Two hot tubs, steam and sauna amenities, universal change rooms, spectator seating for up to 750 people, storage, sport group dryland training area, and staff supports are accounted for in the design.
The facility construction costs are estimated at $51,600,000, and by selecting Michener, The City is in a better position to quantify the variable site development costs as plans are solidified to place the item in the capital plan.
We now know that Michener North lands will be used for municipal purposes and become a major park node for community use," said Sarah Tittemore, Community Services General Manager. "Major park nodes need indoor facilities to serve the needs of park users, and deciding on the multi-use aquatic facility at this site allows the visioning for the Michener North lands to include this anchor and the community. We look forward to working with the community to enrich the vision through planned future consultation."
City Hall reopening Monday June 21 – details
City Hall reopening for payments and in-person customer service
Red Deer City Hall will reopen for utility and tax payments on Monday, June 21, and licensing and permit customer service and payments on July 12. The re-introduction of in-person customer service and payments is in alignment with the provincial easing of restrictions that is currently taking place. City Hall will be open Monday through Friday, 8 a.m. until 4:30 p.m. with the exception of holidays.

"We are excited to be reopening City Hall for in-person payments and customer service. This long awaited reopening will enable us to reconnect with our customers in person and still support doing business with us online, where possible," said Acting City Manager Tara Lodewyk.

Starting Monday, June 21, 2021, key customer service employees will return to City Hall with a phased reopening taking place in the coming weeks and months. With renovations that took place while the building was closed, all customer and public interactions are now provided on the main floor of City Hall.

Some additional changes include new windows and doors, improved customer service kiosks, new security controls and numerous health and safety measures that serve to protect employees and customers accessing City Hall. All renovations were focused on making necessary changes that facilitate improved customer interactions while considering the safety, health and wellness of all employees and citizens.

"As we reopen City Hall for in-person customer service, the health and safety of our citizens and employees is still top of mind. Masks are required inside the building and there will be capacity limits for the number of customers permitted inside at one time," said Lodewyk. "We kindly ask that anybody coming to City Hall, or accessing any of our recreation or public facilities, uphold all public health restrictions as we work to keep everyone safe throughout the phased reopening."

A full reopening and return to work for all City employees is expected to take place between June 21 and September 7, 2021. In many cases, City employees have continued to report to their workplace, in-person, based on the requirements of their position; however, with the lifting of the provincial work from home order, The City will welcome its remaining employees back into the workspace with the intention to have everybody back between now and September. This includes City Hall, the Professional Building, Civic Yards and all City owned and operated recreation and culture places and spaces.

"Covid-19 has limited us in many ways. It has taught The City to innovate, work differently and find efficiencies. As we transition back to in-person service, we ask our customers to be patient with us as we navigate the new challenges of our ever changed in-person business offerings. Our business looks different than it did when we closed City Hall more than 15 months ago, and while we are excited to be once again serving you in person, we do expect some bumps along the way," said Lodewyk.
With changing and modified provincial restrictions continuing to be announced, The City of Red Deer will adapt and update its programs, services and offerings on an ongoing basis. This will include everything from the number of people permitted within a facility at one time, to masking requirements.
"We will continue to take our direction from the provincial government as they ease restrictions and introduce their phased relaunch strategy," said Lodewyk. "We share the community excitement around the easing of restrictions and continue to work together with our community to uphold public health orders and preventing the spread of Covid-19."
Starting June 21, the following payments can be made in person at City Hall:
Utility bill payment
Property tax payment
Parking ticket payment
Re-loading parking cards
Accounts Receivable invoice payment
Licence payment
Special event permit payment
Other miscellaneous fee payments
Starting July 12, the following payments and customer service will be available in-person at City Hall:
Parking inquiries
Licence and permit applications
Inspections
For updates on The City's municipal response to Covid-19, visit www.reddeer.ca/covid-19.
For more information, please contact:
Corporate Communications
The City of Red Deer