Blackfalds, Bentley, Eckville, Lacombe County now under COVID-19 measures
From the County of Lacombe
Lacombe County under new COVID-19 measures
Lacombe County has moved to Enhanced Status on the Provincial Relaunch Status Map. The Province of Alberta has implemented a number of voluntary and mandated public health measures for our community to help stop the spread of COVID-19.
The Lacombe County Enhanced Status applies to the Town of Blackfalds, Town of Bentley, Town of Eckville, Village of Alix, Village of Clive, as well as ALL hamlets and summer villages within our municipal boundaries and the remainder of Lacombe County.
Hamlets include: Mirror, Haynes, Joffre, Tees, Morningside, Rosedale, Hespero
Summer Villages include: Gull Lake, Sunbreaker Cove, Birchcliff, Half Moon Bay

Lacombe County currently has 11 active cases, for a case rate of 50.5 per 100,000 people.

We are actively monitoring the situation and continue to monitor Alberta Health Services (AHS) instructions. The health, safety and well-being of County residents, businesses and employees and maintaining essential services for the public are the County's top priorities.

Lacombe County is under the following Public Health Measures as directed by AHS:

MANDATORY MEASURES (As of November 17, 2020)
15-person limit on social and family gatherings – indoors and outdoors – where people are mixing and mingling.
Restaurants, bars, lounges and pubs must stop liquor sales by 10pm and close by 11pm – applies to Class A, B or C licenses (Nov 13-27).
50-person limit on indoor and outdoor wedding ceremonies and funeral services. VOLUNTARY MEASURES
Faith-based gatherings limited to 1/3 capacity at one time.
Limit your cohorts to no more than 3: your core household, your school, and one other sport or

social cohort. Young children who attend child care could be part of 4 cohorts, given that child

care settings have not been a high risk for spread.

Wear a mask in all indoor work settings, except when alone in a workspace, like an office or

cubicle, where you are safely distanced from others, or an appropriate barrier is in place.

No social gatherings inside your home or outside of your community. Instead, socialize

outdoors or in structured settings, like restaurants or other businesses that are subject to legal

limits and take steps to prevent transmission.

Employers in office settings should implement measures to reduce the number of employees in the workplace at one time.
WHY THESE MEASURES ARE NEEDED
We must take action now to help slow the virus's spread and make sure the health system can continue supporting patients with COVID-19, influenza and many other needs. There is a time lag between when people get infected and when new cases are identified. This means the cases we see today were infected up to 2 weeks ago. By following provincial recommendations, staying home and reducing close contacts, you can lower the chance of spreading the virus to others.
We must work together to protect each other. These measures will help protect our health care system, keep schools and businesses open, and protect vulnerable Albertans by limiting the spread of the virus.
WHAT ELSE YOU CAN DO
We must continue following existing public health measures to keep ourselves and others safe:
Keep two metres apart when you can, wear a mask when you can't
Practice good hygiene: wash your hands often and cover coughs and sneezes
Monitor your symptoms every day
If sick, stay home, get tested, and follow mandatory isolation requirements while waiting for

results:
o if positive, isolate from others for 10 days or until symptoms are gone, whichever is
longer
o if negative, stay home until you're better
Avoid non-essential travel
Get the flu shot to keep influenza cases low so health workers can focus on the COVID-19

pandemic

Stay informed: Stay up to date on the situation and get your information from reliable sources,

such as this webpage: www.alberta.ca/COVID19.
Town of Blackfalds introduces safe "Exchange Zone" to protect online buyers and sellers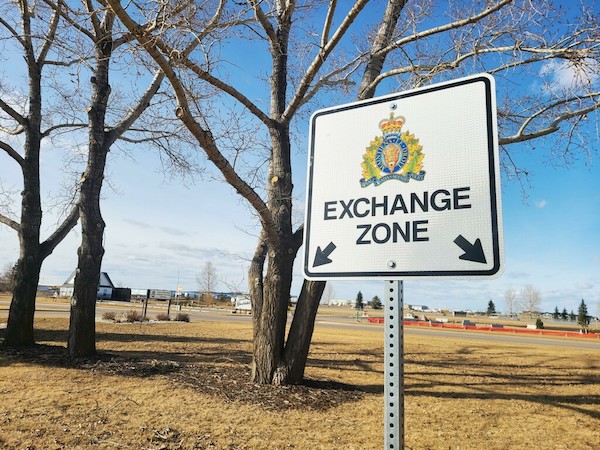 From the Town of Blackfalds
Blackfalds Adopts Exchange Zone
Blackfalds has designated a safe 'Exchange Zone' thanks to the suggestion brought forward by community members to the Town's peace officers and the Blackfalds Policing Committee.
Exchange zones provide a safe way for the public to exchange goods without the need to provide personal information or have strangers come to your home address.
"The need for a public location for exchanges to occur between people is something which has been brought forward in many communities as they grow," explains Ken Morrison, Emergency Management and Protective Services Manager. "It provides [buyers or sellers] a place to arrange an exchange without having people attending their home."
Morrison elaborated that the City of Edmonton implemented exchange zones in March of 2020 as there was an increase in online purchases, and consequently, crime in relation to those purchases. "The previous year, Edmonton Protective Services had made 77 arrests and laid 218 charges relating to the face-to-face buying and selling of online items. Internet communities all over [Alberta] have adopted these initiatives in the hopes of keeping people reasonably safe when making in-person exchanges."
The Blackfalds exchange zone consists of two designated parking stalls and is located in the parking lot in front of the Protective Services building at 4405 South Street.
RCMP Sergeant Brent Dueck said that the location was chosen because of its already established security measures in and around the building and is manned 24 hours a day. "The Protective Services building was chosen as there are security cameras in place and outside lighting along with police officers and Fire Department personnel coming and going all hours of the day and night."
How the Railroads Shaped Red Deer
Rivers, creeks and streams have shaped the land for eons, slowly carving away earth to reveal the terrain we know today. Much of the same can be said for the impact and influence that railways had in shaping the size and shape and even the very location of what is now the City of Red Deer. 
Prior to the construction of the Calgary and Edmonton railway, which started heading north from Calgary in 1890, what we now recognize as the bustling city of Red Deer was unbroken and forested land. The nearest significant settlement was the crossing for the C&E Trail of the Red Deer River, very close to where the historic Fort Normandeau replica stands today. 
Navigating how to handle crossing the Red Deer River would be a significant challenge for construction of the railway route. Initially, the route was planned to take the tried-and-true path that had served animals, first nations people and fur traders for centuries, past the Red Deer River settlement. Yet just as the mighty river powerfully shaped the contours and dimensions of the land, the future site of Red Deer would be singlehandedly determined by Reverend Leonard Gaetz.
Rev. Gaetz offered James Ross, President of the Calgary and Edmonton Railway company,  land from his personal farmlands for the river crossing and the townsite for Red Deer.  Ross accepted and history was forever shaped by the decision, as what is now home to more than 100,000 people grew steadily outward starting at the C&E Railway train station. 
The rails finally reached the Red Deer area in November of 1890 and trains soon began running south to Calgary. By 1891, the Calgary and Edmonton railway was completed north to Strathcona. Alberta gained one of its most vital transportation corridors and the province would thrive from this ribbon of steel rails.
Over time, the C&E railyards grew and expanded to accommodate the demand for moving more and more commodities like grain, coal, lumber and business and household items along with passengers. Those passengers were the pioneer settlers who would make Red Deer the commercial hub that it remains to this day.
For nearly 100 years, the downtown was intimately connected with the railway in the form of hotels built to welcome travelers, grain elevators, warehouses, factories and the facilities required to service the locomotives and equipment that operated the trains. Tracks and spurs dominated the downtown area, especially after the advent of the Alberta Central Railway and the arrival of the Canadian Northern Western Railway (later absorbed into Canadian National railways).
By the 1980s, the ever-present tracks and downtown railyard were seen as an industrial blight in the heart of the city that the railway created so funding was sought and plans were made to relocate the now Canadian Pacific rails from their historical home to a new modern yard northwest of the city. 
This was actually the second relocation of tracks from downtown as the Canadian National railway tracks were removed in 1960 which permitted the development along 47th Avenue south of the Red Deer River.
This massive project opened up the Riverlands district downtown to new developments which included condominiums, grocery stores, restaurants and professional buildings. Taylor Drive was built following the old rail line corridor and removal of the tracks in Lower Fairview meant residents wouldn't hear the rumble of trains in their community anymore. 
Just as the waters gradually shaped the places we know now, the railways definitely forged Red Deer into the vibrant economic hub of central Alberta that it remains today. 
We hope you enjoyed this story about our local history.  Click here to read more history stories on Todayville.
Visit the City of Red Deer Archives to browse through the written, photographic and audio history of Red Deer. Read about the city and surrounding community and learn about the people who make Red Deer special.