Todayville travel writer Gerry Feehan wins national Travel Media Association award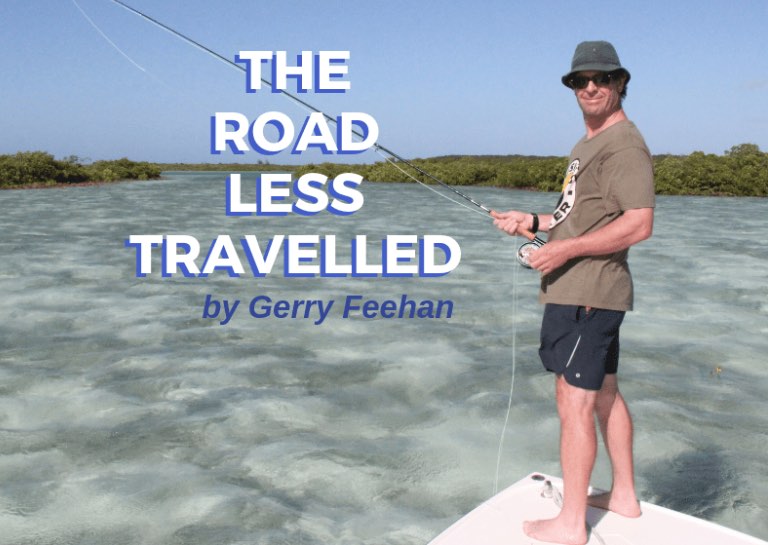 Todayville is very proud to share that our travel writer Gerry Feehan has been honoured with a top award by the Travel Media Association of Canada (TMAC). TMAC is Canada's premiere travel writer's organization.  At the 2021 TMAC annual national conference and awards Gerry was awarded first place in the 'Best People Photograph' category.
We interviewed Gerry to find out more about this award as well as his unique and very entertaining approach to travel writing.
This award is Gerry's fifth as a travel writer and photographer.  Two of the photos he submitted for awards in 2021 are from this same remarkable article.  Click to see a lineup of amazing images from "Taj Mahal and the Ganges River – India Part 2"
India Part 2- Terrific photos! Experience the Taj Mahal and Ganges with Gerry Feehan
Todayville congratulates our distinguished travel writer Gerry Feehan.
We'd also like to thank all the sponsors of these features from over the years, especially our current sponsor, Rod Kennedy or RBC Dominion Securities. Please  take a moment  to  learn  about  Rod  by clicking on the link below.
The Irish Loop – Part 4 of a travel series on Newfoundland by Gerry Feehan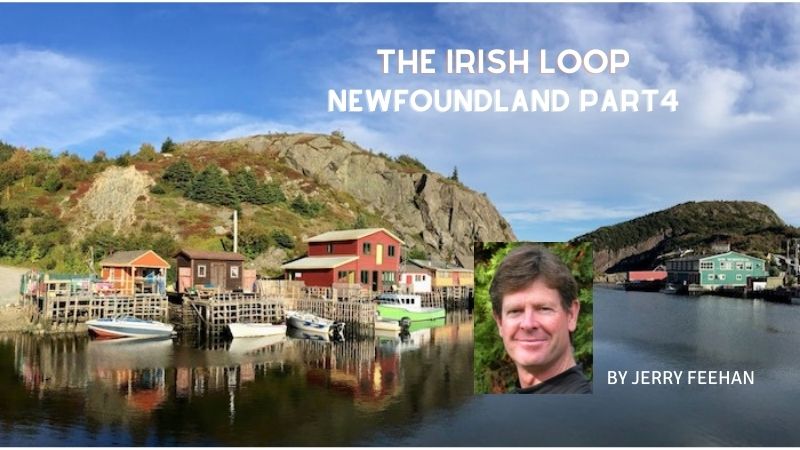 This is the last in a four part Newfoundland series.
Scroll down to find Part 1, Gros Morne,  part 2 North America's Oldest European Settlement, and part 3 A World Famous Newfoundland Tradition.
When I told a Red Deer friend (born and raised in Newfoundland) that we intended to explore only the west side of the Island during our two-week visit she looked at me as if I were daft. "If you haven't walked down Water Street in St. John's, you haven't been to Newfoundland." And so we divided our 14-day fall camping trip on The Rock equally between both sides of the Island, with the last week dedicated to St. John's and the east coast.
Water Street was indeed a lot of frolic and fun. But frankly, narrow steep cobblestone roads and a motor home don't play well together. So, after a few days of fine seafood, great live music, an exploration of the fascinating Rooms Museum and a bumpy visit to Signal Hill, it was time to move on from the capital. We were bound for the Irish Loop, south of St John's, on the Avalon Peninsula. On our way out of town we stopped at Cape Spear Lighthouse, the most easterly point in Canada—and North America for that matter. The fair-haired interpreter seemed certain to have Gaelic roots (and thus knowledge of the Irish Loop) so I asked him if there were any special places we should visit. "Scottish actually," he said, stroking his sandy beard and disavowing any Irish ancestry. "The Avalon is beautiful, you can't go wrong. Just poke along."
And poke we did. After exploring scenic Petty Harbour, we poked our toes into aptly named Witless Bay, where we determined that the North Atlantic Ocean is brain-
freeze cold. We camped that night in a quiet spot overlooking Witless Bay Ecological Reserve, where in early summer tens of thousands of tourists flock to see "iceberg
alley" and the vast colony of Atlantic puffins that nest annually on Great Island.
"It's the end of the season, dearie," said the tired camp host. "The water gets shut off tomorrow." She looked out to sea and added, with quiet poetry, "the icebergs have
melted, the puffins have flown—now we've just a few stray tourists to drown." But with a wink added, "present company excluded." I took no offence—and swear it was by sheer inadvertence that I left the hot water running in the Witless bathhouse the next morning. For us it was an uncharacteristically early start. There must be
wisdom in that "early bird gets the worm" thing because by 8 a.m. we had encountered three different groups of hunters quartering moose by the roadside.
Hunting season had opened that day. Newfoundlanders take their moose quarrying very seriously. They are also very proud Canadians. Many yards sport a high-flying
maple leaf. But invariably the flag of Newfoundland also flaps nearby. And on the Irish Loop you'll also see a lot of green, white and pink, the pre-1949 Dominion of
Newfoundland Tricolour.
We hadn't planned on muzzling into other people's moose-business but, when we encountered a newly deceased bull being roped across the highway near Ferryland,
we had little choice but to stop and make inquiries. One quickly learns as a visitor to Newfoundland that there's no need to do more than simply open the conversation.
After that, listening will suffice. And so a roadside discourse began:
"This is how you paunch the carcass," the senior member of the group explained while his grandson sharpened a knife and began the on-site butchering process.
"And this here's the tenderest part," the grandfather continued, pointing loinward. I remarked on his particularly thick maritime accent. "Ha," one of his sons interjected, "Dad just returned from Ireland. They didn't even ask him where he was from, although one feller did ask if he'd spent a couple of years in America." He and
another brother were hoisting the 400 kg animal onto a makeshift wooden frame for further dissection. Dripping sweat, he continued, "Where are you two headed?"
"Toward Trepassey," I answered, "around the bottom of the loop and then back up toward the Trans Canada. We have an invite for Jiggs dinner on Sunday at a campground in Terra Nova."
"Trepassey?" remarked the patriarch, cutting a strip of hide from the recently departed moose's hindquarters. "Did you know Trepassey is in the Guinness Book of World Records as the foggiest place on earth? Last year a woman gave birth, but it was three months before they could tell if it was a boy or a girl." The younger two
generations nodded in amused agreement.
It was certainly foggy when we rolled into town. I almost drove through the restaurant doors before spotting the bright blinking light notifying us that the village's only eatery was closed. Apparently, the cook was out—hunting no doubt.
Someone had recommended that we stop for eats at the Squid Jigger back up the road in Calvert but that had been hours earlier. We had poked in there to see what was on the menu but decided it was too early in the day for a plate of salt-fish, potatoes and scrunchions.
It was well past lunchtime when we meandered into Peter's River. Cars were jammed outside the local hall. Perhaps a public pot luck dinner? No such luck. The entire community was gathered at the legion for "Chase the Ace," Newfoundland's favourite communal gambling pastime. We were getting rather peckish. With deep
regret I recalled the Squid Jigger's daily special: cod au gratin with a side of slaw and fries.
Finally, near Point La Haye we found a corner store with doors ajar. Scurrying in, we headed directly for the deli and ordered up a couple of prime 'Newfoundland
Steaks': fhresh sTle iced bologna. On the recommendation of the proprietress, we chose them 'tick' rather than 'tin'. At the checkout, the store phone rang. The owner
dashed off to answer. She came back, handed the cordless to the man behind us in line and said, "It's for you John. The missus says not to forget the toilet paper."
We parked for our picnic on a hill overlooking St. Mary's Harbour. As the fat bologna fried on the camp stove next to a couple of happy eggs, rain began and tick fog descended. It was the tastiest meal ever.
A colourful St John's streetGerry Feehan is an award-winning travel writer and photographer. He lives in Kimberley, BC.
Gerry Feehan is an award-winning travel writer and photographer. He and his wife Florence live in Kimberley, BC!
Thanks to Kennedy Wealth Management for sponsoring this series.  Click on the ads and learn more about this long-term local business.
Gerry Feehan takes us to North America's Oldest European Settlement
Gerry Feehan Receives the Legendary Invitation, A World Famous Newfoundland Tradition
Gerry Feehan Receives the Legendary Invitation, A World Famous Newfoundland Tradition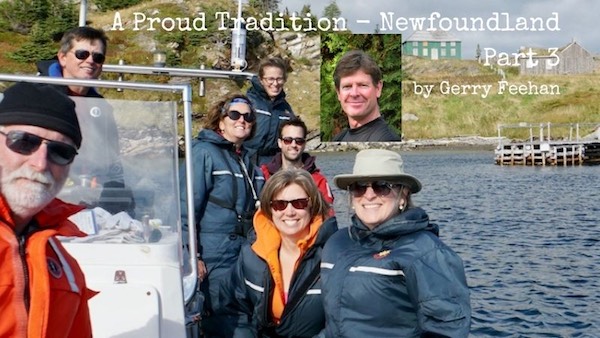 11By Gerry Feehan
This is the third of four parts in the Newfoundland series. Scroll down to find Part 1, Gros Morne, and part 2 North America's Oldest European Settlement
If Newfoundlanders weren't so damn friendly we'd have been on time for our Jiggs dinner.
Terra Nova National Park is situated in eastern Newfoundland, 399 sq km of rugged rock, trees and wetland, wrapped around idyllic fingers of Bonavista Bay. The Trans-Canada highway bisects the park, then continues southeast toward Come by Chance and eventually the capital, St. John's, on the Avalon Peninsula. It was early October. Terra Nova was still open for business, but quiet, so we had our choice of primo campsites. As we checked in I grabbed a bag of firewood. It was going to be a cold night, with frost expected. The ranger stopped me, "No sense you paying for wood. The folks in site 17 just bought a big load. Just go over and join them when the fire starts."
And so we did. And that's how we met Burkey and Bev. Even before we reached their roaring fire, Burkey spotted us timidly approaching from the shadows, and without a word, pulled out spare chairs and began pouring drinks. It was Thursday before Thanksgiving. The Burkes were setting up camp, preparing for the arrival of friends and family, and prepping for the big occasion: Sunday's Jiggs dinner. After a fun evening of chatter (interspersed with a few tunes from my ever-present ukulele) we rose to bid adieu. "You'll come for dinner Sunday?" asked Barb. I did some quick calculating. We had a week left on The Rock but had yet to visit St. John's. Plus there was the Irish Loop and Bonavista Peninsula to explore. And we had a long drive back west to Port Aux Basque, almost 1000km, in order to catch the ferry on Tuesday.
"Sure," I said.
On Sunday we awoke to a gorgeous morning at the Cabot Highway RV Park, a few kilometers from the town of Trinity, on Bonavista Peninsula. (The intervening 3 days and our St John's/Avalon/Irish Loop drive will be recounted in the fourth and final yarn of this series.) When we reached Trinity I headed straight through town, bound for the local pier, as I am wont to do. Preoccupied by the brightly painted clapboard homes, 19th century church spires and scenic fishing stages (houses hanging over the water used for cleaning cod), I failed to observe that the roadway was becoming dangerously narrow.
We ended up trapped on the town boat ramp, pointed seaward. There was no way to turn the motorhome around. Florence was starting in on my (justly-deserved) beratement when a boat pulled up to the wharf. "What are you after doing down there, b'y?" asked the operator with an amused look. With his guidance I was able to slowly reverse position and get the RV pointed away from the slippery slope and safely back toward land. I offered my thanks. "No trouble," said he, bobbing in his boat. "I'm taking friends out for a tour of the bay this lovely morning. Would you and your wife like to join us?" I did some more calculating. It was a two-hour drive back to Terra Nova. Jiggs dinner was at 3pm. "We'd need to be back to shore by 1pm," I said. "No worries," he replied, "I'll have you at the dock by noon at the latest."
It was a fantastic outing. Skipper Bob and his partner Bonnie run www.trinityecotours.com. The tourist season was almost over and the day's trip was just for fun. Although the usual fare is $90 a person, they refused to take our money. We followed the rugged coastline, where the remains of the ancient Appalachian Mountains slip into the sea. In Trinity Bay, while a whale spouted to starboard, we came alongside a fisherman hauling up net and cleaning cod. He offered us a bag overflowing with fillets and, with the waive of a hand, made it clear he wouldn't accept payment.
As we motored into a protected, hidden bay, the remains of a long-abandoned village came into view. Bonnie told us, "This place is known as Ireland's Eye. On the other side of the island is a spot called Black Duck Cove. That's where my dad lived until he was 11years old.  In the mid 50's the government began a resettlement program to get people who lived on remote islands to move to the mainland where there would be better access to services like hospitals and schools."
In some respects it was forced relocation. Many people, rather than abandon their homes, floated their lodgings to the mainland communities. "The old place on Ireland's Eye was left behind but my grandfather floated a house from Pope's Harbour to New Bonaventure in August 1965. It was a saltbox style, with the porch and bathroom added later."
Life was hard on The Rock 50 years ago.
Time flies when you're playing on the ocean. It was after 2pm when Bob idled the boat back into the marina. We bid a hasty thank-you and adieu and raced for Terra Nova. When we arrived at the campground it was getting dark. All sites were vacant save one. Bev and Burkey were just breaking camp, headed back to Clarenville.
"We are so sorry," I apologized. "No problem," said Bev. "You said you were coming for scoff so I knew you'd be here. I did up a couple of plates. They're still warm."
A traditional Newfoundland Jiggs dinner consists of turkey, dressing, gravy, bread pudding, carrots, turnip, cabbage, mashed potatoes, pease pudding, figgy duff – and boiled salt beef. For dessert Barb likes to do blueberry crumble and partridgeberry cake topped with hot vanilla sauce. Simple really. And easy to whip up, especially from the cramped confines of your trailer, in a campground, in the cold. Each platter held enough food for three Jiggs dinners. Burkey laughed and told us that a Newfoundlander's idea of fine dining is a full plate. I offered him two fresh cod fillets and, although it was a little like carrying coals to Newcastle, he graciously accepted.
Florence and I were the only campers in Terra Nova that night. As they drove away Burkey said, "No sense you buying firewood, there's plenty left." Bev waived goodbye and they rolled out of our lives.
I looked at the overflowing feast, loosed my belt and dug in.
Next time: St John's and the Irish Loop
Gerry Feehan is an award-winning travel writer and photographer. He lives in Kimberley, BC.
Gerry Feehan is an award-winning travel writer and photographer. He and his wife Florence live in Kimberley, BC!
Thanks to Kennedy Wealth Management for sponsoring this series.  Click on the ads and learn more about this long-term local business.
Gerry Feehan takes us to North America's Oldest European Settlement
Click to read more travel stories.