Gerry's Yukon Road Trip features Mt. Logan and Kluane National Park
Last in a 3-part series on a Yukon road trip – Mt. Logan – Kluane National Park
by Gerry Feehan
"You're not going to believe this. Sian called again. It's just cleared up at base camp and the radar report looks good. It's a go if you're still willing."
I've been a geography nut since I was a kid. My noggin is full of useless facts. In pre-metric days I memorized details of the world's highest and lowest: Mount Everest 29,028 feet, Challenger Deep in the Mariana Trench 35,814 feet. As a proud Canadian I knew that our highest peak, Mt. Logan in Yukon's Kluane National Park, topped out at 19,850 feet above sea level. To my chagrin, North America's highest reach, 20,320-foot-high Mt McKinley, was located across the border in Alaska. As usual, America had outdone us, even at something as Canadian as rock, snow and ice.
I've always wanted to see Mt. Logan. We were nearing the end of our six-week-long Yukon road-trip. The highway would take us through Kluane National Park, so I made inquiries. A Whitehorse friend told me it was possible to organize a flight from Kluane Lake into Logan base camp. The camp is on a glacier in the heart of the St. Elias Mountains, a vast roadless, uninhabitable wilderness.
Sian Williams and her partner Lance Goodwin operate Icefield Discovery near Haines Junction, Yukon on beautiful Kluane Lake. I called early in June to book a day-trip. Sian (pronounced "Shan" – a Welsh name chosen by her bush-pilot father Andy) told me that due to spring's late arrival they'd been unable to access the camp located on Kaskawulsh Glacier beneath Mt. Logan. She added that the long-term forecast was poor. I was crest-fallen. We were booked to leave the North by ferry on June 21, the summer solstice.
We arrived in Kluane National Park with only a two-day window of opportunity. I checked in with Lance. He wasn't optimistic. Sian had flown into the camp a week earlier and been stuck there, socked in by a brutal snowstorm. Kluane's mountainous terrain means that all access is by air. And this region is too dangerous and unforgiving to rely solely on instruments so visual flight rules are always in force. No see, no fly.
We sat put, waiting for the mountain weather gods to calm. Our first night, camped on the shore of frigid Kluane Lake, we enjoyed a repast of fresh Arctic Grayling (supplied courtesy of my fly rod). Meters away a grizzly bear, terrifying claws in close-up view, combed the beach in search of its own fishy catch. The next day we spent cautiously hiking an alpine ridge, bear aware. Fortunately we shared the pristine view with only mountain sheep, moose and caribou.
As we set off she pointed to a gaping cobalt scar part way up the snowfield, "Watch out for the crevasse." We set course accordingly.
The morning arrived when we needed to make a move for the coast. The solstice was nigh. I phoned Lance and he said, "I spoke to Sian on the satellite phone. It's still a whiteout up there. Sorry." We reluctantly packed camp and were on our way south when Lance rang back, "You're not going to believe this. Sian called again. It's just cleared up at base camp and the radar report looks good. It's a go if you're still willing."
We high-tailed it for the Kluane airstrip where we met Donjek, the pilot. He was born here, named after the Donjek River that flows into Kluane (naturally his father was also a bush pilot). As we took off, the plane's shrinking shadow followed us across the emerald beauty of Kluane Lake. Soon the lake gave way to a snaking, silt-laden river. We gained elevation and the dirty toe of Kaskawulsh glacier appeared. Then all was ice; white curving fingers spilling from mountain valleys. Dark lines of ground rock defined the course of each icy highway. Then all became snow, the line between earth and sky indiscernible.
We flew over the camp. Sian waved from below, a tiny solitary figure surrounded by white glacial enormity. Mt Logan, draped in sun and cloud, stood imperiously in the background. Donjek lowered the skis of the Helio-Courier prop plane and we skidded to a smooth stop.
We climbed from the cockpit and walked through virgin snow to where Sian was standing in a deep pit, shovel in hand. It looked like she was cutting blocks for an igloo. Actually she was retrieving the prior season's camp from burial under three meters of winter snow pack. (That's how glaciers grow – year upon year of accumulated snowfall eventually compressing into ice. At Logan base camp the ice is over a kilometer thick.)
We helped Sian haul a heavy tent from its deep winter interment. She suggested we hike over the glacier to a viewpoint framing Mt. Logan. As we set off she pointed to a gaping cobalt scar part way up the snowfield, "Watch out for the crevasse." We set course accordingly.
When we returned Sian boiled water for tea and chatted about the inner workings of glaciers and their role in hydrology, geography and world climate. Icefield Discovery's headquarters, on Kluane Lake, house the Arctic Institute of North America, which conducts glacier research.
We were in the heart of the world's largest non-polar ice field. Due to its proximity to the warmer, lower Kluane valley and nearby Whitehorse, the St. Elias region is ideal for ice-core sampling and Arctic-style exploration. Canada's other, more northerly polar arctic regions are less accessible and more inhospitable.
After three sun-drenched hours on the glacier Donjek fired up the prop and we skied off into the airy abyss, down the dirty winding glacial trail and back into the summer greenery of Kluane Lake. It was late in the day when we finally climbed into our RV and started south for Haines, Alaska, three-hundred kilometers away on the coast. Along the way, colorful pink Yukon wildflowers contrasted with the snowy splendor of Kluane's mountains – as did my beet-red, fried face. I'd forgotten to apply sunscreen.
Near midnight we arrived in Haines, located in a narrow spit on a scenic Alaskan fjord. As we set up camp a wildlife ballet greeted us. Two brown bears were dancing, performing a grizzly twilight duet. Behind them across the spit, like curtains on a stage, two majestic waterfalls cascaded into the ocean.
In the morning we awoke with the solstice. Summer had arrived. Our ferry departure was nigh.
For a final boreal treat we rode our bikes through a coastal rainforest. Dwarfed by thousand-year old giants, we crested a hill in the dappled forest and came upon a large group of Japanese tourists, walking single-file. Each sported a pair of white gloves and what looked like a beekeeper's hat. As we rode by, one by one they broke into spontaneous applause – golf-clap style. On occasion life is surreal.
Gerry Feehan QC is an award-winning travel writer and photographer. He and his wife Florence live in Red Deer, AB and Kimberley, BC.
Thanks to these amazing local companies who make Todayville Travel possible.
Click below to read Part 1 in Gerry's 3-part series on the Yukon.
Click to read Part 2 in Gerry's 3-part series on the Yukon.
Click here to visit our Travel section and see more of Gerry's stories.
My European Favourites – Stockholm – Djurgården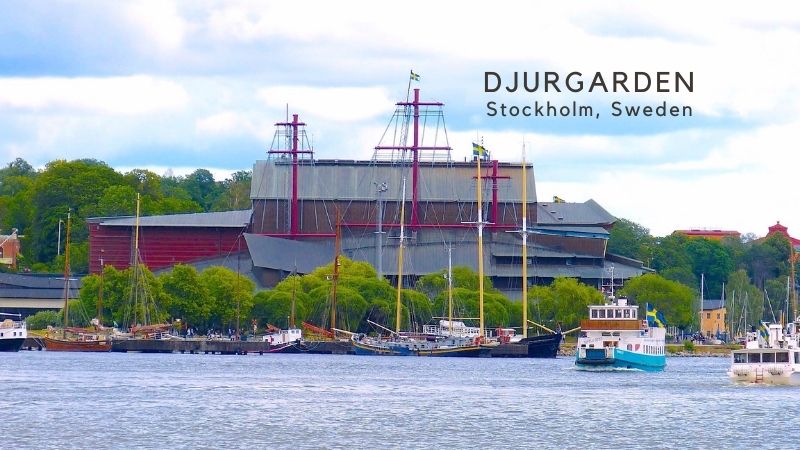 If there was one city in northern Europe that I could easily live in, I think it would be Stockholm.
The Swedish capital has over two million inhabitants and over 50 bridges connecting its fourteen islands. The city often ranks highly on the global "quality of life index" and has over one hundred museums, plus a lively culinary, theatre, music and sports scene.
If you enjoy boating, sailing and watersports, Stockholm has Lake Mälaren with more than 1,000 islands to the west. To the east of the city centre, the Saltsjön (Salt Bay) has a lengthy and picturesque archipelago with over 30,000 islands leading all the way to the Baltic Sea. With so many cottages and activities on these islands, they are a perfect getaway from the city hustle and bustle.
Stockholm's old city centre is on the island of Gamla Stan. The area is full of colorful houses from the 17th and 18th centuries and narrow cobblestoned streets with interesting shops, cafes, pubs and bars. The Royal Palace, official residence of the Swedish monarch, can be toured and the popular changing of the guard is accompanied by a military band in the summer months.
Royal Djurgården
Stockholmers enjoy a vast green space right in their city center on the island of Djurgården. The island is Scandinavia's number one tourist attraction and a favourite for nature lovers, walkers, runners, hikers and cyclists. In addition to being loved for its green spaces, it is famous for having four royal palaces, popular museums, cafes, restaurants and a large amusement park.
The history of Royal Djurgården goes back to 1452 when King Karl Knutsson purchased the southern part of the island. It was a royal hunting ground for many years and over time was opened to the public and expanded.
In 1995, King Carl Gustaf XVI officially opened the world's first national city park comprising the Ulriksdal, Haga, Brunnsviken and Djurgården districts. The 27 square kilometer park is eight times the size of New York's Central Park.
On Djurgården, you can see over one hundred bird species and eight hundred varieties of flowering plants. You can easily spend a few days in Stockholm just visiting Djurgården. Here are my favourite things to do on the island.
When you enter Djurgården from the west on the Djurgårdsbron bridge, you will find the Royal Djurgården Visitor Center. The center rents bikes to explore the island, and there is a ten to twelve kilometer path that goes around the island. They also have kayaks, canoes or pedal boats. If you want to paddle all the way around the island, expect it to take about two to three hours.
The Sjöcaféet café is located by the visitor's center and has a nice outdoor terrace overlooking the water. They have a reasonably priced menu with a variety of Swedish dishes plus they make a nice pizza. If you want a quick bite you may want to try the Korv sausage stand for a hot dog or their ice cream stand.
Vasa Museum
From the visitors' center, the Vasa ship museum is easy to spot. It's located right behind the imposing Nordiska Museum and the roof of the museum has a copper roof with ship's masts coming through it. The masts depict the actual height of the Vasa when it was in the harbour over 300 years ago.
King Gustavus Adolphus ordered the massive warship built in 1626 during a wartime period against Poland-Lithuania. To match the kings' prestige, power and ambitions, the ship was extravagantly decorated and armed with 64 cannons on two gundecks. The immense Vasa must have been a stunning sight with all the bronze cannons, ornate carvings, painted sculptures, large masts, sails set and flags flying. The problem, which was discovered during construction, was that she was unstable and top heavy.
Despite this knowledge, on the afternoon of August 10, 1628, the Vasa set sail from the quay in the Old Town. She sailed a few hundred meters, then a squall, or sudden gust of wind, forced the Vasa to list heavily to one side, but she returned upright. Moments later, a second squall listed the boat so heavily that water started to pour in through the gunports. As the water seeped into the ship, it was too much to recover from; the Vasa capsized and sunk. About 30 of the crew and passengers drowned in the incident. The sinking of the Vasa in Stockholm's harbour on her maiden voyage must have been quite shocking for the thousands of spectators who lined the sea front for a glimpse of the new ship.
Shortly after it sunk, efforts were made to retrieve the valuable bronze cannons, and over 50 were recovered. As the years passed, a few unsuccessful salvage attempts were made but eventually the exact location of the wreck was lost. Amateur archaeologist Andres Franzen, after many years of searching, found it again in 1956. Plans were made and the Vasa was finally raised to the surface in 1961 after laying in the "Salt Sea" for 333 years.
For over 20 years, the ship was housed in a temporary structure while it underwent examination and treatment to preserve it. In the early 1980's, the Swedish government decided to build a permanent museum and numerous architects submitted designs. A final design was chosen, and the Vasa Museum opened in 1990, displaying the almost intact 17th century warship. It is the most visited museum in Scandinavia with around 1.5 million visitors per year.
When you walk in to the museum, the sight of the ship is overwhelming. The ship can be seen from six different levels and there are exhibits, maps and models explaining how the ship was built, it's sailing route and eventual sinking. The museum explains the situation in Sweden during the 17th century that required the Vasa ship to be built, and has a movie theatre with a film on the ship recovery.
The Vasa museum is an absolute must if you are in Stockholm for any length of time.
Nordiska Museum
As you emerge from the Vasa Museum, you will face the back of an impressive stone building, the Nordiska Museum. It stands on an area called Lejonslätten, the lions plain, because Queen Kristina, daughter of King Gustavus who had the Vasa ship built, placed lions here during her reign in the 17th century. The Renaissance style building which was partially built for Stockholm's World´s Expo in 1897 is the home of Sweden's largest cultural and historical museum.
The Nordiska museum was founded in 1873 by Artur Hazelius, who also founded the nearby Skansen open air museum. When you enter the museum, you will see a large oak statue of King Gustav Vasa placed in the centre of an over 100 meter long open central hall with a ceiling that rises 24 meters. As you look up, you will see multiple stories surrounding the central hall.
The museum has over a million objects depicting the Nordic lifestyle and traditions from the 16th century to today. The collections of art, furniture, jewelry, fashion, glass, porcelain and interiors are interesting. The museum also has an area dedicated to the Sami, the only indigenous people in Sweden.
ABBA Museum
If you follow the main road in front of the Nordiska Museum, the Djurgårdsvågen, for about 300 meters, you will reach the entrance to the ABBA Museum. The Swedish pop group is known the world over, and their band's name is an acronym taken from the first letters in the band members first names, Agnetha Fältskog, Björn Ulvaeus, Benny Andersson, and Anni-Frid Lyngstad. They rose to fame in 1974 after winning the annual Eurovision Song Contest with the hit song 'Waterloo."
ABBA sold hundreds of millions of records worldwide during the 1970s and 1980s and were inducted into the Rock and Roll Hall of Fame in 2010. In 1999, the musical "Mama Mia!," which adapted ABBA's music, became a smash hit along with subsequent related films.
The ABBA Museum opened in 2013 and at the entrance you will get an audio tour device that is easy to use on the self guided tour. As you go through the museum, you just tap the audio pad, and the audio begins. Much of the audio is actually the band members telling stories of their lives before ABBA, how they met, how they wrote songs, how they became the iconic super group and some of the experiences they had along the way. There are interactive areas where you can sing their music or dance with them on stage.
The exhibits are well done including a recreation of the Polar Studio, where they recorded some of their music. There is a helicopter similar to the one used in the album cover ABBA ARRIVAL that you can sit in to recreate the photo. In the museum you will see gold records, archival film footage, interesting stage costumes and the caricature style ABBA dolls that were used in a music video called "The Last Video."
Before you leave, you enter the giftshop where you can get everything ABBA from souvenirs to posters, apparel and CDs. We all have listened or danced to ABBA songs over the years, and although I'm not a huge fan, the museum was very enjoyable.
Grona Lund
When you leave the ABBA Museum, you can't miss the sounds of the nearby Amusement Park.
In the late 1880s, on the south shore of Djurgården, nine acres were approved for the building of an amusement park. The park's design had to incorporate the existing houses and commercial buildings that were already on the property. Even though the park has a small footprint on the island, it has 30 different attractions including roller coasters, free fall rides, and the "Eclipse," one of the world's tallest swing rides. The "Insane" roller coaster lives up to its name as the cars flip and spin and you travel along. In addition to the rides for the thrill seekers, there are rides for young children, and carnival games where you can win prizes like huge chocolate bars.
Grona Lund often hosts rock and pop music concerts, including on the main stage in the middle of the park. Bob Marley performed at Grona Lund three times, including in 1980 when he drew 30,000 fans.
If you want a quick bite, there are about fifteen food stands offering a wide selection of items including candy, burgers, pizza, poke bowls, kebabs, gyros, churros, waffles, crepes and ice cream. If you prefer to sit and relax, there are over ten options including Mexican, BBQ and Asian restaurants and a Biergarten. Needless to say, you won't go hungry here.
The park is open from spring to late September and may be open during other dates including Halloween and the Swedish Autumn break. You can buy your tickets online in advance and get a pass that includes unlimited rides.
We have taken many youth hockey and ringette teams to Stockholm, and Grona Lund is always a hit with the kids and parents.
Skansen
If you are not into amusement parks, across the street from the Grona Lund is the slower paced Skansen open-air museum. In the late 1890s, the park was created to preserve traditions, customs and structures from different parts of Sweden prior to the industrial age. The park is much larger that Grona Lund, with over 75 acres, and it attracts over a million visitors per year.
Over 150 buildings were relocated to Skansen from throughout Sweden, and they range from simple farm structures to worskhops, school rooms and manor houses. As you walk through the small village that they have created, people in traditional dress are doing every day chores. If you enter the trade shops, you will see skilled craftsmen demonstrating their skills including bakers, tanners, silversmiths, shoemakers and glass blowers. In today's world, we take many essential products for granted that used to be made by hand in these small community work shops. To experience 19th century transportation, a 200 meter long funicular railway has been transporting people 35 meters up the north side of the Skansen hill since 1897.
Skansen's traditional Christmas market, festivals and folklore shows are very popular.
Skansen's relocated farms include domesticated animals like goats, pigs and horses. The park zoo contains over 75 species of the Nordic animals including bison, bears, seals, otters and moose. In addition to these Scandinavian natives, the zoo also features non-traditional animals like monkeys, peacocks, elephants and more.
Like Grona Lund, there are numerous options for fast food, cafes and restaurants. Taking time for a "fika" is an important Swedish custom. A fika is an opportunity to take time to share a coffee, and a little bite or a pastry, usually a cinnamon bun, with friends, colleagues or family.
A walk around the Skansen open-air museum on a nice sunny day is a great family activity.
More things to see and do in Djurgården
There are so many things to do in Djurgården. I listed some of my favourites, but you may enjoy visiting some of these options depending on your interests.
The Viking Museum opened in 2017 and it includes the interesting Ragnfrid's Saga Viking ride.
The Liljevalchs Konsthall is an art gallery and exhibition space opened in 1916.
The Prince Eugen's Waldemarsudde art museum is situated on a beautiful waterfront estate with a castle like mansion.
The Spritmuseum & The Absolut Art Collection is devoted to alcohol including Scandinavian Aquavit. After touring the museum, you can order a tasting tray of traditional spirits, Absolut vodkas or ciders.
Featuring 20th century Scandinavian and French art, the Thiel Gallery was established in 1905.
Junibacken is a children's centre inspired by the stories by the Swedish writer Astrid Lindgren.
Cirkus is a 1,650 person arena built in 1892 that used to hold the circus, but now it is mainly used for shows, concerts, performances, trade shows, meetings, parties and gala dinners.
On the north east of the island, you will find the Djurgården canal. The area across from the canal is Djurgårdsbrunn. Here you will find the Museum of Technology, the Police Museum, the Maritime Museum and more park space.
With so many activities and green space, you can see why Stockholmers love Djurgården. On you next trip to Sweden, be sure to set aside some time on your schedule to explore and enjoy it.
Explore Europe With Us
Azorcan Global Sport, School and Sightseeing Tours have taken thousands to Europe on their custom group tours since 1994. Visit azorcan.net to see all our custom tour possibilities for your group of 26 or more. Individuals can join our "open" signature sport, sightseeing and sport fan tours including our popular Canada hockey fan tours to the World Juniors. At azorcan.net/media you can read our newsletters and listen to our podcasts.
Images compliments of Paul Almeida and Azorcan Tours.
Read more of Paul's travel series – click here. 
Gerry Feehan Receives the Legendary Invitation, A World Famous Newfoundland Tradition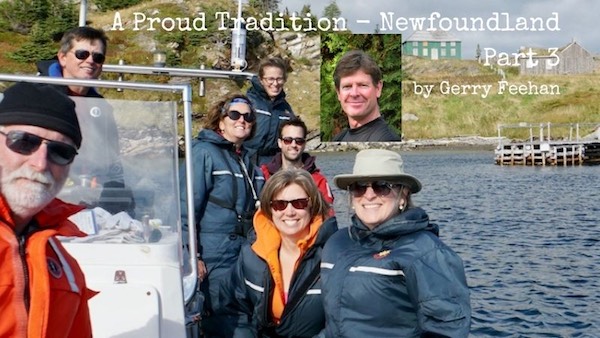 11By Gerry Feehan
This is the third of four parts in the Newfoundland series. Scroll down to find Part 1, Gros Morne, and part 2 North America's Oldest European Settlement
If Newfoundlanders weren't so damn friendly we'd have been on time for our Jiggs dinner.
Terra Nova National Park is situated in eastern Newfoundland, 399 sq km of rugged rock, trees and wetland, wrapped around idyllic fingers of Bonavista Bay. The Trans-Canada highway bisects the park, then continues southeast toward Come by Chance and eventually the capital, St. John's, on the Avalon Peninsula. It was early October. Terra Nova was still open for business, but quiet, so we had our choice of primo campsites. As we checked in I grabbed a bag of firewood. It was going to be a cold night, with frost expected. The ranger stopped me, "No sense you paying for wood. The folks in site 17 just bought a big load. Just go over and join them when the fire starts."
And so we did. And that's how we met Burkey and Bev. Even before we reached their roaring fire, Burkey spotted us timidly approaching from the shadows, and without a word, pulled out spare chairs and began pouring drinks. It was Thursday before Thanksgiving. The Burkes were setting up camp, preparing for the arrival of friends and family, and prepping for the big occasion: Sunday's Jiggs dinner. After a fun evening of chatter (interspersed with a few tunes from my ever-present ukulele) we rose to bid adieu. "You'll come for dinner Sunday?" asked Barb. I did some quick calculating. We had a week left on The Rock but had yet to visit St. John's. Plus there was the Irish Loop and Bonavista Peninsula to explore. And we had a long drive back west to Port Aux Basque, almost 1000km, in order to catch the ferry on Tuesday.
"Sure," I said.
On Sunday we awoke to a gorgeous morning at the Cabot Highway RV Park, a few kilometers from the town of Trinity, on Bonavista Peninsula. (The intervening 3 days and our St John's/Avalon/Irish Loop drive will be recounted in the fourth and final yarn of this series.) When we reached Trinity I headed straight through town, bound for the local pier, as I am wont to do. Preoccupied by the brightly painted clapboard homes, 19th century church spires and scenic fishing stages (houses hanging over the water used for cleaning cod), I failed to observe that the roadway was becoming dangerously narrow.
We ended up trapped on the town boat ramp, pointed seaward. There was no way to turn the motorhome around. Florence was starting in on my (justly-deserved) beratement when a boat pulled up to the wharf. "What are you after doing down there, b'y?" asked the operator with an amused look. With his guidance I was able to slowly reverse position and get the RV pointed away from the slippery slope and safely back toward land. I offered my thanks. "No trouble," said he, bobbing in his boat. "I'm taking friends out for a tour of the bay this lovely morning. Would you and your wife like to join us?" I did some more calculating. It was a two-hour drive back to Terra Nova. Jiggs dinner was at 3pm. "We'd need to be back to shore by 1pm," I said. "No worries," he replied, "I'll have you at the dock by noon at the latest."
It was a fantastic outing. Skipper Bob and his partner Bonnie run www.trinityecotours.com. The tourist season was almost over and the day's trip was just for fun. Although the usual fare is $90 a person, they refused to take our money. We followed the rugged coastline, where the remains of the ancient Appalachian Mountains slip into the sea. In Trinity Bay, while a whale spouted to starboard, we came alongside a fisherman hauling up net and cleaning cod. He offered us a bag overflowing with fillets and, with the waive of a hand, made it clear he wouldn't accept payment.
As we motored into a protected, hidden bay, the remains of a long-abandoned village came into view. Bonnie told us, "This place is known as Ireland's Eye. On the other side of the island is a spot called Black Duck Cove. That's where my dad lived until he was 11years old.  In the mid 50's the government began a resettlement program to get people who lived on remote islands to move to the mainland where there would be better access to services like hospitals and schools."
In some respects it was forced relocation. Many people, rather than abandon their homes, floated their lodgings to the mainland communities. "The old place on Ireland's Eye was left behind but my grandfather floated a house from Pope's Harbour to New Bonaventure in August 1965. It was a saltbox style, with the porch and bathroom added later."
Life was hard on The Rock 50 years ago.
Time flies when you're playing on the ocean. It was after 2pm when Bob idled the boat back into the marina. We bid a hasty thank-you and adieu and raced for Terra Nova. When we arrived at the campground it was getting dark. All sites were vacant save one. Bev and Burkey were just breaking camp, headed back to Clarenville.
"We are so sorry," I apologized. "No problem," said Bev. "You said you were coming for scoff so I knew you'd be here. I did up a couple of plates. They're still warm."
A traditional Newfoundland Jiggs dinner consists of turkey, dressing, gravy, bread pudding, carrots, turnip, cabbage, mashed potatoes, pease pudding, figgy duff – and boiled salt beef. For dessert Barb likes to do blueberry crumble and partridgeberry cake topped with hot vanilla sauce. Simple really. And easy to whip up, especially from the cramped confines of your trailer, in a campground, in the cold. Each platter held enough food for three Jiggs dinners. Burkey laughed and told us that a Newfoundlander's idea of fine dining is a full plate. I offered him two fresh cod fillets and, although it was a little like carrying coals to Newcastle, he graciously accepted.
Florence and I were the only campers in Terra Nova that night. As they drove away Burkey said, "No sense you buying firewood, there's plenty left." Bev waived goodbye and they rolled out of our lives.
I looked at the overflowing feast, loosed my belt and dug in.
Next time: St John's and the Irish Loop
Gerry Feehan is an award-winning travel writer and photographer. He lives in Kimberley, BC.
Gerry Feehan is an award-winning travel writer and photographer. He and his wife Florence live in Kimberley, BC!
Thanks to Kennedy Wealth Management for sponsoring this series.  Click on the ads and learn more about this long-term local business.
Gerry Feehan takes us to North America's Oldest European Settlement
Click to read more travel stories.