Three Red Deer filmmakers receive $20,000 in production funding to produce documentaries.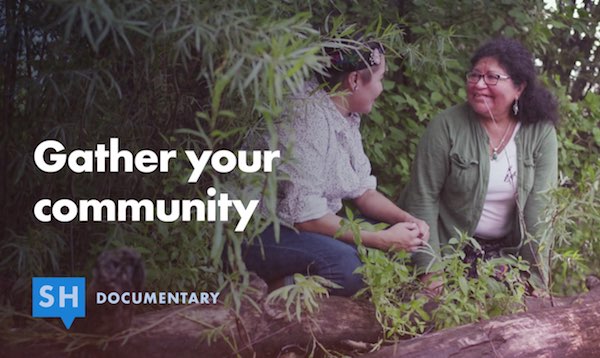 STORYHIVE's 19th edition aims to highlight remarkable people!
Remarkable people making positive contributions to their local communities by sharing how Canadian neighbourhoods adapt, change and strengthen connections in the face of distance and difficulty.
What is STORYHIVE? STORYHIVE from TELUS has proudly provided long-term support and resources for creators across BC and Alberta to grow their careers and empower them to share impactful stories that strengthen connections and inspire audiences around the world. How cool!
It's no secret that Red Deer is home to some amazing talents. Hosting the annual Central Alberta Film Festival (CAFF) giving acknowledgement to a very cool indie film scene right here in the heart of the province.
So who's repping Red Deer in the 19th edition of STORYHIVE? Check it out.
Creator Adam Jasper is taking viewers into the life of Jan Underwood, an industrious, heart-driven Red Deer resident who has helped ease the transition of grief-stricken refugees to a new beginning in Central Alberta through Central ALberta Refugee Effort (C.A.R.E). "A Refugee's Refuge – C.A.R.E" follows Jan as she navigates her own grief after the passing of her husband of 42 years Peter while she continues to support refugees through their own. Jan has been a staple of the Red Deer community and Adam looks forward to shining a light on this remarkable woman.
Director and possibly part-time detective Linda Pidhirney is producing "Anonymous Heroes," a documentary turned mystery that follows residents across Central Alberta as they share their experiences falling to unfortunate and desperate circumstances. In the midst of intense struggles, these residents encounter help from an anonymous hero that is a stranger to these residents. Linda dives into the stories of these Red Deer residents as they explain how this stranger brought them new hope.
Writer Jessica Swainson is making her film debut with "Jason and Me," a documentary about a friend everyone should have, Jason. Jason is a Red Deer resident who will see a need and connect people to fill that need. When Jessica was first writing her book and looking for a publisher, Jason dropped everything to help her find success. Whether it be a project, vision or even a door opened, Jason brings a smile to everyone's face that he meets. A true definition of a local hero.
These are just three of 40 projects selected out of 171 applications to receive not only $20,000 in funding, but also mentorship, customized career training and distribution from TELUS STORYHIVE Since 2014.
Man linked to B.C. and Alberta charged after woman's body found in national park
LAKE COUNTRY, B.C. — A charge of second-degree murder has been laid against a 41-year-old man following the recent discovery of a woman's body in Kootenay National Park in southeastern B.C.
A statement from RCMP says Philip Toner was arrested Tuesday in the Okanagan and will be returned to Alberta to face the murder charge.
The body of 35-year-old Brenda Ware was found last Thursday near her vehicle along a B.C. highway through the park, but investigators say they believe the alleged killing happened in Alberta.
Police say Toner and Ware were known to each other, but the nature of their relationship has not been described.
The statement says the "complex, interprovincial investigation" is still very active and police want to speak to anyone who may have had contact with Toner between May 4 and May 11 in either Alberta or B.C.
Drivers who might have picked up a hitchhiker travelling between B.C.'s Columbia Valley and the central Okanagan district of Lake Country on those dates are also asked to contact RCMP major crime detectives.
Toner appeared in provincial court in Kelowna Wednesday and police say the BC Prosecution Service received a seven-day remand in order to return him to Alberta.
This report by The Canadian Press was first published May 12, 2021.
The Canadian Press
Flames' Sean Monahan done for season with hip injury requiring surgery
Calgary Flames centre Sean Monahan will not play the remaining four games of the regular season and will undergo hip surgery next week.
The 26-year-old had 10 goals and 18 assists and was minus-six in 50 games this season.
"He did battle through it. It wasn't just for two or three games. He's done it for the last 20 games," Flames head coach Darryl Sutter said.
"Sean tried to do everything that I asked him to do and he did it with pain, so I give him a lot of credit."
Calgary (23-26-3) has four games remaining in the regular season, all against Vancouver (21-27-3), starting Thursday. 
Both teams will finish out of the playoffs in the North Division.
This report by The Canadian Press was first published May 12, 2021.
The Canadian Press