Thieves target Provincial Archive building sign
July 9, 2019
The Edmonton Police Service is investigating the recent theft of brass letters from the Provincial Archives building.
It was reported to police that the brass letters on a sign outside of the building titled "Provincial Archives of Alberta" were stolen last weekend, Saturday or Sunday, July 6-7, 2019, from 8555 Roper Road in southeast Edmonton.
The brass letters are 12" tall by 8" wide.
The 27 letters are estimated to cost upwards of $7,000 to replace. A photo of the sign is included below.
Anyone with additional information about the theft of these brass letters is asked to contact the EPS at 780-423-4567 or #377 from a mobile phone. Anonymous information can also be submitted to Crime Stoppers at 1-800-222-8477 or online at www.tipsubmit.com/start.htm.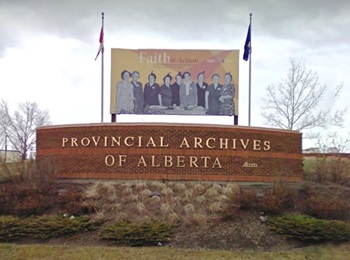 Thieves made off with these brass letters from a sign at the
Provincial Archives of Alberta building over the weekend.
Stettler man charged with murdering his father
From the RCMP Major Crimes Unit
RCMP Major Crimes Unit lays charges in Stettler death
The RCMP have laid charges against one male following a criminal death that occurred on Jan. 15, 2020 in Stettler.
At 2:55 p.m. on Jan. 15 the Stettler RCMP responded to a call of a deceased male at a residence.  The responding members determined that the death was suspicious and took an adult male into custody without issue. The RCMP Major Crimes Unit was deployed.

This morning, an autopsy was conducted in Calgary.  The cause of death was attributed to multiple blunt and sharp force trauma.
Nicholas Climb Johnson (32) of Stettler is charged with second degree murder in the death of his father, Barrie Douglas Johnson.  He has been remanded in custody and is scheduled to appear in court in Settler on Jan. 23, 2020 at 10:00 a.m.
Information about the nature of this incident will not be made available.  It is now a matter of court record.
South Wal-Mart rocked by alleged armed robbery
From Red Deer RCMP
Red Deer RCMP search for suspect after armed robbery 
On Jan. 9, 2020, at approximately 11:00 p.m., Red Deer RCMP responded to a report of a robbery with a weapon at the South Wal-Mart location.
It is alleged that an adult female suspect pointed what is believed to be a firearm at an employee after being confronted about items she was attempting to steal. A confrontation ensued but no one was injured.
The female suspect fled to a waiting vehicle in the parking lot. The vehicle was not located in the area after extensive patrols of responding police members.
The incident is still under investigation and Red Deer RCMP are searching for the female suspect and occupants of the vehicle.
If you have information about this incident or know the identity of the suspect, please contact the Red Deer RCMP non-emergency line at 403-343-5575. If you wish to remain anonymous, you can contact Crime Stoppers at 1-800-222-8477 (TIPS), online at www.P3Tips.com or by using the "P3 Tips" app available through the Apple App or Google Play Store.