Thieves target Provincial Archive building sign
July 9, 2019
The Edmonton Police Service is investigating the recent theft of brass letters from the Provincial Archives building.
It was reported to police that the brass letters on a sign outside of the building titled "Provincial Archives of Alberta" were stolen last weekend, Saturday or Sunday, July 6-7, 2019, from 8555 Roper Road in southeast Edmonton.
The brass letters are 12" tall by 8" wide.
The 27 letters are estimated to cost upwards of $7,000 to replace. A photo of the sign is included below.
Anyone with additional information about the theft of these brass letters is asked to contact the EPS at 780-423-4567 or #377 from a mobile phone. Anonymous information can also be submitted to Crime Stoppers at 1-800-222-8477 or online at www.tipsubmit.com/start.htm.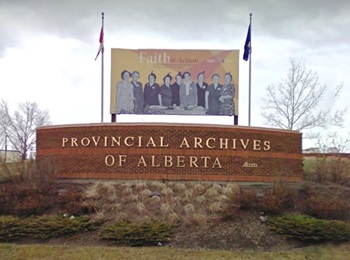 Thieves made off with these brass letters from a sign at the
Provincial Archives of Alberta building over the weekend.
Police make arrest after fires in Eastview's Terrace Park
Post from Red Deer RCMP.      Photos Contributed by Glenn Rhodes to Facebook
Red Deer RCMP arrest man for arson after vehicles fires
A Red Deer man is facing arson charges after two vehicles were set on fire early this morning.
At 3:25 a.m. Red Deer RCMP and Red Deer Emergency Services were called to an address in Terrace Park for a vehicle on fire. A short time later, at 4:15 a.m., they responded to a call for another vehicle on fire at a separate address in Terrace Park.
Residents were briefly evacuated from their homes, but there were no injuries.
RCMP have arrested a 43-year old male in connection with the fires. RCMP and Red Deer Emergency Services continue to investigate.
Search for missing man last seen at Red Deer hotel expands
The Calgary Police Service Homicide Unit is seeking public assistance in relation to the disappearance of Abdikadir TUKHOV, who was reported missing in December 2016.
Abdikadir TUKHOV, 43, of Calgary was reported missing by friends on Sunday, Dec. 11, 2016. He was last seen on Monday, Dec. 5, 2016, leaving a residence in the community of Abbeydale.
Police have exhausted all footprints of life and as a result of new information from members of community, TUKHOV's disappearance is considered suspicious. Friends also believe that TUKHOV may have been met with foul play.
TUKHOV lived a transient lifestyle and spent time in Calgary, Grand Prairie, Edmonton and Red Deer. It is believed he worked as a taxi driver in Grand Prairie prior to his disappearance.
Investigators are seeking public assistance to identify a man and a woman seen with TUKHOV at the Cambridge Red Deer Hotel (previously the Sheraton Red Deer), located at 3310 50 Ave., Red Deer, in the early morning hours of Sunday, Dec. 4, 2016. Police believe they may have information about TUKHOV's disappearance or his activities prior to his disappearance.
A photo of TUKHOV with the man and woman is available above.
The woman is described as 25 to 40, with an average build with brown hair.
The man is described as 30 to 45, with an average build. He can be seen wearing a hat in the photo.
"We know that people in the community have information about Abdikadir's disappearance," says Staff Sergeant Martin Schiavetta of the CPS Homicide Unit. "Abdikadir left behind a wife and two children and we ask that anyone who has information come forward so that we can provide closure to his friends and family. Even what seems like the most insignificant information can sometimes be enough to help detectives solve a case."
Anyone with information is asked to call the Calgary Police Service Homicide Tip Line at 403-428-8877. They may also contact the Calgary Police Service non-emergency number at 403-266-1234 or Crime Stoppers anonymously through either of the following methods:
TALK: 1-800-222-8477
TEXT: www.calgarycrimestoppers.org
Case # 16660072/4110