Central Alberta family desperate for a miracle… Looking for a hero
This post has been submitted by the mother of a young Central Alberta father.  He moved to Calgary years ago to be closer to medical care.   His wife grew up in Sylvan Lake and Lacombe.  Together they're raising 2 children and unfortunately their future is uncertain.  
From Julie. 
You may or may not have seen a desperate plea from a Central Alberta family trying to save a loved one's life.  This is the kind of situation that requires a really large number of people to help out.  You never know who's going to step forward and become someone's hero.  The key is, they have to know about the situation before they can act on it.  So.. here's a bit of information about this
Alex's Journey
Having a baby is supposed to be a wonderful time in your life. Alex was born looking healthy; however, it all went wrong for him at 22 months of age.
After being rushed by his Father and I by car to our nearby city hospital, Alex was hospitalized for 5 days with a 105 degree fever, which nothing would bring down. Alex was in so much pain, screaming a blood curdling sound that made you think someone was murdering this poor baby slowly.
Once at hospital he was whisked away to try to identify the problem. They told us he was a mess inside and needed to be airlifted to Sick Children's Hospital. Once there it became a series of surgeries and a lengthy hospital stay. His kidneys were being affected by a blockage he had developed.
By age four he lost one kidney and again needed several hospital visits and surgeries to help save his other kidney. The doctors explained that Alex has Chronic Renal Failure and would eventually need a kidney transplant. At age 8 we almost lost him again due to a potassium overload in his remaining kidney that gradually slowed his heart dangerously. We made another trip to Sick Children's Hospital to get his levels back down before his heart stopped.
Through all these hardships Alex always remained a tough little guy. Now as a 29-year-old with a loving wife and 2 little ones, the time has come for our son and he is in need of a kidney.
My name is Julie, I am his mother and I have said from the beginning of this journey that I will give my kidney. That being said, it would be wise to have more donors that are willing as well to help him have a greater chance of success. His older brother has also volunteered, so please help us give Alex and his family a happy, healthy life.
Julie (mom)
If you have Blood Type O and this something you could do, our family would be so grateful to have the chance to keep him in our lives and give him the opportunity to watch his children grow up. Anyone can be tested to see if they are a match. You will need Alex's full name so please visit the Facebook Group we have set up and reach out to our admin/s. https://www.facebook.com/groups/708888052863495/
To Get Tested: 403 944 4635
Why some Infectious Disease experts say COVID-19 will soon be behind us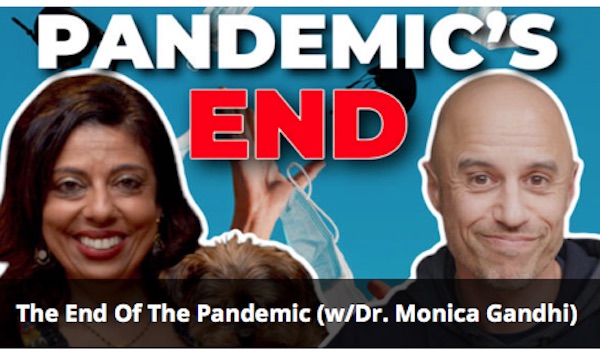 The common belief seems to be the COVID19 pandemic is going to be with us at least until the end of this year and possibly well into 2022.  But some infectious disease experts are making much more aggressive predictions.  In fact Dr. Monica Gandhi (bio below) is already beaming with joy over the data pouring in showing the vaccines spreading throughout the world are working incredibly well.  Enjoy this interview.  It will absolutely help you feel better about the state of our battle against COVID-19.
A UCSF (University of California, San Francisco) infectious disease doctor is convinced this pandemic is ending, and sooner than you think…here's why.
Dr. Monica Gandhi is a professor of medicine at UCSF and here are our other episodes together.
And here's her latest study in the Lancet.
An excerpt from the following video: "So we have tons of PhD epidemiologists who are painting gloom and doom pictures everywhere. Well, you know, first it was this. And then, you know, okay, now we have a vaccine but you know what, the variants are coming. So we're probably gonna have to wear seven masks and stay shut down. And by the way, don't even think about opening schools. Why are you thinking about opening schools? Oh, by the way it's your bad behavior that caused all this death, and so we're gonna shame you. And on top of that, it's never gonna get better. So expect 2023, before we get back to a semblance of what will be a new normal, which will be we'll all be in bubbles. So get those guys out of the picture and go with actual physicians who touch patients. What's your thinking right now? Where are we in this mess?
Dr. Gandhi:  We are just facing like complete dawn of hope and light and love. Like it's gonna be so great. It is getting so great. So what happened, right? Like March 11th was the day that the WHO declared this a worldwide pandemic. November 9th, we got the first press release from the first vaccine. Phase three clinical trial, that fast. And then we've had seven phase three clinical trials. So we have seven vaccines in circulation around the globe that work. And they work exactly using the same protein in different ways using that protein, and they work beautifully, and they all work beautifully against preventing what even made us notice on January 31st, 2019 or December 31st, 2019 that something terrible was happening, which is severe disease. They all work almost 100% to prevent… 100% for hospitalizations. And then like in the 90s to prevent you not even feeling well at home. So they're amazing."
The interviewer is Dr. Zubin Damania.   Trained at Stanford and the University of California, San Francisco, Dr. Damania is the founder of Turntable Health, an innovative primary care clinic and model for Health 3.0.  He produces videos and live shows under the pseudonym "ZDoggMD" which have collected nearly a billion views.
Click play to watch.
Covid vaccines available at 9 Red Deer pharmacies – Locations and contact information
From the Province of Alberta
COVID-19 immunization program
To ensure fair access to all Albertans needing to be immunized and to prevent unnecessary wastage of vaccine doses please book ONLY one appointment per person. Do not book multiple appointments at multiple sites.
Who is eligible to receive the COVID-19 vaccine through a pharmacy?
Pharmacies are able to offer immunizations to seniors 75 years of age and older (born in 1946 or earlier) living in the community.
Alberta Health Services will offer the vaccine directly to residents in retirement centres, lodges, supportive living and other congregate living facilities.
Where can I get the vaccine?
Below is a list of participating pharmacies. You must book an appointment with the pharmacy closest to you to receive the vaccine. No walk-ins will be permitted.
Due to limited vaccine quantities and storage and handling requirements, only select pharmacies in Edmonton, Red Deer and Calgary are able to participate in the vaccine rollout at this time. Once there is adequate COVID-19 vaccine supply, distribution will be expanded.
Pharmacies are listed in alphabetical order.
Johnstone IDA Pharmacy
100-2 Jewell Street
403-348-8203
Loblaw Pharmacy #1579
Red Deer Superstore
5016 51 Ave
403-350-3530
London Drugs #24
109-2004 50 Ave
403-342-1242
Notre Dame Pharmasave
1109-2827 30 Ave
403-588-3195
Save-On-Foods Pharmacy #6682
6720 52 Ave
403-343-7744
Shoppers Drug Mart #2306
1 Chambers Ave
403-342-5548
shopersdrugmart.ca/en/health-and-pharmacy/covid-19?ShortURL=covid
Shoppers Drug Mart #326
Bower Mall Location
A6-4900 Molly Bannister Drive
403-343-3355
shopersdrugmart.ca/en/health-and-pharmacy/covid-19?ShortURL=covid
The Medicine Shoppe Pharmacy #341
130-2950 22 Street
403-343-8831
medicineshoppe.ca/en/alberta/red-deer/the-medicine-shoppe-pharmacy-341-7041122
Wal-Mart Pharmacy #3075
Parkland Mall Shopping Centre
6375 50 Ave
403-347-1123