There's another way to end the pandemic. Doctors can knock covid out with treatment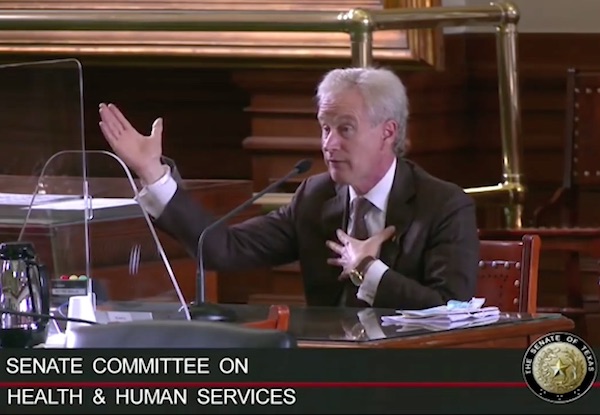 While every doctor who treats patients needs to see this video, so does anyone who fears getting a positive diagnosis. Covid-19 is treatable and if you or your loved one gets the dreaded diagnosis, you can and should demand access to treatment. For those at highest risk of severe illness, it will increase the chances of a positive outcome by 85%.
COVID-19 is not only killing people, it's destroying businesses, crushing dreams, and wreaking havoc on mental health. It's also driving a serious wedge between neighbours, communities, and society as a whole. As Canadians helplessly watch what some are calling a race between covid variants and the effectiveness of widespread vaccination, most are unaware there's another way out of this disaster, and doctors hold the key.
In this incredible testimony, leading medical researcher Dr. Peter McCullough addresses the Texas Senate Health and Human Services Committee. The most widely published medical scholar in the world in his expertise, Dr. McCullough is an expert in the field of heart and kidney, an editor of two major journals, and an accomplished research scholar.
In this remarkable address you'll hear that doctors haven't been given any real instruction on how to treat patients in the time between a positive diagnosis and a week or two later when some become seriously ill. It's not well publicized yet, but Dr. Peter McCullough is doing all he can to let the medical community know by treating positive covid cases early, they can reduce the number of covid patients heading to the hospital by 85% ! The medical trials are legitimate. The documentation on early onset treatment is verified.
Within two days of this testimony (March 10) the Texas Senate introduced legislation to mandate information on early treatment be provided to every positive covid-19 patient. The key now is for doctors to act.
Here is Dr. McCullough's recent presentation at the Capitol building in Austin, Texas.
Why aren't more doctors treating covid? Doctor testifies early treatment saves lives
WHO decides the COVID-19 global emergency isn't over
The World Health Organization decided Monday not to declare an end to the COVID-19 global public health emergency.
Tedros Adhanom Ghebreyesus, the director-general of the international body, said Monday "there is no doubt that we're in a far better situation now" than a year ago, when the highly transmissible Omicron variant was at its peak.
But Tedros warned that in the last eight weeks, at least 170,000 people have died around the world in connection with the SARS-CoV-2 virus. He called for at-risk groups to be fully vaccinated, an increase in testing and early use of antivirals, an expansion of lab networks, and a fight against "misinformation" about the pandemic.
"We remain hopeful that in the coming year, the world will transition to a new phase in which we reduce hospitalizations and deaths to the lowest possible level," he said.
What would it mean if the WHO had decided to lift that designation?
By declaring a global emergency, the WHO essentially sounded the alarm on a serious worldwide health risk that required international co-operation.
It triggered a legally binding response among WHO member countries, including Canada, and allowed the organization to make temporary recommendations to those countries to prevent or deal with the threat.
Over the last few years those recommendations have included quarantining infected people and their close contacts and border testing and closures.
The formal designation was made on Jan. 30, 2020, when 99 per cent of confirmed COVID-19 cases were still restricted to China.
Even if that designation is lifted, it doesn't mean the pandemic is over or that the threat has ended.
Why was the WHO considering it now?
Monday marks three years to the day since Tedros first declared the then little-understood coronavirus a global health emergency.
Since then, a committee of global experts has met every three months to offer advice on whether the pandemic still meets that definition.
"As we enter the fourth year of the pandemic, we are certainly in a much better position now than we were a year ago when the Omicron wave was at its peak and more than 70 thousand deaths were being reported to WHO each week," Tedros told the committee Friday.
At the previous meeting in October, he said weekly reported COVID-19 deaths had nearly reached their lowest levels since the beginning of the pandemic.
On Friday though, Tedros appeared to caution the committee against being too optimistic.
He said the number of weekly deaths had been rising since early December, particularly since public health restrictions were lifted in China.
"In total, over the past eight weeks, more than 170,000 deaths have been reported. The actual number is certainly much higher," he said.
He also reminded the experts the pandemic response remains "hobbled" in countries without COVID-19 vaccines and therapeutics.
Even in countries with such tools at their disposal, public trust in those life-saving medicines has been undermined by disinformation campaigns, health systems remain overwhelmed because of staff shortages, and COVID-19 surveillance efforts have been massively scaled down.
What will Canada do differently once the WHO declares the emergency over?
Nothing much. At a press conference Friday, Canada's chief public health officer Dr. Theresa Tam said no matter what the WHO decided, Canada would continue to track cases, serious illnesses and deaths, as well as roll out vaccination campaigns.
Cases, hospitalizations and deaths associated with the virus spiked noticeably over Christmas and in early January, Tam said, but all now appear to be trending down.
"We mustn't, I think, let go of the gains that we've had in the last several years," she said.
"I think whatever the decision is made by the director-general of WHO, I think we just need to keep going with what we're doing now."
Whose decision was it not to end the emergency?
The final call was ultimately up to Tedros, but he was informed by the advice of the emergency committee.
The group, first struck in 2020 when the threat of COVID-19 first came to light, voted Friday on whether or not to maintain the formal emergency designation.
When will the pandemic finally be over?
It's still difficult to say because COVID-19 is still spreading rampantly around the world.
The WHO declared COVID-19 a pandemic a month and a half after designating it a global emergency, and at the time Tedros took pains to explain the two classifications are not one and the same.
"Describing the situation as a pandemic does not change WHO's assessment of the threat posed by this virus. It doesn't change what WHO is doing, and it doesn't change what countries should do," Tedros said on March 11, 2020.
Last fall he declared the end of the pandemic was "in sight," but it is difficult to say when it will fully come into view.
This report by The Canadian Press was first published Jan. 30, 2023.
— With files from The Associated Press.
British health researcher says authorities in Canada, US, and UK are doing nothing about thousands of excess deaths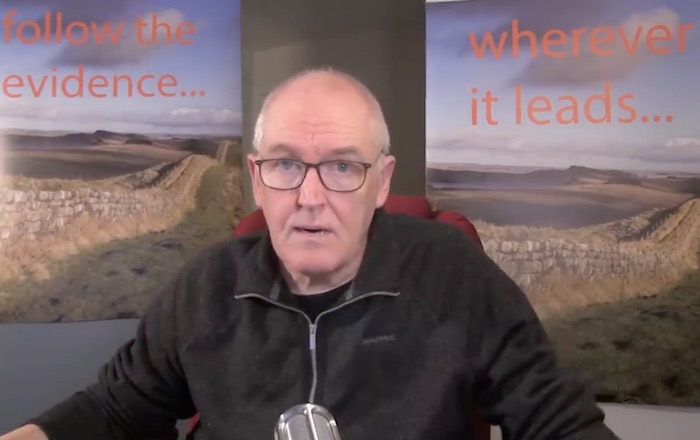 About six months ago, the Province of Alberta's annual cause of deaths statistics briefly made headlines around the world. For the first time "unknown causes of mortality" was the leading cause of death in the province. Just a few years earlier, "unknown causes" wasn't even on the top ten list.
Province of Alberta Cause of Death Statistics 2021
An Alberta taxpayer might expect the province to call an inquiry into this shocking development to see if there's not some way to protect the lives of thousands of Albertans. So far this has not happened.
Now similar shocking statistics are starting to emerge nationally and around the world. British health researcher John Campbell has looked at the data coming from Canada, Britain, the US and Australia among other nations. He's noticed a very significant and distressing increase in "excess deaths". The number of excess deaths is quickly adding up to the hundreds of thousands. Of course some of these deaths can be attributed to COVID-19, but the vast majority are not.
In this video, Dr. Campbell reveals the data he's found and offers some pointed criticism to our political leaders. Canada is singled out as "quite pathetic" for not even sharing cause death statistics after August of 2022. Campbell says "I think we're in somewhat of an international emergency not being responded to as I would like by our governments in any way, shape, or form. In fact they seem to be ignoring it. As indeed do most of the mainstream media."
"This demands an explanation. And we're not getting one."
From Dr. John Campbell – British health researcher / instructor
Excess deaths in 30 countries
Dr. Campbell's presentation notes including links to information sources
US, Weekly Cumulative All-Cause Excess Deaths
https://www.usmortality.com/deaths/ex…
Excess deaths 2022 (Up to December 1st) 242,224
https://www150.statcan.gc.ca/n1/pub/7…
https://www23.statcan.gc.ca/imdb/p2SV…
Australian Bureau of Statistics
Provisional Mortality Statistics
Reference period, Jan – Sep 2022
144,650 deaths that occurred by 30 September 19,986 (16.0%) more than the historical average.
Deaths attributed to covid, 8,160
October covid deaths, 232
Australia, September 2022 13,675 deaths (doctor certified) 1,814 were coroner referred.
UK, ONS https://www.ons.gov.uk/peoplepopulati…
UK Prevalence
2.61% in England (1 in 40 people)
3.94% in Wales (1 in 25 people)
4.22% in Northern Ireland (1 in 25 people)
3.26% in Scotland (1 in 30 people)
Deaths and excess deaths
(W/E week 13th January 2023)
A total of 19,916 deaths were registered in the UK
20.4% above the five-year average.
Covid UK deaths
1,059 deaths involving COVID-19 registered (up 842 on the week)
Deaths involving COVID-19 accounted for 5.3% of all deaths UK,
Office for Health Improvement https://www.gov.uk/government/statist…
Excess deaths in all age groups, (0 to 24 years) UK,
Institute and Faculty of Actuaries https://actuaries.org.uk/news-and-med…
Mortality rates in 2022 compare to 2019 at different ages 2022,
mortality, 7.8% higher for ages 20-44
In the UK, the second half of 2022
26,300 excess deaths, compared to 4,700 in the first half of 2022 Europe,
EuroMOMO,
Bulletin week 2 2023 https://www.euromomo.eu
Pooled EuroMOMO, all-cause mortalit
Elevated level of excess mortality, overall and in all age groups.
Data from 25 European countries or subnational regions
Average levels from pre 2020 https://www.health.govt.nz/nz-health-… https://www.stats.govt.nz/topics/birt…
Year ended September 2021,
total of 34,578 deaths Year ended September 2022, total of 38,052 deaths