There's another way to end the pandemic. Doctors can knock covid out with treatment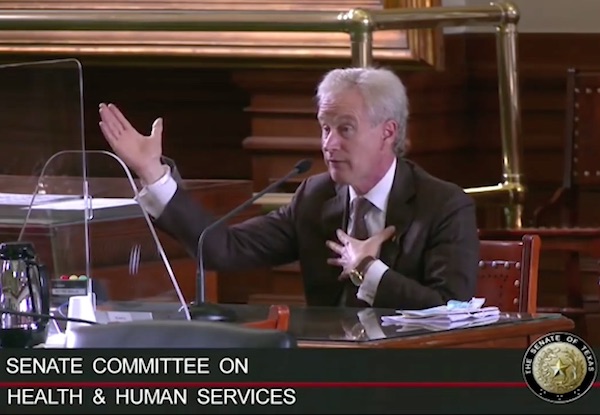 While every doctor who treats patients needs to see this video, so does anyone who fears getting a positive diagnosis.  Covid-19 is treatable and if you or your loved one gets the dreaded diagnosis, you can and should demand access to treatment.  For those at highest risk of severe illness, it will increase the chances of a positive outcome by 85%.
COVID-19 is not only killing people, it's destroying businesses, crushing dreams, and wreaking havoc on mental health.  It's also driving a serious wedge between neighbours, communities, and society as a whole.  As Canadians helplessly watch what some are calling a race between covid variants and the effectiveness of widespread vaccination, most are unaware there's another way out of this disaster, and doctors hold the key.
In this incredible testimony, leading medical researcher Dr. Peter McCullough addresses the Texas Senate Health and Human Services Committee.  The most widely published medical scholar in the world in his expertise, Dr. McCullough is an expert in the field of heart and kidney, an editor of two major journals, and an accomplished research scholar.
In this remarkable address you'll hear that doctors haven't been given any real instruction on how to treat patients in the time between a positive diagnosis and a week or two later when some become seriously ill.  It's not well publicized yet, but Dr. Peter McCullough is doing all he can to let the medical community know by treating positive covid cases early, they can reduce the number of covid patients heading to the hospital by 85% !  The medical trials are legitimate.  The documentation on early onset treatment is verified.
Within two days of this testimony (March 10) the Texas Senate introduced legislation to mandate information on early treatment be provided to every positive covid-19 patient.  The key now is for doctors to act.
Here is Dr. McCullough's recent presentation at the Capitol building in Austin, Texas.
Covid no longer means special measures. Province brings treatment in line with flu and other viruses
Adapting COVID-19 measures to support Albertans
With strong vaccine uptake, Alberta will gradually bring COVID-19 measures in line with other respiratory viruses to ensure health system capacity for the fall.
Nearly 75.6 per cent of eligible Albertans have now received at least one dose of COVID-19 vaccine, and 64.3 per cent are fully immunized. Vaccines dramatically reduce the risk of severe outcomes and the risk of infection. While COVID-19 cases may rise in the coming months, a surge of hospitalizations and other severe outcomes is much less likely thanks to vaccines.
In the coming weeks, Alberta's health system will take steps to make sure that it is ready to support all patients, including those with COVID-19 and other respiratory viruses, like influenza, which health officials expect to increase this year.
As a part of this, Alberta will bring COVID-19 quarantine, isolation, and other measures in line with those used for influenza and other viruses.
Testing for severe cases, provincial monitoring, outbreak management in high-risk settings, and other key measures will remain in place. Health officials will be able to adapt as needed if hospitalizations due to COVID-19 spike in the future.
"Our health system will keep protecting Albertans who are exposed to COVID-19 while also ensuring that we are able to handle all other viruses and illnesses. As the majority of us are vaccinated against COVID-19, we are adapting to make sure that the health system is ready to care for all Albertans, whatever their illness. Please get vaccinated to help protect your health and the health of those around you."
"Our top priority is supporting the health of Albertans. COVID-19 is still with us but we are now in a place where we need to manage it through vaccinations and the proven public health measures used for other communicable viruses. We expect to see increased influenza and other viruses this year, and these changes will make sure the health system is ready and able to support all Albertans in the months ahead."
A two-phase transition will be used to safely monitor the impact of the initial changes, adapt as needed over the next few weeks, and give more time to vaccinate Albertans.
The following changes will be effective July 29:
Quarantine for close contacts will shift from mandatory to recommended. Isolation for anyone with COVID-19 symptoms and for confirmed positive cases is still required.

Unimmunized individuals who know they have been exposed to COVID-19 should monitor for symptoms and seek testing if they become symptomatic.
Anyone who is not fully immunized should avoid high-risk locations such as continuing care facilities and crowded indoor spaces if they have been in contact with a case in the past 14 days.

All positive cases will continue to be notified. Contact tracers will no longer notify close contacts of exposure. Individuals are asked to inform their close contacts when informed of their positive result.
Contact tracers will continue to investigate cases that are in high-risk settings such as acute and continuing care facilities.
Outbreak management and identification will focus on high-risk locations, including continuing and acute care facilities and high-risk workplaces. Community outbreaks with a surge in cases leading to severe outcomes will also be addressed as needed.
Asymptomatic testing is no longer recommended. Testing will continue to be available for individuals who are symptomatic.
Mandatory masking remains in acute and continuing care facilities, publicly accessible transit, taxis and ride-share.
The following changes will take effect on Aug. 16:
Provincial mandatory masking orders will be lifted. Some masking in acute care or continuing care facilities may still be required.
Isolation following a positive COVID-19 test result will no longer be required, but strongly recommended.

Individuals with symptoms of any respiratory infection should still remain at home until symptoms have resolved.
Staying home when sick remains an important way to care for those around us by not passing on any infection.

Isolation hotels and quarantine support will no longer be available.
Testing will be available for Albertans with symptoms when it is needed to help direct patient care decisions.

This testing will be available through assessment centres until Aug. 31 and, after that, will be in primary care settings including physicians' offices. For those with severe illness requiring urgent or emergency care, testing will be available in acute care and hospital settings.
COVID-19 testing will also be offered as needed in high-risk outbreaks such as in continuing care facilities.

Public health will focus on investigating severe cases that require hospitalization and any deaths due to COVID-19.
Outbreak management and preventative measures will continue focusing on outbreaks in high-risk settings, such as continuing and acute care facilities.

Community outbreaks will continue to be addressed as needed.
Daycares and schools will be supported with measures that would be effective for any respiratory virus if outbreaks are identified.
Health officials will continue to closely monitor hospitalizations and other severe outcomes due to COVID-19 in the province. Additional measures will be taken, as needed, in specific facilities or areas where an outbreak is occurring leading to severe outcomes.
Universal masking will not be required in schools once students return. However, it is recommended as a temporary outbreak intervention in response to respiratory outbreaks. A guidance document to support return to schools is being finalized and will be released in mid-August.
A wastewater baseline testing program will also be launched to provide area trend information and monitor variants of concern. More details will be released in the coming weeks.
Nurses vs. MLAs: A Real Solution

Open Letter to Alberta MLAs
Red Deer – Mountain View, AB
The Alberta government is calling for a 3% wage cut for nurses ($70,500 (average salary per ALIS) x 3% x 36,200 nurses = $76.56 million). Don Braid of the Calgary Herald is calling for Alberta MLAs to take a $22,000 wage cut (87 MLAs x $22,000 = $1.91 million). Unfortunately, neither of these options address the elephant in the room. Alberta will spend $23 billion on healthcare this fiscal year per Budget 2021.
Over the past year and a half, Albertans were forced to suspend their lives and lose their livelihoods under the guise of the common good and to protect our seemingly fragile healthcare system. If $23 billion dollars in annual spending does not secure our healthcare system against potential future threats, maybe it is time to stop accepting mediocrity and make some changes to the system.
Suggestions for your consideration:
Immediately schedule a First Ministers conference (meeting between the premiers and the Prime Minister).

Agree to repeal the Canada Health Act. According to the Canadian Constitution, healthcare is within the jurisdiction of the provinces.

Funds needed to support provincial healthcare decisions would then be collected within each respective province instead of being received through the Canada Health Transfer.

End the prohibition on private clinics and service providers which would generate competition, reduce wait times, decrease costs and ultimately provide better care for everyone.
Canadians have long triumphed our "free" healthcare system as being the best in the world. In reality, it is neither free nor the best. Embracing new ideas and private market solutions is the best way to improve our healthcare system for all Albertans. I for one, believe that Albertans deserve the best for their hard earned tax dollars. It's time for a change, don't you agree?
Libertarian Party Candidate for Red Deer – Mountain View, AB