Join Gerry for a wild ride through the Slums of Mumbai Pt. 3 of a 4 part series
This is the third in a four-part series on India
The Slums of Mumbai by Gerry Feehan
It was in the rooftop restaurant of the Intercontinental Hotel in Mumbai, that we first encountered Joe Tourist. He was at the other end of the open-air bistro, ordering sushi. "Hey," he shouted across the floor at the flustered waiter, "make that four tuna belly and throw in an extra order of unagi."
Ordering sushi in India is ill-advised – for a couple of reasons. First, there is a near-zero probability that you will actually receive what you ordered and second, in the days following, you will almost certainly regret your decision to consume raw fish netted from the Bay of Bengal.
While events unfolded on the far side of the restaurant, we sat quietly enjoying a soft Indian evening and a delicious appetizer of aloo gobi and paneer fried in onion gravy. On the street far below the honking traffic crawled while pedestrians strolled Mumbai's broad malecon, which serpentines along Marine Drive. 
We overheard Joe Tourist ask for the bill, "La cuenta por favor." (He must have mistaken Mumbai for the Mayan Riviera.) The waiter, barely able to comprehend English, stared blankly, mystified by Joe T.'s garbled Spanish.
Minutes later, as if on cue, a tsunami arose from Mr. Tourist's table over the fishy tab. Ignoring the commotion, we dug into our delightful entree of tandoori chicken and bhindi masala, served with a side of steaming garlic naan. But serendipity had a cruel fate in store for us. This was not to be the last time we would cross paths with Joe Tourist during our adventure in India. (Part IV next month).
Mumbai (formerly Bombay) is the fourth largest city in the world. India's business capital is undergoing the greatest construction boom in the country's history. Everywhere huge apartment buildings are being erected, scraping the sky. Yet just meters from these multi-million-dollar luxury condominiums lie Mumbai's vast slums. Eighty percent of Mumbai's twenty million residents live in these jumbled shantytowns.
In the movie Slumdog Millionaire the protagonist, an 18-year-old orphan from the Dharavi slum, relies on his street smarts to answer a series of obscure questions – and collects the grand prize of 20,000,000 rupees. In true Bollywood fashion there is also an elaborate dance scene – and of course in the end he gets the girl. 22 year-old Nic is also from Dharavi. He picked us up at the hotel for a tour through the slum he calls home. But first he showed us the sights of colonial Mumbai: Shivaji Terminus (formerly Victoria Railway Station), the iconic Gateway of India in Mumbai Harbour and, across the street, the opulent Taj Mahal Palace Hotel. 
On November 26, 2008 Pakistani militants stormed the hotel, setting off explosives and killing 31 guests. Nic was in the plaza across from the Taj when the terrorists began strafing the crowd with automatic rifle fire. "When the firing started, I broke away on my own," he told us matter-of-factly. "Shooters are more likely to fire at a group than one person." Duly noted.
We weren't permitted to take pictures in the Dharavi slum. But what I saw is forever seared into my memory: a group of women crouched on haunches in a dimly-lit room, separating an endless mountain of used plastic utensils; two young lads – without the benefit of eye, ear or lung protection – shoving broken toys into a gas-powered chipper. I stuck my head in that forsaken room for a few seconds before the deafening noise and smell of churning plastic drove me out. 
From the 'plastic' district, Nic led us past open sewers, under precariously dangling electrical wires and through narrow twisting passages to a quarter where the planet's discarded leather coats are re-tanned. The gutter ran ochre with chemical sludge. Then, holding our breath, we entered a smoky neighbourhood where bricks are re-kilned. Finally we toured an area where dirty paint cans from around the globe are emptied, cleaned and banged back into shape. The gutter here ran all colours of the rainbow.
And every Dharavi rooftop billowed to overflowing with stuff the world has long-since discarded.
Amidst all this commotion folks lived, cooked, cleaned, ate. Children played, old men smoked, teenagers flirted, mothers nursed, babies slept. In this single square kilometre of squalid, stifling slum, a million people go about the daily business of survival. But to street-smart Nic, Dharavi is just home, the place where he rests his head each night. 
If you visit India, you may wish to bring an attractive blonde along. Your group will be popular. We couldn't walk down the street without someone requesting a selfie with our cute friend from Saskatoon. In Mumbai's main square locals surrounded her like paparazzi hounding a celebrity. Thus began our symbiotic photo relationship with India. Locals took shots of our 'BB Ji' while we, demanding a reciprocal favour, photographed them photographing her.
Last evening in Mumbai. Returning to the Intercontinental from a late-night stroll along the Malecon, I was pooped, ready for bed. A motorcycle pulled up to the curb. "Jump on." It was Nic. Fueled by a couple of Kingfisher beers and disregarding all common sense rules mother may have laid down, I climbed aboard for a death-defying, adrenaline-stoked roar down Marine Drive. Nic laughed and joked as we weaved at break-neck speed through cars, trucks, rickshaws, pedestrians – and other insane motorcyclists. I hung on for dear life. Eventually he returned me, unscathed, to the hotel door. "That was fun," I said, shaking. He waved, shouted "Alvida," and sped off into the bedlam. 
I didn't sleep a wink that night. Despite utter exhaustion, I lay awake listening to the incessant, unrelenting, honking traffic – and thinking of the millions of souls eking out an existence in the slums of Mumbai.
In the morning we left chaotic Mumbai for the relative calm of Kerala, on India's extreme southwestern tip. The 'land of coconuts' is a tropical paradise dense with rain forest, wild elephants, monkeys, tea plantations – and spices. Kerala is home to a wonder of zesty flavours: pepper, cinnamon, licorice, chili, cardamom, ginger, nutmeg, coriander, cumin, turmeric. For centuries the colonial powers fought, won and lost wars over the exotic spice trade. 
And from these amazing seeds and roots comes India's great contribution to world cuisine: curry. 
Next time: the spices of Kerala.
Thanks to Rod Kennedy and Kennedy Wealth Management for helping to make this series possible.
If you go: Explore India from Vancouver B.C. (www.exploreindia.ca) capably and professionally handled all aspects of our private month-long tour – air and land travel, hotels, meals, guides, drivers, entrance fees and activities – for one all-inclusive price.
"India? Are you nuts?" Join Gerry for Part 1 of his series on India.
India Part 2- Terrific photos! Experience the Taj Mahal and Ganges with Gerry Feehan
Alberta's Distinguished Artist Award Recipients Announced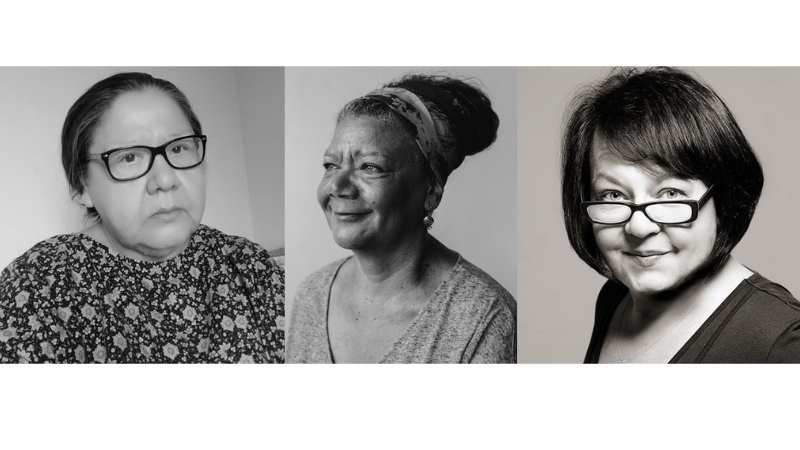 June 16, 2021
Alberta's Distinguished Artist Award Recipients Announced
(Calgary, AB) The Lieutenant Governor of Alberta Arts Awards Foundation is pleased to announce that artist Faye HeavyShield (Blood Reserve, Kainaiwa Nation, AB), writer and filmmaker Cheryl Foggo (Calgary, AB), and dance choreographer Vicki Adams Willis (Calgary, AB), have been selected to receive the 2021 Lieutenant Governor of Alberta Distinguished Artist Award.
Arlene Strom, chair of the Lieutenant Governor of Alberta Arts Awards Foundation said, "Albertans can be proud of these three whose contributions have pushed the boundaries of art to reflect Indigenous identity and expression; present a more inclusive and diverse view of Alberta's history; and define the province as a beacon for jazz dance artists. Each has contributed immeasurably to the development of the province's artists, arts communities and expanding art disciplines."
Faye HeavyShield, Visual Arts
Over the past 30 years, Faye HeavyShield has been one of Canada's pre- eminent artists within Alberta and the Blackfoot Confederacy. Currently living on the Blood Reserve in southwestern Alberta, Faye studied at Alberta University for the Arts in Calgary.
Honouring her Kainaiwa (Blood) Nation, the striking landscape they dwell within and the Blackfoot language which she speaks, Faye HeavyShield's legacy of three-dimensional art and sculpture including recent installations incorporating photography and delicately constructed paper figures make her a senior figure in the artistic and cultural renaissance of Indigenous nations in the country.
"…My art is a reflection of my environment and personal history as lived in the physical geography of southern Alberta with its prairie grass, river coulees, and wind and an upbringing in the Kainaiwa community. I would say the environment is an extension of myself because it's always been there, from the time I was a child. It was one of the first things that I saw and smelled. I consider it a part of me. The landscape is an extension of the body because we're dependent on it, and to flip that, the landscape is dependent on us…" Faye Heavyshield
Beyond her personal practice, Faye is actively involved with her community by working with youth through art programming and creating cultural connections for children in care.
Cheryl Foggo, Playwright, screenwriter, film maker, author
Creating a more inclusive and diverse view of Alberta's history through her plays, films, books, articles and multi-media presentations has been Cheryl Foggo's life work. Profiled in Who's Who in Black Canada and the recipient of the 2008 national Harry Jerome Award for The Arts, Foggo has applied her talent as a researcher and writer to uncovering the compelling but overlooked stories of Alberta's Black settlers and
cowboys. Most recently, the award winning National Film Board feature- length documentary, John Ware Reclaimed (2020), highlighted an earlier thriving Black community in the province often left out of the history books.
Her seminal, autobiographical book, Pourin' Down Rain: A Black Woman Claims Her Place In The Canadian West, is a powerful narrative of Foggo's ancestors' journey from enslavement in the United States to Western Canada. The book, first published in 1990, received the distinction of a special 30th anniversary reprint in 2020. Her books for young people: Dear Baobab, I Have Been in Danger and One Thing That's True have garnered many commendations between them, including One Thing That's True being short-listed for the Governor General's Award. In addition to her books, Cheryl Foggo has published prose in more than 40 journals and anthologies.
Two new productions of Foggo's plays are scheduled in 2021 with the Citadel Theatre in Edmonton and the Urgency Collective in Calgary, and her short play The Sender is currently available through Toronto's Obsidian Company's 21 Black Futures Project. As a cultural activist, mentor and volunteer she advocates for writers and Black artists.
Vicki Adams Willis Performing Arts: Dance
Vicki Adams Willis has changed the face of jazz dance in Alberta and Canada. A co-founder nearly 40 years ago of Decidedly Jazz Danceworks (DJD), she is foremost a teacher and choreographer of more than 35 original productions. She is recognized as a true leader in the world of jazz; an acclaimed ground-breaking choreographer who created one of the most unique jazz dance companies in the world, and the key person to ensure Calgary, Alberta as a viable dance centre for serious jazz artists. She has helped to change the very course of the jazz dance art form by influencing students, dancers, musicians and audiences with her strongly researched and brilliantly creative work.
Jazz dance is a misunderstood art form. Born of African parents and of the Black American experience, Vicki Adams Willis acknowledges herself as a guest in this form and has demonstrated her deep understanding of, and utter respect for, the authentic roots and history of jazz through her research, teaching and choreography. The company she co-created in 1984 – Decidedly Jazz Danceworks (DJD) has gained international recognition. It has been referenced in articles, dissertations, anthologies and, most recently, in an award-winning international film: Uprooted–The Journey of Jazz Dance, which had its Canadian premiere at the 2021 Toronto Black Film Festival.
"..These three ground-breaking women have offered important contributions to the arts in Canada. Their creativity has brought new light to their respective disciplines and created countless opportunities for us all to learn, grow and explore fresh ideas. Artists like this are essential to the vibrancy of our communities and we are truly fortunate to have them as cultural leaders in our province and country as a whole…"
Her Honour, the Honourable Salma Lakhani, Lieutenant Governor of Alberta
The laureates will each receive a handcrafted medal, a $30,000 award and a two-week residency at the Banff Centre's Leighton Artist Studios. The awards patron, the Honourable Salma Lakhani Lieutenant Governor of Alberta, will present the awards at a celebration hosted by the Community of Lac La Biche and Portage College, Lac La Biche campus, at an awards event June 10 and 11, 2022.
The awards are funded through an endowment established with private donations and gifts from the Province of Alberta and Government of Canada. The Lieutenant Governor of Alberta serves as honorary patron of the awards. Since its inception, 23 Distinguished Artists and 63 Emerging Artists have been recognized across Alberta with this significant honour. See details at artsawards.ca
The 2021 Distinguished Artists were chosen from nominations received and reviewed by a jury of experts overseen by the Banff Centre for Arts and Creativity. Jurors for the 2021 Distinguished Artist Awards were Mary-Beth Laviolette, visual arts curator and author; John Estacio, 2017 Distinguished Artist and JUNO nominated composer; Seika Boye, scholar, writer, artist and Assistant Professor, University of Toronto, Centre for Drama, Theatre & Performance Studies; Jordan Abel, Nisga'a writer from Vancouver and Assistant Professor in the Department of English and Film Studies at the University of Alberta teaching Indigenous Literatures and Creative Writing.
Click to learn more about the Lieutenant Governor of Alberta Arts Awards Foundation.
Read more on Todayville.com.
DISTINGUISHED & EMERGING ARTIST AWARDS JUNE 2022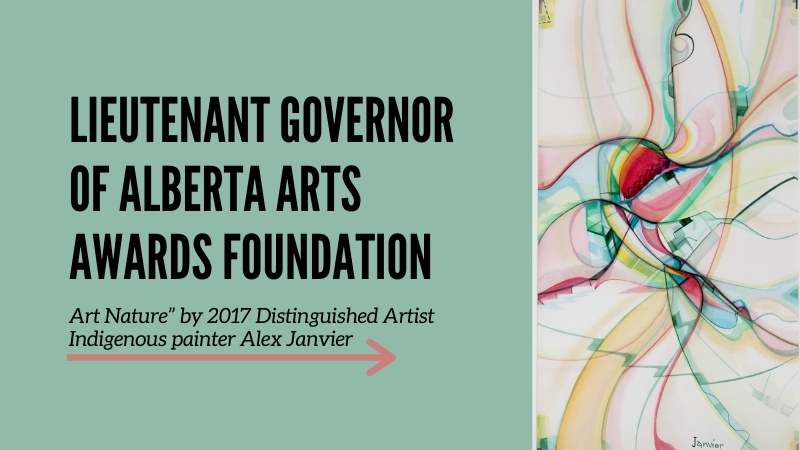 Lac La Biche County and Portage College have been making plans for a community celebration to honour three new 2021 Lieutenant Governor of Alberta Distinguished Artists. Given the ongoing COVID-19 related challenges of convening in person, Portage College, Lac La Biche County, and the Lieutenant Governor of Alberta Arts Awards Foundation have moved the celebration to June 11, 2022.
This change has provided a new opportunity: for the first time in the Awards' history, the host community of Lac La Biche County will celebrate both the 2021 Distinguished Artists and up to 10 new 2022 Emerging Artists.
Her Honour Salma Lakhani, Lieutenant Governor of Alberta, says she is looking forward to honouring the Distinguished and Emerging Artists next summer in Lac La Biche.
"I appreciate the tremendous work that the community has already invested into this special celebration, and I know that the 2022 awards will be well worth the wait. In the meantime, I offer my heartfelt thanks to all of the artists, administrators and patrons across Alberta for everything that you are doing to keep the arts a vibrant part of our lives and our communities during this extraordinary time."
The organizers look forward to hosting this prestigious event and showcasing Alberta's diverse arts scene. Their June 2022 plans include opportunities to chat with artists, outdoor community celebrations featuring an Art Walk and Market, art classes and demonstrations, an artist retreat, and a celebratory awards gala.
Click to learn more about the Foundation.