The Return of Drive-In Christianity
Just in time for Mother's Day, Deer Park Church, has re-opened the Drive In!
With the lifting of the provincial ban on Drive-Ins in Alberta by the Dr. Hinshaw last week, Deer Park Church re-instituted their popular Drive-in style church services in Red Deer.
Despite inclement weather, more than 60 vehicles and 120 individuals filled the parking lot.
"Remember to stay inside your vehicles and follow the recommendations," said Pastor Ben Elliott at the beginning of the service.  "We all want to visit but at this time we will not be having a potluck social or a greeting time."
For several weeks, the Drive-In theatre service had been suspended as per provincial orders.  Behind the scenes, discussions with the province were ongoing.
On May 6, 2020, that changed when Deer Park's Facebook post released the following information.
"Drive-In Services are back on!! We have received permission to start these again using safe social distancing practices when we gather. So, this Sunday at 10:15 am, you can choose to gather with us at our Online Service or at our Drive-In Service! Yay!"
During the service, Elliott spoke on the unique ways that God calls people to himself.
"In Acts, chapter 9, God called three people in three different ways," he said.  "Paul was blinded by a heavenly light and taken to Damascus.  Ananias, a Syrian believer, was called by God to care for Paul during prayer, and two unidentified men were inspired to rescue Paul by lowering him in a basket over the city wall."
He went on to say that Jesus calls people in all ways and he reflected on the present situation.
"We are called to not give up hope and to answer the call of God wherever we are," Ben added.  "During this time, we are being challenged in our faith walk and according to Micah 6:8 we are to 'do justice and to love kindness and walk humbly with (y)our God."
Across Canada, other churches have experimented with similar formats, most notably Aylmer, Ontario, Fort Saskatchewan, Saskatchewan, Clive, Alberta and Jeddore, Nova Scotia.
Meanwhile, as families drove away from the parking lot and waved at their friends, smiling faces said it all.
"Happy trails, until we meet again next week."
For more information on Drive In Christianity, please go to:
Smiles Thru Lindsey reaching out with a new video message and urging Albertans to look out for each other at this challenging time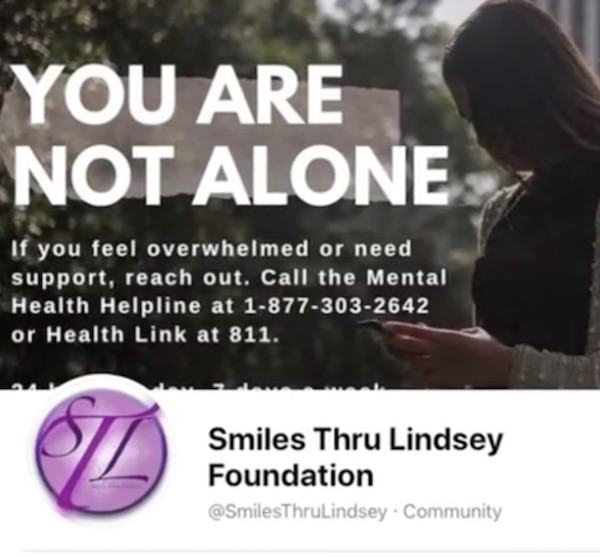 The holiday season is well behind us, we're heading into the coldest part of the winter, and although the days are starting to grow longer there's still a definite lack of daylight in our lives.  The winter blues are a real thing and this year we have COVID, a whole new serious problem to add to our mental health issues.
COVID is also the reason the Smiles Thru Lindsey team has not been able do public events for many months.  Unable to reach out physically through school visits and fund raisers, Smiles Thru Lindsey is reminding Central Albertans to check in on each other.  Also, please follow the Smiles Thru Lindsey Facebook page .  They'll lead you to the resources you or your loved ones need right away.
Meet Lindsey and the Smiles Thru Lindsey team in this powerful video.  …And remember to check in on the people in your life.
If you'd like to help Smiles Thru Lindsey with a donation please click here.
Hope, Faith and Love:  the Music Ministry of Gerard Renaud
"I feel more alive today in God than I did 20 years ago," said Gerard Renaud in the Red Deer Sacred Heart sanctuary.
The musician and worship leader had been asked by Shalom World, an international Catholic Ministry network with programs ranging from daily mass to talk shows, to provide worship music and meditations in 2019 but God had other plans.
"Shalom had come to Red Deer and put on a weekend at Sacred Heart Catholic Church and I had attended as I had never been to one before," said Renaud.  "They needed a guitarist, so I helped out and tailored my song choice to the theme of the weekend and they liked that.  Many of the international leaders were here and they invited me to be part of their Dallas event.  "
Renaud recalled that God had other plans as there were glitches in registration, so the Dallas trip was cancelled. Instead, he went to Vancouver to visit family and while he was there, he was part of 4 events with healings, music ministry and more members of Shalom management met with him!
Fast forward one year.
Early this Fall, Shalom came calling, this time they asked for two short devotions for Rejoice, one of which has already been posted (The Great Commission) and a second on Advent (Due December 18).
Communicating the grace and love of God has always been foremost in Renaud's' life.
"When I was a young man my family lived in Maple Ridge, BC, and I learned to play the guitar when I was nine years old on a 1965 Fender," remembered Renaud.  "My dad taught me 3 chords  in 1974. I credit God with giving me the talent to lean how to play and three months later, my family was the choir at St. Pats and we changed the music style to be more Avant Garde and by the time we changed churches 4 years later, church attendance was up even at the early masses."
By 1977 his family was playing up to 140 times a year in prisons, churches, and seniors' homes.
"Wherever we were wanted, we played," he said.  "The most memorable show we ever did was in 1977 at Alouette which was a medium security prison in Maple Ridge.  There were close to 200 inmates and we played during a prayer service and afterwards, we put on our regular show.  We played all kinds of music, There were not many at the service, but when we started to sing our standard set everyone left, and we were wondering what happened.  Not long later, we packed the chapel, and every wall was full!"
He noted that as a young boy of 12 he was singing 'Wasted Days and Wasted Nights,' and laughed about it.  "What does a 12-year old boy know about wasted days?  But, while we entertained our audiences, we ended up with an acapella Amazing Grace that had people in tears seeking the forgiveness of God."
Experiences like that shaped his family's music and ministry.
His spiritual journey is not restricted to music but also includes counseling and leading healing masses world-wide, a ministry that Sacred Heart has embraced for close to 3 years.
"When we had our first healing Mass in Red Deer more than 200 people came up for prayer," he remembered smiling.  "Father Tom, priest at the time, called him over and asked him a simple question, 'Where did these people come from?' I told Fr. Tom that if we hold one, they will come and they did."
Looking over the sanctuary, he continued to speak.
"But you have to remember that the Holy Spirit only moves like that after great prayer and humility, and we had spent 6 months praying every week for that," he said.  "All I did was to be obedient and do my part.  When I ministered in India, the same thing happened.  Over a couple of months, I led worship and prayed for thousands of people, some of whom I keep in contact with!  God is amazing."
When Shalom came calling, Renaud knew he had to let God speak.
The Great Commission | Gerard Renaud (shalomworld.org)
"My heart is evangelism, and I knew I had to challenge my audience with both a strong message and a powerful song so I chose 'What will you do with the time you have left,'" he said.  "We filmed it at Sacred Heart and after their editing, it debuted in early December."
He was not prepared for the impact his segment would have.
"One of the people of Shalom contacted me and told me that it had been posted in 4 countries and they had been receiving comments from Australia, Canada, Europe and the United States," he noted.  "Not only that, but even in this parish, the response from my fellow believers is amazing with people wanting to help.  Our parish priest, Father Jann wants us to produce a series of videos on faith, doctrine, and the gospels.  We are looking into equipment to help us live stream and work on our video ministry, all because of an invitation from Shalom."
Looking up at the cross, Renaud concluded with a simple statement, "If God asks something of you, do not walk away, but be obedient.  The rewards will be worth every sacrifice."
Renaud leads worship at Sacred Heart Catholic Church at the 11 a.m. Sunday Mass.