The Results have Convinced Me
The Results have Convinced Me
I have been diabetic for a while but have never cared much about monitoring it. Finally, my doctor got upset at me and suggested I pay more attention and referred me to a Family Nurse to help me get focused. The nurse was very understanding and she listened to me. She made suggestions. However, I wasn't really convinced this would make any difference. She asked me to write down everything I ate or drank and take my blood sugars regularly and write them down. I started to see trends and the errors in my ways. I decreased my intake of sweets and pop.
My A1C went from 15.8 to 7.1. I got more involved in activities. Now I walk 10,000 steps almost every day. The walking seems to help me keep everything else in line. And then the nurse suggested that I start doing regular blood pressure readings and I saw my blood pressure improve. An average reading for me now is 122/54. My doctor is really happy. My pant size decreased also. I was forced to retire a few years ago due to back issues, but I find when I exercise regularly I have much less back pain. I no longer needed pain killers.
You can see how I have become convinced that I can make a big difference in my health through my lifestyle choices. I would highly recommend anyone not paying attention to their diabetes to see a Family Nurse.
Read more success stories from real people.
Click to learn more about the Primary Care Network.
Kiwanis Club and Red Deer Twilight Homes Foundation give crucial boost to Safety City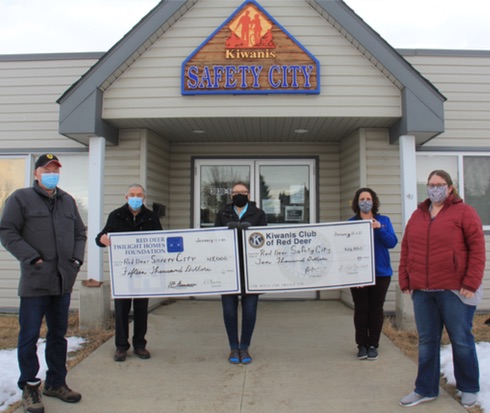 From Amy Gardner, Executive Director of the Red Deer Safety City Society
Safety City Receives Major Donations
When the Coronavirus hit Alberta, its negative impact on local businesses was considerable.  Many have not been able to reopen their doors.  Countless others have been struggling and trying their best to survive through the hardest times they have ever witnessed.  One of the hardest hit groups is Not-for-Profits.  Red Deer Safety City Society, a local non-profit, has been serving Red Deer and all of Central Alberta for the last 20 years.  Each year their programs touch the lives of around 3,800 children.  Staff, parent volunteers and teachers from numerous school divisions each spring and fall help run fun, safety-oriented courses.  In addition, Safety City operates summer camps in July and August.
Safety City relies heavily on donations as well as revenue generated through the running of their safety programs.  As a result of the pandemic considerable revenue was lost from field trips being cancelled during spring and fall.  The new safety guidelines, restricting the number of children and families that could participate in summer camps, caused the organization to take another financial hit.  Those losses caused considerable concern.  Could Safety City make it through another year?  The Executive Director, Amy Gardner, reached out to two long time supporters: The Kiwanis Club of Red Deer and Red Deer Twilight Homes Foundation.  The Red Deer Kiwanis Club was a founding member of the Red Deer Safety City Society.  Knowing the importance of the work done at Safety City, the Kiwanis Club of Red Deer and the Red Deer Twilight Homes Foundation got together to make two large donations to the Society in order to preserve the organization.
On January 15, 2021, key members from Red Deer Twilight Homes Foundation and the Kiwanis Club of Red Deer presented the Executive Director, Amy Gardner, and the Board President, Kristina Sveinson of the Red Deer Safety City Society, with donations totalling $25,000.  This money will enable Red Deer Safety City Society to continue offering their summer camps, field trips and birthday parties, when government rules permit.  These generous donations have allowed the Red Deer Safety City Society to remain a constant in our great city.
Judy's story: I'm on the healthy road!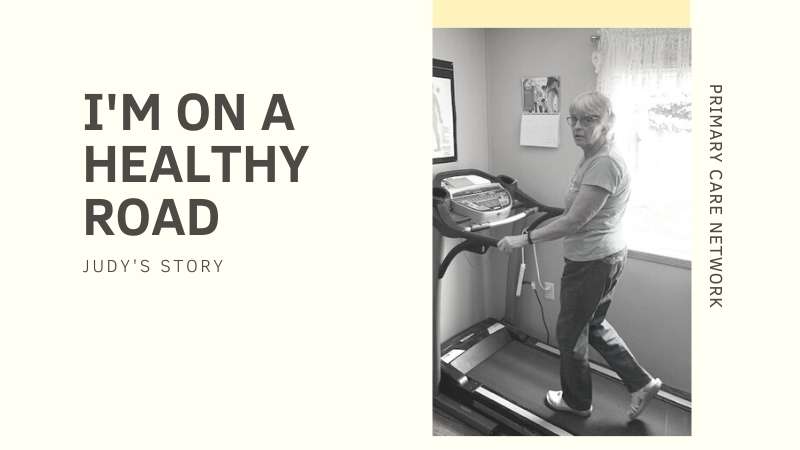 On the Healthy Road!
My journey to better health starting when my doctor told me my blood sugar was at pre-diabetes levels, my blood pressure continued to require medication and I had weight to lose.  He sent me to see the RDPCN nurse. After some appointments there, the nurse referred me to the Health Basics program.
Exercise was my downfall. Working from home, I always found something else to do rather than exercise.  Health Basics increased my awareness. I tracked what I was eating and became more aware of what I ate, when I ate and why I ate. I also realized things that would make me healthier that I wasn't doing.  I realized being healthy is a process and I took one healthy step at a time. I also became aware of the wider variety of options for healthy lifestyle.
My husband and I visited friends over the summer and noted they had lost weight.  This stimulated us to pay even more attention to our food intake. As a result of our overall efforts, I have lost about 32 pounds and my husband has lost 37. My blood sugar is now in the normal range. I have had significant decrease in my blood pressure medication. I have more energy. I enjoy exercising more as it is easier to move around and I have less arthritis pain. Health Basics is an excellent class- it started me on the healthy road. I also have much more confidence in my future health.
Click to learn more about the Red Deer Primary Care Network.
Read more success stories from the Primary Care Network.