The PM Who Tells "Made-Up" Stories To The World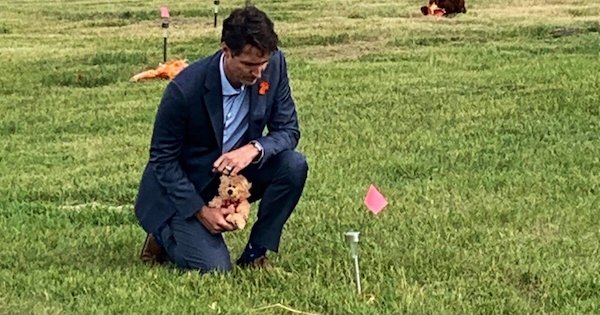 Here's a pro tip for Erin O'Toole if he wants to become PM. Promise you will never, under any circumstances, fly the flag at half mast on Canada Day.
Seems like a no-brainer, right? Well, not if you're Justin Trudeau in the throes of white liberal guilt over residential schools. On July 1 he ordered that the national colours be taken to half-mast to honour the rez children who he said had recently be "discovered" in unmarked mass graves.
To emphasize the "perfidy" of the people who'd abandoned these children to the cold earth the trust-fund product posed, head bowed, with a teddy bear at a Saskatchewan cemetery. This was to underline the message he'd been pitching for years to the international community: Canada had executed a genocide on the native peoples of Canada. His nation was inherently evil.
That's the way his paid-off media pals saw it, too. In the papers and on electronic media there were anguished calls for criminal charges, investigations of the Catholic Church. The suddenly uncovered "mass graves" (sudden to them at least) were proof of denying the past. Woke Toronto journalists competed for who could damn the killers of the Rez kids, who'd supposedly been murdered and dumped in shallow graves behind the school at midnight.
David Butt, a Toronto criminal lawyer writing in the Globe and Mail, claimed "The discovery of thousands of unmarked graves of Indigenous children on the sites of former residential schools…looks and smells like criminal activity." Activist firebrand Robert Jago said anyone questioning the validity of his own genocide allegations should be considered equivalent to "Holocaust denial" and punished as a hate-speech purveyor.
International media— pumped by Canadian activists— jumped at the story, too. Here's the UK Independent headlining "mass graves" being discovered and hinting darkly that TB deaths at rez schools wasn't accidental.
Just one problem. The 751 graves in Saskatchewan are well known and may contain white families, too, says  Cowessess First Nation band member Irene Andreas . "There is no 'discovery' of graves.  We buried our dead with a proper funeral. Then we allowed them to Rest In Peace…To assume that foul play took place would be premature and unsupported.
"All your elders have knowledge of every grave. The Band office has records from the Bishop's office, the Church board and from cemetery workers who were in charge of digging graves and burials… So please, people, do not make up stories about residential school children being put in unmarked graves. No such thing ever happened."
In his brilliant analysis of the evidence that Trudeau and Singh hype, Hymie Rubenstein (who taught and wrote about Indigenous and other cultures at the University of Manitoba for 31 years) says there has never been verified proof of even a single child killed in the century-plus the residential schools operated. No name, no body, no second-hand witnesses.
Furthermore, the sobering death rates of Rez children were in line with the terrible mortality rates for children from all causes in the years the schools were employed from 1870-2000 . (For example, researchers found that all the Alberta native children waiting for entrance into residential schools in 1912 carried TB.)
As for the charge of secretive burials, children who attended the schools testified to having attended Christian burials for children who died. There was no disrespect in their burials. On the the issue of "unmarked graves', native bands rarely marked graves after mourning the dead both young and old. That's if they marked them at all. Chief Joe Pierre of the ʔaq'am in Cranbrook, explained, "Graves were traditionally marked with wooden crosses and this practice continues to this day in many Indigenous communities across Canada. Wooden crosses can deteriorate over time due to erosion or fire which can result in an unmarked grave."
No matter. Trudeau is happy to foment international rage against the Church and the politicians of the day if it helps him get re-elected in September. His teddy-bear stunt served to deflect from his abject failure on the indigenous-peoples file and his high-profile firing of Kwak'wala member Jody Wilson Raybould as his justice minister. As always he knew a sympathetically curated media lie would be around the world before the facts (in Churchill's words) could ever get their pants on. His purchased press would see to that.
The man who wants another mandate as PM so he can vilify Canada to the world has plenty of political cover. The NDP leader Jagmeet Singh, the bespoke socialist, visited the Saskatchewan cemetery to claim, "This is a crime of genocide, the worst crime possible. And what we need to do is prosecute it like a crime." Looking to create an election issue he demanded an independent prosecutor.
There is bad news for Singh's pandering demand that charges be laid now using modern ground-penetrating technology.  Kisha Supernant of the University of Alberta explained to the National Post, "What the ground-penetrating radar can see is where that pit itself was dug, because the soil actually changes when you dig a grave." But bodies or evidence of foul play? As Supernant notes, the technology "doesn't actually see the bodies (or coffins). It's not like an X-ray."
The final and most damning charge levelled by Trudeau and the radicals against their own nation is that of genocide. That from 1867- present Canada conceived and perpetrated a slaughter on the order of the Nazi Holocaust (1940-45) or the Armenian massacre (1915-17) or the Rwandan mass killing of Tutsis (1994). Despite the fervent support of progressive media they have fallen short.
According to the UN Convention's formal post-1948 commentary, "To constitute genocide, there must be a proven intent on the part of perpetrators to physically destroy a national, ethnical, racial or religious group. Cultural destruction does not suffice."  The Truth and Reconciliation Commission's Final Report, in 2015, tried hard to equate the treatment of natives in residential schools with genocide, before settling for the legally inert term cultural genocide, one Trudeau, Singh and the Canada haters immediately abridged to genocide.
While that has spurred radicals to destroy the name and statues to John A. Macdonald, the facts don't support a charge of genocide against him and successive government. As Rubenstein points out, "Macdonald quadrupled Ottawa's native budget to deal with the crippling Western famine in the early 1880s. This event was caused by the collapse of the Prairie bison herds, an outcome over which Canada had absolutely no control; nonetheless, Macdonald mustered substantial government resources to meet the challenge.
"Consider also that Ottawa successfully vaccinated almost the entire native community against smallpox at great expense and effort, virtually wiping out this highly contagious killer among a people with no natural immunity to the disease." Hardly sounds like the actions of a government intent on genocide.
This led Irwin Cotler, chair of the Raoul Wallenberg Centre for Human Rights and former Minister of Justice and Attorney General of Canada, to note, "If we say everything is a genocide, then nothing is a genocide."
Certainly the pain and tragedy felt by many Rez school children was real. And their treatment in regards to cultural and language issues, in the fullness of time,  looks unacceptable by today's standards. Like the 100,000 British Home Children shipped to Canada in the same era to work as indentured slaves to farmers and others— often against their parents' wishes— there are many unknown graves of those who didn't survive. It is a period we devoutly wish we had to do over again.
But the memories of those children are stained by the self-serving political theatrics of today's politicians who seek to run a country they're spent years denigrating to the world. Remember on September 20 that a vote for Trudeau and Singh is a vote for those who exploit innocent dead.
Bruce Dowbiggin @dowbboy is the editor of Not The Public Broadcaster (http://www.notthepublicbroadcaster.com). The best-selling author of Cap In Hand is also a regular contributor to Sirius XM Canada Talks Ch. 167. A two-time winner of the Gemini Award as Canada's top television sports broadcaster, his new book Personal Account with Tony Comper is now available on http://brucedowbigginbooks.ca/book-personalaccount.aspx
Far From The Madding Covid Crowd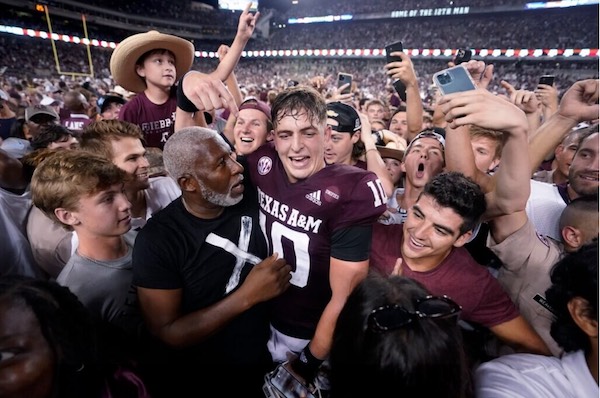 "The pandemic will end not when some arbitrary government mandated goals are met. It will end when people decide it should end. Texas has decided". Dr. Eli David
There's a Terminator quality to the mandatory-vaccine resistance movement. Ridiculed, fired, forbidden from dining, prohibited from flying… they abide. The often-imitated but never-duplicated Media Party has demonized them, while police strong-arm them at the mâitre 'd table.
And yet. Saturday there were 106,000 people gathered for the Alabama/ Texas A&M football game in College Station, Texas. Oblivious to the admonishments about masking, distancing, vaccinations and relentless PSA pounding they were in full-throated rapture about being jammed together like Hebrew National frankfurters.
They weren't alone. The NFL featured a huge crowd in London, England, for the Jacksonville/ Atlanta neutral-site game. And now the NHL opens its schedule (with some vaccination restrictions) this week to largely open arenas— with the NBA on the way.
You'd almost think they'd been lied to about Covid-19 being stopped by hand sanitizer (never!) . What is going on here? Do they not understand this is risky behaviour according to Dr. Fauci? Haven't they seen the un-vaxxed regretting their behaviour on TV from a hospital bed?
Or the texts that ask why Scotiabank Arena can host 16,000 screaming fans while families are told by the always-helpful Liberal shill Patty Hajdu to stay at home for Thanksgiving, tell the family not to come over and, egad, don't travel to see Grandma and Grandpa. What a bunch of yokels they must be.
In fact, despite the attempts to portray them as Pappy Yokums, almost all these people are now cognizant of the risks. Despite Big Tech censoring opposing viewpoints, they grasp the data. But they have had enough of the pandemic mentality. Specifically, they've turned off the righteous and moral wrath of the expert class. They want their lives back.
They have had their fill of being told by the knowledge industry how dumb they are with their online "prohibited claims". They're not worrying every moment about a 99 percent chance of surviving the virus with nothing more than a scratchy throat or a blocked sinus. They've seen too many deadlines come and go.
As Nate Silver of FiveThirtyEight observed,  "Low-probability risks are hard for our brains to compute, period. And after a year+ of having our brains rewired by (often legitimately very scary) COVID risks, it's even harder now." Author/ cartoon list Scott Adams notes, "Dear government, What level of virus risk do we need to reach before ending all mandates and restrictions? If you don't have a target, don't expect compliance."
Right now they only see word salads about certainty from laptop experts and disgraced politicians. And so the football fans in Texas are deciding the next move in the pandemic progress.
Or perhaps it's the employees of Southwest Airlines— whose work-to-rule campaign this week in protest of the mandatory vaccine policy of the airline— who have decided (United Airlines employees are said to be replicating the walkout). Or what look to be longshoremen unions and employee groups who resent being the whipping post for authoritarian behaviour. They are threatening to grind the economy to a near-halt to convince Biden to cease his demonization of anyone who has a different opinion.
It's a demonization that targets Biden's critics, says author Steven Pinker. "There is a myth that 'cancel culture' is a myth. But literally hundreds of scholars have been targeted, & a majority of the attacks result in punishment, often firings." To say nothing of Biden celebrating the firings of airline, rail and automobile industry workers in his latest tele-prompter ramble.
The crisis he's inviting, in case you didn't know, is caused by just 775 people in Canada who have serious or critical Covid-19 infections. And that, in a country of 38 million, has crippled our healthcare system. Here's Canada "overflowing with Covid" situation: 96,000 hospital beds; 2,700 allegedly with Covid-19. Ergo, 2.8 percent of hospital beds in Canada are reportedly Covid patients.
This is a Healthcare® fail not a virus problem. And Patty Hajdu, whose government can't sell ice cream in the desert,  wants you to shelter in place. Fans in football stadiums are united in saying "stuff it".
Apparently the public has computed the unreliability of the media, and— like MLB hitters turning down the shift to accept the easy bunt—are taking steps to reclaim their lives from the Fear Merchants. As long as fear won, the entrenched interests sought to exploit the observation of Canadian psychiatrist J.T. MacCurdy. "We are all of us not merely liable to being afraid. We are also prone to being afraid of being afraid."
What we now are— perhaps— seeing is an epidemic of people casting off fear. It might be the most healthy thing they've done since March of 2020Bruce Dowbiggin @dowbboy is the editor of Not The Public Broadcaster (http://www.notthepublicbroadcaster.com). The best-selling author of Cap In Hand is also a regular contributor to Sirius XM Canada Talks Ch. 167. A two-time winner of the Gemini Award as Canada's top television sports broadcaster, his new book with his son Evan is called InExact Science: The Six Most Compelling Draft Years In NHL History is now available on http://brucedowbigginbooks.ca/book-personalaccount.aspx
Insubordination: Why Black NBA Stars Don't Buy The Vax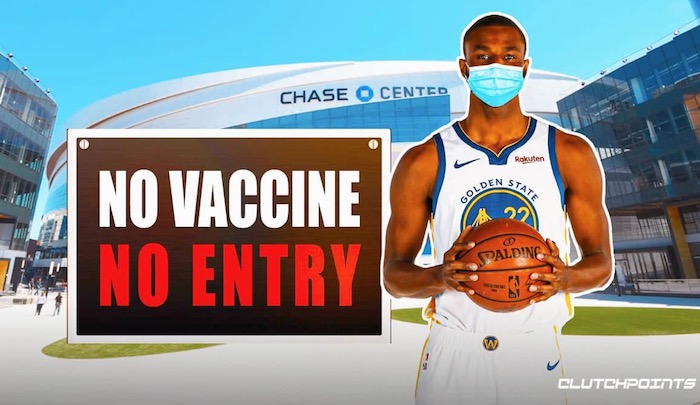 Canadian NBA star Andrew Wiggins was supposed to be known as a superstar when he was drafted No. 1 overall by Cleveland in the 2014 draft. Now, after seven seasons of mixed playing results, he may instead be best known as the guy who said no to the NBA on their mandatory vaccination rules.
In a delicious irony, he exposed the patronizing double standard of hyper-liberal white NBA media— which fanatically protects black players through every hypocrisy. Until now. And Wiggins, inadvertently, exposed the dirty secret about vaccine resistance: it's not Ted Nugent, bow-hunting whites leading the idealogical resistance.
It's people in the black community who, by a large margin, are telling Joe Biden and his liberal pals (gasp) that, while everyone else submits, dissent is their  God-given right in America. In New York City, devastated in 2020 by Covid-19 and governor Andrew Cuomo's ineptitude, roughly 72 percent of black New York City residents aged 18-44 are now banned banned from entering dining establishments, because they remain stubbornly unvaccinated.
In Florida, Black people have received 9 percent of vaccinations, while they make up 15 percent of cases, 17 percent of deaths, and 15 percent of the total population. (White people received a higher share of vaccinations compared to their share of cases in most states reporting data. )
The percentage of white people who have received at least one COVID-19 vaccine dose (53 percent) was 1.2 times higher than the rate for Black people (45 percent) as of September 20, 2021. This despite the pleading from race hustlers like CNN's Don Lemon ('It's Not About Freedom, It Is About Public Health') to force blacks to submit to the pressure for a jab.
Wiggins, now with the Golden State Warriors, refused to take the vaccine since his request for a religious exemption was denied. League rules say Warriors players must follow the guidelines of California, the home state of the Warriors. No needle, no playing at the Chase Center for Wiggins. That led the media in squishy NoCal to ask Wiggins' teammate Draymond Green if he'll pressure Wiggins to take the jab.
They didn't get what they expected— or wanted. "It's not my place or my business on whether he gets vaccinated or not — it's your own personal choice at the end of the day what you do with your body. It's not my place to tell him what he should or shouldn't do with his. Because he's not going to come tell me what I should do with my body."  [UPDATE: Golden State coach Steve Kerr now says Wiggins has had the vax. Wiggins insists he was forced. ]
Vax nothwithstanding, Green says, "We're dealing with something that, to me, feels like (it) has turned into a political war, when you're talking about vaccinated [people] and non-vaccinated [people]," "I think there is something to be said for people's concern about something that's being pressed so hard. Like, why are you pressing this so hard? You're pressing and pressing and pressing."
Green continued, "You say we live in the land of the free. Well, you're not giving anyone freedom, because you're making people do something essentially… That goes against everything America stands for."
In Washington, Wizards star Bradley Beal echoed Green's comments. "I would like an explanation to people with vaccines – why are they still getting COVID if that's something that we are supposed to highly be protected from?… It's funny that it only reduces your chances of going to the hospital. It doesn't eliminate anybody from getting COVID. Right?"
"Some people have bad reactions to the vaccine," Beal said. "Nobody likes to talk about that. And what happens if one of our players gets the vaccine and they can't play after that or they have complications after that? Because there are cases like that. But I feel we don't talk about those as heavily, because they're so minute maybe. But they are existent."
Fellow NBA stars Kyrie Irving and Jonathan Isaac echoed Beal and Green on their right to decide. (Here's Isaac dunking on Rolling Stone . Worse for vax boosters, the league's bell cow, LeBron James, echoed the feminist diktat that it wasn't his place to tell anyone what they can take in their body.
That brought out the hate from the press box, a hive of liberal/ progressive white thought if there ever was one.
"Draymond Green joins All-Hypocrisy team for vaccine stance" bugled there New York Daily News.
"Stop letting NBA anti-vaxxers spout COVID-19 misinformation" announced Yahoo.
"Bradley Beal Smugly Parades Ignorance On Covid Vaccines" pronounced Mediaite.
"On vaccines, NBA players are being told to shut up and dribble" noted  the Washington Examiner.
The supposed kill shot in all these jeremiads is the new dagger of promoting "misinformation" (as if the Media Party didn't do exactly that on Jussie Smollett, the Covington Kids, RussiaGate, Hunter Biden's laptop and 150 more. ) "Misinformation" now being the all-purpose cleanser for thought disapproved by Facebook, Twitter, Wikipedia and other tech oligarchs.
For the righteous knowledge industry, hearing both sides is now a quaint artifact of the past, like John Phillip Souza band music. As we wrote Nov. 23, 2020. "The sale has been made by those in authority. They call the shots. No one is allowed to dissent. That was the end game.  And there's no going back when the Woke media warns you that resistance will invite the cancel culture to ruin your life. This is the new reality. Get used to it. And if you value your freedoms, tough luck."
Almost a year later black NBA stars, of all people, are the ones making this point to the civil libertarians or free-speech liberals that freedom is for everyone, not just for those with whom you agree. Who'd have thunk' that?
Bruce Dowbiggin @dowbboy is the editor of Not The Public Broadcaster (http://www.notthepublicbroadcaster.com). The best-selling author of Cap In Hand is also a regular contributor to Sirius XM Canada Talks Ch. 167. A two-time winner of the Gemini Award as Canada's top television sports broadcaster, his new book with his son Evan is called InExact Science: The Six Most Compelling Draft Years In NHL History is now available on http://brucedowbigginbooks.ca/book-personalaccount.aspx