Gerry Feehan Receives the Legendary Invitation, A World Famous Newfoundland Tradition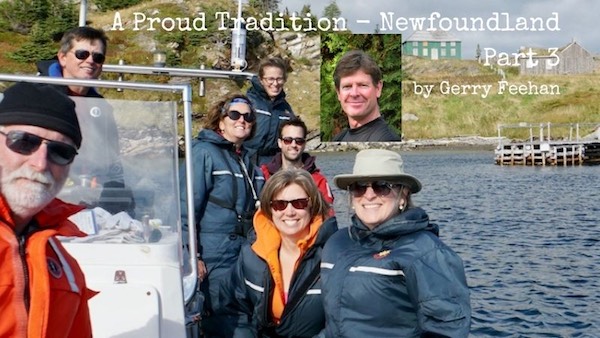 11By Gerry Feehan
This is the third of four parts in the Newfoundland series. Scroll down to find Part 1, Gros Morne, and part 2 North America's Oldest European Settlement
If Newfoundlanders weren't so damn friendly we'd have been on time for our Jiggs dinner.
Terra Nova National Park is situated in eastern Newfoundland, 399 sq km of rugged rock, trees and wetland, wrapped around idyllic fingers of Bonavista Bay. The Trans-Canada highway bisects the park, then continues southeast toward Come by Chance and eventually the capital, St. John's, on the Avalon Peninsula. It was early October. Terra Nova was still open for business, but quiet, so we had our choice of primo campsites. As we checked in I grabbed a bag of firewood. It was going to be a cold night, with frost expected. The ranger stopped me, "No sense you paying for wood. The folks in site 17 just bought a big load. Just go over and join them when the fire starts."
And so we did. And that's how we met Burkey and Bev. Even before we reached their roaring fire, Burkey spotted us timidly approaching from the shadows, and without a word, pulled out spare chairs and began pouring drinks. It was Thursday before Thanksgiving. The Burkes were setting up camp, preparing for the arrival of friends and family, and prepping for the big occasion: Sunday's Jiggs dinner. After a fun evening of chatter (interspersed with a few tunes from my ever-present ukulele) we rose to bid adieu. "You'll come for dinner Sunday?" asked Barb. I did some quick calculating. We had a week left on The Rock but had yet to visit St. John's. Plus there was the Irish Loop and Bonavista Peninsula to explore. And we had a long drive back west to Port Aux Basque, almost 1000km, in order to catch the ferry on Tuesday.
"Sure," I said.
On Sunday we awoke to a gorgeous morning at the Cabot Highway RV Park, a few kilometers from the town of Trinity, on Bonavista Peninsula. (The intervening 3 days and our St John's/Avalon/Irish Loop drive will be recounted in the fourth and final yarn of this series.) When we reached Trinity I headed straight through town, bound for the local pier, as I am wont to do. Preoccupied by the brightly painted clapboard homes, 19th century church spires and scenic fishing stages (houses hanging over the water used for cleaning cod), I failed to observe that the roadway was becoming dangerously narrow.
We ended up trapped on the town boat ramp, pointed seaward. There was no way to turn the motorhome around. Florence was starting in on my (justly-deserved) beratement when a boat pulled up to the wharf. "What are you after doing down there, b'y?" asked the operator with an amused look. With his guidance I was able to slowly reverse position and get the RV pointed away from the slippery slope and safely back toward land. I offered my thanks. "No trouble," said he, bobbing in his boat. "I'm taking friends out for a tour of the bay this lovely morning. Would you and your wife like to join us?" I did some more calculating. It was a two-hour drive back to Terra Nova. Jiggs dinner was at 3pm. "We'd need to be back to shore by 1pm," I said. "No worries," he replied, "I'll have you at the dock by noon at the latest."
It was a fantastic outing. Skipper Bob and his partner Bonnie run www.trinityecotours.com. The tourist season was almost over and the day's trip was just for fun. Although the usual fare is $90 a person, they refused to take our money. We followed the rugged coastline, where the remains of the ancient Appalachian Mountains slip into the sea. In Trinity Bay, while a whale spouted to starboard, we came alongside a fisherman hauling up net and cleaning cod. He offered us a bag overflowing with fillets and, with the waive of a hand, made it clear he wouldn't accept payment.
As we motored into a protected, hidden bay, the remains of a long-abandoned village came into view. Bonnie told us, "This place is known as Ireland's Eye. On the other side of the island is a spot called Black Duck Cove. That's where my dad lived until he was 11years old.  In the mid 50's the government began a resettlement program to get people who lived on remote islands to move to the mainland where there would be better access to services like hospitals and schools."
In some respects it was forced relocation. Many people, rather than abandon their homes, floated their lodgings to the mainland communities. "The old place on Ireland's Eye was left behind but my grandfather floated a house from Pope's Harbour to New Bonaventure in August 1965. It was a saltbox style, with the porch and bathroom added later."
Life was hard on The Rock 50 years ago.
Time flies when you're playing on the ocean. It was after 2pm when Bob idled the boat back into the marina. We bid a hasty thank-you and adieu and raced for Terra Nova. When we arrived at the campground it was getting dark. All sites were vacant save one. Bev and Burkey were just breaking camp, headed back to Clarenville.
"We are so sorry," I apologized. "No problem," said Bev. "You said you were coming for scoff so I knew you'd be here. I did up a couple of plates. They're still warm."
A traditional Newfoundland Jiggs dinner consists of turkey, dressing, gravy, bread pudding, carrots, turnip, cabbage, mashed potatoes, pease pudding, figgy duff – and boiled salt beef. For dessert Barb likes to do blueberry crumble and partridgeberry cake topped with hot vanilla sauce. Simple really. And easy to whip up, especially from the cramped confines of your trailer, in a campground, in the cold. Each platter held enough food for three Jiggs dinners. Burkey laughed and told us that a Newfoundlander's idea of fine dining is a full plate. I offered him two fresh cod fillets and, although it was a little like carrying coals to Newcastle, he graciously accepted.
Florence and I were the only campers in Terra Nova that night. As they drove away Burkey said, "No sense you buying firewood, there's plenty left." Bev waived goodbye and they rolled out of our lives.
I looked at the overflowing feast, loosed my belt and dug in.
Next time: St John's and the Irish Loop
Gerry Feehan is an award-winning travel writer and photographer. He lives in Kimberley, BC.
Gerry Feehan is an award-winning travel writer and photographer. He and his wife Florence live in Kimberley, BC!
Thanks to Kennedy Wealth Management for sponsoring this series.  Click on the ads and learn more about this long-term local business.
Gerry Feehan takes us to North America's Oldest European Settlement
Click to read more travel stories.
Revisiting the "All-inclusive" in Cozumel – by Gerry Feehan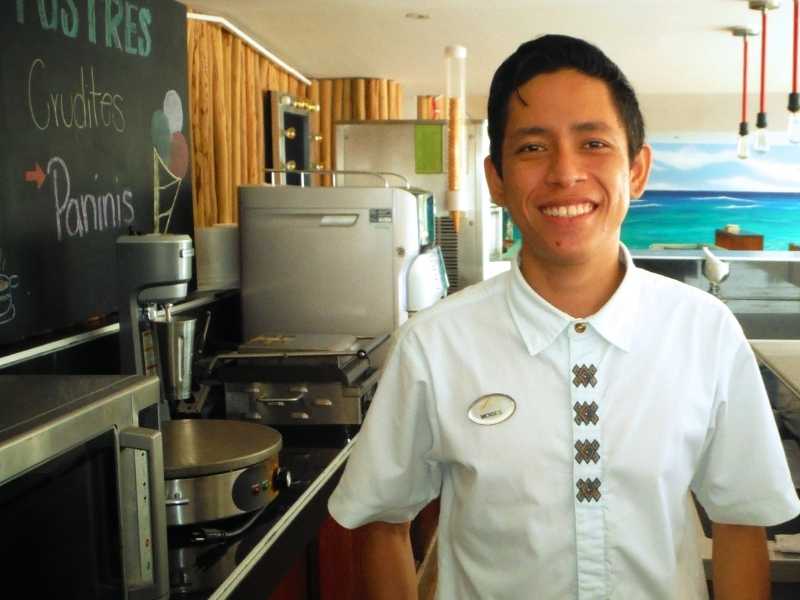 What could be finer than swimming in a warm ocean, peacefully drifting over a colourful coral reef, snorkeling amidst a myriad of tropical fish? In my estimation, not much. And one of earth's finest snorkel sites is the Island of Cozumel, in Mexico's Yucatan Peninsula.
Or at least it was until Hurricane Wilma hit in 2005. The most intense tropical cyclone ever to strike the Atlantic, Wilma pummeled the Yucatan, flattening buildings and killing scores of people. But the death and destruction was not limited to land. The churning storm surge also destroyed life under water.
Cozumel is situated along the world's second largest barrier reef. The Great Mayan Reef stretches from Mexico's Yucatan 1000km south to Belize in Central America.
When Wilma finally passed, resorts that formerly advertised "walk-in" snorkeling were suddenly left with ocean desert—broken chunks of dead coral lying in a watery grave. Until then Cozumel had been high on our bucket list. Wilma moved it down a few notches.
There was a time when a Mexican all-inclusive was our go-to vacation; a cheap week on the Mayan Riviera where food was plentiful (if not particularly appetizing) entertainment was non-stop—and best of all, the Corona flowed freely. But those days passed and we gradually moved on to more exotic—and expensive—vacations. So my expectations were not high when we decided to go retro and check out the Fiesta Americana all-inclusive on Isla de Cozumel's leeward coast. Would the snorkeling be good? Would the resort be serving up Montezuma's Revenge for lunch?
It didn't take long for all-inclusive nostalgia to kick in.  The first day at the pool we watched a couple of hefty strangers drink themselves into a stupor and pass out before noon in the searing tropical sun. While I am as big a fan of the swim-up bar as the next guy, we were here primarily for the ocean experience.
Cozumel's currents are notoriously powerful, so that afternoon we walked up the beach half a kilometer, donned our gear and enjoyed a frighteningly quick drift back to the resort. Happily, a decade-and-a-half after Wilma, the reef is showing signs of recovery—tiny colourful fish darted in and out of small but healthy new coral formations.
The following morning I booked a drift dive with a local scuba operator. We motored out to Palancar Reef in Arrecifes de Cozumel National Park, jumped overboard, descended 20 meters and floated through the famed Coral Gardens. It was magical. This deeper reef was unaffected, with pristine red, green, purple and orange coral heads glowing brightly in crystal-clear water. And the sea creatures—sea stars, lobsters, small crustaceans and a multitude of reef fish—were everywhere.
The next day we rented a jeep convertible for the obligatory circumnavigation of the island. We peeked in at some of the fancy resorts on the protected west shore before driving up Cozumel's rugged windward side where rough seas wave in from the open Caribbean, pounding the unpopulated eastern coastline. En route we stopped for a swim at Punta Sur on Cozumel's southern tip. Warm calm waters greeted us. We snorkeled over a shallow sandy bottom, admiring large coral heads and schools of damselfish and wrasses. A puffer fish inflated itself defensively, comically. Then we drifted into a garden of sea fans. Acres of purple, pink and mauve giants swayed softly just below the surface. Miraculously, this tip of Cozumel had avoided Wilma's random fury.
The ocean is not Cozumel's only attraction. When a new ring road was built around the island, local leaders had the wisdom to leave the old highway in place, close it to motorized traffic and convert the road to pedestrian and bicycle use. Now cyclists from around the globe come every November to participate in the annual Cozumel Gran Fondo, nicknamed "the world's most beautiful bike ride."
The Fiesta Americana had a few rusty bicycles available for patron use and, although these old contraptions had been exposed to the briny sea air for years, still it was fun to pedal around the island. We engaged in our own Petit Fondo, from the Fiesta down the coast to Playa Palancar. Our clocking for the twenty-one kilometer return trip was a respectable 60 minutes—excluding the three and a half hours we spent at the Palancar Beach Bar.
The staff at Fiesta Americana was embarrassingly polite and helpful. Early on we became attached to young Moises who manned the coffee and pastry bar in the open-air lobby. By the third morning I had no need to order. While we made poquito talk en Español, he'd whip me up a double café con leche. Moises, eighteen, worked 10 hours a day, six days a week at the resort—for about $20 a day. He didn't live on the island—too expensive. Every day he endured a ferry commute from the mainland. And yet I'm not sure when I last met a happier, more positive person.
One morning I was feeling self-pity over some trivial e-mail I had received. As Moises handed me my coffee, he asked if everything was okay. I felt like going back to our lovely ocean-view suite and giving myself a very hard look in the mirror—but instead I just ordered an extra helping of bacon with my scrambled eggs. The food at the Fiesta was really good—more than palatable.
So our nostalgic all-inclusive experience was a success—and a heck of a lot simpler and cheaper than organizing one's own tropical tour. And the entertainment? Awesome—particularly when the two chubby drunken fellows reappeared bashfully on day two, pale as ivory on one side, red as a Caribbean lobster on the other.
Our visit to Cozumel was pre-Covid—but Mexico is open for business again!
Gerry Feehan is an award-winning travel writer and photographer. He lives in Kimberley, BC.
Thanks to Kennedy Wealth Management for sponsoring this series.  Click on the ads and learn more about this long-term local business.
Gerry Feehan explores Cape Breton Island
The Canso Causeway connects mainland Nova Scotia to the island of Cape Breton. As we drove across the span on a crisp autumn day, the ebb tide was pulling westward, hard through the Canso Strait. We stopped at the Port Hastings visitor's centre where a pleasant woman bid us welcome and told us we were in luck, "You're just in time for the Celtic Colours." Being an observant fellow, I had already noted the changing season—the brilliant oranges and reds of the Maritimes' fall foliage. And I smartly told her so. "Oh, no," she laughed, "Celtic Colours isn't about the leaves. It's our annual autumn festival." For nine days every October the entire island hops with a chorus of Cape Breton traditions: ceilidhs, live music, spoken word and dance performances, all celebrating the island's rich history and culture.
But before we did any festival going, it was exploration time. Cape Breton is a marvel of twisting vistas, glorious hikes, great food—and friendly people. En route to the world-renowned Cabot Trail in Cape Breton Highlands National Park we took a circuitous path, skirting Bras D'Or Lake (not really a lake, more a brackish inland sea). Along the lakeshore near Big Pond we stopped and paid homage to Rita McNeil at the late singer's eponymous Tea Room. When we finally arrived at Ingonish Beach Campground on the National Park's southeast border, it was late in the day. We ate dinner and hit the hay. There was a big hike planned for the morning: Franey Trail, a long steep climb to a panoramic viewpoint from which one looks down on the Clyburn River canyon spilling into the Atlantic Ocean. Admiring the view at the summit, we chatted quietly with a young local couple who were proud to tell us the history of the region, their Scottish heritage and the hard lives their ancestors had endured on land—and at sea, which they wistfully stared out as they shared the memory.
That evening we dined luxuriously at the historic Keltic Lodge and later, over a digestif in the leathery lounge, struck up conversation with a European tourist. "Don't you think Cape Bretoners are the friendliest people on earth?" I asked. We had been overwhelmed by Maritime hospitality. Looking puzzled, he answered dryly, in a thick accent, "I have had only a few weeks here, so I am not yet able to arrive at this conclusion." Tough sell, those Germans.
When we awoke the air was cool, crisp and clear—a perfect day for an autumn sojourn on the Cabot Trail, which loops for 298km around the northern tip of Cape Breton. We cruised counterclockwise from Ingonish. Our first stop was White Point where the harsh Atlantic  batter stony cliffs along the island's unprotected north shore. Then we began a twisting ascent through the lush Acadian forest to Cape Breton's central highlands. The display of foliage was magical. Maple, beech and birch all boasted their brightest fall colours in hues of red, orange and yellow. And, as if frozen in the windless air, the trees had yet to drop a single leaf. It was a palette of autumn perfection.
I pulled the motorhome into a serene overlook. Florence and I sat in silence, gazing through the windshield at the crimson and gold majesty. Suddenly, and before I could exit the vehicle to snap a picture, three vanloads of tourists pulled in, sprung from their seats and began frantically taking photos. Abandoning the hope of any verdant solitude, I instead jumped into the cacophonous human fray and started taking shots of tourists taking pictures.
We set up camp that evening at quiet MacIntosh Brook near Lone Shieling, where 350 year-old sugar maple trees stand sentinel over a long-abandoned Scottish crofter's hut. Despite the quiet, I didn't sleep well that night, for there was a menacing giant lurking in my future: Cabot Cliffs Golf Links.
You may have read my charming story about golf in Ireland – and how the Irish courses were the most beautifully humiliating courses I had ever encountered. Well, Cape Breton Island has retained its Celtic tradition not only in music and dance but also in its fondness for brutal but alluring links golf. Cabot Cliffs is equal to the best of its turf cousins across the sea. I was fortunate to secure a tee time—and a private caddy—to enjoy this spectacular course.
After the (humbling) golf interlude, we re-dedicated ourselves to exploration by foot with a last hike, on the Skyline Trail on Cape Breton's west coast. Although crowded, the traipse was enjoyable and the ocean views breathtaking. On a clear day (which we experienced) one can see the white cliffs of Quebec's Magdalen Islands shining distantly in the Gulf of St Lawrence.
With tired feet—and badly in need of food and drink—we arrived late at Cheticamp Campground. I noticed a sign announcing that the Harbour Restaurant in this quaint Acadian village offered a free shuttle for patrons. I phoned, booked a reservation and requested a ride. 15 minutes later a car pulled up to our campsite and a pleasant lady with a French-Canadian accent said, "Hop in." It was Lorraine LeBlanc, the restaurant owner. And after a great chow down on Morue en Cabane (slow-cooked cod, chives and pork scraps) and Lorraine's famous Apple Garden cake, she returned us to our campsite. Now that's Cape Breton hospitality! Despite my inherent thriftiness, I left a reasonable tip.
Our time in the Highlands was coming to an end and still there was the Celtic Colours to enjoy. The festival venues are island-wide but many artists bunk each night at the Gaelic College in St Ann's near Baddeck (Alexander Graham Bell's summer stomping grounds). Widely scattered venues result in a long, dark drive on narrow roads back to St Ann's after a day of performing. But for the tireless musicians the party carries on—with impromptu jam sessions lasting well into the wee hours.We arrived in St Ann's on the last night of the Festival. We boon-docked in the Gaelic College parking lot. The Celtic Colours finale was scheduled to begin very late, past 12:00am—and well past our bedtime—so, after a parking lot BBQ, we lay down for a disco nap, awaking after midnight to the sound of instruments being tuned. It was a raucous evening, hosted by the effervescent humour of singer-songwriter Buddy MacDonald. It was past 4 am when the last fiddle was packed unwillingly into its case. We trundled off to bed…  and enjoyed a well-deserved Celtic sleep in.
Gerry Feehan is an award-winning travel writer and photographer. He lives in Kimberley, BC.
Thanks to Kennedy Wealth Management for sponsoring this series.  Click on the ads and learn more about this long-term local business.