Gerry Feehan Receives the Legendary Invitation, A World Famous Newfoundland Tradition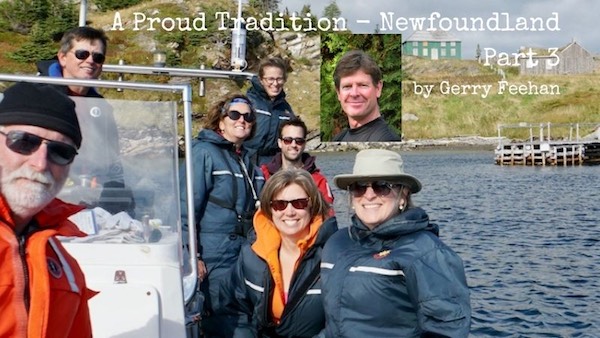 11By Gerry Feehan
This is the third of four parts in the Newfoundland series. Scroll down to find Part 1, Gros Morne, and part 2 North America's Oldest European Settlement
If Newfoundlanders weren't so damn friendly we'd have been on time for our Jiggs dinner.
Terra Nova National Park is situated in eastern Newfoundland, 399 sq km of rugged rock, trees and wetland, wrapped around idyllic fingers of Bonavista Bay. The Trans-Canada highway bisects the park, then continues southeast toward Come by Chance and eventually the capital, St. John's, on the Avalon Peninsula. It was early October. Terra Nova was still open for business, but quiet, so we had our choice of primo campsites. As we checked in I grabbed a bag of firewood. It was going to be a cold night, with frost expected. The ranger stopped me, "No sense you paying for wood. The folks in site 17 just bought a big load. Just go over and join them when the fire starts."
And so we did. And that's how we met Burkey and Bev. Even before we reached their roaring fire, Burkey spotted us timidly approaching from the shadows, and without a word, pulled out spare chairs and began pouring drinks. It was Thursday before Thanksgiving. The Burkes were setting up camp, preparing for the arrival of friends and family, and prepping for the big occasion: Sunday's Jiggs dinner. After a fun evening of chatter (interspersed with a few tunes from my ever-present ukulele) we rose to bid adieu. "You'll come for dinner Sunday?" asked Barb. I did some quick calculating. We had a week left on The Rock but had yet to visit St. John's. Plus there was the Irish Loop and Bonavista Peninsula to explore. And we had a long drive back west to Port Aux Basque, almost 1000km, in order to catch the ferry on Tuesday.
"Sure," I said.
On Sunday we awoke to a gorgeous morning at the Cabot Highway RV Park, a few kilometers from the town of Trinity, on Bonavista Peninsula. (The intervening 3 days and our St John's/Avalon/Irish Loop drive will be recounted in the fourth and final yarn of this series.) When we reached Trinity I headed straight through town, bound for the local pier, as I am wont to do. Preoccupied by the brightly painted clapboard homes, 19th century church spires and scenic fishing stages (houses hanging over the water used for cleaning cod), I failed to observe that the roadway was becoming dangerously narrow.
We ended up trapped on the town boat ramp, pointed seaward. There was no way to turn the motorhome around. Florence was starting in on my (justly-deserved) beratement when a boat pulled up to the wharf. "What are you after doing down there, b'y?" asked the operator with an amused look. With his guidance I was able to slowly reverse position and get the RV pointed away from the slippery slope and safely back toward land. I offered my thanks. "No trouble," said he, bobbing in his boat. "I'm taking friends out for a tour of the bay this lovely morning. Would you and your wife like to join us?" I did some more calculating. It was a two-hour drive back to Terra Nova. Jiggs dinner was at 3pm. "We'd need to be back to shore by 1pm," I said. "No worries," he replied, "I'll have you at the dock by noon at the latest."
It was a fantastic outing. Skipper Bob and his partner Bonnie run www.trinityecotours.com. The tourist season was almost over and the day's trip was just for fun. Although the usual fare is $90 a person, they refused to take our money. We followed the rugged coastline, where the remains of the ancient Appalachian Mountains slip into the sea. In Trinity Bay, while a whale spouted to starboard, we came alongside a fisherman hauling up net and cleaning cod. He offered us a bag overflowing with fillets and, with the waive of a hand, made it clear he wouldn't accept payment.
As we motored into a protected, hidden bay, the remains of a long-abandoned village came into view. Bonnie told us, "This place is known as Ireland's Eye. On the other side of the island is a spot called Black Duck Cove. That's where my dad lived until he was 11years old. In the mid 50's the government began a resettlement program to get people who lived on remote islands to move to the mainland where there would be better access to services like hospitals and schools."
In some respects it was forced relocation. Many people, rather than abandon their homes, floated their lodgings to the mainland communities. "The old place on Ireland's Eye was left behind but my grandfather floated a house from Pope's Harbour to New Bonaventure in August 1965. It was a saltbox style, with the porch and bathroom added later."
Life was hard on The Rock 50 years ago.
Time flies when you're playing on the ocean. It was after 2pm when Bob idled the boat back into the marina. We bid a hasty thank-you and adieu and raced for Terra Nova. When we arrived at the campground it was getting dark. All sites were vacant save one. Bev and Burkey were just breaking camp, headed back to Clarenville.
"We are so sorry," I apologized. "No problem," said Bev. "You said you were coming for scoff so I knew you'd be here. I did up a couple of plates. They're still warm."
A traditional Newfoundland Jiggs dinner consists of turkey, dressing, gravy, bread pudding, carrots, turnip, cabbage, mashed potatoes, pease pudding, figgy duff – and boiled salt beef. For dessert Barb likes to do blueberry crumble and partridgeberry cake topped with hot vanilla sauce. Simple really. And easy to whip up, especially from the cramped confines of your trailer, in a campground, in the cold. Each platter held enough food for three Jiggs dinners. Burkey laughed and told us that a Newfoundlander's idea of fine dining is a full plate. I offered him two fresh cod fillets and, although it was a little like carrying coals to Newcastle, he graciously accepted.
Florence and I were the only campers in Terra Nova that night. As they drove away Burkey said, "No sense you buying firewood, there's plenty left." Bev waived goodbye and they rolled out of our lives.
I looked at the overflowing feast, loosed my belt and dug in.
Next time: St John's and the Irish Loop
Gerry Feehan is an award-winning travel writer and photographer. He lives in Kimberley, BC.
Gerry Feehan is an award-winning travel writer and photographer. He and his wife Florence live in Kimberley, BC!
Thanks to Kennedy Wealth Management for sponsoring this series. Click on the ads and learn more about this long-term local business.
Gerry Feehan takes us to North America's Oldest European Settlement
Click to read more travel stories.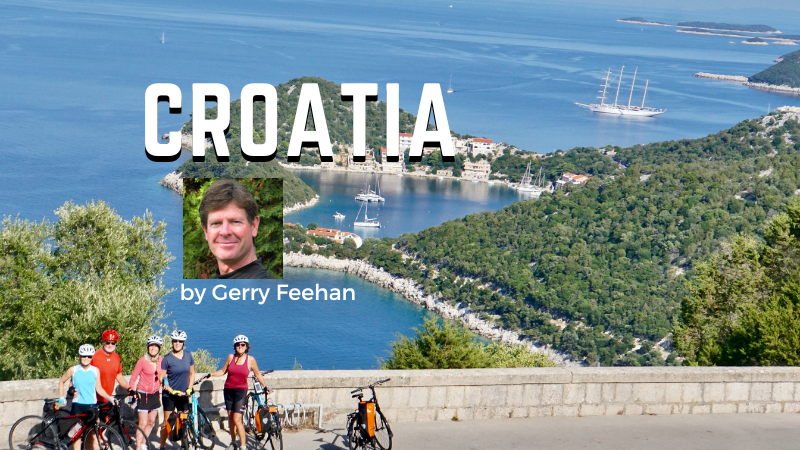 On our second day of riding, while huffing and puffing up an absurdly steep Croatian road, I said to my wife Florence, 'Perhaps it would be wise if you were to switch to an e-bike. The guide says the grade is going to get even tougher over the next few days.' As she pedaled away, Florence remarked, 'You use electricity. I'll use electrolytes.' Then she accelerated up the slope and disappeared around a bend in the lane. I stopped disheartened, dismounted and examined my bicycle, hoping to discover a low tire or some other mechanical excuse to abandon the climb.
We were on a seven-day 'Pedal and Sea' adventure on the Dalmatian Coast. We'd been forewarned that it'd be a tough slog. Preparedness being my motto, I spent weeks before departure supplementing my strict training regime with long-distance cycling. The calculations were precise. Twice a week I'd do 4 kilometers of pedaling — followed by a beer and a small nachos plate. Or was it 3 kilometers of pedaling, 2 brewskies and a medium quesadilla? No matter. The critical thing was to arrive in Croatia in tiptop condition, ready to pedal.
Ironically, the town we flew into was called Split. A Roman Emperor named Diocletian was among the first to vacation on the Dalmatian Coast. He loved Split so much that, after subjugating the locals and burning a few Christians at the stake, he retired here in 305 AD and built a gargantuan palace hewn from local limestone. Today, his enormous fortress still overlooks the quaint harbour. From the palace it's a short walk up into Marjan Forest Park, which offers splendid views of the city and the surrounding Adriatic Sea.
We boarded our bark, The Azimut in nearby Trogir. We enjoyed a spread of fresh seafood as the boat motored out of port and into the open sea. Our guides Antonio and Andrei introduced themselves and outlined the program for the upcoming week. After lunch the whole group sat on deck marveling at the pristine, azure water as the Azimut skipped across the flat sea.
Two hours later we landed on Solta island. We disembarked, mounted our steel steeds and enjoyed a leisurely ride to the stony interior of the island. We returned to the boat in time to watch the sun sink into the flaming Adriatic. Then cocktails, then a scrumptious supper, then a few late-night laughs — then off to our berths for some well-earned jet-lagged shut eye.
In the morning I emerged from our stateroom, ordered a latte and watched the crew undertake the laborious daily task of manhandling a boatload of bicycles, bucket-brigade style, from the mezzanine deck to the dock. After breakfast we gathered en masse on the quay, strapped paniers to bikes, secured helmets to heads and awaited instructions. I surveyed my fellow Azimut shipmates, many of whom donned colourful attire advertising past cycling glories. The advanced age of some instilled in me a degree of cockiness. I decided to take it easy on them this first full day of riding; let them know it was okay for old geezers and geezerettes to share the road with me. On the first steep hill four septuagenarians pedaled by me in unison, peloton-style, instantly leaving me in the dust. As they rotated away, not judging a book by its leathered cover came spinning into my mind.
The itinerary was pretty much the same each day — one beautiful Croatian Island after another, but with ever steeper terrain and longer rides. Our flamboyant, able skipper was Captain Jadran. Every morning he stood at the helm, clad in a pink shirt, orange shorts, flip flops and a groovy Navy hat, part Humphrey Bogart, part Austin Powers. A cigarette dangled perpetually from his lips, which he removed only to shout sharp commands at the crew.
There were 36 guests on board the Azimut. Antonio and Andrei our large, male mother geese, patiently and attentively looked after the whole flock, guiding us from start to finish every day, on every ride. They replaced chains felled by faulty gear changes, fixed flattened tires and bandaged the occasional scrape.
Although most of us started out using good old-fashioned human power, slowly but surely more and more e-bikes started popping up on the quay in the morning.
Before the week was half over the hard-core contingent was whittled down to less than ten. And those that made the switch did not switch back. But they certainly smiled a lot more. E-bikes have enabled the family to play together — and stay together. If mom is hard-core but dad and the kids aren't as enthusiastic, they can still bike together the live-long day.
Spoiler: we were not the first travellers to discover Croatia. Although we arrived in September's shoulder season, the ports, even at smaller remote islands, were crowded — boats often stacked 6-deep, necessitating a circuitous, ship-to-ship hopping expedition to get ashore. Dubrovnik, the gem of Dalmatia, was crawling with visitors. Circumnavigating the City's famous wall, a 2-kilometre stretch offering heavenly views of the ancient city and port, was a push and shove affair.
Fortunately, we didn't spend too much time with the maddening crowd. Our days were occupied riding bucolic island byways, our nights rocking on board with the boisterous satisfaction of having conquered thigh-burning mountain passes.
Most of our ocean crossings took less than a couple hours and land was always in sight. The longest haul was from Hvar to the island of Vis — a two-pack sail for the captain. At the height of cold war fears, communist strongman Marshal Tito installed a secret submarine base along Vis' rugged coast. But frankly, after an arduous cross-island ride, I was less interested in consuming cold war trivia than in downing a large serving of Viska, traditional island dough aroused with olive oil and stuffed with onion, anchovies and tomatoes.
The toughest ride was on Korcula. This leg was only a little over 50km, but there were several brutal climbs. Fortunately the pain was abated by frequent stops to admire the stunning white limestone cliffs spilling into the aquamarine Adriatic. The day ended at a small roadside shop where we quaffed a well-earned Radler (a delicious concoction of flavoured soda and beer) purchased from an indifferent Korculan shopkeeper. To be clear, not all Croatian shopkeepers are indifferent.
Some are also grumpy.
On our last night on board the ship, at the Captain's dinner, Jadran thanked us and offered a toast to all his guests. I manufactured an impromptu rendition of the Azimut Blues on my ever-present ukulele. When I finished the ditty, the captain, who had exchanged his colourful garb for proper navy attire, ceremoniously adorned me with a Croatian captain's hat. An unlit smoke hung from his lips. I looked down at his feet: flip-flops.
Gerry
If you go: https://www.pedalandseaadventures.com/
Lights out
Gerry Feehan is an award-winning travel writer and photographer. He lives in Kimberley, BC.
Thanks to Kennedy Wealth Management for sponsoring this series. Click on the ads and learn more about this long-term local business.
Big Bend Bob: Gerry Feehan takes us on a stunning tour of the Rio Grande River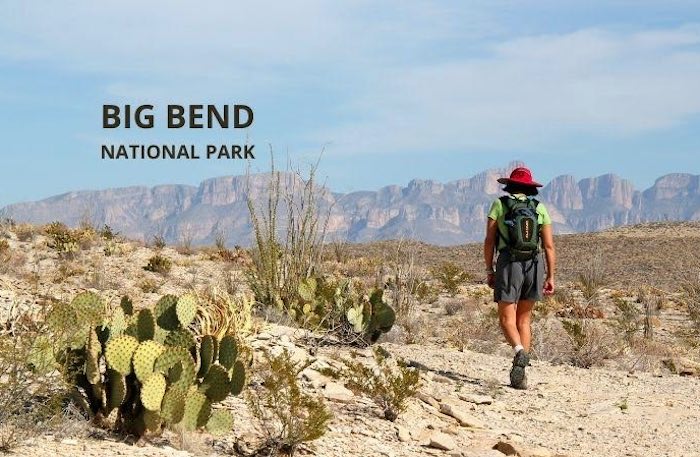 When I first spied Bob he was hunched over a computer in the dark outside a bathhouse on the Rio Grande River. We were camped in Big Bend National Park, Texas. I nodded hello as I passed. Bob looked up, grunting inaudibly. What an ornery old geezer, I thought.
Later that evening I watched as he folded up his laptop, grabbed his canes and teetered tentatively across the parking lot toward his van. I felt bad. He was entitled to his grumpiness. He could barely walk from the john to his beat-up old RV.
As I fell into slumber thoughts of Bob evaporated. We had a big day ahead: a long hike through parched desert on a rim trail overlooking the Rio Grande. Our destination was an idyllic hot spring seven kilometers upstream; a place where soothing thermal waters spill into this river famous for separating America from Mexico. After a dip and picnic lunch we'd retrace our steps through the dry wilderness. It'd be dark by the time we got back to camp.
G
We started good and early – which for me means somewhere around 10:15 a.m. I thought it wise to carve a few kilometers off the long, sunny march so my wife Florence and I rode our bicycles from the campground to the trailhead. As we pedaled, I was surprised to see Bob wandering down the road, wobbling on his two walking sticks. I waved. He didn't look up.
We secured the bikes at the trailhead, donned our packs… and promptly headed in the wrong direction. When we finally gained our bearings and started up the proper trail, there was Bob gamely climbing the first steep ascent. As we overtook him I thought it polite to slow and make a final offer of greeting; after all we were headed into the same scorched Chihuahuan desert and there wasn't another soul around.
"Are you going to the hot springs?" I asked as we passed, masking a patronizing tone; no way was this old guy tackling the hot desert terrain alone all the way to the springs.
"Yup," he said, opening up.
We marched on but when we stopped briefly to admire a viewpoint where the Rio Grande cuts a scenic narrow gorge between Texas and Mexico up walked Bob, peered over the ledge and said, "Pretty, isn't it?"
After that the conversational floodgates opened. We introduced ourselves and spent the next four hours bantering back and forth in clever repartee, philosophizing about life and just shooting the breeze.
Bob is a retired professor of law from Oregon. When his wife passed away a few years ago he bought an old RV and hit the road, solo. Bob proclaims a healthy disdain for authority and a hearty dislike for close-mindedness and fundamentalism of any stripe.
Bob didn't move very quickly over the rough landscape. Now and then we'd lose sight of him on the rocky trail but eventually he'd mosey up to where we'd stopped to admire a new vantage of the Rio Grande.
"Look, those are spiny soft-shells," he remarked at one particularly beautiful spot, pointing to a group of turtles spinning slowly in a foaming eddy far below. Above, in a scraggly tree, a vermillion flycatcher regarded us with disinterest.
"Have you two spent much time in those fancy RV resorts?" asked Bob, in a swift change of subject.
"Some," I reluctantly admitted, thinking wistfully of hot showers and free wifi. "Why do you ask?"
"I prefer the State and National Park campgrounds. Life is simpler and the company decidedly more enjoyable. In the posh private places there's always a big mouth in the hot tub. Have you ever noticed that those who talk the most have the least to say?"
For the next few kilometers I spoke only when spoken to.
My concern over Bob's solitary walk-about into the thirsty desert was ill-founded. Although advanced in years he continues to exercise a life-long passion for long distance running. He ran marathons for many moons before deciding a 42-kilometer run was too short: he moved on to extreme long-distance events.
"But those days are behind me now," he said. "Mostly I stick to short jaunts like this."
I smiled knowingly. My feet were killing me.
He continued. "I know it's not much but once a year on my birthday I still have a decent jog: my age plus the miles run add up to 100.
"How far did you go this year?" I asked, thinking he must be well into his seventies.
"It's getting shorter all the time," he laughed. "My birthday was last week. I'm down to 15 miles. A few more years and I won't even have to get out of bed."
He hopped off a small outcrop, balanced on his canes and grimaced slightly, "Damn, my knee hurts!"
Eventually we arrived at the hot springs, pulled off our shoes and soaked our toes in the same healing waters enjoyed by pioneers and cattle rustlers alike for over two hundred years. Ancient petroglyphs on the nearby cliffs evidence the appealing – and supposedly healing – powers of these waters.
(At the risk of imprisonment in or banishment from the United States) I decided to flout Homeland Security and waded across the shallow waters of the Rio Grande to set foot in old Mexico. The mud on the south side of the river felt just like American mud.
We watched as a horseman a hundred meters downstream did what caballeros have done for centuries: gracefully (but now illegally) ride his mount across the brown waters and up the steep bank into Mexico.
Our long day with Bob was sprinkled with solitude and quiet chuckles. The old adage "don't judge a book by its cover" comes to mind. So does the lesson of the tortoise and the hare. On the return trip he insisted we march on ahead. "Don't wait for me. I'll be fine."
I thought, "Bob's a big boy… were it not for our chance meeting, he'd be out here in the desert alone." Off we trundled, arriving back at our bicycles just as the sun set. Although I wasn't his keeper, I couldn't help but keep an eye on Bob's camper as the light waned. After darkness had fully descended and he hadn't returned, I hopped on my bike and rode back toward the trailhead. I found Bob wandering happily down the road – canes bumping in the darkness – still
a couple of kilometers from the campground.
"You weren't waiting on me, I hope?" he asked. "I should have been back before now but I got to talking with a couple of interesting folks back up the trail."
"No, no, I just felt like going for a spin." I felt stupid, like a worried parent waiting up for a teenager, embarrassed when the youngster inevitably arrives home safely.
We left Big Bend very early the next morning – around ten. As we pulled out of the campground Bob was outside the canteen pecking away at his keyboard, walking canes crisscrossed against his legs. I waved but he didn't look up.
Gerry Feehan is an award-winning travel writer and photographer. He lives in Kimberley, BC.
Thanks to Kennedy Wealth Management for sponsoring this series. Click on the ads and learn more about this long-term local business.