Exploring Gros Morne Newfoundland with Gerry Feehan
Exploring Gros Morne Newfoundland with Gerry Feehan
The talk of salt cod and moose started before we'd even made landfall on The Rock. On the ferry from North Sydney, Nova Scotia to Port Aux Basques, Newfoundland, a wizened fellow regaled us with stories of jigging for fish with his cousin and bagging a bull moose with his wife. It was late September.
He was pleased as punch that the freezer was stocked with sufficient cod and moose meat to see the family through a harsh Newfoundland winter. As
Florence and I drove off the ferry the man motioned us with a gnarly finger. I rolled down the window.
"Safe travels me-son. And don't drive at night on The Rock," he warned, "sometimes the moose are so thick you have to get out of the car and push them off the road."
We were on Newfoundland's southwest tip. The island is bigger than I had expected. The first road sign we saw proclaimed, 'St John's 890km'. But before heading to the distant capital on the Avalon Peninsula we wanted to explore the west of Newfoundland, Gros Morne National Park and L'Anse Aux Meadows, where Leif Erickson established North America's first European settlement 1000 years ago—500 years before Columbus set foot on Hispaniola in the sunny Caribbean.
The drive north from Port Aux Basques was slow going. Along the highway, workers were installing the new transmission line from Muskrat Falls in neighbouring Labrador on the mainland. This project is an expensive undertaking—and considered by some Newfoundlanders just another dam boondoggle. Many Islanders also still bristle at the mention of Churchill Falls, a hydroelectric legacy from the era of Joey Smallwood, Canada's last Father of Confederation.
Fall colours were near peak as we drove past lovely Corner Brook and leafy Marble Mountain. We enjoyed a late-season round of golf at Humber Valley Resort, ranked Canada's 6th best public golf course. The rolling fairways were flanked by yellow, gold and red-hued deciduous trees and stoic evergreens. There were no moose on course, but a solitary black fox did greedily eye my ball on the green at the signature par 4 10th. A little further down the TransCanada we made a sharp left at Deer Lake onto Hwy 430, bound for Gros Morne and the rugged west coast.
Gros Morne National Park is remarkably diverse. The pebbled shoreline of Rocky Harbour gives way to a series of finger lakes, forming magnificent inland fjords. South, across Bonne Bay, lie the Tablelands where Earth's mantle has squeezed to the surface and only the odd pitcher plant and a few other hardy species can survive the acidic, infertile ancient soil. And lording over all is Gros Morne, Newfoundland's second highest mountain, which we intended to climb.
The night before our ascent we stopped at Park Headquarters to pick up a trail map.
"Be careful me-loves," warned the ranger, "specially if you see a tick fag."
"We most certainly will," I assured her, glancing over my shoulder. In the morning, low dense clouds roiled out over the sea but the sky above Gros Morne was crystal clear. No tick fag up there.
The hard part about summiting Gros Morne Mountain isn't the summit itself. The top is flat as a pancake, a broad sparse plain where caribou graze on lichen—and rock ptarmigan nest. The difficult portion of the ascent is 'the Gully' a breathless hour of bouldering through frost-shattered rock that precedes the Arctic tundra of the plateau. 'Big Lone Mountain' tops out at 806m (2600 ft) and since the hike starts pretty much at sea level, the elevation gain is just that. As we exited the Gully, our calm fall day rapidly deteriorated into wintery conditions atop the windswept barren.
We snapped a quick pic at the signpost marking the high point before scurrying toward the descent on the far side of the mesa. There we met two young women who had stopped for a terrifying selfie on the precipice overlooking Ten Mile Pond. I could barely stand upright as we screamed at each other over the wind. The Parks Canada brochure warns trekkers to be prepared for an arduous climb and that "hikers have fallen from the ledge… and died." Watching the gals pose near the cliff in this gale, I wondered, "Fallen? More likely blown."
That night, at the Ocean View Hotel in Rocky Harbour, we enjoyed our first Newfoundland kitchen party, where we were screeched in and kissed the cod, courtesy of local celebrity Dave Shears. I joined our host on stage for a couple of songs.
"Stick around and strum a few after the others have left," he offered, "and we'll have a cuffer 'bout dis and dat."
So, long after the cod had been smooched, the screech 'inned' and the bar doors barred, we were still singing, quaffing—and trading yarns with our convivial hosts.
Western Brook Pond is a glacier-carved, masterpiece of nature. A cruise on this fresh-water fjord is mandatory for any visit to Gros Morne. But check the forecast. Chances are that you'll walk 40 minutes from the parking area to the pier only to find the boat ride has been cancelled due to foul weather.
But even if the outing is kiboshed, the 2km hike through tuckamore forest, with long stretches of boardwalk over peaty bogs and around fragile wetlands, is worth the amble. Luckily we had a good day for it. The boat meandered slowly to the far end of the long, narrow lake, squeezing between sheer, 750m high cliffs. Everywhere waterfalls cascaded to the surface from the dizzying heights. Since Newfoundland is a land of perpetual impromptu music, the boat's crew couldn't refrain from scratching their musical itch during the two-hour tour.
When not attending to his maritime duties, the first mate played the spoons. Passengers clapped accompaniment while Celtic jigs blared over the ship's loudspeakers.
The next evening the live entertainment continued at the Gros Morne Music Festival in Cow Head with fiddling, percussion and a sad, a capella ballad recounting the hard life of early Newfoundlanders. After midnight, walking back to our campground, the wind began to freshen. At 3am we were shaken awake by a strong sou' wester – and slept only in fits and starts for the rest of the night.
Our plan was to hit the road early for the 350km drive to l'Anse aux Meadows on the extreme tip of the Northern Peninsula. But by morning the gusts were blowing in at 100kph – a sad portent for motor home travel. We decided to hunker down and wait out the tempest. But one by one our resolute fellow campers pulled up stakes. Soon we were the sole remainders. Suffering from FOMO, I threw caution to the gale-force wind, pulled out onto the narrow, winding highway and, as they oddly say in Newfoundland, steered north 'down the coast.'
Next time: L'Anse aux Meadows and more tales from The Rock.
Gerry Feehan is an award-winning travel writer and photographer. He lives in Kimberley, BC.
Gerry Feehan is an award-winning travel writer and photographer. He and his wife Florence live in Kimberley, BC!
Thanks to Kennedy Wealth Management for sponsoring this series. Click on the ads and learn more about this long-term local business.
Click to read more travel stories.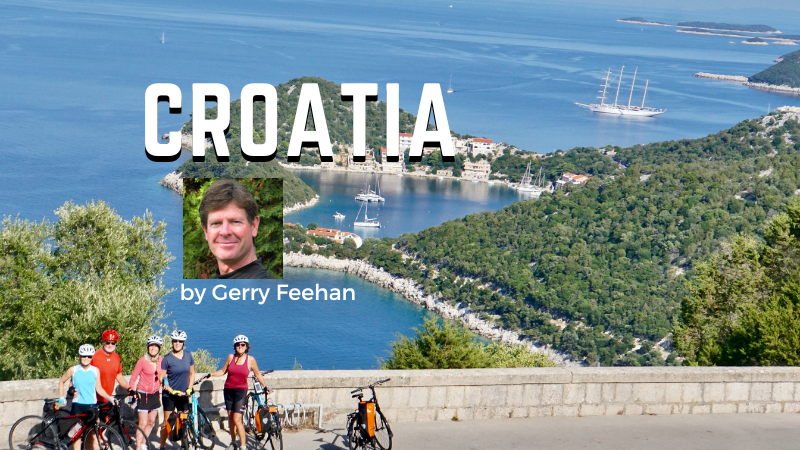 On our second day of riding, while huffing and puffing up an absurdly steep Croatian road, I said to my wife Florence, 'Perhaps it would be wise if you were to switch to an e-bike. The guide says the grade is going to get even tougher over the next few days.' As she pedaled away, Florence remarked, 'You use electricity. I'll use electrolytes.' Then she accelerated up the slope and disappeared around a bend in the lane. I stopped disheartened, dismounted and examined my bicycle, hoping to discover a low tire or some other mechanical excuse to abandon the climb.
We were on a seven-day 'Pedal and Sea' adventure on the Dalmatian Coast. We'd been forewarned that it'd be a tough slog. Preparedness being my motto, I spent weeks before departure supplementing my strict training regime with long-distance cycling. The calculations were precise. Twice a week I'd do 4 kilometers of pedaling — followed by a beer and a small nachos plate. Or was it 3 kilometers of pedaling, 2 brewskies and a medium quesadilla? No matter. The critical thing was to arrive in Croatia in tiptop condition, ready to pedal.
Ironically, the town we flew into was called Split. A Roman Emperor named Diocletian was among the first to vacation on the Dalmatian Coast. He loved Split so much that, after subjugating the locals and burning a few Christians at the stake, he retired here in 305 AD and built a gargantuan palace hewn from local limestone. Today, his enormous fortress still overlooks the quaint harbour. From the palace it's a short walk up into Marjan Forest Park, which offers splendid views of the city and the surrounding Adriatic Sea.
We boarded our bark, The Azimut in nearby Trogir. We enjoyed a spread of fresh seafood as the boat motored out of port and into the open sea. Our guides Antonio and Andrei introduced themselves and outlined the program for the upcoming week. After lunch the whole group sat on deck marveling at the pristine, azure water as the Azimut skipped across the flat sea.
Two hours later we landed on Solta island. We disembarked, mounted our steel steeds and enjoyed a leisurely ride to the stony interior of the island. We returned to the boat in time to watch the sun sink into the flaming Adriatic. Then cocktails, then a scrumptious supper, then a few late-night laughs — then off to our berths for some well-earned jet-lagged shut eye.
In the morning I emerged from our stateroom, ordered a latte and watched the crew undertake the laborious daily task of manhandling a boatload of bicycles, bucket-brigade style, from the mezzanine deck to the dock. After breakfast we gathered en masse on the quay, strapped paniers to bikes, secured helmets to heads and awaited instructions. I surveyed my fellow Azimut shipmates, many of whom donned colourful attire advertising past cycling glories. The advanced age of some instilled in me a degree of cockiness. I decided to take it easy on them this first full day of riding; let them know it was okay for old geezers and geezerettes to share the road with me. On the first steep hill four septuagenarians pedaled by me in unison, peloton-style, instantly leaving me in the dust. As they rotated away, not judging a book by its leathered cover came spinning into my mind.
The itinerary was pretty much the same each day — one beautiful Croatian Island after another, but with ever steeper terrain and longer rides. Our flamboyant, able skipper was Captain Jadran. Every morning he stood at the helm, clad in a pink shirt, orange shorts, flip flops and a groovy Navy hat, part Humphrey Bogart, part Austin Powers. A cigarette dangled perpetually from his lips, which he removed only to shout sharp commands at the crew.
There were 36 guests on board the Azimut. Antonio and Andrei our large, male mother geese, patiently and attentively looked after the whole flock, guiding us from start to finish every day, on every ride. They replaced chains felled by faulty gear changes, fixed flattened tires and bandaged the occasional scrape.
Although most of us started out using good old-fashioned human power, slowly but surely more and more e-bikes started popping up on the quay in the morning.
Before the week was half over the hard-core contingent was whittled down to less than ten. And those that made the switch did not switch back. But they certainly smiled a lot more. E-bikes have enabled the family to play together — and stay together. If mom is hard-core but dad and the kids aren't as enthusiastic, they can still bike together the live-long day.
Spoiler: we were not the first travellers to discover Croatia. Although we arrived in September's shoulder season, the ports, even at smaller remote islands, were crowded — boats often stacked 6-deep, necessitating a circuitous, ship-to-ship hopping expedition to get ashore. Dubrovnik, the gem of Dalmatia, was crawling with visitors. Circumnavigating the City's famous wall, a 2-kilometre stretch offering heavenly views of the ancient city and port, was a push and shove affair.
Fortunately, we didn't spend too much time with the maddening crowd. Our days were occupied riding bucolic island byways, our nights rocking on board with the boisterous satisfaction of having conquered thigh-burning mountain passes.
Most of our ocean crossings took less than a couple hours and land was always in sight. The longest haul was from Hvar to the island of Vis — a two-pack sail for the captain. At the height of cold war fears, communist strongman Marshal Tito installed a secret submarine base along Vis' rugged coast. But frankly, after an arduous cross-island ride, I was less interested in consuming cold war trivia than in downing a large serving of Viska, traditional island dough aroused with olive oil and stuffed with onion, anchovies and tomatoes.
The toughest ride was on Korcula. This leg was only a little over 50km, but there were several brutal climbs. Fortunately the pain was abated by frequent stops to admire the stunning white limestone cliffs spilling into the aquamarine Adriatic. The day ended at a small roadside shop where we quaffed a well-earned Radler (a delicious concoction of flavoured soda and beer) purchased from an indifferent Korculan shopkeeper. To be clear, not all Croatian shopkeepers are indifferent.
Some are also grumpy.
On our last night on board the ship, at the Captain's dinner, Jadran thanked us and offered a toast to all his guests. I manufactured an impromptu rendition of the Azimut Blues on my ever-present ukulele. When I finished the ditty, the captain, who had exchanged his colourful garb for proper navy attire, ceremoniously adorned me with a Croatian captain's hat. An unlit smoke hung from his lips. I looked down at his feet: flip-flops.
Gerry
If you go: https://www.pedalandseaadventures.com/
Lights out
Gerry Feehan is an award-winning travel writer and photographer. He lives in Kimberley, BC.
Thanks to Kennedy Wealth Management for sponsoring this series. Click on the ads and learn more about this long-term local business.
Big Bend Bob: Gerry Feehan takes us on a stunning tour of the Rio Grande River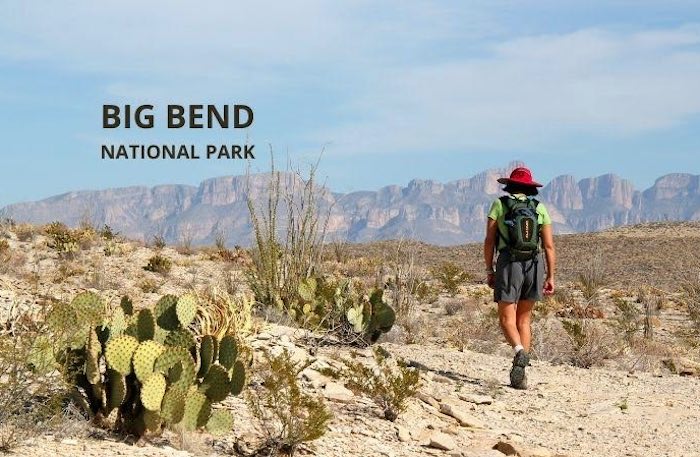 When I first spied Bob he was hunched over a computer in the dark outside a bathhouse on the Rio Grande River. We were camped in Big Bend National Park, Texas. I nodded hello as I passed. Bob looked up, grunting inaudibly. What an ornery old geezer, I thought.
Later that evening I watched as he folded up his laptop, grabbed his canes and teetered tentatively across the parking lot toward his van. I felt bad. He was entitled to his grumpiness. He could barely walk from the john to his beat-up old RV.
As I fell into slumber thoughts of Bob evaporated. We had a big day ahead: a long hike through parched desert on a rim trail overlooking the Rio Grande. Our destination was an idyllic hot spring seven kilometers upstream; a place where soothing thermal waters spill into this river famous for separating America from Mexico. After a dip and picnic lunch we'd retrace our steps through the dry wilderness. It'd be dark by the time we got back to camp.
G
We started good and early – which for me means somewhere around 10:15 a.m. I thought it wise to carve a few kilometers off the long, sunny march so my wife Florence and I rode our bicycles from the campground to the trailhead. As we pedaled, I was surprised to see Bob wandering down the road, wobbling on his two walking sticks. I waved. He didn't look up.
We secured the bikes at the trailhead, donned our packs… and promptly headed in the wrong direction. When we finally gained our bearings and started up the proper trail, there was Bob gamely climbing the first steep ascent. As we overtook him I thought it polite to slow and make a final offer of greeting; after all we were headed into the same scorched Chihuahuan desert and there wasn't another soul around.
"Are you going to the hot springs?" I asked as we passed, masking a patronizing tone; no way was this old guy tackling the hot desert terrain alone all the way to the springs.
"Yup," he said, opening up.
We marched on but when we stopped briefly to admire a viewpoint where the Rio Grande cuts a scenic narrow gorge between Texas and Mexico up walked Bob, peered over the ledge and said, "Pretty, isn't it?"
After that the conversational floodgates opened. We introduced ourselves and spent the next four hours bantering back and forth in clever repartee, philosophizing about life and just shooting the breeze.
Bob is a retired professor of law from Oregon. When his wife passed away a few years ago he bought an old RV and hit the road, solo. Bob proclaims a healthy disdain for authority and a hearty dislike for close-mindedness and fundamentalism of any stripe.
Bob didn't move very quickly over the rough landscape. Now and then we'd lose sight of him on the rocky trail but eventually he'd mosey up to where we'd stopped to admire a new vantage of the Rio Grande.
"Look, those are spiny soft-shells," he remarked at one particularly beautiful spot, pointing to a group of turtles spinning slowly in a foaming eddy far below. Above, in a scraggly tree, a vermillion flycatcher regarded us with disinterest.
"Have you two spent much time in those fancy RV resorts?" asked Bob, in a swift change of subject.
"Some," I reluctantly admitted, thinking wistfully of hot showers and free wifi. "Why do you ask?"
"I prefer the State and National Park campgrounds. Life is simpler and the company decidedly more enjoyable. In the posh private places there's always a big mouth in the hot tub. Have you ever noticed that those who talk the most have the least to say?"
For the next few kilometers I spoke only when spoken to.
My concern over Bob's solitary walk-about into the thirsty desert was ill-founded. Although advanced in years he continues to exercise a life-long passion for long distance running. He ran marathons for many moons before deciding a 42-kilometer run was too short: he moved on to extreme long-distance events.
"But those days are behind me now," he said. "Mostly I stick to short jaunts like this."
I smiled knowingly. My feet were killing me.
He continued. "I know it's not much but once a year on my birthday I still have a decent jog: my age plus the miles run add up to 100.
"How far did you go this year?" I asked, thinking he must be well into his seventies.
"It's getting shorter all the time," he laughed. "My birthday was last week. I'm down to 15 miles. A few more years and I won't even have to get out of bed."
He hopped off a small outcrop, balanced on his canes and grimaced slightly, "Damn, my knee hurts!"
Eventually we arrived at the hot springs, pulled off our shoes and soaked our toes in the same healing waters enjoyed by pioneers and cattle rustlers alike for over two hundred years. Ancient petroglyphs on the nearby cliffs evidence the appealing – and supposedly healing – powers of these waters.
(At the risk of imprisonment in or banishment from the United States) I decided to flout Homeland Security and waded across the shallow waters of the Rio Grande to set foot in old Mexico. The mud on the south side of the river felt just like American mud.
We watched as a horseman a hundred meters downstream did what caballeros have done for centuries: gracefully (but now illegally) ride his mount across the brown waters and up the steep bank into Mexico.
Our long day with Bob was sprinkled with solitude and quiet chuckles. The old adage "don't judge a book by its cover" comes to mind. So does the lesson of the tortoise and the hare. On the return trip he insisted we march on ahead. "Don't wait for me. I'll be fine."
I thought, "Bob's a big boy… were it not for our chance meeting, he'd be out here in the desert alone." Off we trundled, arriving back at our bicycles just as the sun set. Although I wasn't his keeper, I couldn't help but keep an eye on Bob's camper as the light waned. After darkness had fully descended and he hadn't returned, I hopped on my bike and rode back toward the trailhead. I found Bob wandering happily down the road – canes bumping in the darkness – still
a couple of kilometers from the campground.
"You weren't waiting on me, I hope?" he asked. "I should have been back before now but I got to talking with a couple of interesting folks back up the trail."
"No, no, I just felt like going for a spin." I felt stupid, like a worried parent waiting up for a teenager, embarrassed when the youngster inevitably arrives home safely.
We left Big Bend very early the next morning – around ten. As we pulled out of the campground Bob was outside the canteen pecking away at his keyboard, walking canes crisscrossed against his legs. I waved but he didn't look up.
Gerry Feehan is an award-winning travel writer and photographer. He lives in Kimberley, BC.
Thanks to Kennedy Wealth Management for sponsoring this series. Click on the ads and learn more about this long-term local business.