Exploring Gros Morne Newfoundland with Gerry Feehan
Exploring Gros Morne Newfoundland with Gerry Feehan
The talk of salt cod and moose started before we'd even made landfall on The Rock. On the ferry from North Sydney, Nova Scotia to Port Aux Basques, Newfoundland, a wizened fellow regaled us with stories of jigging for fish with his cousin and bagging a bull moose with his wife. It was late September.
He was pleased as punch that the freezer was stocked with sufficient cod and moose meat to see the family through a harsh Newfoundland winter. As
Florence and I drove off the ferry the man motioned us with a gnarly finger. I rolled down the window.
"Safe travels me-son. And don't drive at night on The Rock," he warned, "sometimes the moose are so thick you have to get out of the car and push them off the road."
We were on Newfoundland's southwest tip. The island is bigger than I had expected. The first road sign we saw proclaimed, 'St John's 890km'. But before heading to the distant capital on the Avalon Peninsula we wanted to explore the west of Newfoundland, Gros Morne National Park and L'Anse Aux Meadows, where Leif Erickson established North America's first European settlement 1000 years ago—500 years before Columbus set foot on Hispaniola in the sunny Caribbean.
The drive north from Port Aux Basques was slow going. Along the highway, workers were installing the new transmission line from Muskrat Falls in neighbouring Labrador on the mainland. This project is an expensive undertaking—and considered by some Newfoundlanders just another dam boondoggle. Many Islanders also still bristle at the mention of Churchill Falls, a hydroelectric legacy from the era of Joey Smallwood, Canada's last Father of Confederation.
Fall colours were near peak as we drove past lovely Corner Brook and leafy Marble Mountain. We enjoyed a late-season round of golf at Humber Valley Resort, ranked Canada's 6th best public golf course. The rolling fairways were flanked by yellow, gold and red-hued deciduous trees and stoic evergreens. There were no moose on course, but a solitary black fox did greedily eye my ball on the green at the signature par 4 10th.  A little further down the TransCanada we made a sharp left at Deer Lake onto Hwy 430, bound for Gros Morne and the rugged west coast.
Gros Morne National Park is remarkably diverse. The pebbled shoreline of Rocky Harbour gives way to a series of finger lakes, forming magnificent inland fjords. South, across Bonne Bay, lie the Tablelands where Earth's mantle has squeezed to the surface and only the odd pitcher plant and a few other hardy species can survive the acidic, infertile ancient soil. And lording over all is Gros Morne, Newfoundland's second highest mountain, which we intended to climb.
The night before our ascent we stopped at Park Headquarters to pick up a trail map.
"Be careful me-loves," warned the ranger, "specially if you see a tick fag."
"We most certainly will," I assured her, glancing over my shoulder. In the morning, low dense clouds roiled out over the sea but the sky above Gros Morne was crystal clear. No tick fag up there.
The hard part about summiting Gros Morne Mountain isn't the summit itself. The top is flat as a pancake, a broad sparse plain where caribou graze on lichen—and rock ptarmigan nest. The difficult portion of the ascent is 'the Gully' a breathless hour of bouldering through frost-shattered rock that precedes the Arctic tundra of the plateau. 'Big Lone Mountain' tops out at 806m (2600 ft) and since the hike starts pretty much at sea level, the elevation gain is just that. As we exited the Gully, our calm fall day rapidly deteriorated into wintery conditions atop the windswept barren.
We snapped a quick pic at the signpost marking the high point before scurrying toward the descent on the far side of the mesa. There we met two young women who had stopped for a terrifying selfie on the precipice overlooking Ten Mile Pond. I could barely stand upright as we screamed at each other over the wind. The Parks Canada brochure warns trekkers to be prepared for an arduous climb and that "hikers have fallen from the ledge… and died." Watching the gals pose near the cliff in this gale, I wondered, "Fallen? More likely blown."
That night, at the Ocean View Hotel in Rocky Harbour, we enjoyed our first Newfoundland kitchen party, where we were screeched in and kissed the cod, courtesy of local celebrity Dave Shears. I joined our host on stage for a couple of songs.
"Stick around and strum a few after the others have left," he offered, "and we'll have a cuffer 'bout dis and dat."
So, long after the cod had been smooched, the screech 'inned' and the bar doors barred, we were still singing, quaffing—and trading yarns with our convivial hosts.
Western Brook Pond is a glacier-carved, masterpiece of nature. A cruise on this fresh-water fjord is mandatory for any visit to Gros Morne. But check the forecast. Chances are that you'll walk 40 minutes from the parking area to the pier only to find the boat ride has been cancelled due to foul weather.
But even if the outing is kiboshed, the 2km hike through tuckamore forest, with long stretches of boardwalk over peaty bogs and around fragile wetlands, is worth the amble. Luckily we had a good day for it. The boat meandered slowly to the far end of the long, narrow lake, squeezing between sheer, 750m high cliffs. Everywhere waterfalls cascaded to the surface from the dizzying heights. Since Newfoundland is a land of perpetual impromptu music, the boat's crew couldn't refrain from scratching their musical itch during the two-hour tour.
When not attending to his maritime duties, the first mate played the spoons. Passengers clapped accompaniment while Celtic jigs blared over the ship's loudspeakers.
The next evening the live entertainment continued at the Gros Morne Music Festival in Cow Head with fiddling, percussion and a sad, a capella ballad recounting the hard life of early Newfoundlanders. After midnight, walking back to our campground, the wind began to freshen. At 3am we were shaken awake by a strong sou' wester – and slept only in fits and starts for the rest of the night.
Our plan was to hit the road early for the 350km drive to l'Anse aux Meadows on the extreme tip of the Northern Peninsula. But by morning the gusts were blowing in at 100kph – a sad portent for motor home travel. We decided to hunker down and wait out the tempest. But one by one our resolute fellow campers pulled up stakes. Soon we were the sole remainders. Suffering from FOMO, I threw caution to the gale-force wind, pulled out onto the narrow, winding highway and, as they oddly say in Newfoundland, steered north 'down the coast.'
Next time: L'Anse aux Meadows and more tales from The Rock.
Gerry Feehan is an award-winning travel writer and photographer. He lives in Kimberley, BC.
Gerry Feehan is an award-winning travel writer and photographer. He and his wife Florence live in Kimberley, BC!
Thanks to Kennedy Wealth Management for sponsoring this series.  Click on the ads and learn more about this long-term local business.
Click to read more travel stories.
Todayville travel writer Gerry Feehan wins national Travel Media Association award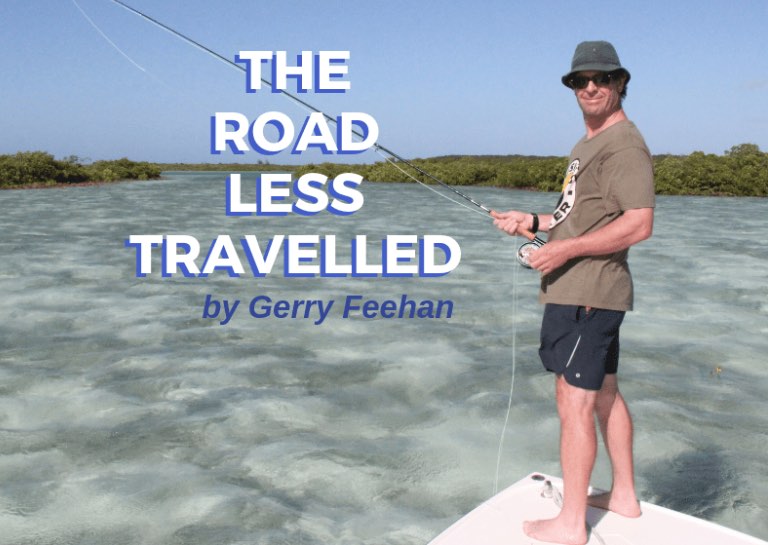 Todayville is very proud to share that our travel writer Gerry Feehan has been honoured with a top award by the Travel Media Association of Canada (TMAC). TMAC is Canada's premiere travel writer's organization.  At the 2021 TMAC annual national conference and awards Gerry was awarded first place in the 'Best People Photograph' category.
We interviewed Gerry to find out more about this award as well as his unique and very entertaining approach to travel writing.
This award is Gerry's fifth as a travel writer and photographer.  Two of the photos he submitted for awards in 2021 are from this same remarkable article.  Click to see a lineup of amazing images from "Taj Mahal and the Ganges River – India Part 2"
India Part 2- Terrific photos! Experience the Taj Mahal and Ganges with Gerry Feehan
The Irish Loop – Part 4 of a travel series on Newfoundland by Gerry Feehan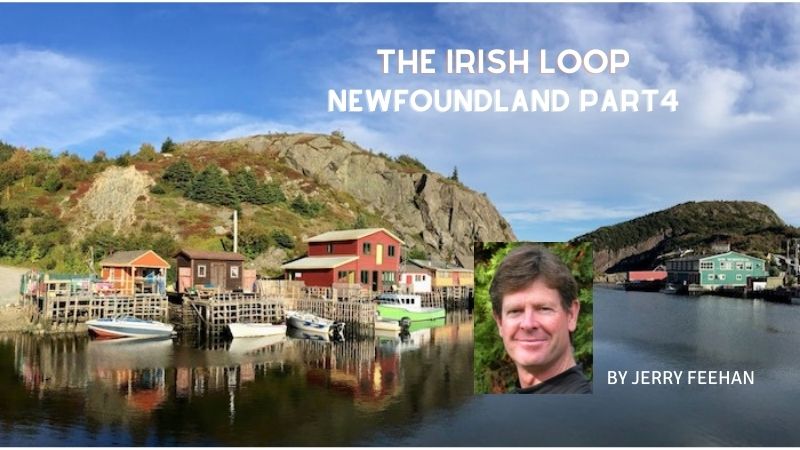 This is the last in a four part Newfoundland series.
Scroll down to find Part 1, Gros Morne,  part 2 North America's Oldest European Settlement, and part 3 A World Famous Newfoundland Tradition.
When I told a Red Deer friend (born and raised in Newfoundland) that we intended to explore only the west side of the Island during our two-week visit she looked at me as if I were daft. "If you haven't walked down Water Street in St. John's, you haven't been to Newfoundland." And so we divided our 14-day fall camping trip on The Rock equally between both sides of the Island, with the last week dedicated to St. John's and the east coast.
Water Street was indeed a lot of frolic and fun. But frankly, narrow steep cobblestone roads and a motor home don't play well together. So, after a few days of fine seafood, great live music, an exploration of the fascinating Rooms Museum and a bumpy visit to Signal Hill, it was time to move on from the capital. We were bound for the Irish Loop, south of St John's, on the Avalon Peninsula. On our way out of town we stopped at Cape Spear Lighthouse, the most easterly point in Canada—and North America for that matter. The fair-haired interpreter seemed certain to have Gaelic roots (and thus knowledge of the Irish Loop) so I asked him if there were any special places we should visit. "Scottish actually," he said, stroking his sandy beard and disavowing any Irish ancestry. "The Avalon is beautiful, you can't go wrong. Just poke along."
And poke we did. After exploring scenic Petty Harbour, we poked our toes into aptly named Witless Bay, where we determined that the North Atlantic Ocean is brain-
freeze cold. We camped that night in a quiet spot overlooking Witless Bay Ecological Reserve, where in early summer tens of thousands of tourists flock to see "iceberg
alley" and the vast colony of Atlantic puffins that nest annually on Great Island.
"It's the end of the season, dearie," said the tired camp host. "The water gets shut off tomorrow." She looked out to sea and added, with quiet poetry, "the icebergs have
melted, the puffins have flown—now we've just a few stray tourists to drown." But with a wink added, "present company excluded." I took no offence—and swear it was by sheer inadvertence that I left the hot water running in the Witless bathhouse the next morning. For us it was an uncharacteristically early start. There must be
wisdom in that "early bird gets the worm" thing because by 8 a.m. we had encountered three different groups of hunters quartering moose by the roadside.
Hunting season had opened that day. Newfoundlanders take their moose quarrying very seriously. They are also very proud Canadians. Many yards sport a high-flying
maple leaf. But invariably the flag of Newfoundland also flaps nearby. And on the Irish Loop you'll also see a lot of green, white and pink, the pre-1949 Dominion of
Newfoundland Tricolour.
We hadn't planned on muzzling into other people's moose-business but, when we encountered a newly deceased bull being roped across the highway near Ferryland,
we had little choice but to stop and make inquiries. One quickly learns as a visitor to Newfoundland that there's no need to do more than simply open the conversation.
After that, listening will suffice. And so a roadside discourse began:
"This is how you paunch the carcass," the senior member of the group explained while his grandson sharpened a knife and began the on-site butchering process.
"And this here's the tenderest part," the grandfather continued, pointing loinward. I remarked on his particularly thick maritime accent. "Ha," one of his sons interjected, "Dad just returned from Ireland. They didn't even ask him where he was from, although one feller did ask if he'd spent a couple of years in America." He and
another brother were hoisting the 400 kg animal onto a makeshift wooden frame for further dissection. Dripping sweat, he continued, "Where are you two headed?"
"Toward Trepassey," I answered, "around the bottom of the loop and then back up toward the Trans Canada. We have an invite for Jiggs dinner on Sunday at a campground in Terra Nova."
"Trepassey?" remarked the patriarch, cutting a strip of hide from the recently departed moose's hindquarters. "Did you know Trepassey is in the Guinness Book of World Records as the foggiest place on earth? Last year a woman gave birth, but it was three months before they could tell if it was a boy or a girl." The younger two
generations nodded in amused agreement.
It was certainly foggy when we rolled into town. I almost drove through the restaurant doors before spotting the bright blinking light notifying us that the village's only eatery was closed. Apparently, the cook was out—hunting no doubt.
Someone had recommended that we stop for eats at the Squid Jigger back up the road in Calvert but that had been hours earlier. We had poked in there to see what was on the menu but decided it was too early in the day for a plate of salt-fish, potatoes and scrunchions.
It was well past lunchtime when we meandered into Peter's River. Cars were jammed outside the local hall. Perhaps a public pot luck dinner? No such luck. The entire community was gathered at the legion for "Chase the Ace," Newfoundland's favourite communal gambling pastime. We were getting rather peckish. With deep
regret I recalled the Squid Jigger's daily special: cod au gratin with a side of slaw and fries.
Finally, near Point La Haye we found a corner store with doors ajar. Scurrying in, we headed directly for the deli and ordered up a couple of prime 'Newfoundland
Steaks': fhresh sTle iced bologna. On the recommendation of the proprietress, we chose them 'tick' rather than 'tin'. At the checkout, the store phone rang. The owner
dashed off to answer. She came back, handed the cordless to the man behind us in line and said, "It's for you John. The missus says not to forget the toilet paper."
We parked for our picnic on a hill overlooking St. Mary's Harbour. As the fat bologna fried on the camp stove next to a couple of happy eggs, rain began and tick fog descended. It was the tastiest meal ever.
A colourful St John's streetGerry Feehan is an award-winning travel writer and photographer. He lives in Kimberley, BC.
Gerry Feehan is an award-winning travel writer and photographer. He and his wife Florence live in Kimberley, BC!
Thanks to Kennedy Wealth Management for sponsoring this series.  Click on the ads and learn more about this long-term local business.
Gerry Feehan takes us to North America's Oldest European Settlement
Gerry Feehan Receives the Legendary Invitation, A World Famous Newfoundland Tradition