"The Child Soldier" to be screened Saturday at Edmonton Short Film Festival
A short film by Eppo Eerkes
Two friends from a war ravaged North American village head out for school. Their journey is cut short when a band of child soldiers attack the school bus bringing their mothers greatest fears to reality. Based on true events.
"The Child Soldier" is a short film which follows the story of Samuel, a boy living in a small village, plagued by famine, war, and economic devastation. The film's setting mirrors the economic situation in northern Uganda. But this tale will not be told against the backdrop of the African plain. Our main character in fact, is a twelve year old Caucasian. He lives with his
mother and little sister in a run-down, ramshackle, western North American community.
The setting is a fictional, war-torn world, isolated at the frontier of a developing nation. It's set against the stark contrast and beauty of endless miles of forested mountains and wilderness. Samuel attends a communal school each and every day, boarding a military protected bus and studying under the watchful gaze of government troops. When his bus is ambushed by a group of rebels on horseback one day, his world is turned upside down.
Samuel's story plays out in a fictional world. But his experiences, hopes, dreams, fears and conflicts are an amalgamation of a vast number of factual, documented accounts from real Ugandan children who have experienced similar fates. Samuel's story is their story. It's spoken in a new and desperately needed voice. His story stands as a symbol to all children who are forced to fight in wars worldwide.
Director Statement
In 1997 I traveled to 7 countries in Africa including Uganda. It was an unforgettable 3 month journey where I was able to experience all the incredible offerings this continent had to offer including the wildlife, scenery and culture. In 2004 I discovered like much of the world that while i was in Southern Uganda in '97 a horrific atrocity was taking place only 2 hours away in Northern Uganda. The Lords Resistance Army had been raiding their own communities in defiance of the Southern ruling government. The terrifying facts revealed that children from these communities as young as 7 were being forced to fight for the LRA. I was sickened to discover that these atrocities were taking place while i was there in Uganda. So I had to do something about it. I decided to travel to the war zone and interview child soldiers who were recently repatriated back to their country. My goal ultimately was to create a film taking their stories and giving them an innovative twist showing the world that child soldiers anywhere no matter what colour of skin is a complete travesty.
This video below was produced using footage from that research trip.

ABOUT THE FILMMAKER

Let me introduce myself, I'm Eppo Eerkes… I also have another name, 'Yinagha K'izzaa', translated it means 'Half Moon'. Elder and Medicine Man 'Spotted Eagle' from the Tsuut'ina Nation gave me the First Nations' name 'Half Moon' due to my keen eye for directing films as well as searching for 'The Light' in others. I represent the seekers, the risk-takers, the creative, free-spirited adventurers out there; the ones who want more forests and freeways; outback and oceans in their lives; those who push their own, personal boundaries. I want to pursue films and story that represents this perspective and philosophy.

Biography:
Eppo is an Internationally award-winning Director, frontiersman and explorer of cultures, His relentless curiosity has found him filming from the high arctic to east Africa. It's taken him from the Ecuadorian Andes to the Congalese mountains; from the Alberta badlands to the Costa Rican jungle. If it's the magic and ruggedness of an experience you want to capture, then Eppo is the name you need to remember. Eppo has created, written and directed over 100 hours of network broadcast film and television. You can see his work on Discovery, History Channel USA, Animal Planet USA and National Geographic. Eppo is also an independent film director who has several upcoming and finished scripted shorts and features.
A passionate story-teller, much of Eppo's content has focused on the fragile relationships between man and animal/man and the environment. Eppo has a respect for the spirit that resides in all living things, the thrill of the new, the delight of the unexpected. Eppo continues to hone and develop his craft by working on projects which inspire and explore the human spirit. You can follow him here:
"The Child Soldier" will be screened at the Edmonton Short Film Festival this Saturday.
City of Calgary says it could cost millions to repair damage to municipal building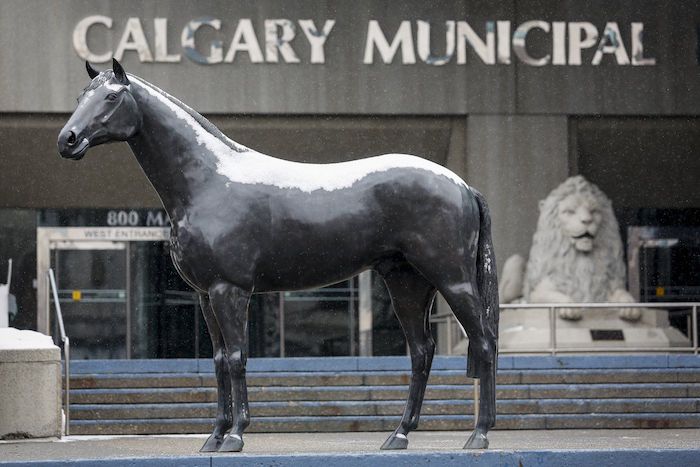 Calgary – City officials say it could cost more than two million dollars to repair the Calgary Municipal Building after someone broke in and set fires that triggered the sprinkler system earlier this month.
Carla Male, who's the acting city manager, says in a news release that there's extensive water damage on three floors of the building.
It includes the equipment on those floors and the building itself.
Male says it will be several months before the final bill is in, but the initial review shows it could cost between $1.3 and $2.2 million.
The tally includes the emergency response required to minimize the damage as well as the relocation of services and restoration of the building, furniture and equipment.
The city expects 80 per cent of the costs to be covered by insurance.
Alberta's police watchdog continues to investigate the arrest of a man who's accused of breaking into the building on Aug. 2.
The Alberta Serious Incident Response Team has said that police tried to talk to the man, but were unsuccessful.
It says several officers fired non-lethal weapons and the man was arrested with the help of a dog team.
ASIRT says the man was transported to hospital after "sustaining significant injury" during that arrest.
This report by The Canadian Press was first published Aug. 12, 2022.
Alliances shift to Danielle Smith in final days to sign up for UCP leadership vote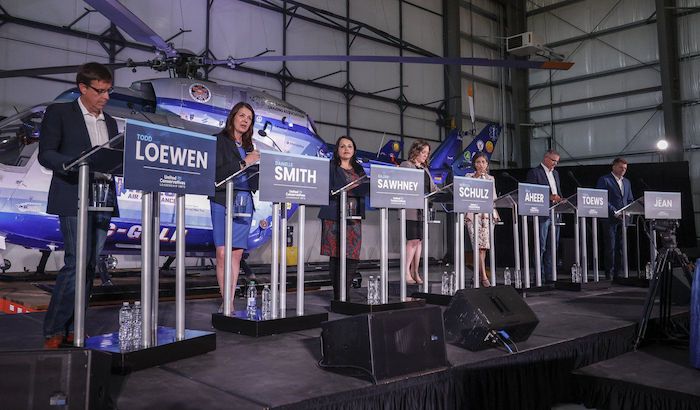 By Dean Bennett in Edmonton
Seven candidates scrambled Friday to sign up last-minute memberships in Alberta's United Conservative Party leadership race while political observers say that without hard data on which contender has a leg up, follow the feet.
Danielle Smith, who started out with a handful of supporters in the United Conservative caucus and cabinet, has seen more in-house support in recent days, including some who had initially pledged to back rival Travis Toews.
"Sometimes when you see people starting to shift allegiances, it sort of gives you a sense of where the momentum is going," political scientist Lori Williams, with Mount Royal University, said Friday in an interview.
"It's those people who want to be in cabinet or in a position where they can work with whoever the new premier is. They think things are moving in that direction and they're moving with them."
Labour Minister Kaycee Madu was the latest convert, announcing his support for Smith at rally in Edmonton on Thursday.
Earlier Thursday, former cabinet minister Devin Dreeshen said he would support Smith. Earlier in the week, Service Alberta Minister Nate Glubish switched his support from Toews to Smith.
Before that, Toews supporter Pat Rehn switched his support to Smith, joining fellow backbenchers Devinder Toor, Peter Guthrie and Nathan Neudorf.
Toews, who quit as finance minister to run in the contest, still has the lion's share of support, with about two dozen cabinet and caucus members openly in his camp.
Political scientist Duane Bratt said even so, by any metric from crowd sizes to polling to the fact Smith is the focus of attacks by her opponents, she is clearly the one to beat as party members being voting next month, with results to be announced Oct. 6.
"She's drawing the biggest crowds, we've got (MLA) endorsements that are now coming her way because they see her as the front-runner," said Bratt, also with Mount Royal University.
"All the other candidates are responding to her in some fashion (and) some are adopting the same policies.
"I wonder after midnight, (when membership sales end) if there is some soul searching among the other candidates and whether they drop out or not."
The party says hand-delivered-memberships were due by 5 p.m. Friday, with the cutoff for online memberships by midnight. These are to be the only memberships allowed to vote in the race.
Final count totals on memberships aren't expected from the party for about two weeks.
Smith, a former Wildrose party leader, grabbed headlines out of the starting gate in the contest with her proposed Alberta sovereignty act. The act, as pitched by Smith, would seek to give Alberta the right to ignore federal laws and court rulings deemed not in its interest.
Legal scholars and most of the other candidates in the race have labelled it an outrageously inflammatory, bizarre and illegal scheme that would create a domino effect of economic and investment uncertainty bordering on chaos.
But Bratt noted the other two main contenders have excoriated Smith's plan while adopting versions of it.
Toews has promised his government would seek to levy tariffs on goods and services or imports from specific regions to counter rules and policies deemed unfair to Alberta. Brian Jean has pledged to affirm that the Alberta Bill of Rights is paramount over Section 1 of the Constitution.
"It's an attempt by the sovereignty act by a different name," Bratt said.
Candidates Rajan Sawhney and Rebecca Schulz have been equally critical of Smith's sovereignty act, but have in recent days adopted more combative policies when it comes to federal relations.
Schulz has promised a protecting provincial rights summit within two months of winning, while Sawhney is pledging to pursue go-it-alone initiatives such as a provincial pension plan and police force.
Both Bratt and Williams said Smith has done a better job capturing and harnessing latent anger within the party's base when it comes to Prime Minister Justin Trudeau and the federal government
And they note Alberta's 4.5 million people could, come Oct. 6, be propelled in a new direction dictated by 40,000 or so UCP voters.
"To me, it looks like it's only the really animated, diehard, engaged and largely angry folks that are driving the narrative right now," said Williams.
"They're angry and they want to see change not just provincially but federally, and they want someone who is going to fight."
This report by The Canadian Press was first published Aug. 12, 2022.