"The Child Soldier" to be screened Saturday at Edmonton Short Film Festival
A short film by Eppo Eerkes
Two friends from a war ravaged North American village head out for school. Their journey is cut short when a band of child soldiers attack the school bus bringing their mothers greatest fears to reality. Based on true events.
"The Child Soldier" is a short film which follows the story of Samuel, a boy living in a small village, plagued by famine, war, and economic devastation. The film's setting mirrors the economic situation in northern Uganda. But this tale will not be told against the backdrop of the African plain. Our main character in fact, is a twelve year old Caucasian. He lives with his
mother and little sister in a run-down, ramshackle, western North American community.
The setting is a fictional, war-torn world, isolated at the frontier of a developing nation. It's set against the stark contrast and beauty of endless miles of forested mountains and wilderness. Samuel attends a communal school each and every day, boarding a military protected bus and studying under the watchful gaze of government troops. When his bus is ambushed by a group of rebels on horseback one day, his world is turned upside down.
Samuel's story plays out in a fictional world. But his experiences, hopes, dreams, fears and conflicts are an amalgamation of a vast number of factual, documented accounts from real Ugandan children who have experienced similar fates. Samuel's story is their story. It's spoken in a new and desperately needed voice. His story stands as a symbol to all children who are forced to fight in wars worldwide.
Director Statement
In 1997 I traveled to 7 countries in Africa including Uganda. It was an unforgettable 3 month journey where I was able to experience all the incredible offerings this continent had to offer including the wildlife, scenery and culture. In 2004 I discovered like much of the world that while i was in Southern Uganda in '97 a horrific atrocity was taking place only 2 hours away in Northern Uganda. The Lords Resistance Army had been raiding their own communities in defiance of the Southern ruling government. The terrifying facts revealed that children from these communities as young as 7 were being forced to fight for the LRA. I was sickened to discover that these atrocities were taking place while i was there in Uganda. So I had to do something about it. I decided to travel to the war zone and interview child soldiers who were recently repatriated back to their country. My goal ultimately was to create a film taking their stories and giving them an innovative twist showing the world that child soldiers anywhere no matter what colour of skin is a complete travesty.
This video below was produced using footage from that research trip.

ABOUT THE FILMMAKER

Let me introduce myself, I'm Eppo Eerkes… I also have another name, 'Yinagha K'izzaa', translated it means 'Half Moon'. Elder and Medicine Man 'Spotted Eagle' from the Tsuut'ina Nation gave me the First Nations' name 'Half Moon' due to my keen eye for directing films as well as searching for 'The Light' in others. I represent the seekers, the risk-takers, the creative, free-spirited adventurers out there; the ones who want more forests and freeways; outback and oceans in their lives; those who push their own, personal boundaries. I want to pursue films and story that represents this perspective and philosophy.

Biography:
Eppo is an Internationally award-winning Director, frontiersman and explorer of cultures, His relentless curiosity has found him filming from the high arctic to east Africa. It's taken him from the Ecuadorian Andes to the Congalese mountains; from the Alberta badlands to the Costa Rican jungle. If it's the magic and ruggedness of an experience you want to capture, then Eppo is the name you need to remember. Eppo has created, written and directed over 100 hours of network broadcast film and television. You can see his work on Discovery, History Channel USA, Animal Planet USA and National Geographic. Eppo is also an independent film director who has several upcoming and finished scripted shorts and features.
A passionate story-teller, much of Eppo's content has focused on the fragile relationships between man and animal/man and the environment. Eppo has a respect for the spirit that resides in all living things, the thrill of the new, the delight of the unexpected. Eppo continues to hone and develop his craft by working on projects which inspire and explore the human spirit. You can follow him here:
"The Child Soldier" will be screened at the Edmonton Short Film Festival this Saturday.
Province orders dismissal of Chestermere Mayor, three councillors, and all three CAO's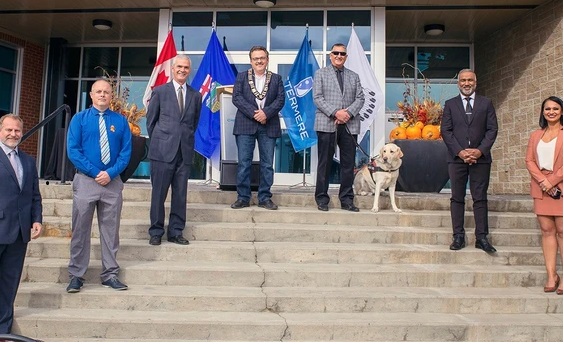 City of Chestermere/Facebook)
City of Chestermere councillors and senior staff dismissed
Minister of Municipal Affairs Ric McIver has issued a ministerial order dismissing four of the City of Chestermere's municipal councillors and all three chief administrative officers (CAOs).
After the city failed to comply with the supervision of the official administrator and some of the minister's directives that have been in place since March 15, 2023, Minister McIver has dismissed Mayor Jeff Colvin, Coun. Mel Foat, Coun. Blaine Funk and Coun. Stephen Hanley, as well as the three CAOs.
The directives, intended to restore good governance to the City of Chestermere, were issued following a municipal inspection. Since then, the city has continued to be managed in an irregular, improper and improvident manner.
"The directives issued by my predecessor are not onerous and represent the bare minimum that citizens ought to expect from their municipal government. However, after undertaking all reasonable efforts to have the city comply with its obligations, it has failed to do so. I am profoundly disappointed that it has come to this, but the people of Chestermere deserve better. This community should be able to have trust in its local elected government."
While the minister determined that the city has failed to comply with its obligations, he has also determined that dismissal of Coun. Shannon Dean, Coun. Sandy Johal-Watt and Coun. Ritesh Narayan was not justified given their efforts to hold council to account and attempt to move council in a more positive direction toward proper governance practices and compliance with legislation.
Councillors Dean, Johal-Watt and Narayan remain as elected councillors but will have no role in the governance of the city until a byelection is held and council quorum is restored.
The ministerial order dismissing Chestermere council members and senior administration is effective Dec. 4. An official administrator and interim CAO are in place to oversee the City of Chestermere's governance and operations until a byelection is held to elect new councillors for the vacant positions at a date to be determined in 2024.
Quick facts
A municipal inspection was ordered by the minister of Municipal Affairs under the Municipal Government Act (Section 571) in May 2022.
The independent inspection, which concluded in September 2022, found the City of Chestermere to be managed in an irregular, improper and improvident manner.
An official administrator was appointed in September 2022 to supervise the municipality and its council.
On March 15, 2023, the minister of Municipal Affairs issued 12 binding directives through a ministerial order requiring the City of Chestermere to take action to address key areas of concern.
On Oct. 18, the minister of Municipal Affairs issued to the City of Chestermere a notice of intent to issue a ministerial order which would dismiss all seven council members from office, as well as all three CAOs.
Premier Smith reacts to Liberal Government's announcement on new methane reduction targets at COP 28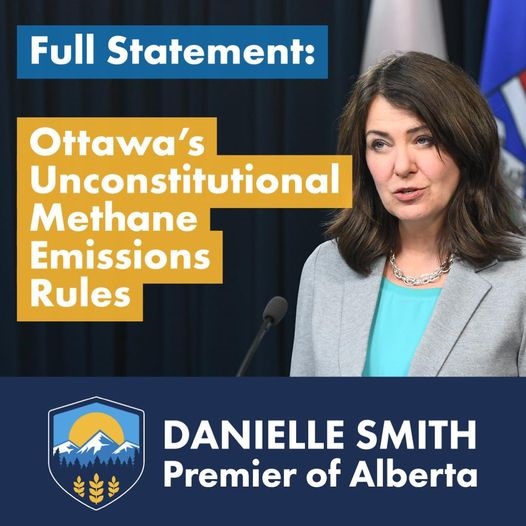 Federal methane emissions targets: Joint statement
"Once again, the federal government is setting unrealistic targets and timelines. Infrastructure can only be updated as quickly as technology allows. For example, Alberta will not accept nor impose a total ban on flaring at this time, as it is a critical health and safety practice during production. Any regulation that completely prohibits this is putting lives at risk"
Premier Danielle Smith and Minister of Environment and Protected Areas Rebecca Schulz issued the following statement on the federal government's proposed methane emissions regulations:
"The federal government has unilaterally established new methane emissions rules and targets to help win international headlines. Instead of building on Alberta's award-winning approach, Ottawa wants to replace it with costly, dangerous and unconstitutional new federal regulations that won't benefit anyone beyond Environment and Climate Change Minister Steven Guilbeault's post-office career.
"Managing emissions from Alberta's oil and gas industry is our constitutional right and responsibility, not Ottawa's, and we are getting the job done. Using a province-led approach, Alberta has already reduced methane emissions from the oil and gas sector by 45 per cent – hitting our target three years early – and we're just getting started.
"Meanwhile, not only is it illegal for Ottawa to attempt to regulate our industries in this manner, Ottawa also hasn't even hit one of its past arbitrary and unscientific emissions targets largely because it has little to no credible expertise regulating the natural resource, agricultural and other industry sectors in this space.
"Ottawa could have helped us keep reducing emissions with joint incentive programs in line with Alberta's Emissions Reduction and Energy Development Plan. It could have listened to the Supreme Court's declaration that the Impact Assessment Act was unconstitutional and abandoned this kind of arrogant and ineffective scheme. Instead, these new regulations threaten our successful province-led approach and impede good work that's already underway.
"Once again, the federal government is setting unrealistic targets and timelines. Infrastructure can only be updated as quickly as technology allows. For example, Alberta will not accept nor impose a total ban on flaring at this time, as it is a critical health and safety practice during production. Any regulation that completely prohibits this is putting lives at risk. A total ban would also be costly, resulting in shut-ins and loss of production.
"This approach will also cost tens of billions in infrastructure upgrades, yet Ottawa has provided virtually no financial support to do so. Thousands of Albertans could be put out of work in the coming years due to these costly regulations. A federal government willing to invest $37.7 billion into just three battery plants in Ontario and Quebec cannot credibly refuse to provide tax credits and financial incentives for producers in Alberta and Saskatchewan to assist with achieving a carbon-neutral economy by 2050.
"For years, Alberta, not Ottawa, has done the hard work and achieved results. We strongly support reducing methane emissions and have invested tens of millions into developing these technologies. Minister Guilbeault must work with us, and not against us, to keep cutting methane emissions and charting a course for carbon neutrality by 2050.
"Given the unconstitutional nature of this latest federal intrusion into our provincial jurisdiction, our government will use every tool at our disposal to ensure these absurd federal regulations are never implemented in our province."