The CACAC Breaks Ground on the Centre of Excellence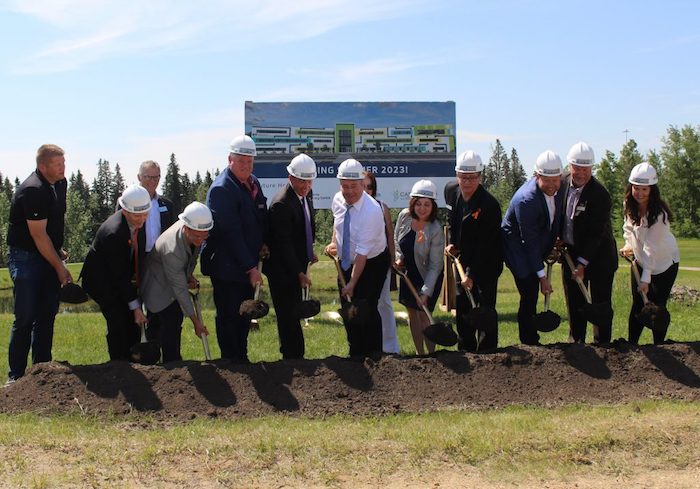 Tuesday, June 21 marked a significant milestone for the Central Alberta Child Advocacy Centre in the construction of the innovative Centre of Excellence.
With the building officially underway, CACAC and its dedicated partners can continue their efforts in creating a safer, healthier future for the children of Central Alberta. The new build is underway as of today, with construction beginning immediately. The projected 66,566 sq. ft. structure will be the new home of the Central Alberta Child Advocacy Centre, Central Alberta Sexual Assault Support Centre, Alberta Health Services: Red Deer Child and Youth Addiction and Mental Health Outpatient Clinic, and the Step Up Step Down youth live-in addiction and mental health program.
"Alberta Health Services is grateful for the CACAC project. This collaboration will offer many services under one roof for youth experiencing trauma, substance use disorder and mental health concerns. Front line teams can consult seamlessly and develop relationships that simply would not exist outside the shared space of the CACAC. The ability to offer multidisciplinary care will support positive outcomes for youth and families and a shared vision for the community," says Amy Klimosko, Director, AHS Red Deer Child, Youth, & Family Addiction & Mental Health.
The Centre of Excellence, a one-of-a-kind building in Canada, is an industry leading, evidence-based model strategically located on the Red Deer Polytechnic (RDP) Campus – built to strengthen integration for all partners involved. This is a proven model to reduce long-term impacts of abuse on children, youth and families, cut back on systemic costs of child abuse and, ultimately, save more lives. Thanks to the partnership with RDP, the location creates not only a safe place for children and families in Central Alberta to seek and receive support, but a place of innovation and research – to not only aid in the intervention of child abuse and mental health, but for prevention of these societal issues. Education is a key factor in the role of child abuse prevention, and the RDP partnership is a main component to building this foundation.
"On behalf of everyone at Red Deer Polytechnic, I am pleased to welcome the Central Alberta Child Advocacy Centre to our beautiful campus overlooking the forest reserve and next to the Gary W. Harris Canada Games Centre," says Jim Brinkhurst, Interim President. "We look forward to this collaboration that will serve Central Albertans and present tremendous learning and applied research opportunities for students and staff for years to come."
The building, constructed by Eagle Builders, is projected to be completed by Summer 2023. The 3-story, contemporary design, will be built with intentional common and shared spaces to cultivate collaboration between allied partners, and create an environment that children, youths and families feel comfortable and safe in.
"Today has been a shared vision since day one by our coalition, and I am beyond grateful that, because of our community, we are able to stand here and break-ground on this critical building. We look forward to sharing space with our integrated partners who share the same purpose: helping our children and our families. Thank you to all who have helped us pave our path towards our new home." – Mark Jones, CACAC CEO
The CACAC looks forward to updating the community on the progress of the build and sharing more details on the Partners involvement and impact their commitment and programs will have on our community.
Chief Clarence Louie and author Matt Tenney featured at Workforce Strategies Summit March 30 in Red Deer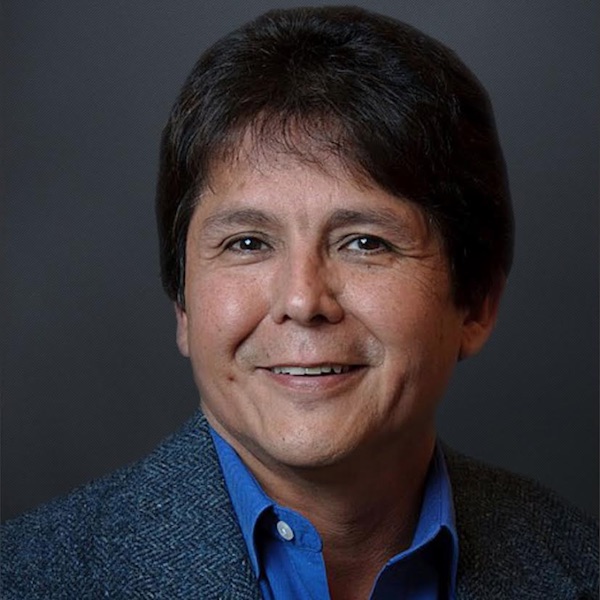 News Release submitted by the Central Alberta Economic Partnership (CAEP)
Prominent Speakers Keynote Workforce Strategies Summit
Two top caliber speakers will keynote the Workforce Strategies one-day summit in Red Deer March 30th. In the morning, social entrepreneur and "Serve to be Great" and "The Mindfulness Edge" author, Matt Tenney will share his leadership development and business success strategies. Tenney is a US-based consultant and trainer with the prestigious Perth Leadership Institute. His clients include Wells Fargo, Marriott, Keller Williams, Salesforce, United Airlines, and many other companies, associations, and universities.
In the afternoon, Canadian Speakers Bureau 5-star Indigenous inclusion, First Nation leadership and economic development expert keynote speaker, Chief Clarence Louie will share his experiences, lessons learned and business-smarts approach. Chief of the Osoyoos Indian Band for over 36 years, Chief Louie is one of six First Nations leaders to emphasize economic development to improve people's standard of living. Under his direction, the Band has become a multi-faceted corporation that owns and manages nine businesses and employs hundreds of people.
Completing the plenary sessions will be two panels of expert speakers on "Embracing the New Workforce" including topics on diversity, GenZ, and immigration, and "Automation and Technology to Fill the People Gap". The panelists include: Steve Miller, Implicit Career Search; Andrea Cassidy, Beyond Insurance; Nicole Arienzale, Fortis Alberta; Tonya Woolford, Xerox; Tom Muir, Poeta Digital; Jason Thompson, Warrior Supplies; and Dr. Joy Agnew, Olds College Centre for Innovation. The panels will be moderated by Stuart Cullum President Red Deer Polytechnic and Donna Purcell lawyer and owner of Donna Purcell QC Law.
Summit attendees can also attend private meetings with international recruitment agencies, lawyers, business consultants, and human resources professionals to discuss strategies specific to their organization's needs. Employers of all types including non-profit organizations and cooperatives are invited to attend to learn more about attracting and retaining staff for their specific sector needs.
Tickets are available through Eventbrite or from the CentralSummit.ca website until March 24. Lunch is included.
Workforce Strategies Summit is hosted by the Central Alberta Economic Partnership (CAEP) to help employers of all sizes gain insight and learn strategies for recruiting, hiring, and retaining employees. It is being held March 30, 2023 at Westerner Park in Red Deer.
Recruitment and retention related businesses including such as BusinessLink, Labour Solutions Canada, BLHR Consulting, C4ner Consulting, Golden Circle Senior Resource Centre, Camrose County, EPSS, Red Deer Polytechnic, Donna Purcell Law, Immigration Care, Digitex / Xerox, CRT Legal will be available for conversations in the business-to-business B2B Lounge.
Workforce Strategies Summit is made possible through the generous sponsorship of Community Futures Central Alberta, Olds College, Red Deer Polytech, Central Alberta Regional Innovation Network, Red Deer Chamber, Burman University, Fortis Alberta, and Canadian Immigration Visa Services. Donna Purcell QC Law, Pinnacle Communications & Media inc, Waste Connections Canada, Digital.ca / Xerox and JEDI.
The kids need Umpires more than ever! Central Alberta Softball Umpires Association puts out the call for help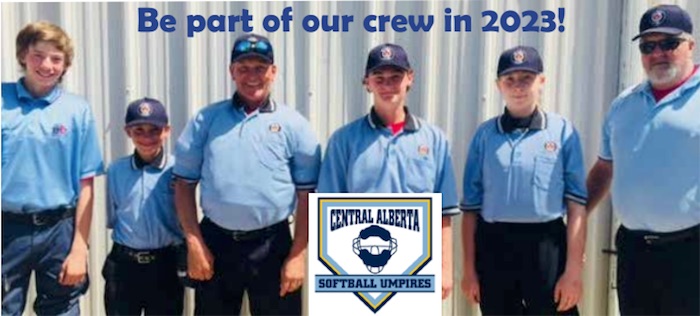 From the Central Alberta Softball Umpires Association (CASUA)
Become a Softball Umpire
The Central Alberta Softball Umpires Association (CASUA) is looking for new umpires to join their crew in 2023.
With a regular season and tournament schedule that gets underway in early May, CASUA is actively recruiting new umpires to cover minor games hosted by associations across the region.
CASUA works with minor associations in Softball Alberta's Zone 4, and northern Zone 2.
Communities covered include Didsbury, Olds, Innisfail, Sundre, Elnora, Trochu, Delburne, Red Deer, Sylvan Lake, Blackfalds, Lacombe, Ponoka, Bashaw, Clive, Bentley, Rimbey/ Bluffton, Stettler, Camrose, Castor, Coronation and Consort.
Umpiring is a great part-time job for youths (12+) or adults looking to earn at least $30 for a ninety-minute game.
Regular season games are held on weeknights in May and June, and weekend tournaments offer the chance to work anywhere from 6-10 games in a weekend. In addition to earning money, umpiring provides the chance to develop personal leadership skills such as decision making, communication and dealing with difficult situations.
Without umpires, players would face the prospect of having people pulled from the stands to officiate a game where they are unfamiliar with the rules, diminishing children's learning and enjoyment of the sport.
And then there is the worst-case scenario of not having anyone to officiate meaning "without umpires its just recess."
Umpires are required to complete a certification clinic prior to stepping on the diamond. This year, the theory portion of the clinic will be offered online, followed by an in-person mechanics clinic.
Mentorship is offered by senior umpires to help new officials skill development.
Currently, a choice of four in-person mechanics clinics scheduled in April:
 Saturday, April 1 in Rimbey
 Saturday, April 15 in Red Deer
 Sunday, April 16 in New Norway
 Saturday, April 29 in Castor
Registration fee for new umpires is $100, which includes membership with CASUA, Alberta Softball Umpires Association, Softball Alberta and Softball Canada, insurance, rule book, the clinic (including lunch), a mechanics manual, and an umpire shirt.
For more information, or to register as a softball umpire, check out the CASUA website at www.casua.ca, or email [email protected].
Join central alberta
Softball umpires!
Umpiring – a great summer job!!!
FOR MORE INFORMATION – Website: www.casua.ca; Email: [email protected]