The CACAC Breaks Ground on the Centre of Excellence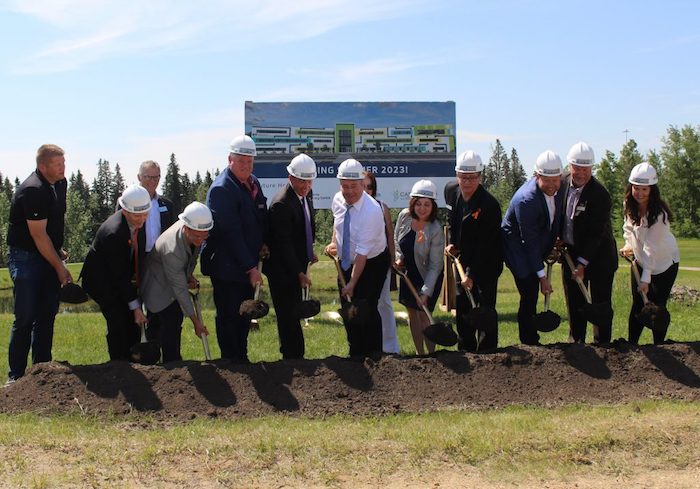 Tuesday, June 21 marked a significant milestone for the Central Alberta Child Advocacy Centre in the construction of the innovative Centre of Excellence.
With the building officially underway, CACAC and its dedicated partners can continue their efforts in creating a safer, healthier future for the children of Central Alberta. The new build is underway as of today, with construction beginning immediately. The projected 66,566 sq. ft. structure will be the new home of the Central Alberta Child Advocacy Centre, Central Alberta Sexual Assault Support Centre, Alberta Health Services: Red Deer Child and Youth Addiction and Mental Health Outpatient Clinic, and the Step Up Step Down youth live-in addiction and mental health program.
"Alberta Health Services is grateful for the CACAC project. This collaboration will offer many services under one roof for youth experiencing trauma, substance use disorder and mental health concerns. Front line teams can consult seamlessly and develop relationships that simply would not exist outside the shared space of the CACAC. The ability to offer multidisciplinary care will support positive outcomes for youth and families and a shared vision for the community," says Amy Klimosko, Director, AHS Red Deer Child, Youth, & Family Addiction & Mental Health.
The Centre of Excellence, a one-of-a-kind building in Canada, is an industry leading, evidence-based model strategically located on the Red Deer Polytechnic (RDP) Campus – built to strengthen integration for all partners involved. This is a proven model to reduce long-term impacts of abuse on children, youth and families, cut back on systemic costs of child abuse and, ultimately, save more lives. Thanks to the partnership with RDP, the location creates not only a safe place for children and families in Central Alberta to seek and receive support, but a place of innovation and research – to not only aid in the intervention of child abuse and mental health, but for prevention of these societal issues. Education is a key factor in the role of child abuse prevention, and the RDP partnership is a main component to building this foundation.
"On behalf of everyone at Red Deer Polytechnic, I am pleased to welcome the Central Alberta Child Advocacy Centre to our beautiful campus overlooking the forest reserve and next to the Gary W. Harris Canada Games Centre," says Jim Brinkhurst, Interim President. "We look forward to this collaboration that will serve Central Albertans and present tremendous learning and applied research opportunities for students and staff for years to come."
The building, constructed by Eagle Builders, is projected to be completed by Summer 2023. The 3-story, contemporary design, will be built with intentional common and shared spaces to cultivate collaboration between allied partners, and create an environment that children, youths and families feel comfortable and safe in.
"Today has been a shared vision since day one by our coalition, and I am beyond grateful that, because of our community, we are able to stand here and break-ground on this critical building. We look forward to sharing space with our integrated partners who share the same purpose: helping our children and our families. Thank you to all who have helped us pave our path towards our new home." – Mark Jones, CACAC CEO
The CACAC looks forward to updating the community on the progress of the build and sharing more details on the Partners involvement and impact their commitment and programs will have on our community.
Local artist records original song for Remembrance Day with video showcasing Red Deer's military history
Editor's note: This article was published in 2020. It was extremely popular in the Central Alberta region so we wanted to circulate it again this year, now even more poignant with the war in Ukraine. The video uses many images that are familiar to Central Albertans and pays tribute to Central Alberta soldiers who have deployed internationally over the years.
This spring, a singer and songwriter friend of mine from Red Deer, Shelly Dion, came to me with a song idea that had, in her words, been "knocking around in my head for the past 30 years". She said that she really wanted to pay her respects to the people who sacrificed their lives and livelihoods to go to war.
The song is called "Lay Me Down", and it's a very fitting song for this time of year. We decided to get together and record a simple version of the song. Then I sent her off to see musical wizard, Red Deer's Heath West of Medodius Design. Heath came up with some excellent improvements and we recorded it in his studio this fall.
As Honorary Colonel of 41 Signal Regiment in Alberta, I'm always looking for opportunities to promote the military, our Regiment's members, and of course at this time of year, to acknowledge the sacrifice made by the men and women who serve in the Canadian Armed Forces. "Lay Me Down" hit all the right notes.
With some help from Counsellor Michael Dawe, long-time archivist for the City of Red Deer, I gained access to some wonderful historic photos that helped me to tell some of the stories of Red Deer's military history. At the same time, I wanted to help the members of our Regiment honour the many local members who have volunteered to put their lives and careers on hold to deploy internationally to places like Afghanistan, Golan Heights, Bosnia-Herzegovina, Croatia, and more recently Ukraine and Latvia. This project allowed me to both profiles some local history and recognize our more modern history. Thanks to WO Drew Adkins of 41 Signal Regiment for his help in coordinating photos from our wall of fame inside Cormack Armoury.
The above video is the result. Take some time to learn about our local military history. Do you know who Cormack Armoury is named after? You'll also learn about local members of 41 Signal Regiment (2 Sqn), many of whom actively serve in the Armed Forces today. You may even know some of them as neighbours, friends, and co-workers. Please take a moment to acknowledge their service, and on November 11th, attend a service, and at the very least, take a moment at 11 AM to be silent and consider how lucky we are to be at peace in our country.
"Lay Me Down" is written and performed by Shelly Dion and produced and engineered by Heath West. Musicians: Bagpipes Glenn MacLeod, acoustic guitar Heath West, electric guitars Lloyd Lewis, drums Phil Liska, Bass Doug Gagnon.
Click to read more on Todayville.
Test of Halloween candy at Rocky Mountain House reveals Fentanyl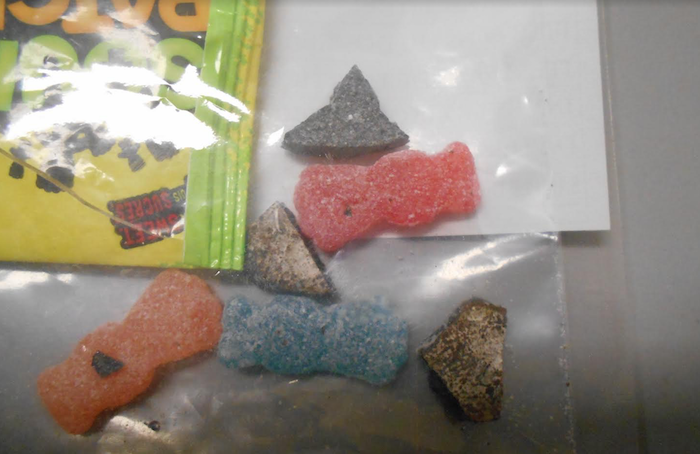 From Rocky Mountain House RCMP News Releases
While examining Halloween candy this week, a parent in Rocky Mountain House discovered an open package with three pieces of a dark substance that looked suspicious.
Concerned, the parent turned over the package to Rocky Mountain House RCMP. Early tests from the Alberta RCMP Forensic Identification Section have identified the presence of Fentanyl.
The substance has been sent to the RCMP Lab for further tests. While Rocky RCMP try to discover the source of the package, they're reminding parents to take extra precaution in examining their children's Halloween candy. Remember that any unsealed candy should be thrown away immediately.
If you find anything suspicious in your candy, contact your local Police.