Terrific performances featured on the Ross Street Patio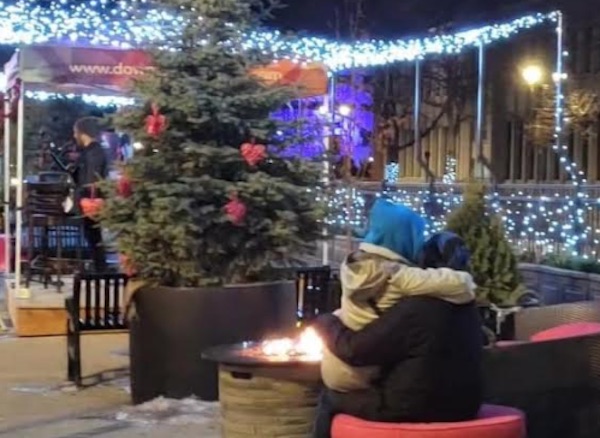 Kick off Family Day weekend with a show by Red Deer's own Ten02
Music fans won't want to miss out on a range of terrific performances coming up on the Ross Street Patio.
'Music on the Ross Street Patio' continues Feb. 18 with popular Red Deer-based band Ten02. "The performance is a kick-off to the Family Day weekend,
so we will also have the hot chocolate out again, and the photo booth. It will be a really great evening of family fun," explained Chelsey Ward, special events coordinator for the Downtown Business Association.
The Patio's music season was officially launched on Feb. 11 with a special Valentine's Day event featuring tunes from Simon Donovan and Amanda Mitchell, free Valentine's hot chocolate, a 'Date Night' giveaway valued at $100 and a themed-photo booth.
Visitors could cozy up by one of the fire tables under a canopy of sparkling lights while listening to superb local talent.
Folks could also check out the 'Locks of Love' installation and add one of their own to celebrate the occasion with their significant other.
"It was great!" said Ward of the Feb. 11 event. "The Ross Street Patio really provides such a romantic ambience to begin with under that canopy of light and the fire tables. It's really beautiful. We also had the trees decorated with hearts, and of course the Locks of Love was decorated. "The weather was also just right – cold enough to be cozy! The businesses' patios also filled up with attendees and spectators, too. So, the words to describe it would be 'vibrant' and 'thriving' – there was a lot of excitement on the patio that evening," she added.
Music on the patio has been an exciting feature for several years through the warmer months with performances running Tuesdays and Thursdays from 11:30 a.m. – 1 p.m. and Wednesdays from 4:30 to 6:30 p.m. This year marks the first time performances have been scheduled in the winter season, which falls in line with the current 'year-round' nature of the Ross Street Patio.
And there is no doubt that residents are loving it.
"Feedback from last Friday's performance showed a great deal of appreciation from both residents and businesses," explained Ward. "The Ross Street Patio is such a loved feature of the downtown, so it's very exciting to be able to celebrate it year-round. There's a lot of excitement, and people are happy to be there." Another goal is to just generally increase traffic and overall awareness about all that downtown Red Deer has to offer, she said.
"The downtown is just such a great place to take a walk, explore and come across really unique small businesses, and to enjoy the roots and the culture of our historic downtown, too. Then you can stop by the Ross Street Patio for a live musical performance – there is just so much to see and do. "Right now is also a great time to visit the downtown – we have our 'ShopDowntown2Win' promotion going on," she said.
ShopDowntown2Win is an exciting promotion involving a weekly $1,000 draw – $500 to keep and $500 to share with a local business, Ward explained. "All shoppers need to do is submit a picture of any receipts of $25 or more from any business in the downtown or Capstone area to www.shopdowntown2win.com." Draws take place every Tuesday until March 8th when there will be a draw for a $1,500 grand prize!
"If shoppers can't make it downtown every week, they can also participate by writing glowing google reviews about downtown and Capstone businesses," she added. "It's a great time to check things out and then enter to potentially win a great prize!"
As to the ongoing music series, folks can check out The Red Hot Hayseeds on March 17. Additional shows feature Jaydin Vonkeman on April 1, Jeremy Doody and Dom Benzer on April 7, and Stephen Scott and guests on April 14.
More exciting performances down the road include Kayla Williams on April 21, Jay Bowcott and Syd Zadravec on April 28 and heading into May don't miss The Rebecca Raabis Family Band on May 5, James Adams (May 12) and Dean Ray on May 19.
'Music on the Ross Street Patio' is a free event and is open to all ages. All performances run from 4:30 – 7:30 p.m. on show nights.
Also, according to the DBA, dates that fall on or near holidays will also feature giveaways, themed-décor, photo booths as well as free hot chocolate and/or activity booths along with the regular performances.
For more about the Downtown Business Association and all that is planned for the Ross Street Patio, find them on Facebook or visit www.downtownreddeer.com.
Telus Corp. marks opening of Telus Sky in downtown Calgary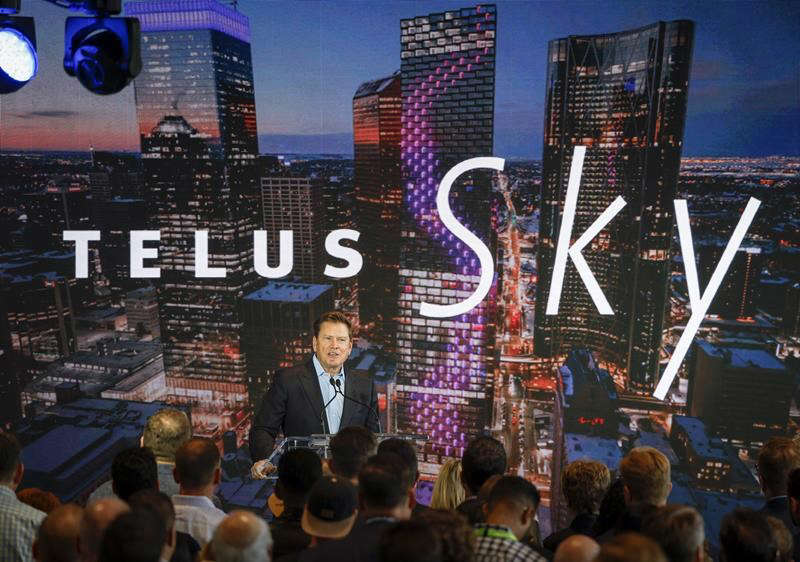 CALGARY — Telus Corp. marked the opening of its new 60-storey Calgary headquarters on Wednesday.
The new $400-million skyscraper, Telus Sky, has been in development for nine years and is now the third-tallest building in downtown Calgary. It features 750,000 square feet of office and retail space as well as 326 rental homes.
The building's eye-catching design, by architects Bjarke Ingels Group (BIG) and Dialog, along with developer partner Westbank and Allied, starts with a rectangular floorplate and then gradually twists as it rises.
Integrated into the facade of Telus Sky is Canada's largest public art display. "Northern Lights" by Canadian author and artist, Douglas Coupland, creates a light show across the building's exterior.
Telus Sky will be home to more than 1,600 Telus employees. It joins TELUS Garden in Vancouver, TELUS Harbour Toronto, TELUS House Ottawa, and Place TELUS Québec as one of the company's LEED (Leadership in Energy and Environmental Design) Platinum-certified buildings.
Among the building's environmental features is a storm water management system that recycles rainwater for use in washroom toilets, reducing the building's municipal water demand by 70 per cent.
This report by The Canadian Press was first published July 6, 2022.
Companies in this story: (TSX:T)
Amanda Stephenson, The Canadian Press
Business Spotlight: Massage Above All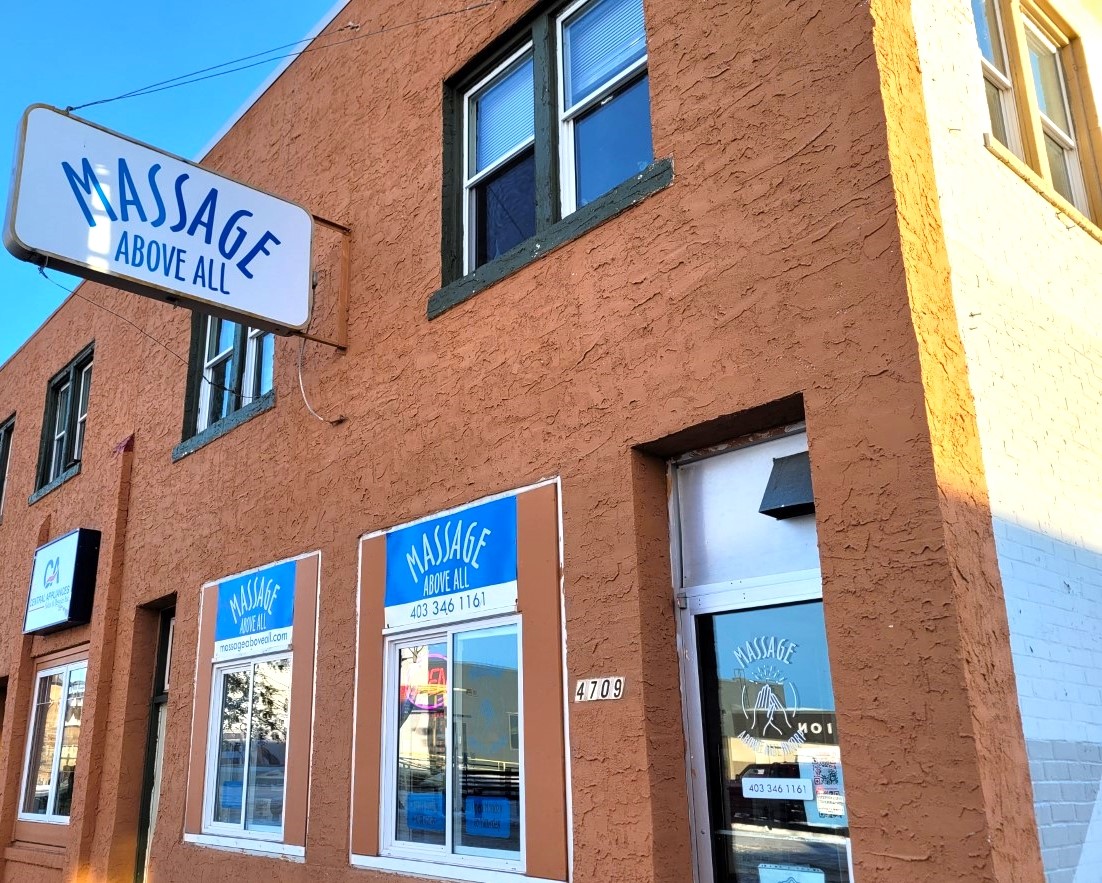 This week's Business Spotlight shines on Massage above all an excellent place to heal and relax with truly professional staff.
1. What is your business?
We are a Professional Therapeutic and Holistic Massage clinic serving Central Alberta in Downtown Red Deer since 1995.
2. When did your business open?
Originally opened in a small rental space in 1995, as we grew, it became apparent that we would need to expand. We purchased and completely renovated our current 2525 sq ft property with our clients in mind. Each treatment is spacious, clean and meets all health standards as per AHS.
3. What makes your business unique?
We are a local Massage Clinic that owns our property and has thrived in the Downtown for some 27 years: 6 treatment rooms spacious lobby. Our therapists are registered with professional associations, and as such, we can direct bill to most insurance companies. *Some conditions apply*
4. What are some products/services that you offer?
We offer Professional Massage Therapy services, including Therapeutic, Relaxation, Lymphatic, Hot Stone, Couples Massage, Reflexology, Cupping, and Craniosacral therapy.
We also offer fair trade merchandise from around the world. Stop in and see
5. Why did you choose Downtown Red Deer as the location for your business?
Personally, I chose the Downtown because our family has owned and operated businesses since 1974 when we moved to Red Deer from Calgary when my parents took over Red Deer Auction Co Ltd.
6. What do you think makes Downtown vibrant?
The unique and friendly businesses and business owners and staff.
7. Finish this sentence: I love Downtown Red Deer because…
It is the core of the city, close to home. A vibrant community with eclectic and unique shopping experiences.
For more information
Facebook – Massage Above All | Facebook
Twitter –@MassageAboveAll