Lindsay Thurber Comprehensive High School presents Legally Blonde The Musical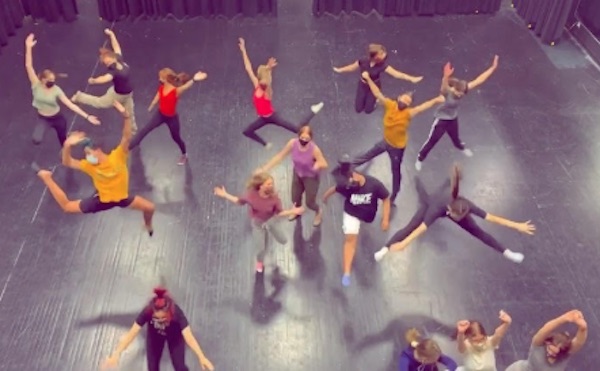 Elle Woods is making her debut in Red Deer as Lindsay Thurber Comprehensive High School presents Legally Blonde The Musical.
Shows run March 12-13 and March 16-17 at Red Deer Polytechnic.
"The aim is to offer students a new style, genre or era of musical theatre each year, so that by the time they graduate they have experienced a variety of styles. Last year, we worked on Annie, so this year, Legally Blonde came from wanting to do something a little more contemporary. It's got a pop-rock score and some more challenging content, which the high school students were excited for," said Tara Koett, Teacher at Lindsay Thurber Comprehensive High School. "The show is based on the film, which is based on a book."
According to Lindsay Thurber's website Legally Blonde The Musical is, "A fabulously fun award-winning musical based on the adored movie, Legally Blonde The Musical, follows the transformation of Elle Woods as she tackles stereotypes and scandal in pursuit of her dreams. Action-packed and exploding with memorable songs and dynamic dances – this musical is so much fun, it should be illegal!"
"It's really campy and self aware, ridiculous and clever. For those familiar with the movie, it's quite similar and maybe a little cheekier," said Koett. "It's been a lot of fun, it's very high energy, and it has a really beautiful and empowering message."
About 70 students (and two canine actors) are involved in the production, which includes the cast, pit band, and technical theatre students. Koett added the students are giving their all.
"It's been a really steep learning curve given the fact that in the past two years, their learning has been interrupted because of the pandemic," she said. "It's daunting and so exciting to see them start to revisit the skills they haven't had the chance to use. It's also the first time in two years that we've been able to have our cast and the pit band performing together. It's really exciting and the energy is palpable."
Koett said she encourages people to purchase tickets, even if they don't have a connection to the school community.
"If you love live theatre and you love to laugh – the breadth and depth of work that these students have accomplished is incredible," she said. "Our pit band is playing the same score that a Broadway Pit Orchestra would play; they are working so hard. The cast and technicians are also working so hard – I am amazed every day. The quality of their work is exceptional."
Tickets are on sale now. To purchase tickets, visit the Red Deer Polytechnic ticket website, or https://www.rdpsd.ab.ca/lindsaythurber/_ci/p/82938. For a sneak preview of the process, follow @thurbertheatre on Instagram or Facebook.
Red Deer Polytechnic Athletics refreshes brand for 2022/2023 season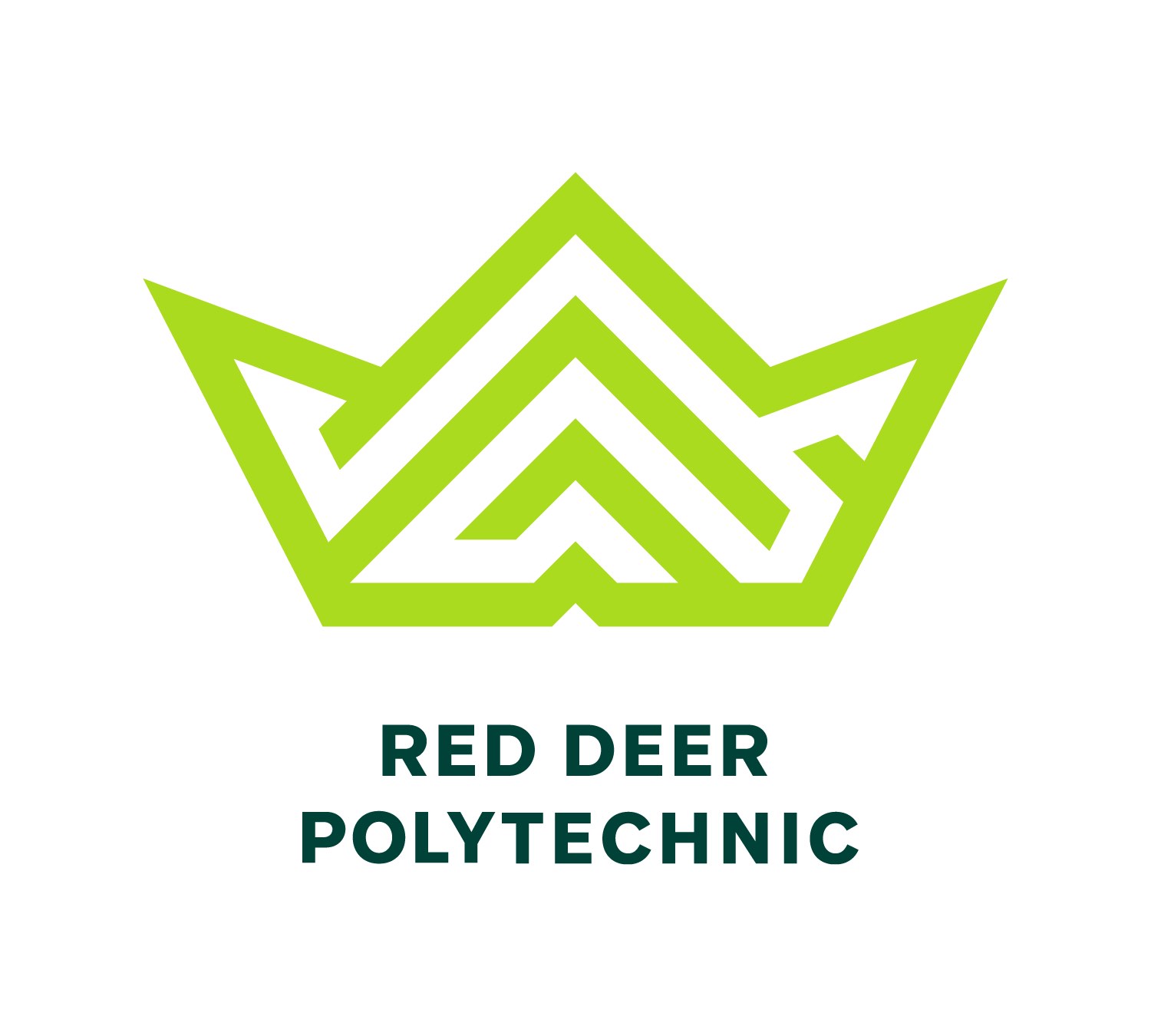 Updated logo honours the past and embraces the future
The Red Deer Polytechnic Kings and Queens will have a familiar, but modern look as they enter the 2022/2023 Alberta Colleges Athletic Conference (ACAC) season. Feedback from two virtual Red Deer Polytechnic Athletics Engagement Sessions, along with responses from a public online survey during Winter 2022 Term were used to help shape the creation of the updated logo, which remains a Crown.
"Our student-athletes, coaches, donors, sponsors, alumni, Athletics stakeholders, and central Albertans expressed their affinity for the Kings and Queens to continue wearing the Crown as a way of honouring the legacy of excellence within Red Deer Polytechnic Athletics," says Jim Brinkhurst, Interim President, Red Deer Polytechnic. "With a history of 25 national titles and 182 ACAC gold medals from individual student-athletes and teams, Red Deer Polytechnic Athletics has cemented itself as a premier program in the ACAC and across the nation, and the Crown has become an identifiable symbol of that success."
Over the years, the brands of the institution and Athletics have been updated, including different logos and colour schemes.
"The new Red Deer Polytechnic brand was unveiled on October 1, 2021, and this included a new logo," says Kristine Plastow, Dean of Students. "As a result of the changes, the brands of the Polytechnic and Red Deer Polytechnic Athletics were not aligned, so we engaged with stakeholders to better connect the two. With the bold and modern features of the updated Crown, along with the single green colour, the relationship between the two brands is now strongly correlated."
The refreshed Red Deer Polytechnic Athletics brand will be visible on campus and on new uniforms when the Kings and Queens compete in the 2022/2023 season.
"We are very excited for the 15 Red Deer Polytechnic Athletics teams to proudly showcase the modern visual identity this year, as they train, compete and volunteer in the community," says Randy Stewart, Manager, Athletics and Student Life. "The Kings and Queens will have a unique and recognizable look as they continually strive for excellence in all facets of being a student-athlete at Red Deer Polytechnic. We are very proud of our student-athletes, and we can't wait for the new season to begin in front of our donors, supporters, alumni, and fans in central Alberta."
Valedictorian Message from Gateway Christian School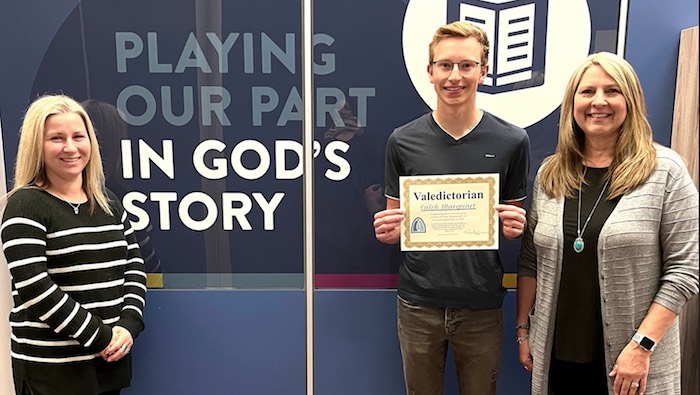 Gateway Valedictorian thankful for close knit school community
Having grown up in the Gateway Christian School community since Kindergarten, Caleb Marquart, has been named Valedictorian for the Class of 2022.
"It's an honour to be named Valedictorian," he said, adding the recognition is a testament to his hard work and dedication over his high school career. "It's always been a goal of mine to do the best that I can."
As Caleb looks back on his high school career, there are many moments he will remember.
"Some of the highlights for me were some of the events that we had at Gateway. When I was in Grade 9 we had Chill Fest and the Student Council planned a 12 hour event – that was the first real moment in high school when I realized the community at Gateway is very special," he said. "We also do worship together as a school, and we have an opportunity to collaborate with younger students through the Buddy Program, which is really cool."
He added the Buddy Program is a mentorship program within Gateway and includes students in older and younger grades being paired up and spending time together. This year, Grade 12 students were paired up with students in Grade 5. "Having that buddy experience and being able to connect and be a mentor for them is really great and definitely a highlight," he said. "Having a buddy gives you perspective of what it is like to go through school and just connect with them. It's not stressful and you can just share your experiences."
Something unique to Gateway high school students is that they attend Gateway for their core classes, and Lindsay Thurber Comprehensive High School for their options. They are fondly known as 'Gurber' students. For Caleb, this has been a great experience.
"I like the fact of being at a bigger school like Thurber because there are a lot of opportunities with options and sports," he said. "But then I also enjoy the smaller community that Gateway offers. It is a perfect balance."
As for his speech to his classmates on graduation day, Caleb said he plans to talk about the value of the community that Gateway offers. "Every person in my graduating class has really contributed to that experience," he said. "When you're in a bigger school there is a chance that you are graduating with people that you may not really know. I've had the opportunity to have a full conversation with every single one of my classmates. I want to highlight that relationship between us in the Gateway community."
This fall, Caleb will head to Red Deer Polytechnic in the Bachelor of Engineering program. He will eventually transfer to the University of Alberta.
Geannette Lehman, Principal at Gateway Christian School, said Caleb's honour is well deserved.
"Caleb is a caring and compassionate young man, who is well respected among his classmates and peers. He has a natural ability to make others feel accepted, and is conscientious to not leave others out," she said. "Caleb's diligent work ethic and humble demeanor make him a worthy recipient of the honour of being Gateway's 2022 Valedictorian! We are incredibly proud of Caleb and wish him all the best!"
Gateway will hold their graduation ceremonies on June 28 at New Life Fellowship Christian Reformed Church.