Stories From The Son Of A Red Deer Vimy Ridge Veteran – Part 2 of 3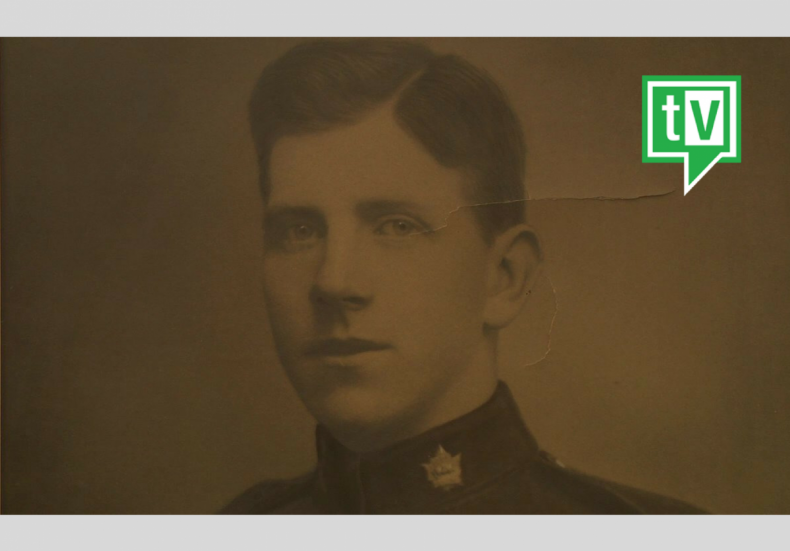 By Sheldon Spackman
This is our second installment of our conversation with Red Deer Realtor Craig MacKenzie, the last surviving direct descendant of a World War 1 Veteran from Red Deer.
In this segment, MacKenzie talks about some of the stories his father shared with him about his experiences fighting in the Battle of Vimy Ridge.
Sergeant Walter MacKenzie served with the 1st Canadian Division and fought during all four years of the First World War war from 1914-1918.
Driver charged with first-degree murder in Quebec daycare bus attack that killed two
By Morgan Lowrie and Stéphane Blais in Laval
LAVAL, Que. — A transit driver has been charged with two counts of first-degree murder after two children were killed and six were seriously injured when a city bus crashed into a daycare north of Montreal.
Pierre Ny St-Amand, 51, appeared by video late Wednesday afternoon from a hospital room and will remain detained. Court documents show he faces a total of nine charges, including attempted murder, aggravated assault and assault causing bodily harm. The dead children were both four years old, identified in the documents only by their initials.
Witnesses who arrived at the daycare soon after the crash Wednesday morning said several people had to restrain the driver after he got off the bus, adding that the suspect seemed delirious.
Hamdi Benchaabane, a neighbour to the daycare, said he rushed to the scene of the crash. Benchaabane told reporters that he and three others managed to subdue the driver, who he said had stepped off the bus, removed all his clothing and started screaming.
"He was yelling, he didn't stop yelling," Benchaabane said. "The first thing he did was take off all his clothes after opening the bus door …. He was just yelling, there were no words coming out of his mouth."
Aerial news footage from the scene showed a Société de transport de Laval bus that had smashed through the front of the Garderie Éducative Ste-Rose. Benchaabane said he believes the driver deliberately drove into the daycare, which is located at the end of a driveway off a cul-de-sac. There is a bus stop on the cul-de-sac, but the driver would have had to veer off the road and head down the long driveway to hit the building.
Police said a 911 call about the crash was received at 8:30 a.m., which is typically around the time parents drop their children off for the day. Mario Sirois, another neighbour, said he was among the first on the scene and helped stop the suspect as he tried to flee.
"It can't be an accident," Sirois said. "There were no signs of skid marks. It was deliberate. He went directly into the daycare."
Sirois's wife, Ginette Lamoureux, described a scene of horror inside the daycare. "The children were screaming and crying, they were all in a room …. A mother arrived and collapsed," she said. "The policewoman was trying to calm her down. I left, I was no longer able."
Benchaabane said he and the others had to strike the driver to get him under control before police handcuffed the man. The driver, he said, "was in a different world."
He said he was able to help pull one child from the daycare, adding that he and the others tried to save a second child before firefighters ordered them to leave because pieces of the roof were at risk of falling.
"It was a nightmare, I can't believe it," Benchaabane said of what he witnessed. "It was horrible."
Dozens of police and emergency vehicles lined the blocked-off road leading to the daycare. Panicked parents tried to run down the road to the site, but were redirected to a nearby elementary school building that was turned into a gathering point.
Parents, some in tears, could be seen walking away from the school with their young children in their arms. When asked how she felt, one mother said only that she was "relieved."
Diane Pilon, a grandmother, said she rushed to the daycare after learning of the crash. She said she was relieved to learn her one- and five-year-old grandchildren were doing well, but she said her thoughts were with the families of those injured or killed. "It's a test for all parents," she said.
According to the daycare's website, it has capacity for up to 80 children.
Laval police Chief Pierre Brochet told reporters at the scene Wednesday afternoon that he was having trouble controlling his emotions.
"I saw colleagues crying; it's difficult," he said. "The job of police officer requires you to be ready for any situation, but when it comes to children it's hard." Brochet said police did not have information about a motive for the attack.
Documents list the injured children as being four and five years old. Four of them — two boys and two girls — were taken to Montreal's Sainte-Justine pediatric hospital, said Dr. Marc Girard, head of professional services. They were conscious when they arrived at the hospital and were being evaluated, he told reporters, adding that one child was in intensive care.
Officials at Laval's Cité-de-la-Santé hospital said they received three crash victims, one of whom died. The other two were under observation in the emergency department, said Dr. Patrick Tardif, head of emergency at the hospital.
Laval Mayor Stéphane Boyer said the driver had worked for the transit agency for about 10 years and had no incidents of note on his file. The Quebec branch of the Canadian Union of Public Employees, which represents drivers with the Laval transit service, tweeted that it was "truly devastated" by the tragedy. "We will co-operate fully with the authorities in the investigation," it said.
Quebec Premier François Legault said his thoughts are with the children and their families, as well as with the employees of the daycare. "We are going to give the parents all the help we can, and as a father, I am shaken," he said in Quebec City. Legault said later on Twitter that he will visit Laval on Thursday.
In Ottawa, Prime Minister Justin Trudeau said he could not imagine what families of the victims were going through.
"There are no words for parents who've lost their children this way," he said. "All Canadians are grieving with them and we'll do whatever we can to support them in their horrific pain through the coming days and months and years of grief."
St-Amand's case returns to court on Feb. 17.
This report by The Canadian Press was first published Feb. 8, 2023.
— With files from Jacob Serebrin and Sidhartha Banerjee in Montreal.
Canadian assessment team deployed to Turkey after earthquake
OTTAWA — A senior government official says a Canadian assessment team is on its way to Turkey to determine how Canada can contribute to earthquake relief efforts.
International Development Minister Harjit Sajjan was expected to formally announce the deployment of the Canadian Disaster Assessment Team this evening.
The senior official, who spoke on background pending Sajjan's official confirmation, said the team consists of a handful of military and Global Affairs officials.
The official underscored that the deployment of the team does not automatically guarantee a further deployment of Canadian resources to the country.
The earthquake, which razed thousands of buildings in Turkey and Syria on Monday, is one of the deadliest quakes worldwide in more than a decade and the federal government is facing criticism that the window to help with rescue efforts is closing.
Search teams from more than two dozen countries have joined tens of thousands of local emergency personnel and Canadian humanitarian aid workers with charitable organizations were arriving Wednesday
Defence Minister Anita Anand said late Tuesday that the federal government had not ruled out sending a Disaster Assistance Response Team, to help with the recovery effort, but that it was working to figure out what would be most useful.
The assessment team would recommend whether to send additional support, such as a DART.
Earlier Wednesday, Prime Minister Justin Trudeau announced the federal government would match funds donated to Canadian Red Cross relief efforts up to $10 million on top of an initial aid package of $10 million.
This report by The Canadian Press was first published Feb. 8, 2023.
The Canadian Press