Stopping suspicious vehicle leads to arrest and charges in Blackfalds  
RCMP Blackfalds and Central Alberta district integrated crime reduction unit – Suspicious vehicle leads to arrest and charges
In the late afternoon of November 8th, 2018 the Central Alberta district integrated crime reduction unit were on pro-active patrols in the Blackfalds area. The patrols led them to a known individual, exiting a liquor establishment. Investigations revealed multiple breaches on release conditions, as well as Controlled Drugs and Substances Act, firearms, weapons and possession of stolen cheque charges.
Two suspects have been arrested and are currently in custody awaiting a bail hearing. Names are not being released at this time as the charges have not been sworn before the courts.
The Central Alberta district integrated crime reduction unit and Blackfalds RCMP continue to work together in a collaborative effort to curb crime.
If you have any information that could assist the police, please contact the Blackfalds RCMP at 403-885-3300.
If you wish to remain anonymous, call Crime Stoppers at 1.800.222.8477 or report it online at www.tipsubmit.com. If the information leads to an arrest, tipsters are eligible for a cash reward of up to $2,000.00.
Blackfalds Community Plaza To Be Named Border Paving Plaza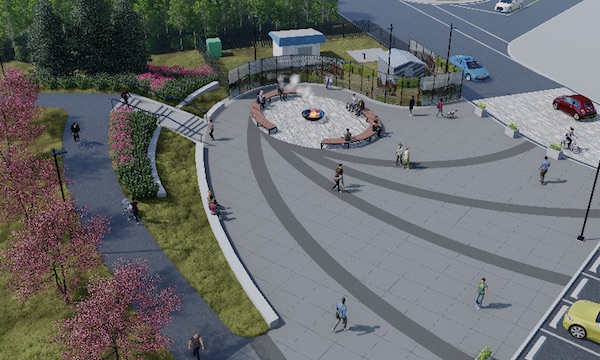 News Release from the Town of Blackfalds
The Town of Blackfalds is proud to announce that the community plaza set to open in the fall of 2022 will be officially named the Border Paving Plaza! Council formally approved the naming sponsorship at the March 22 Regular Council meeting.
The Border Paving Plaza will be a four-season gathering place that will provide residents and visitors with an aesthetically pleasing open area in which they can participate in markets, festivals, performances, and other community events. The Plaza will be east of the Eagle Builders Centre and south of the existing parking lot.
"Over the past number of years, outdoor gatherings and events have been steadily growing in participation and popularity in Blackfalds, so it's very exciting that we are moving forward with the Border Paving Plaza project that will serve to be a focal point for many of these exciting events," shared Mayor Jamie Hoover. "Along with completing the Eagle Builder Centre and the road realignment, this outdoor plaza will quickly become a central point of pride in our always improving community."
The 24,000 square foot space will feature a decorative stained concrete deck, stairs and ramps, landscape features, and a natural gas fire pit.
Border Paving Plaza's budget is $668,000, of which 75 per cent was approved through the Canada Community Revitalization Fund. The remaining funds will be alleviated from sponsorships, including Border Paving Ltd, DB Bobcat Services, STEP Energy, Stantec, and ATCO gas.
Amanda Stasiuk, Border Paving's Community Outreach Coordinator, said that the company is looking forward to the development and the continued partnership with the Town.
"Once again, we are very excited to be a part of Blackfalds' commitment to public gatherings and community-minded development. Donations like this are part of our long-standing commitment to the communities we are part of."
Construction of the Border Paving Plaza will begin this spring, in conjunction with the Gregg Street Realignment project.
Train Derailment south of Lacombe: 1 rail car leaked liquid asphalt
News Release from Blackfalds RCMP
Blackfalds RCMP advise of train derailment – Update
Blackfalds, Alta. – On July 2, 2021, at 8:15 p.m., Blackfalds RCMP received a 911 call of a train derailment along Highway 2A in Lacombe County.
Initial reports suggested a number of oil cars were leaking oil and possibly on fire. A nearby residence was evacuated as a precaution, and multiple emergency crews responded.
Emergency crews were able to determine that 23 train cars had derailed, four of which were carrying Tar Oil (liquid asphalt). Upon further inspection, only one of the cars was found to have a leak while the remaining were intact. No fires had started.
No injuries were reported and those evacuated were able to return home.
CP Rail and Lacombe County Emergency Management remain on scene and Highway 2A is expected to be blocked to traffic for several more hours while crews investigate and cleanup.
CP Rail Police has taken over this investigation.