Sometimes it Pays to be Unreasonable – a TOSI story
TOSI – Tax On Split Income – the brain child that is going to tax the wealthy, and not the middle-class (and those working hard to join it).
In Episode 18 of my podcast, Brainstorming (+tax), we looked at the new Tax On Split Income rules, and brainstorm the idea: what if we were unreasonable on purpose?
Over the past year, a lot of emphasis has been placed on how only "reasonable" amounts of dividends can be paid to related shareholders.
So where is "reasonable" defined in the Income Tax Act?
Truth is, it isn't, which makes it that much harder to comply or prove you are being "reasonable".
In fact, the closest thing you can come to is in Section 67 that states:
"In computing income, no deduction shall be made in respect of an outlay or expense in respect of which any amount is otherwise deductible under this Act, except to the extent that the outlay or expense was reasonable in the circumstances"
Translation – if it looks unreasonable, then you cannot deduct it for tax.
This provision only disallows the deduction for tax purposes, it does not remove the fact that it still may be income to the recipient on the other side of the transaction.
So what does this mean?
It means that if I was going to pay a $100,000 wage to my spouse that is not active in my accounting firm it is extremely likely that the CRA would not allow the deduction in my corporation, and so I would not save the 12,000 of small business corporate income tax (or $27,000 of high rate) income tax the deduction would have given me.
Sounds like we should make sure we avoid this transaction doesn't it?
But let's brainstorm.
If I am a small business making less than $500,000 of profit in a year, and I want to pay my inactive spouse a dividend, in Alberta, she is going to pay roughly 41.6% on every dollar I allocate to her under the new Tax On Split Income rules.
If she is already in the highest tax bracket, then there is no issue, because it is the same rate either way. In fact the real impact is on those that are not in the highest tax brackets.
So what happens if instead of giving her a $100,000 dividend, I decide to pay her an unreasonable salary of $100,000 instead?
Now before we go any further, we must keep in mind that there may be other payroll taxes and the CPP to consider in these calculations which could change your results, but you will see that at lower amounts, this becomes less of a concern, and more of a plan.
So in Alberta if I paid my inactive spouse that has no other income, a $100,000 dividend would cost $41,600 in taxes. However, if I paid her a wage, she would only pay $24,600 in taxes.
What would I lose?
Assuming that the $100,000 is not deductible, and I am a small business, I would not get the deduction and lose the $12,000 in savings that the deduction could have given me.
But do we care?
Keep in mind, even by losing that deduction, dividends are not deductible either, so the tax inside the corporation is the same either way. The real difference then, is a Tax On Split Income Dividend vs the tax on the Unreasonable Wages.
In this Alberta small business example, the difference is $17,000 before factoring in CPP requirements.
Now I've done the math for every province, and it appears to work for almost every situation where the active spouse is already in a high tax bracket situation.
Every single province shows a benefit of doing this in either the small business, or the large corporation that has no small business deduction.
What we have to look at, however, is the balance between having the ACTIVE taxpayer receive a dividend based on their tax brackets, vs the inactive taxpayer receiving an unreasonable salary as well as any related payroll costs and compliance costs (those pesky accountants).
Now will the CRA or Finance look for other ways to close this possibility down?
Will they try to argue that there is somehow a "shareholder benefit" by having something not deductible to a corporation?
What about our friend the General Anti Avoidance Rule?
While I personally think those are both a bit of a stretch, it definitely seems to be something to think and be aware about in your specific circumstances.
——-
Cory G. Litzenberger, CPA, CMA, CFP, C.Mgr is the President & Founder of CGL Strategic Business & Tax Advisors; you can find out more about Cory's biography at http://www.CGLtax.ca/Litzenberger-Cory.html
Downtown Business Spotlight: Root 51 Salon and Spa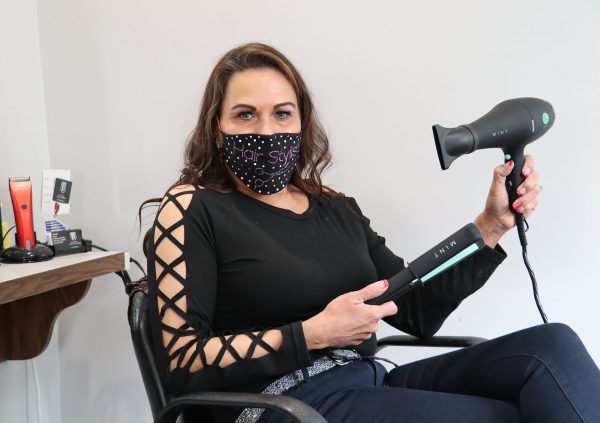 This week's Business Spotlight shines on Root 51 Salon & Spa! This unique establishment is located right on 4814 51 St and offers anywhere from haircare to spa treatments to relax and pamper. We spoke with the owner to learn more about this wonderful establishment!
What is your business?
Our business is a small locally owned salon & spa.
When did your business open?
We downsized & renovated this main floor in 2016 & changed our name to Root51 (previously Techniques Hair Therapy & Day Spa in the Millennium Center for 2 decades!)
What makes your business unique?
We have asked our valued guests this same question the responses we got: our education, our flexibility to accommodate, our selection & knowledge in our top-shelf natural products for both hair & skin, our prices are extremely reasonable for the level of experience (over 30 years) & education (over 100K worth of education!!!) (in a big city I would charge 35-40% more for the same treatments), and we work hard and are very proud of this next one…our Cleanliness – often they say your place is always spotless! (even before Covid!!)
What are some products/services that you offer?
Full-service Salon hair Care & Spa treatments that are non-invasive. Michele specializes in colours, balayage & ombre, colour corrections & blondes. Smoothing treatments are in high demand for silky soft straight looks and perms for waves or more body. With 30 years of cutting hair, some guests have said "that's the best-shaped haircut I ever had."
Spa treatments are effective and relaxing with visible results after one treatment ~ home care is a must because maintenance is easy than correction. Our skincare line is exclusive to us in RD and is composed of sea plants and seawater with many benefits to your facial skin as well as your body and well-being!
Why did you choose Downtown Red Deer as the location for your business?
In 2000, the Millennium Center was a brand new and very central location — when we changed the location to 2 block north on 51 st ~ we wanted to be able to still cater to our professional corporate downtown business people.
What do you think makes Downtown vibrant?
I believe it's the local entrepreneurs big & small that make downtown a vibrant place.
Website: Root 51 Official Website
Facebook: Root 51 Facebook Page
Downtown Business Spotlight: Artisan Food Market on Ross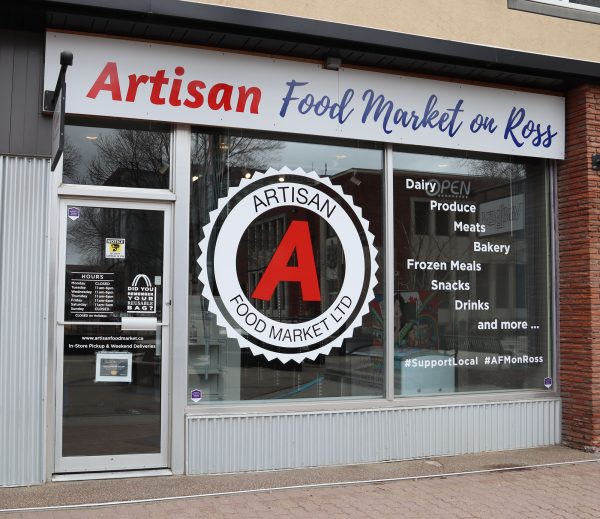 This week's Business Spotlight shines on Artisan Food Market on Ross! This unique restaurant is located right on Ross Street (106, 4916 Ross Street) and offers a large selection of locally made products. We spoke with the owner to learn more about this wonderful establishment!
What is your business?
Artisan Food Market on Ross is a specialty food store. We carry a large selection of local, national, and international foods and ingredients.
When did your business open?
We opened on April 1, 2020.
What makes your business unique?
We carry a large selection of local items and have a variety of frozen meals.
What are some products/services that you offer?
Customers can place orders for their favourite D Dutchmen Dairy or Black Forest German Bakery products and the requested items will get delivered to our store the following week. Additionally, customers can shop online and have their products delivered to their homes even during the times that we are closed. If a customer wishes to place an order they can simply visit us at www.ArtisanFoodMarket.ca.
Why did you choose Downtown Red Deer as the location for your business?
As a Red Deerian, I wanted to make a positive impact for our downtown by setting up a local market store right here.
What do you think makes Downtown vibrant?
I love the flower gardens at the city hall and the assortment of independent shops in our downtown core.
Finish this sentence: I love Downtown because…
It's my home and it's my place for adventure.
Website: Artisan Food Market on Ross Official Website
Facebook: Artisan Food Market on Ross Facebook Page
Instagram: @artisanfoodmarket