Soccer and Running teams compete in national championships this week – RDP Athletics update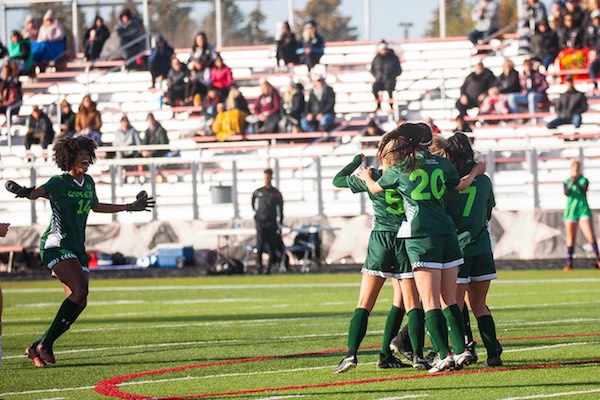 Queens Soccer (CCAA National Championship Week)
Queens vs Saint-Lambert Cavaliers
• Wednesday, November 9 | 10:30 am MST at Saint-Lambert, QC
It is off to Quebec and the Canadian Collegiate Athletics Association (CCAA) National Soccer Championships for the Queens soccer program this week. The Queens will practice at Seaway Park before the CCAA Award Ceremony and Championship Banquet Tuesday, November 8.
On Wednesday, the Queens will play in the second quarter-final match of the day where wil they take on the Saint-Lambert Cavaliers who are the host team of the championships.
The Queens will be guaranteed three matches with a possibility of a fourth if they continue their winning ways. Stay tuned for updates on the matches and when they will play throughout the week. People interested in watching the matches can livestream it online for free.
Kings and Queens Cross-Country (CCAA National Championship Weekend)
• November 11-12 hosted by Medicine Hat College
It is also National Championship weekend for the Kings and Queens Cross-Country teams. They will travel out to Medicine Hat to take part in the six- and eight-kilometre races on the Medicine Hat College campus course.
The Kings and Queens will arrive in the city on Thursday where they will have a chance to run the course and practice. On Remembrance Day they will have the chance for more practice session and will take part in the opening ceremonies inside the gymnasium at the college.
Head Coach Douglas Spicer says the team is coping with the rapid transition to winter as best as they can. "There is no such thing as bad weather, just a poor choice of clothing, as we always say. We have one more workout prior to departing on Thursday morning and then a couple of light workouts in Medicine Hat. Saturday's forecast looks promising. Whatever the case is we are ready for it."
The women will be the first to run at 12 pm and the men will finish it off at 1 pm on Saturday, November 12.
Official results will be posted about 3:30.
Red Deer Polytechnic Athletes of the Week
Red Deer Polytechnic Athletics is proud to announce the Fas Gas RDP Athletes of the Week:

1. Jaiden Ferguson
Hometown – Red Deer, Alberta
Business Administration General (3rd year)
In the lone match for Queens Volleyball, it was third-year Jaiden Ferguson that shined on the outside position of the court against the University of Alberta-Augustana Vikings. She was a huge presence at the net picking up 15 kills and two blocks. But her defence and back-row presence did not go unnoticed as she
picked up 11 digs of her own. Adding two aces to these single game statistics, she was awarded the player of the match for the Queens. She currently sits in third place in the ACAC with 3.23 kills per set and is in second place with 71 total kills on the season so far. But her service game is also outstanding throughout the first five games of the season as she sits in fourth with 0.73 service aces per set. The Queens will have this weekend off before heading out on a massive road
trip up north.
Congratulations!
2. Jacob Kendall
Hometown – Camrose, Alberta
Bachelor of Education Elementary (2nd year)
It was quite an outstanding weekend from forward Jacob Kendall that saw the Kings get some payback against the Briercrest College Clippers, who knocked them out of last years playoffs in the first round. On Friday night, November 4, Kendall picked up the sixth goal for the Kings enroute to a 6-3 victory over the
Clippers.
But it was his next day performance that stood out and helped Red Deer sweep Briercrest College with a 5-3 victory. The second year forward picked up three points on Saturday with one goal and two assists which gave him the honour of being announced as the player of the game. He was a huge presence on the powerplay with goal and an assist. Kendall currently sits in first place in goals in the ACAC with six, just ahead of his teammate Hayden Clayton with five. The Camrose-native is also in third place in points with nine.
He is certainly off to a great start and is continuing last years offensive performance, where he finished first in the league with 21 points and is on pace to break his goal total from last year, which was nine. The Kings will have this weekend off before a tough two-game series against a tough NAIT Ooks team the following
week.
Congratulations!
This Week in Red Deer Polytechnic Athletics (November 7, 2022)
With most schools throughout the ACAC on fall reading week, it is a very quiet weekend in Red Deer Polytechnic Athletics. There are only four games so far on the schedule for this week, one of which is at home. There will be more games announced later this week with the Queens soccer team in Quebec for the
Canadian Collegiate Athletic Association (CCAA) National Championships. As the results come in from the championships, more details will be passed on when the other games will take place.
The Queens hockey team will be battling it out with the Olds College Broncos at home on Saturday, November 12 in what will be a great match with it being a rematch of last year's championship series. Both basketball teams will be on the road this weekend taking on another North Division team, The Kings
University Eagles on Friday, November 11.
Hockey
Olds College Broncos (0-2-1) vs Queens (2-1-0)
• Saturday, November 12 | 7 pm at Gary W. Harris Canada Games Centre
This past weekend, the Queens hockey team was cut short after some poor travel conditions stranded the NAIT Ooks in Edmonton, forcing to postpone their second game of the weekend against each other. The first game saw the Queens drop their first of the season with a 4-1 loss to the Ooks in Edmonton. It will be a battle of last season's championship series when the Queens take on the Olds College Broncos on November 12 at the Gary W. Harris Canada Games Centre. Puck drop is just after 7 pm. Tickets can be purchased online or in-person on gameday.
Basketball
Queens (2-3) at The Kings University Eagles (2-2)
• Friday, November 11 | 6 pm at Edmonton
This past weekend saw the Queens only play in one game. They went up to Camrose to take on the University of Alberta-Augustana Vikings and would lead in the first three quarters but could not finish it off. Red Deer would lose 71-68.
This week the Queens will battle it out in another North Division match-up. This time it's up in Edmonton when they take on The Kings University Eagles. The Eagles are coming off a weekend where they saw the Medicine Hat College Rattlers and the Briercrest College Clippers. Kings came away with a 77-48 victory
against the Rattlers but would lose 74-60 against the Clippers the following day. The match will start just after 6 pm.
RDP Kings (1-4) at The Kings University Eagles (0-4)
• Friday, November 11 | 8 pm at Edmonton
It was a successful weekend against a very tough North Division team for the RDP Kings when they would secure their first victory with an 83-72 win over the University of Alberta-Augustana Vikings. Now, they look to continue their winning ways when they travel up to Edmonton to take on The Kings University Eagles. The Eagles currently sit winless in four games with their most recent loss coming against the Briercrest College Clippers with an 85-83 overtime loss. The match will start following the end of the Queens game.
Notre Dame Fine Arts Department invites you to see Roald Dahl's Matilda, the Musical!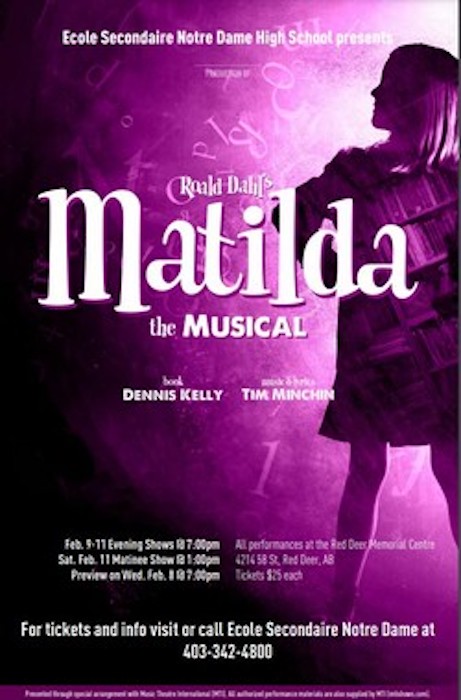 From Red Deer Catholic Regional Schools
Roald Dahl's Matilda, the Musical!
Co-Directed by Jennifer Cocolicchio and Stephanie Layden starring Addy Penney, Jordana Woroniuk, Coryn Tardif, David Jones, and Mikayla Beever.
Please join the Notre Dame Fine Arts students for their interpretation of Matilda.
Inspired by the twisted genius of Roald Dahl, the Tony Award-winning Roald Dahl's Matilda The Musical, from the Royal Shakespeare Company, revels in the anarchy of childhood, the power of imagination and the inspiring story of a girl who dreams of a better life. Book by Dennis Kelly and original songs by Tim Minchin.
Matilda is a little girl with astonishing wit, intelligence and psychokinetic powers. She's unloved by her cruel parents but impresses her schoolteacher, the highly loveable Miss Honey. Over the course of her first term at school, Matilda and Miss Honey have a profound effect on each other's lives, as Miss Honey begins not only to recognize but also appreciate Matilda's extraordinary personality. Matilda's school life isn't completely smooth sailing, however – the school's mean headmistress, Miss Trunchbull, hates children and just loves thinking up new punishments for those who don't abide by her rules. But Matilda has courage and cleverness in equal amounts, and could be the school pupils' saving grace!
Packed with high-energy dance numbers, catchy songs and quick wit, Matilda is a joyous girl power romp. Children and adults alike will be thrilled and delighted by the story of the special little girl with an extraordinary imagination.
The shows take place at Red Deer's Memorial Centre on February 9, 10, & 11 at 7:00pm. There is also a Matinee on February 11 at 1:00pm.
TICKETS ARE $25.00
TICKETS AVAILABLE in advance at Notre Dame's front office, online at https://www.notredamehigh.ca/programs/fine-arts or on the date at the theatre door.
SPECIAL PREVIEW NIGHT on February 8 at 7:00pm – Free for all press representatives and pay what you can for the general public.
Project Radar nets meth seizure in Red Deer, Lloydminster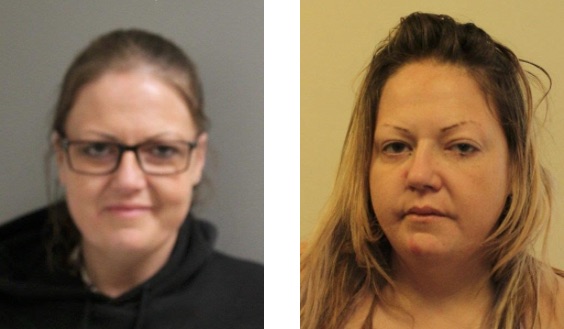 Suspect Katie Gowanlock still at large
From the Alberta Law Enforcement Response Team (ALERT)
A major methamphetamine and fentanyl seizure in Red Deer and Lloydminster has led to charges against three suspected drug dealers. ALERT's Project Radar resulted in the seizure of $335,000 worth of drugs.
Project Radar was a year and a half-long investigation by ALERT Red Deer's organized crime team, focused on disrupting drug trafficking activity in central Alberta. Nearly four kilograms of meth was seized along with more than 500 grams of fentanyl powder.
The following items were seized during the course of Project Radar:
3,751 grams of methamphetamine;
523 grams of fentanyl;
$1,500 cash.
Project Radar began in June 2021 in Red Deer and eventually expanded in scope as the group demonstrated ties to the Lloydminster drug market.
Two Red Deer homes were searched and two suspects were arrested, while one remains wanted on warrants. The most recent arrest took place on January 17, 2023, and ALERT received help from Red Deer RCMP and B.C.'s Combined Forces Special Enforcement Unit (CFSEU) Prince George.
Jaydon Harrison, 24 of Prince George, and Nikita Robertson, 24 of Edmonton, are each charged with multiple counts of drug trafficking.
Meanwhile, a warrant has been issued for Katie Gowanlock, as pictured above. The 40-year-old is charged with 10 counts of drug trafficking and is believed to be in the Central Alberta area.
Members of the public who suspect drug or gang activity in their community can call local police, or contact Crime Stoppers at 1-800-222-TIPS (8477). Crime Stoppers is always anonymous.
ALERT was established and is funded by the Alberta Government and is a compilation of the province's most sophisticated law enforcement resources committed to tackling serious and organized crime.